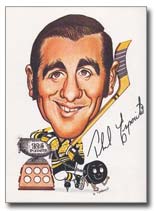 (February 18, 2002) -- Great players are great because of their ability, but that ability is not something they bought in a store or learned at school. It was something they were given at birth and were able to develop because of a passion and commitment they had that others didn't. But to be successful in life or the NHL, one must be lucky and be blessed also with good timing.
For Phil Esposito, a trade to Bobby Orr's Boston Bruins was just the ticket to change his career from rising star in Chicago to superstar in Beantown. "The importance of teammates is the thing I appreciate the most from those years," Esposito recalled. "I was a lucky guy. There is nothing better than good teammates. I don't care what anybody says, you can't do it alone. It takes a good team for you to be a good player, and the same goes for playing on a bad team. I see Vincent Lecavalier play all the time. He gives it his all, but it comes down to your teammates."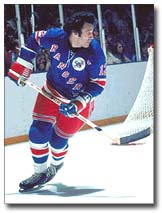 Espo's teammates can also the same of him. It was the fortuitous combination of all elements that allowed the Bruins to do what Espo predicted when he first got to Boston: get into the playoffs the first year, get to the finals the second, and win the Stanley Cup in the third. Having a Hall of Fame goalie as a brother certainly didn't hurt his chances to develop, though.
"We split up the goaltending as kids," he recollected. "Tony would go in the net when we used a puck, and I would go in net when we used a ball. There's no way I'd go in with a puck. In fact, Tony would've been a great forward. He was a very good skater, much better than me," he added with a laugh.
Although Phil went on to win two Cups with Boston in 1970 and '72 (Tony won his only Cup as a part-timer with Montreal in 1968-69), he is most famous for his play in the 1972 Summit Series. And, over and above his play against the Soviets, he is probably even more well-known for his impassioned speech from Team Canada's bench after the fourth game, in Vancouver, when he pleaded with fans in Canada via interviewer Johnny Esaw to support a team that was doing its best.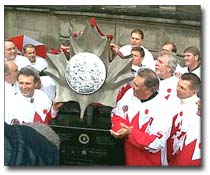 It's a passion he believes is essential to winning, whether it was the 1970 Cup or the 2002 gold medal at Salt Lake. "Play with passion and heart," he stressed. "If you don't carry passion into sport -- or in any job for that matter -- you won't succeed. The Canadians could win if they carry passion and heart into the Olympics."
"The biggest change in today's game is the coaching. It's deteriorated," Espo lamented. "All they say now is throw the puck in and throw it out, throw it in and throw it out. They spend all this time on defensive play and it makes for a very boring game." His advice to youngsters and first-year NHLers is simple -- play the style of game that suits your strengths. "As Yogi Berra always told me," recalled Esposito, "Don't change ... do it with what brung ya!"
Although Esposito is no longer playing or managing an NHL team, he is by no means retired or out of the hockey loop. He travels, does TV commentary on hockey, and attends numerous golf tournaments with NHL Alumni. He is also working on his own TV show and finishing a book about a remarkable life and career in the puck game.
- Andrew Podnieks is the author of numerous books on hockey including the current The Essential Blue & White Book. He is also a regular contributor to Leafs.com and managing editor of A Day In The Life of the Leafs to be published in the fall of 2002.