2 MARCH 2007
It seems ironic that the coach employing one of the most refined and efficient defensive systems in the NHL was himself one of the premier offensive talents in league during the 1970's.

Jacques Lemaire was born in LaSalle, Quebec on September 7, 1945. Using a heavy steel puck, Jacques worked long and hard on his slapshot, and the results were evident fairly quickly. During the 1962-63 season with the Lachine Maroons, the 17-year-old Lemaire led the Quebec Junior Hockey League in scoring with 104 points, which included 41 goals. The next three seasons were spent with the Montreal Junior Canadiens, and Jacques continued his goal scoring exploits. In each of 1963-64 and '64-65, he scored 25 goals, but exploded with an output of 41 tallies in 1965-66, finishing second behind Danny Grant as goal scoring leader.

As the Montreal Canadiens were wont to do, rather than dropping prospects directly into the line-up, they eased their young players onto the roster. Jacques spent 1966-67 with the AHL Houston Apollos, then earned limited ice-time with the big club in 1967-68. Nevertheless, Lemaire scored 22 goals, the first of 12 consecutive seasons he scored 20+ goals in his 12 NHL seasons, all spent with the Canadiens.

That spring, Lemaire stepped up to bat and proved his worth. He fired 7 goals and 6 assists in 13 playoff games to lead the Canadiens to the Stanley Cup, the first of an extraordinary eight times he would be part of a Stanley Cup championship during his twelve seasons with Montreal. The team won a second straight Cup in 1968-69. "With Montreal, there was a certain way to play the game that other teams didn't know," stated Jacques. "It came from being with winners. As a youngster, I played on good teams that didn't win, but I went to Montreal and right away, won two Stanley Cups in my first two seasons! It was those other guys who showed me how to win."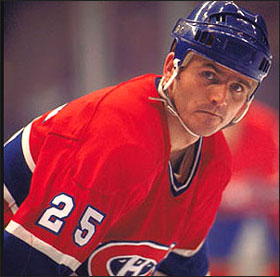 By the end of that decade, the guard was rapidly changing. Gilles Tremblay retired in 1969, Dick Duff was traded to Los Angeles in 1969-70 and Gump Worsley lasted but a handful of games into the 1969-70 season before he briefly retired before joining the North Stars. Bobby Rousseau and Ted Harris were moved to Minnesota in 1970. Ralph Backstrom was traded to Los Angeles during the 1970-71 season and Claude Provost retired in 1970. Jean Beliveau and John Ferguson both retired in 1971. J.C. Tremblay jumped to the WHA in 1972. Out with the old and in with the new, seemed to be the order of the day in Montreal. But that allowed the young prospects to prosper.

With a line-up that now featured new faces such as Ken Dryden, Rejean Houle, Guy Lapointe and Frank and Peter Mahovlich, the Canadiens won the Stanley Cup again in 1971. Guy Lafleur was added in 1971-72 and Steve Shutt in 1972-73, a season in which they again won the Stanley Cup. True magic emerged when Lemaire centred a line with Steve Shutt on the left side and Guy Lafleur on the right. "We complemented each other quite a bit," Jacques nodded. "All three of us could score. Guy was our top guy and could do a lot individually. Lafleur and myself could make great plays. Shutt was a great scorer. He had speed and a strong shot and his quick release was his greatest asset. He had a lot of movement on the puck when he shot. It was like a knuckleball sometimes and he was the only guy I ever saw do that."

With their top line firing on all cylinders, the Canadiens steamrolled over the rest of the NHL, winning four consecutive Stanley Cup championships beginning in 1976. Lafleur led the league in scoring in 1975-76, 1976-77, 1977-78 and was third in 1978-79. But the Lemaire/Lafleur/Shutt trio was never better than in 1977-78 when Guy scored 60 goals and had 132 points, Shutt had 49 goals and 86 points and Jacques Lemaire contributed 36 goals and a career-best 97 points. "That was an accident," laughed Lemaire. "At the start of the season, everything I shot went in. I even told my linemates, 'Just give me the puck in the offensive zone because it's going in!' The confidence I had at that time -- I knew before I shot it was going in. Even when I missed, I hit the post or caught a bit of the goalie's pads."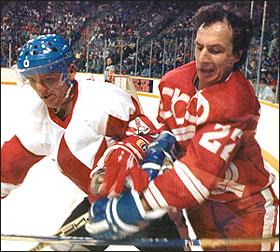 But Jacques added a most revealing statement. "We talked more about defence than offence. It was always there. I remember my first year playing for Toe Blake -- he was always talking about it. On the bench, he'd be telling us if this guy or that guy didn't come back on defence and he would bench them. You hear people say their team needs more offence and forget defence. That's crap! Defence is what we talked about. Somebody has to get back and help the defense. We knew we could score enough goals. We didn't want to give goals to the opponent because if they got a goal, we had to get two."

That decade-ending dynasty spawned ten players who would be elected to the Hockey Hall of Fame. Goaltender Ken Dryden, the 'Big Three' on defense (Guy Lapointe, Larry Robinson and Serge Savard), Rod Langway, Lemaire, Lafleur, Shutt, Bob Gainey and Yvan Cournoyer populated a talent-laden roster. But Jacques is quick to heap praise on role players for Montreal during that era. "The NHL was a tough league when I broke in, but it got worse because some teams were winning with intimidation," he stated, referring to the 'Big, Bad Bruins' on the early-1970's and the 'Broad Street Bullies' from Philadelphia in the mid-seventies. "We needed good, skilled players because those other teams had that, but we also needed more toughness." Montreal got that in spades from Pierre Bouchard, Rick Chartraw, Gilles Lupien, Doug Risebrough and Larry Robinson. "We wouldn't have won if those guys weren't there and didn't do their jobs," he admitted. "In 1976 against Philadelphia, it was the toughest team in the league against a skating team that relied on quickness. I remember Serge Savard talking about how great it would be for hockey if we beat them. They were intimidating a lot of teams. It was a huge challenge."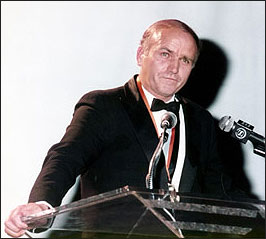 Jacques retired following the Stanley Cup celebration in 1979, having collected 366 goals and assisted on 469 more for 835 points in 853 regular season NHL contests. In 145 playoff games, he scored 61 goals and 78 assists for 139 points. In 1984, Jacques Lemaire was inducted into the Hockey Hall of Fame.

With a desire to pursue coaching as phase two of his hockey career, Jacques traveled to Switzerland in 1979, acting as playing-coach of Sierre for two seasons. "Most of the guys I coached had other jobs," he sighed. "They would work eight to ten hours a day and then come to practice. Sometimes, they didn't show."

After a season coaching NCAA hockey in Plattsburgh and a campaign in the QMJHL with Longueuil, in 1983-84, he joined the Montreal Canadiens as coach, replacing Bob Berry with 17 games remaining in the regular season, then proceeded to guide the Canadiens to the Wales Conference Finals. The next season, he coached Montreal to the Adams Division championship with a sparkling 41-27-12 record. Jacques moved to the front office in 1985-86, holding the position of assistant to the managing director. During that period, Lemaire was also managing director of the Verdun Junior Canadiens in 1988-89 and the Fredericton Canadiens from 1991-1993. Jacques had his named engraved on the Stanley Cup again for his role with the team in 1986 and 1993.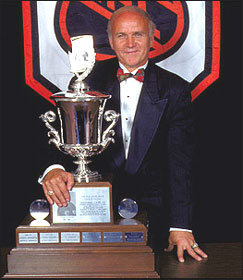 In 1993-94, Lemaire joined the New Jersey Devils as head coach. In his first season with the Devils, he was named recipient of the Jack Adams Trophy as the NHL's best coach. In 1994-95, he coached the Devils to their first-ever Stanley Cup championship. The team also collected the Atlantic Division title in 1996-97 and 1997-98.

After two seasons back with the Canadiens, in 2000, Lemaire was named the first-ever coach of the Minnesota Wild, joining former teammates Doug Risebrough, president and general manager, and assistant coach Mario Tremblay. In 2002-2003, he led the Wild to the Western Conference Finals and was awarded the Jack Adams Trophy for a second time. Jacques is the first person in NHL history to play in 100 or more Stanley Cup playoff games as a player and as a head coach.

This gifted player, who in spite of his extraordinary offensive statistics never shirked his defensive duties, has learned his lessons very, very well, leading a new generation of players as one of the finest coaches in NHL history. The hockey legacy of Jacques Lemaire is confirmed.

Kevin Shea is the Editor of Publications and On-Line Content for the Hockey Hall of Fame.