21 DECEMBER 2004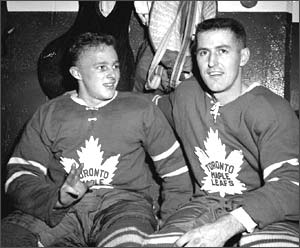 Gerry Cheevers was one of the stars in his very first NHL contest. On December 2, 1961, Gerry replaced injured
Johnny Bower in the Toronto Maple Leafs' goal and earned
a 6-4 win. Billy Harris (right) fired three goals that night.

St. Catharines, Ontario, often referred to as Canada's 'Garden City,' is located in the Southern Ontario area known as the Golden Horseshoe. But St. Catharines can also boast of a fine hockey tradition. Junior hockey existed in the city from 1943 to 1977. The Falcons debuted in 1943 and existed until 1947. Then, the TeePees competed from '47 to '62, including Memorial Cup celebrations in 1954 and 1960. The St. Catharines Black Hawks emerged in 1962 and played until 1976 and finally, the St. Catharines Fincups existed for the 1976-77 season. The Toronto Maple Leafs trained in the 'Garden City' for a number of years in the 1940's and fifties. But St. Catharines has not only spawned great hockey teams; they have also contributed outstanding hockey players, including Gerry Cheevers.

Born December 7, 1940, Gerry Cheevers rose through the ranks of minor hockey in his hometown. "In St. Catharines, we have the Little NHL, which was started by my father, Joe, and a guy named Paul Judd," recalls Cheevers. "We had a lot of great volunteer coaches. From there, you'd go to a city team. We were coached by Vic Teal, one of the greatest minor league coaches ever. I played bantam there and then I went to St. Mike's." Gerry remembers many fine players who went from St. Catharines to professional ranks. "In that Little NHL, a lot of guys went on to play in the NHL — Ray Collins, Doug Robinson, Jack Martin, myself. It was no different than any other town in Ontario or Canada — hockey was what it was all about."

As early as thirteen and fourteen, Cheevers, who had always been a goaltender, contributed to championship teams. "We had a great city team, and we beat the Marlies (Toronto Marlboroughs ) twice in bantam, which was just unheard of. They were a powerhouse. The last year we beat the Marlies, we had a packed house of 3,200 in St. Catharines to watch bantams play. It was two games, total goals and we had tied them 3-3 in Maple Leaf Gardens, which was quite a thrill. We beat them in St., Catharines in a huge game to win the OMHA (Ontario Minor Hockey Association) bantam championship. In fact, we beat them two years in a row."

Prior to the NHL Entry Draft, players were signed to NHL clubs who cast their nets far and wide to find the best young talent possible. "The Leafs recruited me to go to St Michael's College (to play junior). My Dad was a part-time Leaf scout, so he suggested that St. Mike's might be a good place to go. When you decide to go to play hockey in a place sponsored by a National Hockey League team, you have your sights set on playing in the NHL."

Signing a contract to be part of the Toronto Maple Leafs organization was a thrill for the young netminder. "When I was growing up, it was Leafs, Leafs, Leafs. My Dad was assistant manager of the Garden City Arena, and the Leafs trained in St, Catharines. We got to know them. I didn't really have a player I followed. I liked (goaltender) Turk Broda but I liked all of the Toronto Maple Leafs."

Cheevers played a single game for St. Mike's in both the 1956-57 season and in 1957-58. In 1958-59, he joined the team for six games, but became a regular in 1959-60. The next year, Gerry helped backstop the St. Michael's Majors to the junior championship and the resultant trophy, the Memorial Cup. "In my last year of junior (1960-61), I played a month of forward," Cheevers recalls with a grin. "I was never a guy who was too interested in getting in goal for a practice, and Father David Bauer, who was coaching us, used to get mad at me all the time. I said, 'It's just not worth getting hurt in there.' He told me, 'I'm going to show you what it's like outside one of these days,' and I said, 'Yeah, yeah.' They needed a goaltender for the next year, and Dave Dryden was available, but he could only come to the team if he could play ten or twelve games that year. Father David Bauer made a deal with him and put me at forward to satisfy both Dave Dryden and to show me what it was like to play forward. I played ten or twelve games at forward that year. I was never so happy to get back in goal! A lot of guys were trying to get even for wayward sticks in the crease! I could always skate. I was just missing the instinct of knowing what to do with the puck."

In 1961-62, Gerry Cheevers turned pro and dressed for the Pittsburgh Hornets of the American Hockey League for a handful of games, the AHL's Rochester Americans for 19 contests but spent most of the season with the Sault Thunderbirds of the Eastern Provincial Hockey League. It was during his tenure with the Soo that Gerry saw his first NHL action. "Johnny Bower was hurt and so was Donny Simmons, who was playing down in Rochester (the Leafs' American Hockey League affiliate). I got a call on Friday night and took the train down from the Sault. We played Chicago (December 2, 1961) and it was a great thrill — no mask, Bobby Hull, scared to death. Billy Harris got three goals (the Leafs won 6-4). Then we got on the train and played the next night in Detroit. We got beat 3-1. I'll never forget that night. Gordie Howe came down, shot what I thought was a routine wrist shot and knocked the stick right out of my hands! I thought, 'Ooo. They're a little bit bigger and stronger up here!'"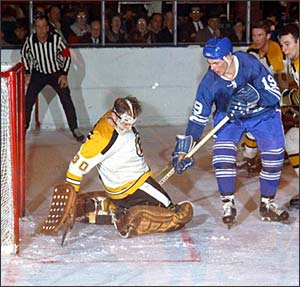 Cheevers was plucked from Toronto's roster by Boston in the 1965 Intra-League Draft. He would play parts of twelve seasons as a Bruin.

Cheevers was returned to the Thunderbirds as soon as Johnny Bower was able to step back into the crease. "They were the only two games I played in the NHL until I went to Boston," Gerry states. "The Leafs won the Stanley Cup that year. During the playoffs, Johnny Bower got hurt and Donny Simmons played goal so I was the standby goalie in the stands. My thought was that if Donny Simmons got hurt, they'd never find me," he laughs. "And if they did find me, it wouldn't be worth it anyway!"

During the 'Original Six' era, it was very difficult to crack an NHL lineup, and the Leafs had Johnny Bower and Don Simmons, then later, Johnny Bower and Terry Sawchuk in goal. Cheevers spent 1962-63 split between the Sudbury Wolves of the EPHL and Rochester of the AHL, where he played until 1965. That year, Gerry was selected as the AHL's First Team All-Star netminder, and won the Hap Holmes Award for the best goals against average in the league. That summer, Cheevers was claimed from Toronto by the Boston Bruins in the Intra-League Draft. "When I first went to Boston, they were really a struggling team," Gerry explains. "I started the year, got hurt, went down to Oklahoma City and was up and down a couple of times. I really wasn't crazy about sticking with the Bruins. But when Bobby Orr showed up (in 1966-67), they got a different perspective. You knew that it as just a matter of time before the team turned around. And then (in May 1967), they made the big trade with Chicago for Phil (Esposito), Kenny Hodge and Freddy Stanfield. It looked like things were going to be pretty good. I thought, 'I've gotta be on that team.'"

Boston's fortunes were, indeed, turning around. After missing the playoffs in eight consecutive seasons, the Bruins evolved into a contender, abetted by the advent of expansion in 1967. "Boston had some very good goaltenders — Eddie Johnston, Bernie Parent, Doug Favell and me. You could only protect one and they decided to protect me. Philly (the Philadelphia Flyers) took Bernie and Boston filled with Eddie. Then Philly took Dougie Favell. It was an interesting scenario."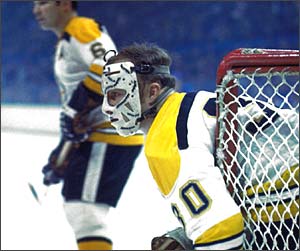 The stitch-marked mask become a trademark of the jovial Cheevers. A band called Chixdiggit recorded a tribute titled "(I Feel Like) Gerry Cheevers (Stitch Marks on my Heart)".

Cheevers and Johnston made a dynamic combination -- Johnston, wearing number 1 and Cheevers, identifiable in number 30 and his trademark mask decorated with the black stitchmarks. "There were different types of masks but they were all white," chuckles Cheevers. "If you see a white mask today, it stands out. I hated white. It reminded me of purity, which was not the case the way I played goal." Gerry laughs heartily, continuing, "My thought was to get out of practice. One day, the puck came up and hit me. It wouldn't have cut me without my mask, but I was fainted, passed out and on the training table. (Coach) Harry (Sinden) came in and said, 'Get out there! You're not hurt.' So I said okay. I turned to Frosty Forristall, our trainer and said, 'Frosty, paint a stitch mark or two on the mask,' so he painted this big gouge over the right eye and it got a laugh. We started to paint stitches every time I got hit. Frosty would calculate where it would have been and how many stitches it would have taken." Gerry had tried other masks earlier, but was unable to find one that worked appropriately for him. "Lefty Wilson, the trainer for Detroit, had a mask out. Terry Sawchuk wore it - a lot of guys wore it. It wasn't very protective but it helped. A local guy in Boston, Ernie Higgins, came in one day and said, 'I've got an idea where you can anchor a mask to your chin so it won't shift when you move your head.' He said, 'Let's try it.' I said, 'I know I'm not going to play in this league if I don't wear a mask.' I tried it for two years and couldn't find the puck in my feet, so I had to cut the eye holes wider. You'll see in my mask the eye holes are really deep. I could finally find the puck in my feet. I made up my mind that this mask was going to work. I only wore two masks through my career. I actually just started wearing the second mask when I retired." Today, the Cheevers family cherishes the original mask while the second is in the St. Catharines Museum.

The Boston Bruins enjoyed a renaissance and powered by Cheevers, Orr and Esposito, went from last place in 1966-67 to winning the Stanley Cup in 1970. "The first Stanley Cup was interesting," admits Cheevers. "The major battle took place before the final. We played against Chicago and the Rangers, and they were great series. We were lucky enough to win them. We were much stronger than St. Louis, who we met in the final. It was only the third year of expansion. We won four straight on Bobby Orr's famous goal in overtime."

The Bruins won a second Cup in 1972. "We won 3-0 in a huge game in New York," remembers Cheevers. "I have never played in a game where the puck went by me so often without going in! It hit sticks, went into gloves, Bobby (Orr) was blocking them, Donny Awrey was blocking pucks. It was one of those games. I kept looking at their players and they had amazed looks on their faces because the puck wouldn't go in!" The Bruins defeated the Rangers to win their second championship in three years. "We were two men short in the second period and the puck went by me five times! Eventually, you think, 'This is going to be our night!' That was a great feeling winning the Cup in New York in '72." But Cheevers wasn't entirely happy. "We won a couple of Cups in Boston and likely should have won a couple more. We only had ourselves to blame."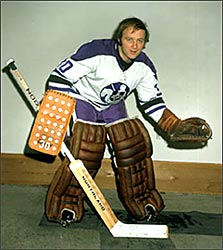 A jump to the WHA produced three more all-star selections for Cheevers. He left Boston for the Cleveland Crusaders prior to the 1972-73 season, but returned to the Bruins midway through the 1975-76 campaign.

The world of professional hockey changed in 1972 with the birth of the World Hockey Association. "The WHA came along and everything was helter skelter," Gerry remembers. Cheevers was selected by New England in the inaugural WHA draft, but was traded to the Cleveland Crusaders prior to the WHA's debut season. "I had wonderful days in Cleveland. I would never trade them in." It seemed rather peculiar that Gerry, just after having won a second Stanley Cup with a dominant Bruins line-up, would leave for other pastures. "I was struggling to make the money I thought I deserved with the Bruins," Cheevers explains. "They had a negotiator who was a pretty hardcore guy. He was a lawyer and didn't know much about hockey." During that heady 1971-72 season, Gerry Cheevers was only in goal for five Bruins' losses. "They offered me a very minimal raise. It sort of hit me. I called Tommy Johnson, who was our coach, and said, 'Tommy, I can't take this. I've got an offer that'll stagger you.' He said, 'Don't do anything. Come back in three or four days,' so I cam back in three or four days and Tommy said, 'I'm here to offer you whatever the other team offered you.' I told him what Cleveland offered and he said, 'Can't do it, Gerry. Do they need a coach?'"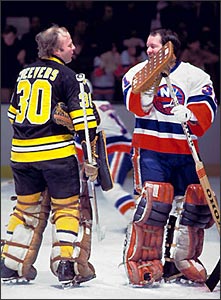 Here, two combative Hall of Famers share a pleasantry. Gerry Cheevers (left) addresses Billy Smith of the New York Islanders.

Cheevers was in a dilemma. "I was negotiating with Nick Miletti in Cleveland — a great man — and the Bruins came up a little bit, but it wasn't even fifty percent of Cleveland's offer. I'm the type of guy who spends six or seven years in one place and then am ready to move on so I went to Cleveland and met a whole new group of guys." Gerry already knew a few of the Crusaders through his Boston Bruins affiliation — he had played with Bob Dillabough, Skip Krake and Ron Buchanan previously, but met a number of new teammates who became lifelong friends. "Paul Shmyr was there. Gerry Pinder. Great players plus a bunch of kids who would never have gotten a chance if not for the WHA. Bobby Whidden, the other goaltender, is a great friend of mine to this day," smiles Cheevers. "We competed hard and went to the semi-finals a couple of years."

But Cleveland wasn't the final stop for the all-star netminder. "There was a money crunch there and people don't act too rationally, regardless of whether you're the owner or a player. None of us acted too wisely. Boston (Bruins) was struggling in goal after four-and-a-half years. I met with them privately and they told me they would like to have me back. But those WHA days were great days. The bottom line of the WHA was 'Mission accomplished.' Four teams became NHL teams. It brought international players into the mix, salaries rose. It gave jobs to 150 or more players but it eventually brought an extra hundred players into the NHL," Cheevers states.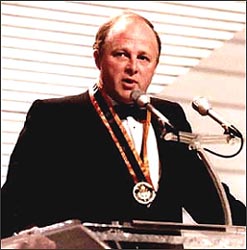 Gerry Cheevers was selected to the
Hockey Hall of Fame in 1985. That year, Bert Olmstead and Jean Ratelle were also inducted into the halcyon halls of hockey.

Gerry pulled up stakes, packed his pads and returned to Boston, joining the team during the 1975-76 season. "I enjoyed returning to Boston and playing for Don Cherry. That was entertaining. He was a great coach and it was fun playing for him. We had some great teams and competed hard all the time."

Cheevers remained the Bruins' netminder until the conclusion of the 1979-80 season, when he retired. Through eleven NHL season, he collected 230 wins, 102 losses and 74 ties in 418 contests, earning a goals against average of 2.89. He also collected 26 shutouts. In four WHA seasons, Gerry added 99 wins, 78 losses and 9 ties in 191 games, and collected an additional 14 shutouts on the way to earning a 3.12 goals against average.

In 1980-81, the St. Catharines native was named head coach of the Bruins where he remained until midway through the 1984-85 season. During his tenure behind the bench, Cheevers earned a record of 204 wins, 126 losses and 46 ties.

In 1985, Gerry Cheevers was elected to the Hockey Hall of Fame, joined on Induction night by Bert Olmstead and Jean Ratelle. It was an appropriate finish to a remarkable, and most enjoyable, hockey career.

Kevin Shea is the Manager of Special Projects and Publishing at the Hockey Hall of Fame.