13 APRIL 2007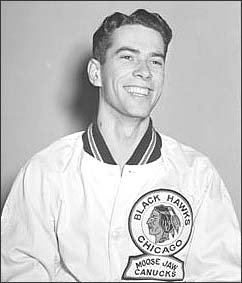 A young Bert Olmstead poses for a photo sporting a coat that features patches from his junior hockey club, the Moose Jaw Canucks, and his first NHL, club the Chicago Blackhawks.

Bert Olmstead was perennially passionate about the game he played, backing down from no one and expecting his teammates to show the same fire that was stored in his belly. This drive helped the winger collect five Stanley Cup championships during his career, a career that concluded with election to the Hockey Hall of Fame.

On September 4, 1926, Murray Albert 'Bert' Olmstead was born in Sceptre, Saskatchewan, a village so small that the neighbouring sand dunes were higher than the population, which counted just 200 residents. Bert moved to Moose Jaw in 1944 to play junior, joining the Canucks as they embarked on a mission to win the Memorial Cup. The Moose Jaw Canucks entered the final with a record of 15 wins against just one loss under coach Roy Bentley, having eliminated the Prince Albert Black Hawks, Edmonton Canadians and Winnipeg Monarchs along the way. Although unsuccessful in their Memorial Cup battle against the St. Michael's Majors, the Canucks, led by Olmstead, had enjoyed a terrific season. Bert scored 10 goals and 18 points during the 17 games played that post-season.

After one more year of junior, the big winger was assigned to Kansas City of the United States Hockey League. Bert played with the Pla-Mors for three seasons, finishing seventh in scoring in his final season with Kansas City. That season, 1948-49, Olmstead made his NHL debut with the Chicago Black Hawks, playing on a line with Metro Prystai and Bep Guidolin. Although he recorded just 2 assists in 9 games with Chicago that season, Bert impressed enough to earn full-time employment as a Black Hawk in 1949-50. He delivered, scoring 20 goals and proving himself a bona fide NHLer.
Bert Olmstead seen here early into his career as a Montreal Canadien.

The 1950-51 season held great anxiety for Olmstead. After just 15 games, on December 10, 1950, Bert and Vic Stasiuk were traded to Detroit, with Chicago receiving Steve Black and Lee Fogolin in return. Seventeen days later, and without ever having pulled on a Red Wings sweater, Olmstead was traded to the Montreal Canadiens for Leo Gravelle.

Montreal proved to be an ideal situation for Olmstead. He was placed on the Canadiens' top line, replacing the retired Toe Blake on the Punch Line beside Maurice Richard and Elmer Lach. The leftwinger made strong contributions to the Canadiens, and in 1952-53, Olmstead first sipped champagne out of the Stanley Cup. That season, he was also named to the NHL's Second All-Star Team.

The fiercely competitive Olmstead was matched by the ferocity of rightwinger 'Rocket' Richard. "Players on other teams used to treat him like crap," claimed Olmstead. "He'd have two or three guys hanging over him, calling him every name in the book." And the fans were no better. One evening at New York's Madison Square Garden, a hammer landed with a crash between them while sitting on the bench. "I looked at Rock and said, 'Do you know what that is?' He said, 'No.' I told him, 'It's a goddamned hammer! It could've killed either one of us and I've got a pretty good idea it wasn't aimed at me!'"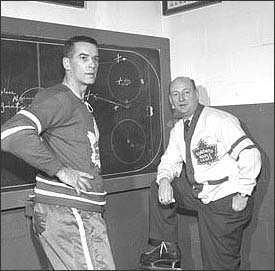 Early into the 1958-59 season, assistant general manager Punch Imlach (right) fired Maple Leaf coach Billy Reay. Imlach installed himself as coach and immediately named Bert Olmstead (left) his playing assistant coach.

The powerhouses of the National Hockey League during the 1950's were the Detroit Red Wings and the Montreal Canadiens. The Red Wings won the Cup in 1952. Montreal captured it in 1953. Detroit grabbed it again in 1954 and 1955. But beginning in 1956, the Montreal Canadiens dominated the NHL to such a degree that they won the Stanley Cup an unprecedented five times in succession. Olmstead, now playing with Jean Beliveau and 'Boom Boom' Geoffrion, was an integral part of the first three of those championships. In 1955-56, he set an NHL record with 56 assists, most in a season to that time. That same season, Bert also equaled an NHL record with an 8-point game, a record that wasn't eclipsed until Darryl Sittler's 10-point night with Toronto in 1976. In 1955-56, Olmstead was selected to the NHL's Second All-Star Team as the Canadiens went on to win the Stanley Cup.

After the 1957-58 season, a campaign in which the Canadiens won a third consecutive Stanley Cup championship, doctors told Olmstead that his knees were worn out and his post-career life needed to be contemplated. Montreal left Bert unprotected in the Intra-League Draft, and the Toronto Maple Leafs pounced on the opportunity to claim him.

With a roster that featured a mix of extremely talented youngsters like Carl Brewer, Dick Duff, Frank Mahovlich and Bob Pulford, who would carry the team into the sixties and its own dynasty, Olmstead was regarded as an essential leader who knew what it took to win. His battles with teammates are legendary. Punch Imlach, the club's new assistant general manager, fired coach Billy Reay early in the 1958-59 season, installed himself as coach and named the veteran Olmstead as a playing assistant coach. The season concluded with one of the most remarkable stretch runs imaginable, qualifying the Maple Leafs for the playoffs. Toronto climbed to the finals before losing to the rival Montreal Canadiens that spring.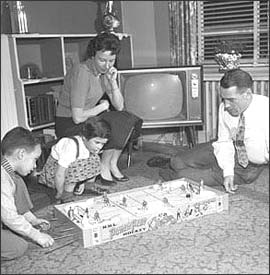 Bert Olmstead and his family take part
in a game of table top hockey.

After three months as playing assistant, Bert resigned that role but continued his leadership on the ice and in the dressing room. Toronto made it to the finals again in 1960, and two years later, won the Stanley Cup for the first time since 1951. Olmstead's role as a team leader was deemed essential, in spite of the fact he missed two months of the season with a badly damaged shoulder. It was the fifth Stanley Cup championship for Bert.

During that summer, Olmstead was shocked to discover that he had been claimed by New York in the Intra-League Draft. Bert refused to report to the Rangers. The Canadiens inquired as to whether he would be interested in re-joining them. Bert stated that he would join Montreal, but no trade ever materialized. Instead, the 35-year-old announced his retirement. Through thirteen NHL seasons, Bert Olmstead had scored 181 goals and 421 assists for 602 points in 848 regular season games. He added another 59 points in 115 playoff contests.

Bert coached the Vancouver Canucks of the Western Hockey League in 1965-66, then was hired as the inaugural coach of the Oakland Seals during that team's first year of operation.

In 1985, Bert Olmstead was elected to the Hockey Hall of Fame. "I'm a hockey man through and through," mentioned Bert. "I have a lot of love for the game and for what it means."

Kevin Shea is the Editor of Publications and On-Line Features for the Hockey Hall of Fame.
The Hall of Fame's 'Travels With Stanley' will be published in May 2007 by Fenn Publishing.