9 MAY 2008
Joseph Gilbert Yvan 'Jean' Ratelle hails from Lac Ste. Jean, a small town in Quebec more than 300 miles north of Montreal. Born October 3, 1940, Jean was one of nine children born to a dentist and his wife. As a boy, he attended a boarding school operated by the Brothers of Sacred Heart, and there, met another boy who would not only become a friend but who would play a significant role in his hockey career — Rod Gilbert. "One time, we were playing 'keep the puck' and there were about thirty or forty kids on the rink," recalled Gilbert. "When I first saw him (Ratelle) on the ice, I said, 'You play with me all the time, okay?'" An enduring friendship was forged that day. "We started playing peewee and played in the finals at a tournament in the Montreal Forum when we were twelve years old."

The friendship between Gilbert and Ratelle escalated both careers as the years progressed. When Rod was fourteen, he played Senior hockey beside men in their late-twenties. One of the coaches of that team, Yvon Prud'homme, was later hired by the New York Rangers to create a Junior 'B' league in Montreal. "When he signed me," recalled Gilbert, "I told him, 'I have a friend I've been playing with since I was a kid and he's better than me. Sign him up and we'll play together.'" Prud'homme signed Ratelle without ever seeing him play.

When Rod Gilbert was signed, he was promised a try-out with the Guelph Biltmore MadHatters, the New York Rangers' OHA Junior affiliate. What was to be a week tryout turned out to be a 32-game stint. But Rod never forgot his pal, Jean Ratelle. "I told Eddie Bush, the coach and manager, 'There's a fellow in Montreal and he's better than me. You better bring him here. We'd like to play together.'" That fellow, of course, was Ratelle. Reunited, the pair was potent for the Biltmores. In 1958-59, Gilbert finished second on the team in scoring with 61 points and Ratelle, a rookie, collected 51 points to finish third on the team.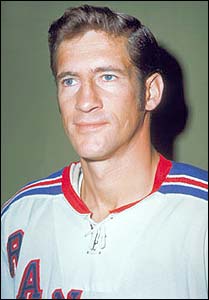 Ratelle saw action through parts of four seasons with the Rangers from 1960 to 1963 before he became a regular in the New York line-up in 1964-65.
(Frank Prazak/HHOF)

The two were teammates for three seasons in Guelph. In 1959-60, Gilbert tallied 91 points while Ratelle contributed 86. In 1960-61, with the team now known as the Guelph Royals, Gilbert led the league in scoring with 103 points, including a league-best 54 goals. Ratelle had a league-best 61 assists and finished with 101 points, good for selection to the league's Second All-Star Team.

During his last season of Junior, Jean got his first taste of National Hockey League action. On March 4, 1961, he scored a goal in his first NHL contest, a 5-4 road loss to the Toronto Maple Leafs. He scored again the next night, too — his first game at Madison Square Garden. But in spite of his offensive prowess, Ratelle bounced back and forth between the minors and the Rangers. He collected 3 points in his three-game try-out while still in Junior. In 1961-62, Jean split the season between the Rangers and the Kitchener-Waterloo Beavers of the Eastern Provincial Hockey League (EPHL). Through the next three seasons, he spent as much time with the Baltimore Clippers of the American Hockey League as he did the NHL Rangers. "Management in New York put a lot of pressure on me," Jean sighed. "They wanted me to play a more aggressive brand of hockey, but that just wasn't the way I played the game." At one point, Ratelle considered quitting hockey to attempt a career with the Milwaukee Braves of Major League Baseball.

When Ranger forward Phil Goyette suffered an injury in 1964-65, Ratelle finally got his opportunity to play full-time in New York. Although initially placed on the third line, when Jean was again reunited with old pal Rod Gilbert, he proceeded to record a 35-point season. In 1965-66, he scored 21 goals, the first of 14 seasons accomplishing that feat.

Injuries curtailed Ratelle's progress in 1966-67, but by the next season, he had earned his wings and was established as a star in the NHL. That season (1967-68), Jean scored 32 goals for the first of three consecutive seasons and passed the 70-point plateau for the first of six seasons.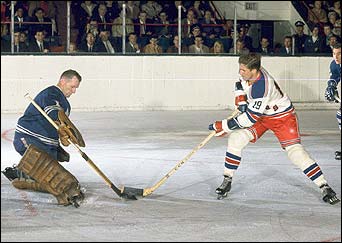 Jean Ratelle breaks in and takes a shot against netminder Johnny Bower. In 1967-68 Ratelle recorded his first of eight 30-goal seasons. (Graphic Artists/HHOF)

Much of New York's success in the late-sixties and through the seventies was based on the outstanding performances of the Rangers' top line. Tagged the GAG Line (Goal A Game), Jean centred a line that included Rod Gilbert and Vic Hadfield on the wings. "It was quite a formation," explains Gilbert. "Jean and I had played together since peewee. We were good together. We needed somebody to complement us. Jean was a left-handed shot and he came to the right wing all the time with the puck. Jean and I needed somebody to go to the front of the net and hold his ground. (Coach) Emile Francis decided that Vic Hadfield was the guy. He was a tough guy; very robust. He established himself well in front (of the net) and could shake himself loose from the defense. The two of us (Ratelle and Gilbert) got him the puck and he scored fifty goals one year (1971-72)."

Ratelle adds, "The New York Rangers' 'GAG' Line played together for nine or ten years, possibly the longest any line stayed together in the history of the NHL. Rod and Vic were great players, so it was fun and we had a lot of success together."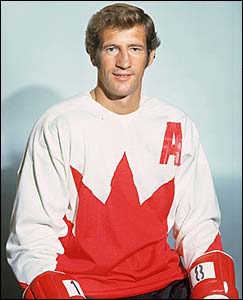 Ratelle proudly represented Canada in the 1972 Summit Series. He scored four points in six games and played primarily a defensive role. (Graphic Artists/HHOF)

1971-72 was a sensational for the lanky centre and his wingers. The three finished third, fourth and fifth in scoring, with Jean collecting 109 points (46 goals and 63 assists), Hadfield earning 106 points (50 goals and 56 assists) and Rod Gilbert scoring 43 goals and 54 assists for 97 points. What is remarkable is that Ratelle broke his ankle with 16 games remaining in the season and yet, still completed the season as the league's third-best point producer. Nonetheless, he was voted by his peers as the NHL's most valuable player, winning the Lester B. Pearson Award. And having earned but two minors all season, Ratelle was also the recipient of the Lady Byng Trophy as the league's most gentlemanly player. A berth on the NHL's Second All-Star Team was also awarded the outstanding centre.

The ankle injury somewhat hampered Ratelle's effectiveness in the playoffs, but in spite of the impediment, in the spring of 1972, the New York Rangers went to the Stanley Cup final for the first time since 1950. In six games, a dynamic Boston Bruins team dashed Ratelle's dream of playing on a Stanley Cup champion.

Jean continued his offensive productivity through the 1970's, but was at the centre of one of the league's most momentous trades. On November 7, 1975, Ratelle was dealt to the Boston Bruins with defencemen Brad Park and Joe Zanussi, while Phil Esposito and Carol Vadnais moved to New York. "There were indications that something was going to happen with the Rangers early in the 1975-76 season, but like most players I never thought it would affect me," admitted Ratelle. "I had been with New York since 1960, so my trade to Boston came as a shock. I'm sure it was even more surprising for Phil Esposito to be traded to New York." That season, Jean collected 105 points and finished sixth in NHL scoring. He also earned his second Lady Byng Trophy.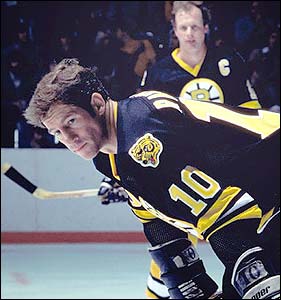 During the 1975-76 season, Ratelle became a member of the Boston Bruins after the club dealt him along with defenseman Brad Park in exchange for Phil Esposito. (HHOF Images)

The smooth-skating centre continued to produce effectively while in Boston, right through until his retirement in 1981. "As it turned out, it was a great move (being traded to Boston) for me and my family. If Bobby Orr hadn't been injured, we probably would have also won a Stanley Cup or two." As it was, the Bruins reached the Stanley Cup final in 1977 and 1978, but in both years, were stymied by the Montreal Canadiens.

Because of his determination, skill and gentlemanly play, parallels were regularly drawn between Jean Ratelle and Jean Beliveau. "He was one of my heroes," stated Ratelle, although he cautioned, "Everyone is an individual. I don't think you can really copy anyone even if you try. I never patterned my style after Beliveau."

Jean Ratelle retired in May 1981, the conclusion of his twenty-first NHL season. Through 1,281 regular season games, he scored 491 goals and added 776 assists for 1,267 points. At the time of his retirement, Jean was sixth on the NHL's all-time points list. Fourteen times, he scored 20 or more goals in a season. Of those, he twice bettered the 40-goal mark. Ratelle finished within the NHL's top ten point-producers on six occasions.

But while those statistics are awe-inspiring, what may be even more significant are his penalty totals (or lack of same). Through twenty-one seasons, Jean earned just 276 penalty minutes.

Regarded as one of the classiest players ever to don an NHL uniform, Ratelle enjoyed great success but admits to one disappointment. "My team worked hard every year and in every playoff series, but I never won the Stanley Cup. For that reason, I can't look back and say that any one year was really satisfying. In the end, we lost." Yet, in recognition of his outstanding career, Jean Ratelle was inducted into the Hockey Hall of Fame in 1985.

Kevin Shea is a hockey historian, and Editor of Publications at the Hockey Hall of Fame.