25 APRIL 2008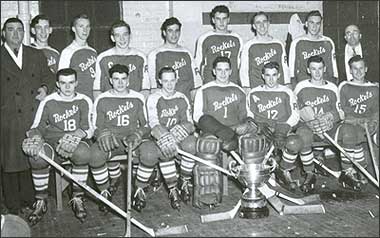 Leo Boivin (back row, fifth from the left) with the 1948-49 Inkerman Rockets. (HHOF Archives)

Leo Boivin began playing hockey at the age of seven on the frozen ice surfaces of Prescott, Ontario. "As a youngster, my Dad made a rink right beside our house and I used to skate on that all the time," he remembers. "Across the road from where we lived, they had a rink there and I used to skate and practice over there. That's how I started."

Boivin started playing organized hockey, and quickly found his calling. "I got into Bantam and Midget hockey and knew that I wanted to be a defenceman because defencemen got to stay on the ice longer."

Leo was recruited for the Inkerman Rockets, a junior team in a small town founded in 1942 by a local school teacher. The Rockets grew to enjoy much reknown, partly because Boivin helped make the team competitive against squads from much larger centres. "I went to the Inkerman Rockets for two years. I was playing for them and we were in a pre-season tournament with Kingston and a scout for the Boston Bruins was there. He had watched me play for two seasons, and he signed me to a 'B' Form with the Boston Bruins, which was just to go to training camp."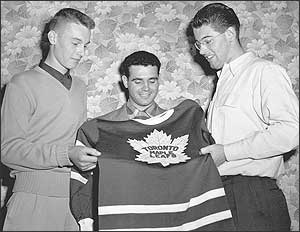 Leo Boivin (centre) shows off his new Toronto Maple Leafs' sweater after having his rights traded to the club by the Boston Bruins. (HHOF Archives)

The Bruins of the early 1950's were a competitive team, and chief scout Harold Cotton, a former NHL star, was excellent at uncovering prospects. During the 1940's, Boston held its rookie camp in Sudbury, Ontario, bringing in prospects from across the country. "At that time, they had (junior teams in) Barrie and St. Catharines (of the Ontario Hockey Association), Port Arthur (Thunder Bay Junior Hockey League) and they had the Estevan Bruins (Saskatchewan Junior Hockey League) and the New Westminster Bruins (Western Canadian Hockey League). Harold Cotton wanted me to go to Port Arthur. I ended up in Port Arthur for two years."

The Port Arthur West End Bruins were strong, but Leo believes that with a little luck, they could have won the Memorial Cup, an award the team won in 1948. "That year, Dave Creighton, Bart Bradley and Rudy Migay were all supposed to come back from the camp to play junior but they all turned pro."

In Leo's final year of junior, 1950-51, Boston traded his rights to the Toronto Maple Leafs. "Toronto made a deal that sent Vic Lynn and Bill Ezinicki to Boston and got Fernie Flaman, Phil Maloney and Kenny Smith. I was the amateur thrown in."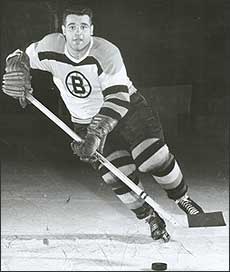 After landing a starting position with the Leafs in 1952-53, Boivin was traded back to the Bruins on November 9, 1954.
(HHOF Archives)

The Leafs were searching for a replacement for hard-hitting defenceman Bill Barilko, who had disappeared while on a fishing trip to northern Quebec during the summer of 1951. "Bill Barilko being lost was a terrible thing." They believed that the tough, young defenceman from Prescott just might fit the hole they had on their blueline. "That was my game even in junior hockey. I just kept getting better and better at bodychecking."

Leo turned professional with the American Hockey League champion Pittsburgh Hornets in 1951-52, but was called up to the Maple Leafs for a two-game tryout late that season, making his NHL debut in a 6-3 win over the Detroit Red Wings on March 8, 1952. "My team growing up as a kid was the Montreal Canadiens. I used to listen to them on the radio all the time. ('Butch') Bouchard and (Maurice) Richard and all those guys. When I played with Toronto in 1952, I played against Billy Reay, Elmer Lach, Butch Bouchard - all my heroes."

Boivin landed a starting position with Toronto in 1952-53 and played with the Leafs until being traded back to the Bruins on November 9, 1954. "I was sent to Boston and Joe Klukay was sent to Toronto. I stayed in Boston for pretty near twelve years."

It was with the Boston Bruins that Boivin's reputation as a hard-hitting, stay-at-home defenceman was firmly established. "We had some good teams. When I went there in '54-55, we were struggling a little bit. New York was ahead of us in points but we came back and took fourth place. We ended up playing Montreal in the semi-finals. In the meantime, the following year, you couldn't buy a ticket in Boston at all. We were sold out completely."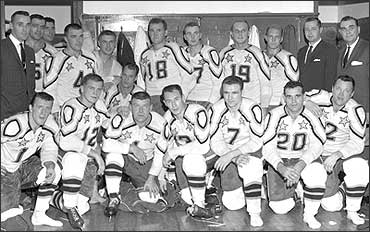 The 1962 NHL All-Star team - #20 is Leo Boivin, #7 is Norm Ullman, #18 is Jack Evans & #19 is Doug Mohns. (HHOF Archives)

In 1956-57, the Bruins had finished in third place, and faced the powerful, first-place Detroit Red Wings in the semi-finals. "They had one hell of a team, I'll tell you. They had (Gordie) Howe, (Ted) Lindsay, (Red) Kelly, (Marcel) Pronovost, (Alex) Delvecchio and Glenn Hall was in goal. We beat them out in five games." Boston then faced the defending Stanley Cup champion Montreal Canadiens in the final. "We couldn't stop 'The Rocket' at all," recalls Boivin. "He scored four goals in one game. Everything was going for him that night." Montreal went on to win the series in five games, led by Maurice Richard and Bernie Geoffrion.

In reflecting on the Original Six era, Leo calls 'The Rocket' the toughest opponent he faced. "You played each team fourteen times; seven at home and seven on the road. You got to know most guys' moves, but even still, it was tough to stop some of the guys. (Gordie) Howe was a great, great hockey player. You never knew what he was going to do. He'd be coming down on you and all of a sudden, he'd switch hands. He had such strength. But I always thought that 'The Rocket' was the best from the blueline in. His eyes just lit up for that goal. He'd go through you, around you or over you — it didn't matter to him. He was a great competitor."

A fierce rivalry existed between the Boston Bruins and the Montreal Canadiens during the late-1950's. "We had some great games with Montreal. We ended up playing Montreal twice for the Stanley Cup, once in 1957 and again in 1958." In both cases, the Canadiens won the coveted Cup, two of five they would win consecutively during that period.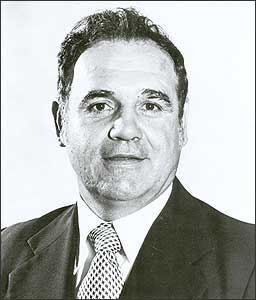 Upon retiring from the game as a player, Boivin went behind the bench with the St. Louis Blues as interim coach during the 1975-76 and 1977-78 seasons. (HHOF Archives)

Boivin was captain of the Bruins for four of his twelve years in Boston, and in 1961, 1962 and 1964, was selected to participate in the NHL's All-Star Game.

A trade to the Detroit Red Wings on February 16, 1966 gave Leo a chance at the Stanley Cup championship that, to that junction, had eluded him. Boivin and Dean Prentice went to Detroit, with Gary Doak, Bill Lesuk and Ron Murphy joining the Bruins. "I had been in Boston for a long time and they were struggling. (General Manager) Hap Emms asked me if I would go to Detroit. It was near the (trade) deadline. (Doug) Barkley lost his eye that year and Sid Abel wanted me to go there. I said, 'Sure, I'll go to Detroit.' It was quite a feeling to go in there because they had guys like (Gordie) Howe and (Alex) Delvecchio that I had hit hard through the years. But they welcomed me with open arms. I really enjoyed playing there."

The Red Wings had several veterans yet to sip champagne from the Stanley Cup. "There was (Bill) Gadsby, Dean Prentice, me and a couple of others who had never won the Stanley Cup. We went to the Stanley Cup final that year. We beat them two straight in Montreal and then we went back to Detroit and lost two overtime games. Roger Crozier was in goal and played a helluva series." Although the Canadiens collected the Stanley Cup, winning in six games, Crozier was awarded the Conn Smythe Trophy as most valuable playoff performer that spring.

"The next year, we couldn't put it all together and we missed the playoffs," sighs Leo. In spite of the potent offense of Gordie Howe, Norm Ullman and Alex Delvecchio, the Wings were left far behind, finishing in fifth place and missing the playoffs by fourteen points.

In 1967, the NHL doubled in size, and the Original Six was no more. Boivin was selected by the Pittsburgh Penguins in the Expansion Draft, returning to the city where he began his professional hockey career sixteen years earlier. Joining Leo in Pittsburgh were Detroit teammates Andy Bathgate, Val Fonteyne, Ab McDonald and netminder Hank Bassen. "After sixteen years in the six-team league, expansion added on to my career. At that time, there were a lot of players playing in the American Hockey League that were great players who just didn't get a chance." The Penguins missed the playoffs in both 1967-68 and 1968-69, finishing fifth in the West Division both seasons.

In January 1969, the Penguins traded Boivin to the Minnesota North Stars. "I went to Minnesota with Wren Blair and stayed there for a year and a half. I retired in 1970." The North Stars ended the 1969-70 season in third place in the West Division, but were eliminated in the quarter-finals.

After retiring as a player, Leo stayed in the game as a scout. He went behind the bench as the interim coach of the St. Louis Blues during the 1975-76 and 1977-78 seasons, and later coached the Ottawa 67's of the Ontario Hockey League, but discovered he preferred scouting to coaching.

After eighteen seasons in the NHL, Leo Boivin, best remembered for his devastating bodychecks, had played 1,150 regular season contests, scoring 72 goals and contributing 250 assists for 322 points. In 54 playoff games, Leo collected 3 goals and 10 assists. In 1986, Leo Boivin was inducted into the Hockey Hall of Fame.

Kevin Shea is a hockey historian, and Editor of Publications at the Hockey Hall of Fame.