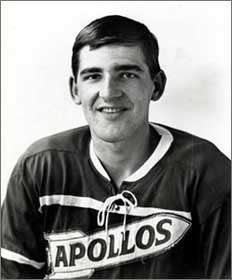 Savard as a member of the CPHL's
Houston Apollos in 1966-67, the year he made his NHL debut

(December 16, 2003) -- He has been called 'The Senator' for as long as most fans can remember. The originator of what Danny Gallivan loved to call a 'Spinarama,' Serge Savard was an integral part of one of the greatest eras in Montreal Canadiens' history; a part of a dynamic defensive troika that included Larry Robinson and Guy Lapointe that helped lead Montreal to eight championships in twelve years. "The team is in the culture of the people around here. If you're from here (Montreal), you felt that way all through your youth. It's in people's blood. People identified with our club and it doesn't have anything to do with language."

Serge Savard's blood pumped rouge, blanc et bleu, just like the colours of his beloved Montreal Canadiens. Born January 22, 1946 in the village of Landrienne, Quebec, Savard followed the results of the Canadiens from childhood, and when the eleven-year-old, already standing close to six feet tall, moved to Montreal to attend boarding school, his passion grew even stronger. By fifteen, Serge had been placed on the reserve list of the Canadiens. He progressed quickly through the minor league ranks, joining the Montreal Junior Canadiens in 1963-64. During his three seasons with the Junior Canadiens, Serge Savard became a leader both on and off the ice, captaining a team that included Jacques Lemaire, Carol Vadnais, Larry Pleau and Christian Bordeleau.

In 1967, wishing to pursue his schooling, Serge accepted an invitation to join Canada's National Team. "My registration at St. Boniface College had been accepted and I had my airline ticket to Winnipeg," recalls Savard. "But the Canadiens got wind of it. The same day, they signed me to a contract and I was sent to Houston to play for the Apollos of the Central League." There, Savard was selected for the CHL's Second All-Star Team and was named the league's rookie of the year.

His play earned him a ticket to Montreal where he joined the Canadiens full-time in 1967-68. "The first half of the season, I hardly played at all. It was a strange feeling," Serge admits. But the team rolled on and Savard earned added ice time. That spring, the Montreal Canadiens won the Stanley Cup in Serge's first NHL season.
Savard angles off Toronto's Mike Walton.

In his second NHL season, Savard was becoming the dominant team player we reflect back upon today. For a second straight season, Montreal not only finished first in the East, but proceeded to capture the Stanley Cup. Savard was outstanding, blocking shots, clearing the zone and collecting ten points in fourteen games. His four goals was one shy of an NHL record for playoff goals by a defenseman in one season and helped earn Serge the Conn Smythe Trophy as the most valuable playoff performer as his Canadiens swept the St. Louis Blues in four games.

But injuries hampered Savard's continued progress. In a March 1970 game against the Rangers, Serge crashed into a goal post and broke his leg in five places. "There was a time when I was afraid I wouldn't play again. My leg was broken in three big places besides the chips and I got scared after the doctor took off the cast for the first time. The break was moving inside," Serge recalls. But to complicate matters, Savard returned to the Canadiens only to break the same leg again in February 1971. Caught by a Bob Baun hipcheck in a game against Toronto, the break put Serge out of action for close to a year. But the break did more than put Savard out of action; it changed his style of play. "When I was younger, I was more of a rusher but after the two bad leg injuries, I didn't have the same speed so I became more of a defensive defenseman," states Serge. Although never afraid to carry the puck, Savard was found to be invaluable in his own end. "Not many guys are hurt stopping shots," Serge explains, describing his skill as a shot blocker. "You could get killed if you get hit in the temple but the average is good. I turn sideways from twenty to twenty-five feet away and let the goalie take it. He can see it better. To me, there's no danger if you time it right. You have to be almost on top of the shooter before falling."

Despite missing substantial portions of two seasons, Serge Savard was chosen to be a member of Team Canada in the 1972 Summit Series against the Soviets. From that celebrated series, sixteen players went on to earn Hall of Fame honours. But it almost ended prematurely for Serge. Prior to the fourth game, a game played in Vancouver, a Red Berenson shot in practice caught Savard on the ankle and he sustained a hairline fracture. It was expected that Savard was done for the series, but because there was gap between Games Four and Five, owing to travel from Canada to Europe and an exhibition tour of Sweden, Savard was able to get ten full days of rest at home before returning to action. Ignoring the advice of Montreal management and his doctors, Savard travelled with Team Canada to Europe. He sat out the two exhibition games in Sweden as well as Game Five in Russia, but dressed and played in Games Six, Seven and Eight. "Lucky for me, it turned out to be just a slight crack and not another fracture," Savard sighs. Team Canada did not lose in any of the five games in which Savard played, winning four and tying one.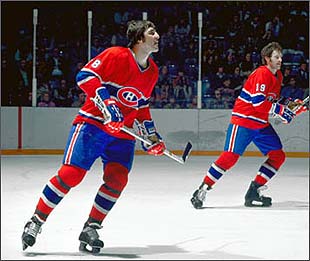 Savard (left) and fellow Honoured Member Larry Robinson formed two-thirds of the famed defensive corps "Trio Grande", along with Guy Lapointe (not pictured).

Serge Savard played fourteen seasons as a Montreal Canadien, and was part of eight Stanley Cup championships during that time, including four consecutive between 1976 and 1979. Serge was Montreal's captain from 1979 to 1981. But on August 12, 1981, Savard decided that he had had enough. The team had been struggling and Savard, who had proven to be a savvy businessman through his years with Montreal, decided to pursue those interests outside of hockey. After turning professional with Montreal in his early 20s, Savard had begun purchasing apartment buildings at low cost and refurbishing them. His business acumen was enough to make Serge stand out in a sport where but a handful of players oversee their own affairs. While his teammates were playing cards or reading sports magazines, Serge was reading The Wall Street Journal. That afternoon, Savard stated, "This is the most difficult decision of my life. As a player, you know this day is coming but you never want to believe it." Toe Blake, the former coach of the Canadiens, added, "It's been said that anyone can be replaced, but that's not the case here."

Savard's old teammate, John Ferguson, plucked the star defenseman in the waiver draft that summer and attempted to convince Serge that he should reconsider his retirement and become a Jet in Winnipeg. Ferguson and Savard were partners in several thoroughbred racehorses, and the sales pitch was solid. "I didn't really want to come back," Savard explains. "I was receiving calls from John. I saw that the Jets weren't the same as the year before or else I wouldn't have come back, but the club was going for first place. I hadn't enjoyed the game the previous few years. Things were on a sour note with the Canadiens. There were a lot of young defensemen waiting in line. I made the right decision. But I felt wanted by Winnipeg and the atmosphere was very different."

Winnipeg joined the NHL in 1979-80 and missed the playoffs in its first two seasons of existence. But with the leadership and influence of Savard patrolling the blueline, the Jets added 48 points to their regular season total of 1980-81 and finished in second place in the Norris Division in 1981-82. "My duties were clear," Savard explains. "No one expected me to carry the club on my shoulders."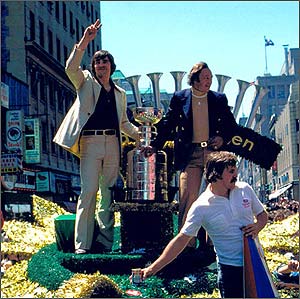 Serge (left) shares the spotlight with the Cup during the 1976 Stanley Cup victory parade in Montreal with teammate Yvan Cournoyer (top right).

Winnipeg's defense corps was very green - twenty-year olds Dave Babych and Moe Mantha, twenty-two year olds Don Spring and Tim Waters, twenty-six year old Bryan Maxwell and Barry Legge, who was the old man at 27, were joined by thirty-five year old Savard, who lent the team the knowledge of what it took to win. The Winnipeg Jets went to the division semi-finals that season. "If Montreal had not forgotten to file my retirement papers, there's no way I'd have played in Winnipeg. But I was very happy to be playing. If my family had been against the move, I would never have considered it. Their attitude surprised me. I think my family missed my involvement in hockey," says Savard

Serge Savard spent two seasons with the Jets, guiding the team to the division semifinals both seasons. Then, with much fanfare, the Montreal Canadiens hired Savard as Managing Director on April 28, 1983. "It was a fantastic feeling to be back with the Montreal organization where I had so many friends and memories," remembers Savard. Montreal sent a third-round draft choice and $50,000 to Winnipeg to get Savard released from the final year of his contract with the Jets. Serge retired as a player having played 1,040 regular season games in which he accumulated 106 goals and 333 assists for 439 points. Savard added 19 goals and 49 assists for 68 points In 130 playoff contests. Besides the Conn Smythe Trophy in 1969, Serge won the Masterton Trophy for perseverance and dedication in 1979. That same year, he was selected for the NHL's Second All-Star Team. But individual awards eluded the wily veteran, even though his considerable presence contributed greatly to the eight Stanley Cup championships won during his prestigious career. "I never pay attention to individual awards and I think that sometimes, too many people place too much value on them."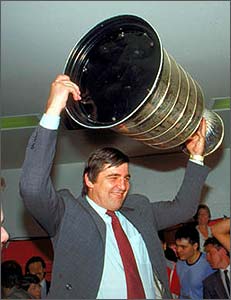 Hoisting the Stanley Cup as General Manager of the 1985-86 Montreal Canadiens.

As a senior executive with the Canadiens, Savard was easily as clever as he had been both on the ice and in his personal business career, which had amassed him a considerable personal fortune. In 1986 and 1993, the Canadiens won the Stanley Cup, while the team went to the finals in 1989. But five games into the 1995-96 season, the club replaced Jacques Demers as coach with Mario Tremblay and fired Serge Savard, replacing him with Rejean Houle. Hurt, Savard comments, "My personal feeling was that it was unfair because I was convinced I could find a way to turn things around. I'd done it before, but I understand that the team wanted to make a change."

Savard turned his attention away from hockey and continued developing his business ventures. He built a new career as a real estate developer, hotel owner and investor, and garnered considerable power in both the business and political arenas. "I guess I'm like everybody else," Savard admits. "You've got to have something in life that you're proud of. You have to achieve something."

Serge Savard has achieved a considerable amount and has considerable reason to justify his pride. His hockey legacy includes ten Stanley Cup rings (two in management and eight as a player) and representing Canada in the 1972 Summit Series and the 1976 Canada Cup. The piece de resistance for Serge Savard came with his 1986 Induction into the Hockey Hall of Fame.

Kevin Shea is a hockey historian and journalist. His biography on Bill Barilko will be published in October 2004.