1 MARCH 2005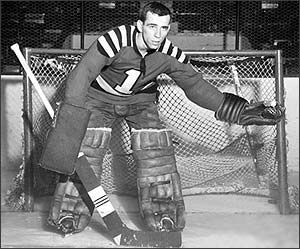 Giacomin credits Hall of Fame defenseman Fern Flaman, his coach with the Providence Reds, with nurturing his stickhandling and puckhandling abilities. These skills served him extremely well during his professional career.

Netminder Ed Giacomin took a long, circuitous route to the National Hockey League, and he owes much of his Hall of Fame career to hard work ... and his brother.

In 1958-59, the Washington Eagles of the Eastern Amateur Hockey League needed a goaltender to play the final four games of their regular season schedule. They were tipped off to the back-up goaltender for the Sudbury Wolves of the Northern Ontario Hockey Association, a goalie named Rollie Giacomin. Except, Rollie didn't want to go to Washington so sent his younger brother Ed, also a netminder, instead.

Ed Giacomin, born June 6, 1939, was playing goal with Sudbury Bell Telephone, a senior team in the Nickel Belt Hockey League, at that time. His team was sponsored by Detroit, so the Red Wings had the first right of refusal for Giacomin's talents. In the fall of 1954, Eddie had even attended a Detroit Red Wings junior tryout camp. "It gave me my first big thrill," Ed recalled. "I got to play ping-pong with Gordie Howe!" But shortly thereafter, Giacomin was sent back home to Sudbury. "(A man from the Detroit organization) told me I just wasn't good enough to play junior hockey and that I'd never make it. He said I should forget about being a goalie." Ed chuckled at the memory.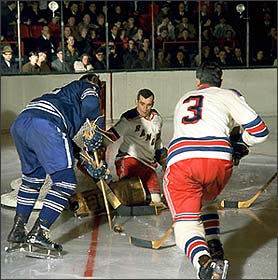 The Rangers struggled through 1964-65 with the goaltending tandem of Jacques Plante and Marcel Paille. The next season, New York sent four players to Providence in order to secure Giacomin, who would go on to star with the Rangers for a decade.

Playing in Washington, Ed backstopped the team to four consecutive wins in those final four games, and in doing so, earned himself a shot with the team for the following season. The EAHL franchise moved from Washington to Clinton, and Ed was signed on as a practice goaltender and assistant trainer, but it quickly became apparent that Giacomin's talent was not to be denied, and he became the number one netminder for the team, which subsequently moved to New York and became the Rovers.

The Providence Reds, meantime, were an unaffiliated team in the American Hockey League when they picked up Giacomin from the New York Rovers in 1960. The Reds management had seen Eddie play in the Eastern League and secured his rights.

"The Reds were a last place team most of the time I was with them, but this was a blessing in disguise," admitted Ed. "I saw a lot of rubber and learned how to play goal." Providence was a wonderful experience for Giacomin. Through his sensational play for a poor team, Eddie quickly catapulted himself into the status of local hero. "You see the same faces sitting in the same seats," Ed explained. "It got so that you could recognize almost every voice."

"Visiting teams hated coming in here," Giacomin continued. "If you were a goalie, you had to be in the game mentally all the time. The ice surface was small and the fans were always yelling at you — sometimes encouraging you, sometimes not. But no way could you ever daydream. It was fun!"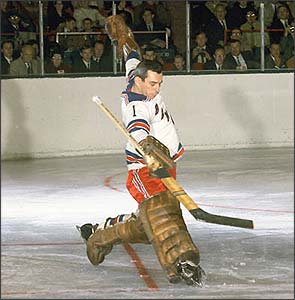 After serving New York so well between 1965 and 1975, Ed's sweater number 1 was retired by the Rangers' organization on March 15, 1989. Only one player before (Rod Gilbert) and one since (Mike Richter) have been so honoured.

The team struggled but Giacomin shone. In 1962-63, the Reds finished the season first overall in the AHL's East Division. Anderson-Little, a Providence clothing store, gave a free pair of dress pants to Reds' goaltenders every time they earned a shutout. "The first shutout I got, I kept the pants," Eddie smiled. "After that, every time I got a shutout, I'd put the names of my defensemen in a hat and pull one out and give him the pants. Had to keep my defensemen happy," he laughed. That year, Giacomin earned four pairs of pants and earned the best goals against average in the league (2.62).

Ed spent five years in Providence, riding the ebbs and flows of his team's inconsistency but always providing dependable, if not acrobatic, goaltending. Then, in May 1965, after the Reds suffered the humiliation of missing the playoffs by finishing last in their division, Giacomin got the opportunity of which he had long dreamed. "Johnny Gagnon, the Rangers scout, lived in Providence and he watched me and tipped (New York general manager) Emile Francis to my abilities," recalled Ed. Providence traded Giacomin to the Rangers for minor leaguers Aldo Guidolin, Sandy MacGregor, Jim Mikol and back-up netminder Marcel Paille. "Four players for one guy," Eddie smirked. "For awhile, I wondered if I was worth it."

Ed opened the 1965-66 season with New York, platooning with Cesare Maniago and diligently working with general manager Emile Francis, himself a former NHL goaltender. "I always had a dream of making it in the NHL," Eddie admitted. By 1966-67, Giacomin was the Rangers' regular goalie. That year, he not only led all NHL netminders in games played (68), wins (30) and shutouts (9), but was also named to the NHL's First All-Star Team. After years of frustration at missing the playoffs, the team' fortunes were turning around, with credit attributed in part to their lanky goaltender. "In November 1966," Ed summarized, "Boomer Geoffrion changed the course of history for the Rangers and for me. He led us to a long sought victory at the Forum in Montreal and the cloud lifted. I went on to get nine shutouts and we even challenged for first place for awhile, finally making the last playoff spot." New York had missed out on post-season play the previous four years.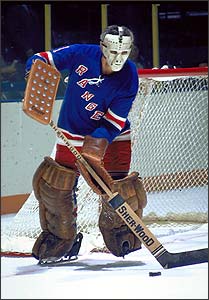 Never afraid to leave his crease to make a play, Ed earned two assists in a 5-3 victory over the Toronto Maple Leafs on March 19, 1972. His real dream -- to score a goal -- never quite came true, however.

Ed was not only an acrobatic goaltender, but one who wandered from his crease on a regular basis. "I came out, when I had to, in order to beat an incoming forward to the puck," Giacomin told Hockey Pictorial in 1971. "Sometimes I go behind the net and trap the puck along the boards like Jacques Plante. I don't think any of our defensemen thought I wandered too much — at least they haven't said so." But Eddie's dream was to score a goal in the NHL. "I hear Chuck Rayner of the old Rangers used to come right up and take part in the power play in the last minute of the game, but unfortunately, the rules no longer let goalies go past the middle red line," Giacomin chuckled. "Maybe I should have been a forward — the boys told me I skated pretty good, that is, for a goalie!"

The New York Rangers became regular playoff visitors, but throughout Giacomin's reign in the Rangers crease, never were able to capture the Stanley Cup. The closest they came was in 1972 when Ed's Rangers faced the Boston Bruins in the Stanley Cup final. "That guy over there, he killed us," stated Ed, smiling as he pointed to a photograph of Bobby Orr. "Beat us in the last game, 3-0, with a goal and two assists."

Giacomin was one of the last NHL netminders to don a face mask. "I do think you see the puck better without a mask," Ed admitted. "I tried (Jacques) Plante's newfangled creation for awhile, but I don't like it," Ed told The Hockey News in 1970. He had just started wearing a mask in games and was not comfortable with it, yet his goaltending statistics remained solid. In 1967-68, he was voted onto the NHL's Second All-Star Team after leading the league with 36 wins and 8 shutouts. In 1968-69, he again led the NHL in wins (37) and was a Second Team All-Star. He earned a Second Team berth again in 1969-70, his third consecutive season to be so honoured. The next season, Ed collected 8 shutouts and, with partner Gilles Villemure, was awarded the Vezina Trophy for the best goal against average. Ed was also slotted as the NHL's First Team All-Star.

After ten years starring with the Rangers, the immensely popular Giacomin was cut loose by New York on October 31, 1975, but he was immediately picked up on waivers by the Detroit Red Wings. It was a serious blow to Giacomin's pride, and a horrific blow to Rangers fans. Ed had been booed and pelted with debris at Madison Square Garden earlier in his career, but left a hero in the eyes of the paying public. That spring, the Rangers missed the playoffs; something they hadn't done since Ed was made the starting goalie.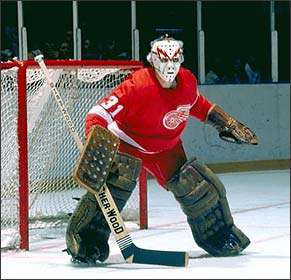 Having starred with the Rangers as that franchise evolved into a contender and then concluding his career with Detroit, Ed Giacomin was elected to the Hockey Hall of Fame in 1987. Bobby Clarke and Jacques Laperriere were also selected as Player Inductees while Matt Pavelich was honoured as an official and John Ziegler as a Builder.

Ed played parts of three seasons in Detroit with the Red Wings, but there was never any mistaking the fact that Jim Rutherford was the first string goaltender. Then, on January 16, 1978, the Red Wings informed the veteran that his services would no longer be required. He was given a short term role as a public relations assistant and scout. But playing hockey wasn't over for the likeable Giacomin. Even before the official announcement of his retirement had been made by the Red Wings, Eddie had already found a new team. He joined an over-thirty league in suburban Detroit, playing left wing. "I didn't think I could make it in this league as a goalie," he laughed, much to the delight of his teammates. In his first game playing forward since midget hockey in Sudbury, Giacomin scored three goals in his new team's victory.

An ironman, an acrobat and an outstanding competitor as well as an immensely popular teammate, through 610 regular season NHL contests, Eddie Giacomin collected 289 wins, 206 losses and 97 ties. He shut out his opponents on 54 occasions, and concluded his thirteen season NHL career with a sparkling goals against average of 2.82.

Giacomin reflected back on a brilliant career, and his affection for the years and fans in New York. "When I went to a fan function (in New York), I was the first one there and the last to leave. I really loved being a Ranger and being in New York. I guess it showed," he admitted. "It's hard for me even today to sign Detroit Red Wings' hockey cards. It isn't natural because I never felt like I was a Red Wing."

In 1987, Ed Giacomin was inducted into the Hockey Hall of Fame, bringing an NHL career that most doubted would ever take place, to a triumphant conclusion. "My biggest thrill would have been winning the Stanley Cup, but an individual can get no greater honour than this," Ed said at the time.

Kevin Shea is the Hockey Hall of Fame's Manager of Publishing and Editorial Services.