---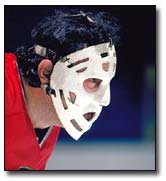 (March 4, 2002) -- Tony O was ahead of his times in more ways than one. First, of course, was his style of play guarding the goal. "I think a lot of goalies today play something like I did," he suggested, "but there are so many different levels nowadays. In my day, every goalie was great. Now you have more great ones, but you also have some who aren't great. The talent has been stretched."
Today's goalies are also in superb shape twelve months of the year, but none has a leg up on Esposito. "I exercised year 'round. In the summer, I played racquetball five days a week and then went to the gym to do some weights. Not heavy weights but just to work my muscles."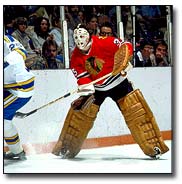 Now, Esposito lives full-time in Florida, a residual effect of his time as assistant general manager with Tampa Bay. "I came down here with my brother, and I'm still here. It's sunny every day, and the team gives me season's tickets, so I have the perfect life." Although he won't rule out a return to the game, it's hardly on the front burner of his ambitions at this time. And he has a farm further north in the States and returns to hockey cities like Toronto and Chicago for regular alumni events and appearances. "But most of my hockey connections are with the people here [in Tampa] because that's where I am most of the time."
Esposito is centre to two interesting sweater number stories. It was he who wore number 29 for Montreal, the first Habs' goalie to do so, and fully two years before Ken Dryden made the number famous. When he got to Chicago, he wanted a non-traditional number.
The standard issue 1 and 30 were taken, so he asked for 35. "I wanted something different," he said, "something to make me stand out and for people to notice." Notice they did. He took the team to the finals in 1971, to face Dryden and the Habs, and in all he played 99 games in the post-season. He led the league in minutes played six times, and he has the unique distinction of representing Canada in the '72 Summit Series and the USA in the 1981 Canada Cup.
"I had a great time," he said, "and I always took care of my body. That's the thing some players don't. For a goalie, there's no reason he can't play until he's 40 if he takes care of himself. The reflexes are still there." Tony O bettered that by one. He retired in 1984 at age 41, and was inducted into the Hockey Hall of Fame in 1988, four years after his brother, Phil (whose middle name is also Anthony!).
- Andrew Podnieks is the author of numerous books on hockey including the current The Essential Blue & White Book. He is also a regular contributor to Leafs.com and managing editor of A Day In The Life of the Leafs to be published in the fall of 2002.