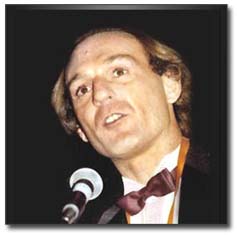 Guy Lafleur at the podium during his 1988 Induction

(March 16, 2003) -- "I was born and grew up in Thurso, Quebec, near Montebello," states Guy Lafleur, the player selected by The Hockey News as the eleventh finest hockey player ever to play the game. Born September 20, 1951, from an early age, there was but one passion in Lafleur's life and that was hockey. "Everybody skated and played hockey. When I was five, Dad gave me a heavy box for Christmas. When I opened it, there was only a piece of wood. I was so mad! Then he gave me another box, and the skates were there. Dad used to build a rink behind our house every winter. That's where I started playing hockey. From the time I was seven, I used to sleep in all my equipment. That way, I was ready to play in the morning."

Although a good student, Guy applied himself only as much as needed. He spent the rest of his time working on his hockey game. "We played hockey at noon, and after school, we practiced until dark. All the Brothers (priests at Ecole Ste. Famille) were mad about hockey. The principal made us shoot until we could hit this big hole in the boards. It was tough!" The local arena manager struck a deal with a 10-year old Lafleur: the more duties he performed around the arena, the more icetime he could earn. Guy worked diligently at this pursuit, skating endlessly during the early morning hours before the Thurso Arena saw its first booking of the day. "During the week, we would start playing at 7 or 8 in the morning, then play against other classes at noon and other teams in the area after school."

At the world-renowned PeeWee Tournament in Quebec City in 1962, twelve hundred young hockey players from all over North America converged on the provincial capital, but only one emerged as the most outstanding player of the tournament- Guy Lafleur. Although under-aged for PeeWee, Lafleur shone, scoring 30 of his team's 48 goals. "I remember when I was 10 years old, meeting Jean Beliveau at the Quebec PeeWee tournament," recalls Lafleur fondly. "I scored a hat-trick and they took a picture of Jean putting a hat on my head. He was a real gentleman and very, very nice to me and to a lot of kids. I always remember that. Having a chance to meet the man you idolized as a boy was very, very special to me."

Once the spotlight hit Lafleur, it never left. Paul Dumont, the director of the tournament, was also a scout for the Quebec Aces of the Quebec Junior Hockey League. His notes on Guy Lafleur read: 'Lafleur, Guy. Excellent skater. Strong and accurate right-handed shot. Interesting style of play. Can fake right or left. Excellent forward, can also play defensively.' Dumont had remained in contact with Guy's father, Rejean, after the tournament. On Guy's fifteenth birthday, the two struck a deal that would see Guy join the Aces and play junior hockey in Quebec City. Signed by Quebec at 15 and weighing just 135 pounds, Guy Lafleur joined the ranks of junior stars rising out of Quebec.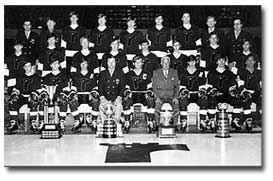 The 1970-71 Memorial Cup Champion Quebec Remparts. Guy Lafleur is seated in the front row, centre stage wearing the "C".

Lafleur played four seasons in Quebec City, two with the Aces and two with the team re-named the Remparts. As a rookie, Guy scored 30 goals and collected 49 points in 43 games during 1967-68. In 1968-69, Lafleur's progress accelerated, and he scored 50 goals and 110 points. With the newly-named Remparts in 1969-70, Lafleur led the QJHL in goals with 103, finishing the season with 170 points and was named to the First All-Star Team. During the playoffs, Guy fired a league-best 25 goals and led all playoff performers with 43 points, accomplished in just 15 games. The next season, Guy scored an unprecedented 130 goals and 209 points, both QJHL bests, and was named to the league's First All-Star team. He then followed with 22 goals, 21 assists and 43 points in the 1971 playoffs to lead all point producers during the post-season. That spring, the Lafleur-led Remparts won the Memorial Cup; the championship trophy for junior hockey in Canada. "It was tough going to school in the day and traveling to games at night. Sometimes we would get back about midnight. I never went to dances or hung around with girls. Hockey was the first thing."

Prior to 1970, the Montreal Canadiens were granted a unique concession on the day of the amateur draft. They were allowed to draft the top two French-speaking prospects each year. With that concession ended in 1970, the Buffalo Sabres were able to draft Gilbert Perreault. There was no longer a provision for Montreal to select draft choices by way of culture. First choice in the draft went to the last-place team in the expansion (Western) division. Montreal had enjoyed a fine season, including a Stanley Cup celebration, so would be selecting late in the talent pool selections. The Canadiens were looking for a Francophone star to replace Jean Beliveau, who was making noise about retirement.

The Canadiens' general manager, Sam Pollock, orchestrated a trade with the Oakland Seals that would ensure that Montreal would receive one of the top draft choices in 1971, a year in which both Marcel Dionne and Guy Lafleur were available. Oakland had perennially finished near the bottom of the division, and 1970 looked like it was going to conclude with the same result. The shrewd Pollock sent Ernie Hicke and a first round draft choice in 1970 to the Seals in return for Francois Lacombe and a first round draft choice in 1971. The lowly Seals assured Montreal of having one of the earliest picks in the draft - potentially the first overall selection. But as the season went on, Los Angeles Kings fell in the standings and looked like they were going to battle with the Seals for last place. Pollock, making certain all his bases were covered, sent centre Ralph Backstrom to the Kings for Ray Fortin and Gord Labossiere - two perennial minor leaguers. Labossiere was then traded by Montreal to Minnesota less than a week later. Fortin never played again in the NHL. In the meantime, Backstrom's acquisition sparked L.A. and they not only climbed out of contention for the last spot (and thus, the first draft pick), but almost made the playoffs. As a result, Oakland finished last and Montreal was able to guarantee their first draft choice overall.

The Montreal Canadiens were torn between choosing one of two junior superstars, both of whom happened to be French-Canadian. Should they choose Marcel Dionne of St. Catharines? Should it be Guy Lafleur? June 10, 1971 was draft day and Montreal had a difficult decision to make. Ultimately, with the first overall selection, the Montreal Canadiens chose Guy Lafleur from the Quebec Remparts. "I took my Mom and Dad," smiles Guy. "We were just walking into the room when the first draft choice was announced. It was me! All the press came and talked to me, and I didn't know what to say." Lafleur continues, "When I was a kid, all we saw on TV was the Canadiens, and all I wanted to be was Beliveau. We had one bleu, blanc and rouge Canadiens sweater and I fought the others for the right to wear it. I dreaded to be drafted by any team but Canadiens, and when they took me, I was so happy." Marcel Dionne subsequently was chosen by the Detroit Red Wings with the second overall pick.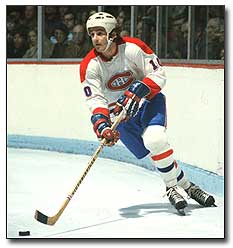 Guy Lafleur made his debut with the Montreal Canadiens on opening night of the 1971-72 season in a game against the New York Rangers. There was high drama over which number Lafleur should wear with Montreal. Canadiens' management suggested he wear Jean Beliveau's retired Number 4, positioning himself as the next superstar of the Canadiens. Beliveau, Lafleur's childhood idol, concurred in having Lafleur wear Number 4. "The more I think about it, the more I find it's a good idea," stated Beliveau at the time. "Why bury Number 4 six feet under as they did Maurice Richard's Number 9?" Ultimately, in order to relieve the massive expectations that would be heaped upon any player wearing Number 4 in Montreal, Guy Lafleur skated out wearing Number 10.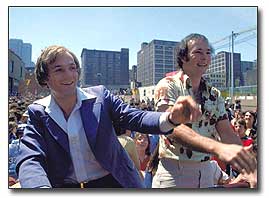 Guy and linemate Steve Shutt enjoying their team's Stanley Cup Parade.
Lafleur's first NHL goal came on October 23, 1971 against the Los Angeles Kings. It was the first of 29 he would score as a rookie, yet it was Gilbert Perreault with 38 goals and 72 points who was awarded the Calder Trophy as the NHL's best rookie. But there would be plenty of individual awards for Lafleur throughout an exceptional NHL career. Guy earned the Art Ross Trophy three consecutive seasons (1975-76, 1976-77 and 1977-78), the Hart Trophy in 1977 and 1978, the Pearson Award in 1976, 1977 and 1978 and was named to the NHL's First All-Star Team six straight seasons (1975-1980). During 14 seasons in Montreal, Lafleur reached the 60-goal mark once, bettered the 50-goal mark six times and scored more than 20 goals thirteen times. Guy also collected more than 100 points during six seasons. He finished in the NHL's top ten scoring on each of those six occasions. "Individual records are nice to get, but before the season starts, you want to play to win the Stanley Cup!" The Montreal Canadiens won the Stanley Cup in 1973, 1976, 1977, 1978 and 1979 with Lafleur leading their offensive attack. He was named the Conn Smythe winner as playoff MVP in 1977.

But during the 1984-85 season, something was wrong. Guy wasn't getting the icetime he was used to, and his productivity declined drastically. Guy clashed with former teammate Jacques Lemaire, who had assumed the coaching reins of the Canadiens partway through the previous season. Clearly disgruntled, 19 games into the 1984-85 season, Guy Lafleur decided he had had enough. On November 26, 1984, Lafleur retired. "They wouldn't let me play and they wouldn't let me go elsewhere," states a disgruntled Lafleur. The Montreal Canadiens gave him a job for life, doing public relations for the franchise.

Guy Lafleur's career with the Montreal Canadiens ended with 961 games played, 518 goals and 728 assists. His 1,246 points is a team record. In the House of Commons, Lorne Nystrom, a Member of Parliament, paid tribute to Lafleur's incredible career: "It may be that everywhere else in the world, the ascendance of Flower Power began and ended in the sixties, Mr. Speaker, but in Montreal it began in 1971 and ended yesterday when Guy Lafleur retired. This is the end of a great era, Mr. Speaker. I am certain that the House and the entire population of Canada will join me in wishing him good luck in the future and thanking him for the unforgettable moments he has given us." On February 16, 1985, Lafleur's Number 10 was raised to the rafters of the Montreal Forum, never to be worn again by a member of the Montreal Canadiens. After waiting the obligatory three years, Guy Lafleur was inducted into the Hockey Hall of Fame in 1988.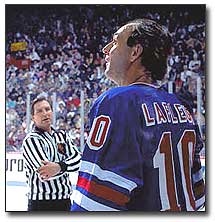 Lafleur during his season with the New York Rangers.
But there was a fire still burning inside Guy Lafleur. During the summer of 1988, Lafleur decided he wanted to play again. Several teams discussed the possibility with Guy, but it was the New York Rangers who stepped up and consummated an agreement. General Manager Phil Esposito had always admired Lafleur's skills as an opponent. Coach Michel Bergeron had often spoken of his respect for Guy. Old friends Chris Nilan and Marcel Dionne were both playing on Broadway. It seemed like an ideal fit.

Guy had played in oldtimer's games but little more during his three-year retirement, yet he was still in game shape. He started the season with the Rangers and became just the second member of the Hockey Hall of Fame to resume a career after becoming an Honoured Member. Gordie Howe had done so previously, and Mario Lemieux would afterwards. Lafleur scored his first goal in four years on October 16, 1988. Despite an ankle injury, Guy recorded 18 goals and 27 assists through his comeback season.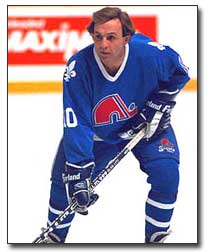 Guy's last NHL season - as a member of the 1990-91 Quebec Nordiques.
For 1989-90, Guy returned to Quebec, but this time as a Nordique, joining the team as a free agent. Former Ranger coach Michel Bergeron was now behind the bench in Quebec City, making Lafleur's transition easier. Guy Lafleur played two seasons with the Nordiques, and although suffering injuries during both seasons, scored 12 goals both years.

After playing three additional seasons after his first retirement, exorcising the demons he discovered, Guy Lafleur was at peace with himself and at the conclusion of the 1990-91 campaign, announced his final retirement. "The difference is, this time it's my idea," admitted Guy at that time. In his final game, appropriately a contest between his Quebec Nordiques and the Montreal Canadiens, "I'm retiring because I want to retire. I'm ready." Guy continued,"I will always regret that I cannot keep the great days with me forever. That I cannot go on forever scoring 50 goals a season, that my feet do not forever have wings, that my muscles never get tired. You hear the cheers and a light shines so brightly it can blind you forever, it is true. But also, so brightly it can light you the rest of your days." His final statistics - 1,126 games played, 560 goals, 793 assists and 1,353 points - bear testament to the fact that Guy Lafleur was indeed one of the brightest lights in hockey history.
Kevin Shea is co-author of several hockey biographies. His most recent book is "Over The Boards - The Ron Ellis Story" (H.B. Fenn), released November 2002.