10 MAY 2005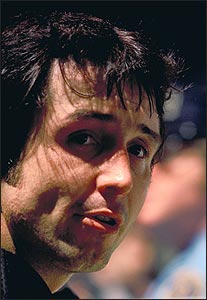 Navigating around obstacles like knee surgeries and playing in the shadow of Bobby Orr, plus wearing the stigma of not having won a Stanley Cup championship during his career didn't deter Brad Park from being elected to the Hockey Hall of Fame in 1988.

Douglas Bradford Park was called Brad from the moment of his arrival on July 6, 1948 in Toronto. And his love for hockey came very shortly thereafter. "There was a little rink outside Toronto in Unionville," reminisces Brad. "My father Bob used to referee juvenile hockey games there. My brother Ron, who was eight, got signed up to play. I was only six, which was too young to play, although I could skate as well as my brother could. I used to bug my Dad to get me on a team because he was a referee and I figured he had some pull. He'd take me to games with him and one night, I got a lucky break. One of the goalies didn't show up. I remember standing behind my father's leg and tugging at his trousers and saying, 'Tell them I can play, Dad. Tell them!'"

Brad got the chance to play and with the help of his parents, pulled on the goalie equipment with a toothy grin as wide as both his leg pads. "The first game, my mother stood back of the net. The guy carrying the puck for the other team came skating down along the boards and I protected the goal post on that side. On the first shot, he put the puck in the net on the other side and I started crying. My mother asked me what as wrong and I yelled, 'He wasn't supposed to do that!'"

But Brad didn't quit, in spite of the poor start. "I played a few more games in goal and picked up some shutouts. I was really enjoying myself," smiles Park. "Then, the regular goalie showed up and took his job back. By then, the other players on the team had accepted me and they let me stick around as a forward." The team discovered that Brad could skate as well as most of the forwards, so the six-year-old's stint in goal was short-lived.

Bob Park coached Brad from atom to midget. "Our club was the Scarborough Lions. We were the very first Toronto team to play in the Quebec peewee tournament back in 1960," recalls Brad. The Eglinton Aces did very well, providing Park with a cherished memory of minor league hockey. "We reached the finals with a record of 29 goals for and only one against. We beat Montmorency, Quebec 6-0 in the championship game to finish with a goals total of 35-1. After our victory, we got a great hand from the fans when we skated around the ice holding a banner bearing the inscription 'Quebec. We Love You. Scarboro.' I recall we helped pay our way to the tournament by selling pop bottles and raising $400. Syl Apps Jr. was on that team with me, too. We later played together on the Rangers."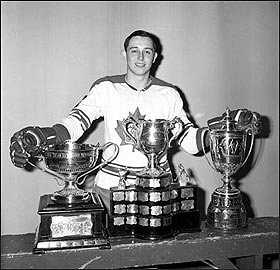 Toiling under the nose of Toronto Maple Leafs' management, Brad played three seasons with the Toronto Marlboros, winning the Memorial Cup as junior champions in 1967. He was drafted by New York in the 1966 Amateur Draft and joined the Rangers during the 1968-69 season.

In 1963, the National Hockey League reduced the number of young players each of the Original Six franchises could have under contract, allowing all six teams relatively equal access to securing strong young hockey players in hockey hotbeds like Toronto. Brad Park, who had been affiliated with the Toronto Maple Leafs organization, was made expendable because of the ruling, as were players like Peter Mahovlich and Garry Monahan. "The Leafs were my heroes," Brad laughs. "I worshipped Ron Stewart since I was five years old." Park would later play with his hero on the New York Rangers.

When the Leafs were forced to make decisions on which young players to lock up contractually, Toronto management got the impression that Park was going to be too small to compete in the NHL. At the age of fifteen, Brad was just slightly over five feet tall. Looking back, Toronto Maple Leafs executive King Clancy stated, "I don't know how we let him get away. I have never seen a young player with as much poise as he showed." In April 1966, Rangers' scout Steve Bklacich urged the Rangers to sign Park, who was up for grabs. "I was drafted by the Rangers as a midget, but somehow, I never thought of playing for them," Brad admits. For $3,000, the Rangers picked up a prospect who would become the cornerstone of the franchise for seven years. "Going to New York was the best thing that could have happened to me," states Park. "There was more chance for a young defenseman to make a name there than in Toronto."

Although drafted second overall by the New York Rangers in the 1966 draft (Barry Gibbs went first, chosen by Boston), Park continued to play with the Toronto Marlboros as he completed his junior career. In the spring of 1967, the Marlboros defeated the Port Arthur Marrs to win the Memorial Cup. Brian Glennie, Mike Pelyk and Gerry Meehan are but a handful of Marlies who were teammates of Park's on the championship team.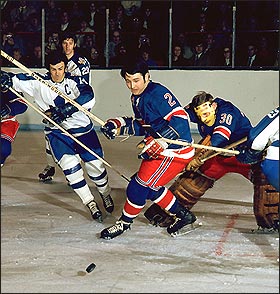 Park played seven full seasons with the New York Rangers, establishing himself as a defenseman with great ability to lead a rush from his own zone. While playing in New York, Park was named to an NHL All-Star Team five times.

After completing four years of junior, all with the Marlboros and including a berth on the Ontario Hockey Association's Second All-Star Team in 1968, Brad turned pro in 1968-69. After a very strong training camp with the Rangers, a disappointed Park was sent down to New York's American Hockey League affiliate, the Buffalo Bisons, to start the season. "Freddy Shero, the Buffalo coach, had me doing everything but taking tickets," Brad chuckles. "It paid off when the Rangers called me back up in late November." Veterans Harry Howell and Rod Seiling had suffered injuries and the Rangers summoned their young prospect to join the parent club.

Brad never looked back. He and Walt Tkaczuk, both Rangers rookies, shared a Long Island apartment. "We lived pretty quietly. He did the cooking and I did the dishes," laughs Park.

The Rangers, along with the Boston Bruins, had been the laughingstocks of the NHL for years. New York was part of post-season play in 1967 for the first time since 1962. Similarly, Boston hadn't participated in the playoffs since 1959 and had missed in 1967. Both were led out of the cellar doldrums through the sizeable efforts of an outstanding defenseman — Park for the Rangers and Bobby Orr with the Boston Bruins. "Bobby had a definite influence on my play," Park admits. "I began studying him during the 1968-69 season. While I was recuperating from my broken ankle, I got a chance to watch Bobby a bit closer in a couple of games on television and a couple more in person. I'll tell you this, he slowed things down and when he suckered somebody in, he'd burst around them with his fantastic accelerations." It wasn't the last time the two defensemen would be compared. Through the 1970's, Brad Park was runner-up to Bobby Orr four times in balloting for the Norris Trophy as the NHL's best defenseman.

New York's fortunes sparkled after decades of disappointment. Much of the credit went to Brad Park, although his GAG (Goal-A-Game) teammates Rod Gilbert, Vic Hadfield and Jean Ratelle played a key role, too. So did acrobatic goaltender Ed Giacomin. In 1970, New York and Boston met in a spirited quarter-final series that the Bruins won four games to two. The next spring, the Rangers went to the semi-finals, but lost in seven games to Chicago. Boston and the Rangers met in the Stanley Cup final in 1972, but again, the Bruins emerged as victors. The Rangers consistently went to the playoffs but much to the frustration of both the team and its fans, were never able to collect the Stanley Cup at that time.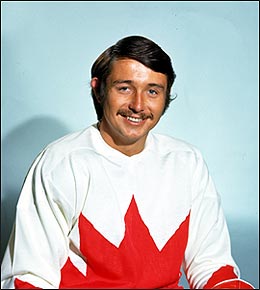 After scoring 24 goals in 1971-72 -- a career best -- and contributing 49 assists, Brad was invited to join Team Canada for their momentous eight-game tournament against the Soviet Union. Park was impressive during the Summit Series, collecting a goal and 4 assists as well as playing terrific hockey in all eight games.

Brad was named captain of the Rangers in 1974 after Vic Hadfield was traded to Pittsburgh. Then came the shock that reverberated through the hockey industry -- Park, Jean Ratelle and Joe Zanussi were traded to the Boston Bruins on November 7, 1975 with Phil Esposito and Carol Vadnais joining New York. "I had no inkling at all of such a trade and from what I understand, neither did Ratelle or Esposito," remarks Park. Bobby Orr had suffered yet another knee injury during training camp in 1975 and the Bruins were looking for veteran stability on the blueline. As captain of the Rangers, Brad Park had every reason to feel secure and part of New York's plans for some time to come, even though both previous captains — Vic Hadfield and Bob Nevin — had been traded away during their captaincy terms as well. "My first instinct was to refuse to go; to say, 'To hell with it.' That didn't last long. I knew I had responsibilities as a professional and as a family man," Park shrugs. "For a player who had never been traded before, it was definitely an experience. The thing that bothered me most was uprooting my four-year-old son, who has cerebral palsy. He had just started going to a fine facility in New York and I worried about finding similar facilities in Boston. But I didn't have to worry for long. Boston had a fine school. Once I got there, everything fell into place."

Uncomfortable at first with the move, Brad found the transition easier than he expected. "Johnny Bucyk, in particular, was very helpful. Bobby Orr was just super, as a person as well as a player." Park dug deep and molded himself into the Bruins' framework and chemistry very quickly. "All the so-called knowledgeable hockey people were saying that New York got the best of the deal, so I just had to go out and show Boston fans that they got the best of it," Brad laughs.

With Orr sidelined, Brad was able to grab the spotlight — except when he returned to his alma mater — Madison Square Garden. "When I went back to New York, I got booed every time I touched the puck. Every time," Brad says, shaking his head. "I busted my ass for eight years and that's the reception I got. Turning the loyal ties around had been very difficult for me until that happened. You know, the first time Espo (Phil Esposito) went back to Boston, he got a standing ovation!"

Playing with the Bruins was very much to Park's liking. "Boston was more like Montreal or Toronto for a hockey player," he comments. "In New York, we lived and practiced on Long Island, then trucked to Madison Square Garden for games. It was difficult to be plugged into New York; to feel any sense of community with that city. In New York, a hockey player is seldom recognized off the ice. In Boston, because of the enormous interest Esposito and Orr created in the Bruins, players are known everywhere."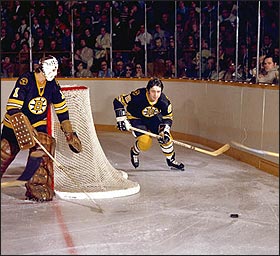 As Bobby Orr struggled with recurring knee injuries, the Boston Bruins reached out to secure another premier defenseman. In November 1975, Boston received Brad Park, Jean Ratelle and Joe Zanussi from the Rangers, sending Phil Esposito and Carol Vadnais to New York.

Boston finished first in the Adams Division four consecutive seasons from Park's joining the team in 1975-76. "People just didn't give the Bruins enough credit for their skills," Brad announces. "Maybe it came from Grapes (Bruins' coach Don Cherry) calling us 'lunchbucket players,' but we had a lot of good talent there. Jean (Ratelle) was one of the best who ever played the game. Cash (Wayne Cashman) was near the top along with Rick Middleton, Peter McNab and Terry (O'Reilly). Dick Redmond was underrated. Stan Jonathan was a hard worker and little Bobby Lalonde had to be the greatest five-foot-five inch player in the history of the game. And who had two better goalies than Gerry Cheevers and Gilles Gilbert? We had a dozen or more exceptional skaters and shooters. You don't stay near the top just by digging. You have to have something extra — a thing called talent." In 1979-80, Park was teamed with a rookie named Raymond Bourque, who Brad recalls thinking "was going to be one heckuva hockey player."

At the conclusion of the 1982-83 season, the Bruins decided they were not going to re-sign Park. His knees had taken a beating and there was no telling how much longer they might hold up. "I knew that an older player would be replaced eventually but I wasn't quite ready to have that happen," admits Brad. "You can't make a cheerleader out of an old warhorse and that's what I figured might happen in Boston. An older player has got to play. You cannot come off the bench cold at thirty-five or thirty-seven (years of age) and be expected to do a job."

After eight seasons with the Boston Bruins, Brad Park was signed as a free agent by the Detroit Red Wings. There, he added his savvy to a young team in transition, newly purchased at the time by Mike Ilitch. Park played two seasons in Detroit, then following the 1984-85 season, announced his retirement. "The game was getting tougher and it was time," Brad comments. "Seventeen years was enough. I didn't want my legs to take any more abuse." Recurring knee injuries, which had plagued Brad as early as his days with the Toronto Marlboros, had contributed to bringing Brad Park's career to an end in much the same manner as injuries had so dramatically curtailed Bobby Orr's career. Brad had undergone five major knee operations during his career. "I never thought I'd get to a thousand games and quite a few other people didn't think I would either," Brad admits. "There was just no indication how much hockey was left in my knees. Even though there was a lot of damage done to my knees, they held together remarkably well through the years."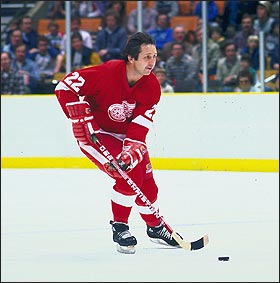 In seventeen NHL seasons, Brad Park never played with a team that missed the playoffs. With the Rangers, he participated in postseason play seven times, eight times with the Bruins and twice as he wrapped up his sensational career with the
Detroit Red Wings.

Park concluded his outstanding NHL career with 213 goals and 683 assists for a total of 896 points over 1,113 regular season games. His assist total set a record for NHL defenseman, while at the time of his retirement, Brad's point total was second only to Orr among NHL defensemen.

Through seventeen NHL seasons, Park never played on a Stanley Cup-winning team but in every single one of those seventeen seasons, the team on which he played qualified for the playoffs -- seven times in a row with the Rangers, eight times as a Boston Bruin and twice with the Red Wings. This broke a record set by Jean Beliveau of the Montreal Canadiens, who qualified for postseason play sixteen times. "I never even knew about the record, but when I joined the Wings, the only goal I had was to help the team get into the playoffs," Brad states.

Following retirement, Brad tried his hand coaching the Detroit Red Wings but his tenure lasted just partway through the 1985-86 season before he was dismissed. But Brad Park will forever be remembered as one of the NHL's finest defensemen, who laboured diligently, valiantly and effectively in resurrecting the Rangers' fortunes, contributed significantly to keeping the Bruins at the top of the NHL standings and brought credibility to the Red Wings as the Ilitch era took hold in Detroit.

Kevin Shea is the Manager, Publishing and Editorial Services at the Hockey Hall of Fame.