(November 4, 2003) -- The third of eight children born in the sleepy community of St. Jacob's, just outside of Kitchener in Southwestern Ontario's fertile farm belt, Darryl Sittler began his hockey career on the frozen ponds and outdoor rinks prevalent in the area. But his ties to the NHL started early. His first good pair of hockey skates belonged to former neighbour Rod Seiling, who was starring with the New York Rangers. By fifteen, Sittler was being noticed, and during the midget draft in 1967, was selected third overall by the Junior A London Nationals, coached by Leaf legend Turk Broda. Yet, although just an hour down the highway from Toronto, Darryl was not a Leaf fan. "I grew up as the only Montreal Canadiens fan in a family of Toronto Maple Leafs followers," Sittler admitted in his autobiography, 'Sittler.'

Sittler proved to be a consistent performer with London, who were sold and re-named the Knights during his rookie Junior A season of 1967-68. In his three seasons playing Junior, Sittler contributed 22, 34 and 42 goals, and in his final season (1969-70), was named to the OHA Second All-Star Team. That summer, the twenty-year-old (born September 18, 1950) was eligible for the NHL draft, and consensus was that he would be chosen early. "Unlike today's top fifty or sixty picks, very few of the better players eligible for selection attended the draft session," Darryl stated. Toronto had the eighth pick, and chose the London Knights centre. "I was hard at work building swimming pools in London," laughs Darryl, remembering his draft day. "I'd been a Maple Leaf about five or six hours before I found out. I heard the news on the radio on the way home from my summer job that evening."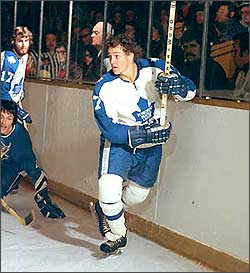 Jim Gregory, the Leafs' general manager, had plans for Darryl, but they weren't at centre ice. "We felt we were in good shape at centre then with Norm Ullman, Dave Keon, Mike Walton and Jim Harrison. But we did need help on the left side," he told the Toronto Star. "Just about everybody in the organization had a chance to scout Sittler because he was playing with London and we all rated him very high."

In training camp, Sittler started on left wing. "Johnny McLellan (Leaf coach) told me he'd give me a chance to make the team, and that's all I asked for. I was determined to make it and I did, even though it was on left wing. Playing in the majors was certainly different from junior hockey. I was amazed how fast everything went. As I watched Keon zip up and down the ice, I wondered if I'd ever get close to Keon's speed and skills," Sittler mused in a Toronto Sun article. But it was obvious the Maple Leaf management had designs on the young forward, illustrated when they handed Sittler a special sweater. "Wow, 27. I was honoured. I knew it was the number Frank Mahovlich had worn, so I figured management was trying to send me a message. I'd worn 9 as a junior. My idols were centres - Norm Ullman and Jean Beliveau. Mahovlich was a left winger. But I was well aware what he'd done as a Leaf. He'd been one of their greatest players so it gave me a really good feeling when I was handed his number."

But that rookie season didn't go the way anyone had planned. "I wasn't very lucky that first season because I broke my wrist and missed ten weeks of action, but I was back for the playoffs," Sittler told the Toronto Sun. In 1970-71, he scored a modest 10 goals and collected 18 points in an abbreviated rookie season.

"When I returned to training camp the following year, I was determined to do better," continued Sittler in the Sun article. "But my wrist was giving me trouble. I couldn't shoot hard enough and I wasn't releasing the puck quickly enough. I had to work on strengthening my wrist by squeezing springs and had to play with a brace on my wrist." Darryl had a stronger sophomore season, totaling 32 points. But he truly didn't hit his stride until season number three. "I got my break when Jimmy Harrison departed for the WHA and Normie Ullman got hurt. Johnny (McLellan) inserted me between Rick Kehoe and Denis Dupere and we didn't do too badly." Dupere notched 13 goals, Kehoe had 33 and Darryl added 29. "It was important that I do well that year because I had signed only a one-year contract and if I expected a fat contract from the Leafs, I had to illustrate to the management that I deserved one," Darryl told the Toronto Sun.

The Leafs re-signed Sittler to a five-year deal. "Things worked out well for me because I scored 38 goals that season and I was really impressed with four new players who joined the team - Borje Salming, Inge Hammarstrom, Lanny McDonald and Ian Turnbull," said Sittler. But a coaching change had also contributed to Sittler's success. "I also enjoyed Red Kelly as coach."

The following seasons illustrated Darryl's consistency - 36 goals and 80 points in 1974-75, 41 goals and 100 points in '75-76 and 38 goals and 90 points in '76-77. But those were extraordinary seasons for other reasons for the St. Jacob's native. After David Keon joined the WHA, Darryl was named captain of the Toronto Maple Leafs in September 1975. He was but 24-years old and the second youngest captain in Toronto's storied history to that time. Only Ted Kennedy, handed the 'C' at 22, was younger. "We wanted a captain who wasn't afraid to speak up for his teammates, and who is a man respected by both players and management," stated Jim Gregory, the team's general manager. "Sittler was the man."

Then, on February 7, 1976, at Maple Leaf Gardens, Darryl led the Leafs to an 11-4 rout of a very good Boston team. Dave Reece, who was in goal for the Bruins that night, would never play another NHL game. In that game, Sittler recorded an NHL record ten points; six goals and four assists. "It was nice to get lucky and it was nice to beat the Bruins, especially when you consider we've been struggling lately and they've played so well," Darryl was quoted in the Toronto Sun. It seemed Sittler could do no wrong in the game, and it was one of those once-in-a-lifetime occurrences...or was it? Once, while playing cribbage with Jacques Plante and Errol Thompson during a flight, Darryl came up with a perfect hand. "That's a one-in-a-million thing, something that happens to a very, very few cribbage players, even those who play the game every day all their lives," laughed Sittler in an interview with The Hockey News. "I thought then that at least I'd hit on one longshot happening in my life and that would be about it. I cannot explain those explosions - freak, pure and simple."

Later that spring, on April 22, Sittler scored five goals in a playoff game against the powerful Philadelphia Flyers. Much has been made about the 'Pyramid Power' that Red Kelly used to help motivate his team. The Leafs were under terrific pressure to beat the Flyers. Owner Harold Ballard predicted that the Leafs would whip the Flyers in five games. Kelly, whose sons had visited Egypt and spoke passionately about the supernatural powers of the pyramid, gave their father an idea. He placed pyramids under the Leaf bench and in the dressing room. "Red put a pyramid in the dressing room. I put my sticks underneath it hoping it might help." It seemed to help, but so did the assistance of something else - "I have a tie I wear when it's a crucial game," admitted Sittler. "I wore it one night when I got three goals. I had it on the time I had the ten points against Boston. I felt this game was so crucial, I went to the cleaners to pick up the tie specially." Whether it was pyramids or lucky ties, Darryl had another outstanding game. "I don't really know how to describe how I feel. I guess I feel lucky. I just don't know why it happened."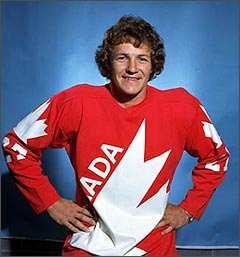 Sittler poses during a Canada Cup photo shoot. Darryl scored the tournament-winning goal in overtime versus Czechoslovakia.

During the summer of 1976, Darryl was invited to try out for Team Canada for the inaugural Canada Cup tournament. "I couldn't believe it when I got picked for the team in June," Darryl told hockey writer George Gross. "Then, in camp, we had thirty-two players and we knew the number would be cut to twenty-five. I was hoping and praying I'd be one of the twenty-five. It was an experience I'll never forget. Just being on the team was fantastic."

In his autobiography, Sittler explained the integral role of assistant coach Don Cherry's in Darryl's landmark goal on September 15, 1976. With the score tied at four after regulation time, Cherry addressed Team Canada "'I've been upstairs watching this guy, Dzurilla, for three games,' he began. 'He likes to come out real fast to cut down the angle on any rush. After you go in over the blueline, fake a slapper. If you see him come out of his net, draw it back in and go wide and deeper. He'll leave you with most of the net empty.'" During overtime, Sittler carried the puck down the left wing, faked a shot at netminder Vladimir Dzurilla, who had come out fifteen feet to cut down the angle, then skated past the goalie and deposited the puck into the open net at 11:33 of overtime to give Team Canada a sweep in the best of three final over Czechoslovakia to claim the first Canada Cup title. "After I scored the goal, the whole team surrounded me out on the ice and we went into a group hug with Lanny (McDonald) leading the world in oxygen-threatening squeezes and hollering," wrote Darryl in 'Sittler.' The goal scoring hero earned a spot as the tournament's All-Star left winger, as well.

On July 4, 1979, Harold Ballard shocked the hockey world by re-hiring Punch Imlach to run the Maple Leafs. One of his first moves was to prevent Darryl from participating in a 'Hockey Night in Canada' intermission feature called 'Showdown.' Both Sittler and Leaf goaltender Mike Palmateer had been selected to participate in the skills competition. In his first meeting with the new GM, Sittler quotes Imlach as saying, "I'm the GM. You don't decide to go to 'Showdown,' I decide, and I don't want you to go." Darryl went to the show's taping and, in spite of a last ditch effort by the Leafs to prevent the two stars from taking part, did so wearing generic sweaters. But it was the first of a series of confrontations between Imlach and Sittler. Eventually, to assert his power, the Leafs' general manager traded away a number of players close to Darryl, who happened to have a no-trade clause in his own contract. First to go was Pat Boutette, a former teammate with the London Nationals. Then, it was Lanny McDonald, Sittler's closest friend on the Leafs. "The shock was so palpable, some of the guys fell back or slumped in their seats as if they'd been struck physically," Sittler recalled in his autobiography. Darryl questioned management and whether he wanted to continue as the team's on-ice leader. 'When I was made captain, it was the happiest day of my life,' Sittler wrote in a letter announcing his resignation as captain of the Toronto Maple Leafs. "In a very emotional speech to the players, I explained what I was doing, and why I was doing it. Imlach was trying to break down this whole team, didn't want me as captain and wouldn't let me function as one. All of the outside controversy had gotten too big; all I wanted to do as play hockey."

Further changes took place that impacted on the team and on Sittler personally. Dave Hutchison was traded - he, too, a former teammate of Darryl's in London. Then, another linemate and friend, Tiger Williams, was sent to the Canucks. Darryl remembers, "I had my mind made up that I wanted to stay in Toronto. I was going to outlast this guy (Imlach). I didn't deserve any of this, I couldn't understand why it was happening to me, but I could overcome it." Finally, enough was enough and Darryl waived his no-trade clause. On January 20, 1982, Gerry McNamara, who had replaced Imlach as the team's general manager, called Sittler and informed him that he had been traded to the Philadelphia Flyers for Rich Costello, Ken Strong and a second round draft choice. Darryl played two and a half seasons in Philadelphia, and then was shocked to learn he had been traded to the Detroit Red Wings for Murray Craven and Joe Paterson. Sittler spent one season in Detroit, then during the summer of 1985, retired from the NHL having accumulated 484 goals, 637 assists and 1,121 points.

In 1989, Herbie Lewis, Vladislav Tretiak, Alan Eagleson and Darryl Sittler were inducted into the Hockey Hall of Fame, capping outstanding NHL careers. Darryl reflected in Mike Ulmer's book, 'Captains,' "The reality of it is, I was fortunate to play fifteen years, making a living at something I really loved doing. To end up in the Hall of Fame, to score the winning goal at the Canada Cup and all those other things that happened, even though we didn't win the Cup, I appreciated that."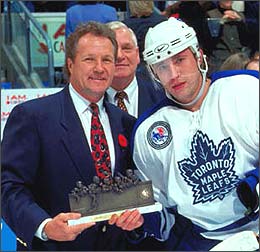 Darryl presents Toronto's Sergei Berezen with the game's MVP award following the Maple Leafs' annual Hockey Hall of Fame Game.

Sittler is now an ambassador for the Toronto Maple Leafs, appearing at public events on behalf of the team. He gives his name, time and money to various charities. To commemorate the Maple Leafs' Number 27, both Frank Mahovlich and Darryl Sittler were to jointly have a banner each raised in their honour at the Air Canada Centre during the team's seventy-fifth anniversary season. "It's the highest honour you can receive from an organization you played for. To have my name on that banner hanging from the rafters is very special," Sittler emotionally admitted. The honour was originally to have taken place on October 3, 2001, but Darryl's wife Wendy was dying from colon cancer and he begged out of that occasion. Wendy tragically died three days later. The banner was instead raised February 8, 2003, twenty-seven years plus a day after Sittler's historic scoring feat against the Bruins. Fittingly, Wendy's name was included in the bottom corner of the banner.

Darryl Sittler is arguably the most popular player in the history of the Toronto Maple Leafs, but with that incredible honour comes intense scrutiny. "(The fans) find me everywhere. They have my boat's citizen band radio number. They get my home phone number somehow and call up just to talk." He tells of an exhibition game in Halifax during his first road trip as a Maple Leaf. Two young boys met the Leafs' plane at the airport. Having asked and received autographs from Keon, Ullman and Henderson, the boys shoved a paper in front of Sittler and fellow rookie Bob Liddington. 'Ah, you're just a couple of nobodies,' the boys said and ripped the autographed paper up. "I can still see their faces in front of me. I'll never forget it," Darryl told the Toronto Star. "I tell myself that it is part of the job. I'm fortunate to be where I am, but sometimes I ask myself, 'Wouldn't you give up everything just to lead a normal life?' I always ask myself that and the answer always is 'no.'"

Kevin Shea is a hockey writer based in Toronto.