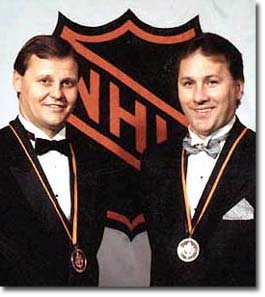 Bill Barber (left) and Gilbert Perreault shared the spotlight in 1990 when both were inducted to the Hockey Hall of Fame.

(February 24, 2004) -- The Sutters had six siblings play in the National Hockey League. Gordie Howe and his brother Vic, along with Gordie's sons Mark and Marty, also offer a strong family connection in the NHL. Bobby And Dennis Hull played in the NHL, while their brother Garry played in the World Hockey Association. Bobby's son Brett is currently a Detroit Red Wing. The Patricks sent three generations to the NHL. Then, there are the Conachers — three brothers (Lionel, Charlie and Roy) who went on to Hall of Fame careers.

But there is a new entry in the family section of the Hockey Hall of Fame. Welcome Bill Barber, Bobby Orr and George Armstrong. "Bobby's grandmother is related somehow," smirks Bill Barber. "The name of 'Steele' is involved somehow. We're distantly related. I am pretty honoured, never mind just playing against him! George Armstrong is a distant relative of ours too. It's nothing that was ever talked about but through marriages, we do touch base a little bit. George and Bobby are two great, great players and great people and I'm honoured to say we're related, even in a distant way."

Bill Barber was born July 11, 1952 in the small Northern Ontario town of Callander, Ontario. It was in this small rural community fourteen miles from North Bay that Barber discovered his passion for hockey. "We had a community rink in Callander, but I lived on the outskirts even of Callander. We had a population of about six or seven hundred people. We had lots of opportunity to be on the ice and play all the time. In that era, all we had was hockey. There really wasn't any TV to speak of for us until the late fifties or early sixties so our fun and community activity all revolved around hockey."

"I really loved the area there," recalls Barber, harkening back to winters in his hometown. "My Dad built us a rink so we had a lot of the community kids - there were only a handful - come and skate on a rink that was right beside the house. It was a great way to raise kids. We were very fortunate."

During his minor hockey days, Barber developed his skills through the advantage of enjoying plenty of ice time. "We had a team of two forward lines, two defensemen and a goaltender and that's usually all we ever had. Greg Murdoch and I played defense and we never came off the ice unless we got a penalty, no matter how many games we played. Some tournaments we played in involved three games in a day so it didn't take too long to get to bed at night when we got home."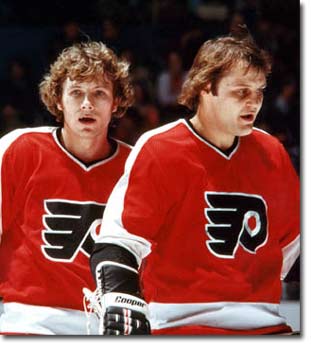 Bobby Clarke (left) and Barber teamed up with Reggie Leach (not pictured) to form the dynamic LCB line that helped bring the Flyers two Stanley Cups in the mid-1970s.

But as much as playing hockey outside was important in nurturing Bill's love of the game, like most boys his age across Canada, listening to Foster Hewitt's 'Hockey Night in Canada' radio broadcasts also helped fuel Bill's passion for hockey. "I liked the Detroit Red Wings because of Gordie Howe and I liked Chicago because of Bobby Hull. Of course, we followed the Toronto Maple Leafs very closely. They had some great players like Johnny Bower and George Armstrong and Normie Ullman. I was fortunate enough to play against a few of these guys when I turned pro."

Barber developed good size and strong skills that allowed his rapid development through the hockey system in North Bay. "We had a junior league in Northern Ontario that consisted of five teams. I was with the North Bay Trappers of the NOHA Junior A (Northern Ontario Junior Hockey Association) and there was also Sudbury, the Soo, Espanola and Garson," Barber remembers. "I went to junior as a fifteen-year-old, but I probably bit off more than I could chew. I almost got turned off the game because I really got pounded on." Bill winces as he remembers. "I could play there, but my body wasn't ready. I played two years of junior with the North Bay Trappers. It was a very, very rugged league and there were men playing in it -- I think you were allowed two twenty-one-year olds per team and as a fifteen-year old, you learn a lot. But the bigger part is that we won the championship in my very first year of junior."

In 1968-69, Barber scored 32 goals and collected 70 points as a fifteen-year-old phenom with the Junior Trappers. It was then that he realized he had a legitimate shot at playing in the NHL. "It is every Canadian boy's dream to play in the National Hockey League. I was one of those boys. I think when we won the championship I realized I might have a shot at the National Hockey League. As time went on, I realized that dream. I played in the National Hockey League and I really enjoyed it."

Drafted by Kitchener of the Ontario Hockey Association, Bill Barber joined the Rangers in 1969-70 and was an immediate success. As a rookie, he fired 37 goals and added 49 assists. In 1970-71, Bill's output consisted of 46 goals, 59 assists and 105 points. The next season, Bill's final year in junior, he collected 107 points, including 44 goals. Each of the three years, Barber led the Rangers in scoring. "The experience I gathered in Kitchener was second to none," Bill states proudly. "I had the opportunity to go to Kitchener to compete in what I thought was the best league to be in to become a professional. It was a great place to play; to grow up. The stepping-stones were the right ones. Kitchener was a great city for me. I was around good people all the time. This is important, whether it is sports-related or business or life - get yourself around good people." Bill knew all about being surrounded by good people from growing up in a close-knit family that included five boys. "I had an older brother, five years older than I was, who was a pro at the time I was in junior. We were close; our whole family was. All five boys played at different levels. We would feed off one another during the summer."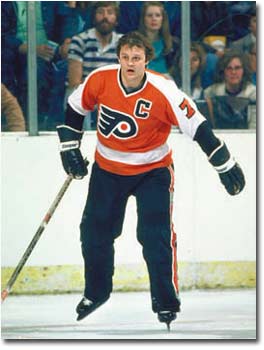 Barber served as Flyer captain
between the years 1981-83.

Bill Barber was the first selection of the Philadelphia Flyers, seventh overall, during the Entry Draft in 1972. The Flyers had missed the playoffs the previous season but with Barber contributing to a youthful lineup, the team reached the post-season in Bill's rookie campaign. Bill scored an unprecedented thirty goals and had 64 points in his first season in orange and black. "I was very fortunate to come to a team that was on the rise," Barber admits. "I got playing with great players; players who wanted to win; players who cared for one another. I was taken under the wing of a lot of the older players like Eddie Van Impe, Joey Watson, Barry Ashbee and Gary Dornhoefer. They made me accountable. They made me compete game in and game out and showed me what it took to win."

The Flyers exploded. Rick MacLeish, Bobby Clarke and Barber blossomed as scorers, while the team developed a tough exterior through the promotion of Dave Schultz and the acquisition of Andre Dupont. Coach Fred Shero's strategy combined skill and muscle, something none of them was hesitant to use as they evolved into the 'Broad Street Bullies.' "After my rookie year, when I was coming home that summer, I realized we had a team that could do some damage. In my very first year (1972-73) we gave Montreal everything they could handle in the semi-final. We had the right ingredients. Our chemistry was phenomenal, we had goaltending, we had balance, we had four lines, we had a great, great coach and unbelievable manager and ownership. It all starts at the very top," states Bill. "You don't make the team; the team makes you. I have never forgotten that, but it was a great group of guys and I was proud to be part of the winning process."

The Flyers became a force to be reckoned with. Team captain Bobby Clarke won the Hart Trophy as most valuable player in 1972-73. The next year, 1973-74, the team won their division title, then followed it with the franchise's first Stanley Cup championship. "It was a dream come true," beams Barber. "Your first dream is to make it in the National Hockey League and the ultimate dream is to win a championship and to get your name on the Stanley Cup." But not only did Bill and the Broad Street Bullies win the Cup in 1974, they won it again in 1975. "We were fortunate enough to do that two years in a row. To skate around with the Cup in your hand, and then to do it two years in a row and take a run at the third year makes you a better person. It's not just given to you — there's a commitment made here and a sacrifice family-wise."

Bill finished fourth in scoring in 1975-76, collecting 112 points, including fifty goals. The Flyers finished first in their division for a third straight season. But come the playoffs, the Flyers were unable to earn their third consecutive Stanley Cup, falling to the Montreal Canadiens in the final. "We didn't have Bernie Parent, who was the ultimate goalie at that time. Wayne Stephenson did a great job for us but our chances would have been a little better with Bernie. We didn't have Rick MacLeish. We were a little bit beat up. You have to understand the amount of hockey that was played in that period of time by our team. We were a tired team." Bill had a solid playoff, earning 13 points while teammate Reggie Leach fired 19 goals during the playoffs, but it wasn't enough. "I think we lost by one goal every game, even though we lost four straight. But I'll say this — we did a hell of a good job. The wear and tear on our hockey team was incredible."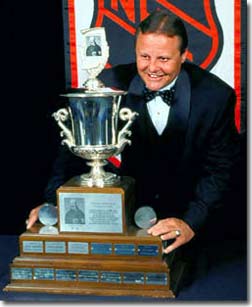 Bill Barber claimed the Jack Adams Trophy as the NHL's top coach in 2001.

Barber retired after the 1983-84 season having played 903 games over twelve seasons, all as a Philadelphia Flyer. He earned 883 points, and was selected to the First All-Star Team in 1976 and to the Second Team in 1979 and '81. But Bill may very well be remembered even more for his extraordinary playoff performances. In 129 post-season contests, Barber scored 53 goals and added 55 assists for 108 points. "The regular season is so demanding and so long," admits the Flyers' Number 7. "When you're coming down the stretch, the pressure is on and people are talking about where you're going to end up and who you might play. But when that second season starts, you're rejuvenated again. Every game is critical, even though it might be the first game of a best of seven. That game could be the take-off to what the series is going to be about. You always bring your level of play up." Not shy to admit the role of synergy among teammates, Bill continues, "There are big expectations that are asked of you and you understand that teammates are family and the last thing you want to do is let them down. That's what elevates your play. You're playing for your team and your teammates. Coming up big when you really need it — scoring a goal or blocking a shot or making a good play. That's what it's about."

After retiring, Bill made the transition from player to coach. "I had offered my services because management was concerned about what direction the organization was going," Bill says. "I did some coaching with Hershey in the mid-eighties (1984-85), then coached the Philadelphia Phantoms, the Flyers' AHL team, in '96, their inaugural year. A great memory was winning the Calder Cup (as American Hockey League champions in 1997-98) and being able to put that ring on your finger. We had a great group of guys. It was an exciting time."

After several seasons coaching in the AHL and a few others as an assistant coach with the parent Flyers, Bill was hired to coach the Philadelphia Flyers in 2000-2001. "That was a great memory," smiles the modest Barber. "I had the opportunity to win the Jack Adams Award and it's an honour and a memory that can go in with some of the other good things that happened in my life and I was very thrilled and honoured to be named coach of the year."

But after the following season, in spite of making the playoffs, Bill was fired by the Flyers, the only organization with which he had worked since 1972. "Tough times, but when everything was said and done, there's nothing better than having the challenges of your team competing, having your players play hard and doing the best job you could." Barber was clearly stung by his dismissal, but rebounded, joining the Tampa Bay Lightning organization shortly afterwards. "This is my thirty-second year (involved in the NHL) and I have no regrets whatsoever. It's been a great run and it still is. I'm still very excited with the position I'm in here in Tampa."

The Hockey Hall of Fame beckoned in 1990, inducting Bill Barber for his outstanding NHL career. "I was absolutely ecstatic about it. So was my family. It's not so much about scoring goals and the numbers you put up as how you conduct yourself and how you play the game. I think that's more important. You have to have a passion to play hockey and you have to express that passion for the people who come to watch you when you're playing. It's character. It's about being willing to pay the price. I think that's what the Hockey Hall of Fame is all about. But I look at it as recognition for all the players on our team who didn't get the recognition — from Bob Kelly to Dave Schultz to Orest Kindrachuk to Gary Dornhoefer and Ross Lonsberry. Without those guys, there was no opportunity for me getting there."

Bill Barber — honourable and honoured as one of the great wingers in NHL history and a deserving member of the Hockey Hall of Fame.

Kevin Shea is Manager, Special Projects and Publishing at the Hockey Hall of Fame. His fourth hockey book, 'Barilko — Without a Trace,' will be published in October 2004 by H.B. Fenn and Company.