(November 9, 2001) -- Bossy retired after the '86-'87 season because of a chronic back injury that limited him to 63 games that final season, the first time in his career he had missed a substantial period of time. Today, his back is no better, and because he is no longer in top physical condition, it's even worse on some days. But the Bossy of 2001 neither misses playing the game nor feels any need to play fun games with alumni. "I have no interest in playing games now that I'm out of pro," he admits. "When I see an alumni game, I don't feel any desire to play."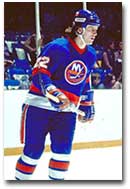 In truth, he's been on skates only a couple of times since retiring, and given the flareups he experiences in his back whenever he steps on ice, it's not worth the pain for him to play casually. What he does crave, though, is the high that goes with being a superstar in the NHL. "If there is something I miss, it's everything that comes with being successful in anything--the accolades, the applause. You miss those things when they're not there, but you try to get your satisfaction from other things."
For Bossy, that encompasses a full roster of activities in his post-NHL life. He does radio work for CJAD in Montreal and for Radio-Canada, the French-language version of Hockey Night in Canada on television. Additionally, he is the spokesperson for "Safe & Fun Hockey," a national initiative of General Motors aimed at kids aged six to nine. He runs clinics and encourages clean hockey based on skill, not intimidation.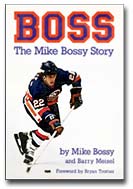 Bossy is also the spokesperson for WorldCom, and is the director of public relations for Humpty Dumpty potato chips in Montreal. He has also started his own web site, www.mikebossy.net, on which he has a fan forum, guestbook, news and information pages as well as merchandise.
During his playing days, Bossy was an outspoken advocate of banning fighting from the game. Today, he is both pleased by the decrease in fighting but dismayed by the kind of violence that has replaced fisticuffs. "Fighting is probably less accepted today than in my day," he states. "The days of the goon going out to goad the star player into a fight are over, but that kind of violence has been replaced by checking from behind and stickwork, which are worse than fighting. Players today think nothing of firing an opponent into the boards from behind." To Bossy's mind, that's just not hockey.