12 APRIL 2005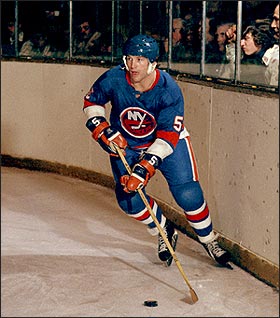 In 1999, the Canadian Hockey League Team announced their all-time all-star team. In goal was Bernie Parent. Guy Lafleur was named at rightwing, Brian Propp at leftwing and Mario Lemieux at centre. Bobby Orr of the Oshawa Generals and Denis Potvin of the Ottawa '67s were named the best junior defensemen of all-time.

For fifteen seasons, Denis Potvin was one of the most dominant players in the National Hockey League. An outstanding quarterback from his familiar blueline position, the career Islander was a brilliant strategist with a booming shot.

Born October 29, 1953, Denis Potvin was raised in an area of Ottawa, Ontario called Overbrook and came by his love of hockey in a manner so familiar to those who grew up in Canada. "I had two older brothers," Denis begins. "My oldest brother Robert and my brother Jean, who eventually was a teammate of mine in Long Island, were playing hockey. As the third of three boys, I followed in their footsteps. I started skating in the backyard and soon started playing for local teams in Overbrook."

With Potvin's discovery of hockey quickly came the dream of one day following his heroes into the professional ranks. "Like every Canadian youngster who skates in the backyard until it's dark, the dream of playing in the NHL, in my case, with the Montreal Canadiens, was very much like every other kid." But Denis wasn't like any other kid — by fifteen, he was already a full-fledged member of the Ottawa '67s, a Major Junior franchise with whom Potvin toiled so effectively for five seasons. "By the time I was eighteen, there was interest in me leaving junior hockey early to play in the pros," he sighs. "Thank God that didn't happen. The draft age at that time was twenty and I stayed on to play through my whole junior time and I'm grateful for it."

And the '67s were grateful, too. Denis, in fact, was named to the Ontario Major Junior Hockey League's First All-Star Team in 1971, 1972 and 1973. In his final season of junior (1972-73), Denis fired 35 goals and contributed 88 assists for 123 points. There seemed little doubt that a junior possessing such terrific skills would star in the National Hockey League. "The reality of actually playing in the NHL came along when I was seventeen or eighteen years old after I played a few years of junior hockey."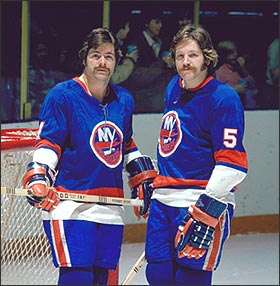 Denis Potvin's transition from junior to pro was eased substantially when he entered the NHL in the fall of 1973, as his older brother Jean had joined the Islanders in March 1973. Jean played on Long Island from 1973 until January 1978, then again from October 1979 until his retirement at the conclusion
of the 1980-81 season.

Denis, in fact, was so notable that the fledgling New York Islanders selected him first overall in the 1973 NHL Entry Draft. That same draft produced such stars as Tom Lysiak, Lanny McDonald, Bob Gainey, Rick Middleton, Ian Turnbull and John Davidson — all chosen after Potvin in the first round. "I just wanted to play hockey in the NHL," admits Denis. "I knew very little about the New York Islanders until I actually signed and went down to Long Island and met (general manager) Bill Torrey and (coach) Al Arbour and started looking at apartments." It was a sizeable transition for the young man, who had been able to play junior for his hometown team and, as a result, still live at home, unlike so many of his peers who had to move from their hometown to play in another city. "The transition to the NHL was so all-consuming and I didn't think about much else other than playing hockey and finding a little apartment and a car and just getting back and forth to the rink."

But Denis had one other advantage that made catapulting from junior to the NHL a little easier. "My brother Jean was there," smiles Denis. "Jean is four years older than I am. He had just been traded the previous spring from the Philadelphia Flyers to the New York Islanders. I was drafted in June of '73 by the Islanders, so there was no question that my transition was made so much easier by the fact my brother and his wife Lorraine were already in Long Island." While playing for Philadelphia in March 1973, Jean Potvin was traded to the Islanders for Terry Crisp.

But another man also became a mentor to the rookie defenseman — his coach, Al Arbour. "In the hockey sense, Al Arbour, who was a career NHL defenseman, did not harness me and say, 'Don't play the offensive game' that I enjoyed so much, but he taught me about the responsibility of playing at both ends. There were times when I played a little too offensively and he had to pull me back."
As gifted defensively as he was productive offensively, Potvin was a three-time recipient of the Norris Trophy as the league's best defenseman, winning in 1976, 1978 and 1979. Denis was also runner-up to Bobby Orr for the Norris in 1975.

Potvin grew up a fan of the Montreal Canadiens, and clearly remembers the night he first faced his childhood heroes. "The first game I played in Montreal was probably the most nervous I had been ... ever! I had a one-on-one on me with Henri Richard, and that was a moment I'll never forget. I remember Henri going wide and sticking out that left arm, and not being a tall man but incredibly powerful. I had the pleasure of a nerve-wracking moment facing him early in my career."

With raw talent and strong guidance, Denis Potvin developed soundly, and after compiling 17 goals and 37 assists as a freshman, was recipient of the NHL's Calder Trophy as the league's best rookie through the 1973-74 season.

The Islanders debuted in the NHL in 1972-73, and struggled to a last place finish, collecting just 30 points. But Potvin's arrival signaled the beginning of a dynasty's development. Although they still finished last in their division in 1973-74, the Islanders climbed to 56 points and reduced their goals against by an astounding 100 goals, from 347 to 247. "The Islanders did a great job," admits Denis. "We had plenty of veterans on the team. Eddie Westfall was the captain of our team my first year in Long Island. We had a well-balanced team. We weren't that successful in 1974 — we didn't make the playoffs — but we played a much better brand of hockey in '74."
Named captain of the Islanders prior to the 1979-80 season, Denis was front and centre to receive the Stanley Cup on behalf of his teammates through the entire Long Island dynasty. Potvin and the Islanders won the Stanley Cup in 1980, 1981, 1982 and 1983. Only a hot young Oilers team prevented New York from winning a fifth consecutive championship in 1984.

By 1974-75, the Islanders were competing regularly with the best teams in the league, and finished with 88 points; tied with their New York neighbours, the Rangers. In 1975-76, the boys from Long Island eclipsed the 100-point plateau for the first time and finished second to the Flyers in the Patrick Division. The scenario played itself out the same way in 1976-77. Finally, in 1977-78, the New York Islanders finished first in the Patrick Division, with both Denis and sniper Mike Bossy completing the campaign among the regular season scoring leaders. The young core of players had grown up together and had developed into an outstanding squad. "It was outstanding drafting," states Denis matter-of-factly. "Right from the first season (1972), Billy Harris was the very first draft choice. I came in '73, Clark Gillies and Bryan Trottier in '74 and Mike Bossy in 1977. Those years between 1972 and 1978, the whole core of the Islander team was either drafted or traded for. Guys like Bob Bourne, John Tonelli, Stefan Persson and Wayne Merrick came on board and all the guys who really were the core."

The team continued to develop, and in 1978-79, topped their division once again, this time with 116 points. "It was a great thing for Long Island. It was a day when teams really had an opportunity to hold on to their players and develop them. If you need anything to increase your fan base, seeing the same core players developing year after year will do it."

Finally, in 1979-80, the New York Islanders were able to accomplish what each of the members had dreamed of — to play for a Stanley Cup champion. The captain, Denis Potvin, accepted the Stanley Cup on behalf of his exuberant teammates. "Carrying the Cup for the first time was the ultimate."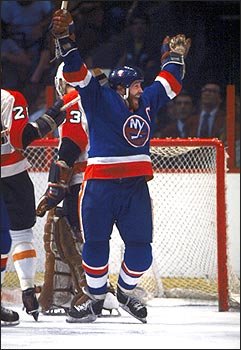 At the time of his retirement following the 1987-88 season, Denis Potvin was the NHL's all-time leader in goals (310), assists (742) and points (1,050) by a defenseman. His number was retired by both his junior team - the Ottawa '67s — and by the New York Islanders.

The New York Islanders discovered very quickly that winning the most treasured trophy in sport never grows tired — they won the Stanley Cup in four consecutive seasons. "Often I'm asked which Cup I fancy the most and I often reply by saying, 'It's like having four children. Which one do you love the most?' All are totally different but the first one is always very special because it is the first one."

Denis played fifteen NHL seasons in all, and all as a New York Islander. He scored twenty or more goals nine times, with a career-high 31 goals and 101 points in 1978-79. Denis was an NHL First Team All-Star defenseman five times (1975, '76, '78, '79 and '81) and was selected to the Second All-Star Team in 1977 and 1984. Potvin was selected the NHL's best defenseman, collecting the Norris Trophy in 1976, 1978 and 1979. Then, Denis shocked the hockey world by retiring following the 1987-88 season, a campaign, by the way, in which he tallied 19 goals and collected 51 points. "That was a time that I chose, which was always very important to me and to most athletes. I was blessed with the talent to play in the league for fifteen years and had the opportunity to say, 'I've had enough,' The Islanders had offered me a new deal to continue to play but I just didn't want to at that point. I felt it was time for me to move on. I had prepared for my after-hockey life and having worked in the summers prior to 1988, was prepared for the new lifestyle and I was ready to leave." Denis hesitates for a moment, smiling at a private thought, then continues. "1987-88, my last season, had to be one of the most enjoyable seasons I had had since the early years. I knew I was going to hang them up and I had made the announcement that it was going to be my last year and all of that made it great. Memories of that last year are terrific."

"People often say, 'Denis, you could've played another few years.' Well, maybe so, but in my own mind I didn't like the way I was progressing and it was time to move on. I never regretted it for a moment."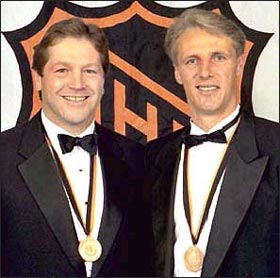 In 1991, two of the greatest Islanders of all-time were inducted into the Hockey Hall of Fame. Denis Potvin and Mike Bossy were joined that year by Bob Pulford and Clint Smith in the Players' category, as well as Builder Scotty Bowman and official Neil Armstrong.

By the time Denis Potvin retired, he had scored 310 goals and added 742 assists through 1,060 regular season NHL games. Potvin accumulated 1,052 points — the first defenseman to reach the 1,000-point plateau in a career. In 1991, Denis Potvin was honoured by being elected to the Hockey Hall of Fame. "It was a very different feeling. I don't think anybody really thinks about that until the later years of your career when people start talking about it. It comes up in the media that your career accomplishments will lead you to the Hall of Fame. That's when you start realizing it. When I went in 1991, there were fewer than two hundred people who were in the Hall of Fame and I started to realize the magnitude of being chosen." That year, Potvin shared the stage with teammate Mike Bossy, as well as Bob Pulford and Clint Smith. "One media person said that it was a crowning glory to a career and a lasting one they can never take away," Denis adds.

There were other honours cherished by the Islanders' longtime captain, too. His exceptional leadership qualities placed him in an echelon reserved solely for the greats of the game. His junior team, the Ottawa '67s, retired his number to the rafters of the Ottawa Civic Centre. On March 31, 1988, a wildly appreciative crowd at the Nassau Coliseum honoured Potvin's cherished number 5 by hoisting it to the rafters, never to be worn again. "To have my number retired, and to be the first one ever to be retired in Long Island, was a tearful kind of joy. That building means a lot to me and to all my teammates. The fact is, that (the retirement of number 5) is as important as anything else that occurred in my career."

Kevin Shea is the Manager of Publishing and Editorial Services at the Hockey Hall of Fame.