21 DECEMBER 2006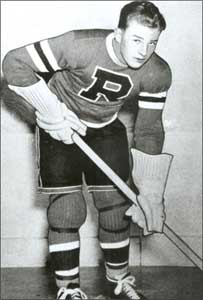 As a member of the Philadelphia Ramblers of the IAHL, Clint Smith recorded 54 points in 49 games and finished second in league scoring. (HHOF Archives)

"I was born in Assiniboia, Saskatchewan," begins Clint Smith, the elder statesman of the Hockey Hall of Fame's Honoured Members. The town in which Smith was born on December 12, 1913 is located about 70 kilometres north of the Canada/U.S. border, and is south-west of Regina. "I had two older brothers and I was always stealing their skates when they were at school. They'd come home from school and their skates would be wet and I'd get a cuff on the ears," he laughs. "They taught me a lot."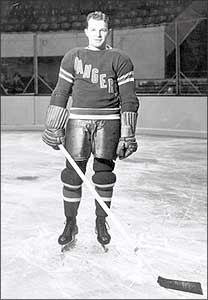 In his first season as a New York Ranger in 1937-38, Smith finished second on the team in scoring playing all 48 games without earning a penalty.
(HHOF Archives)

Assiniboia had an indoor rink, although there were a number of outdoor rinks at that time, too. "There were school teams and all small towns seemed to have a team," explains Clint. Even as a teenager, Clint was an exceptional playmaker. "I was a centre man all my life and I played for my wingmen," he says. "There were two fellows who I admired very much. One was a fellow by the name of Carter and the other was a fellow by the name of Devlin. They were by far the best players on the Assiniboia team."

In 1930-31, Clint began playing with the Saskatoon Wesleys, a highly-regarded junior team. The next year, Smith joined the senior Saskatoon Crescents, and led the league (Northern Saskatchewan Senior Hockey League with 19 goals in 18 games. But while most of the players were in the six-foot range, Clint didn't quite reach those heights. "I popped up at 5'7½""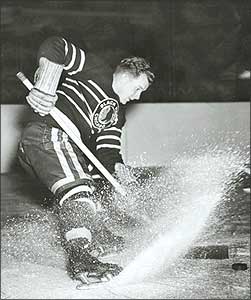 Following six full seasons with the New York Rangers, Smith was sold to the Chicago Black Hawks. In his first season with his new club, he joined Doug Bentley and Bill Mosienko
on a line that totaled 219 points.
(Imperial Oil Turofsky/HHOF)

In October 1932, Clint Smith signed with the New York Rangers. "When I turned pro with the New York Rangers, their farm team was in Springfield. That was my first pro team, but at Christmas-time, that league (Can-Am) broke up. I was loaned to Vancouver and I played with the old Vancouver Lions," Smith states. "I had three big years in Vancouver." Clint led the NWHL with 25 goals in his rookie campaign (1933-34), and followed that season with two in which he led the league in scoring, collecting 44 points in 1934-35 and 53 the following season.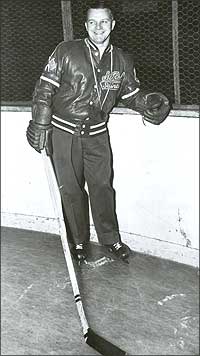 Smith stayed active in hockey as a player coach for the St. Paul Saints of the USHL until he hung up the blades to coach full-time with the Cincinnati Mohawks of the American Hockey League in 1952. (Imperial Oil Turofsky/HHOF)

In 1936-37, Smith spent the season with the Philadelphia Ramblers of the IAHL, and finished second in the league in scoring. During that season, the parent Rangers summoned Clint for two games, and he scored his first NHL goal during that period.

Smith joined the New York Rangers full-time in 1937-38. The rookie and several of his young teammates lived in a hotel at Broadway and 72nd Street. "We saw a lot of New York -- The Stork Club, Cab Calloway's, The Cotton Club. We got around," he chuckles.

In his rookie season, Smith finished second on the team in scoring, and played all 48 games without earning a penalty. The next season, he finished fourth in league scoring with 41 points, and earned but a single minor penalty all through the 1938-39 campaign. "I really looked up to Frank Boucher. I enjoyed the way he played and wanted to fashion my game after him," Smith says. At the conclusion of that season, Clint was awarded the Lady Byng Trophy as the league's most gentlemanly player, an award Boucher won seven times during his career. "It was nothin'," winks Clint with a mischievous smile. "I knew the referees!"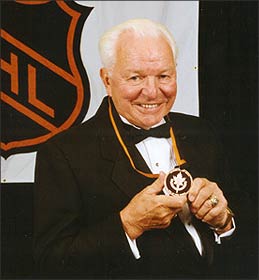 Clint Smith was inducted into the Hockey Hall of Fame in 1991. (Doug MacLellan/HHOF)

In 1940, the New York Rangers defeated the Toronto Maple Leafs in the final to earn the Stanley Cup, the sole such championship of Smith's career. With the recent deaths of Alf Pike and Alex Shibicky, Smith is the last remaining member of that Stanley Cup-winning team.

Smith played six full seasons with the New York Rangers. "Lester Patrick and I never really got along too well. He only had one idea and that was his. We ended up bitter and I got sold to Chicago. But later on, we became friends again. As a matter of fact, I was a pallbearer at his funeral."

Clint was signed by the Black Hawks, joining them in 1943-44. "When the war came along, a bunch of the Rangers, including me, got sold off," Clint recalls. That season, playing on a line with Doug Bentley and Bill Mosienko, Smith led the NHL in assists with 49, finishing fifth overall in scoring with a career-best 72 points. The line totaled a record of 219 scoring points. Smith was also recipient of the Lady Byng Trophy for a second time. "I never thought about the Lady Byng Trophy," he admits. "That just came with the way I played the game."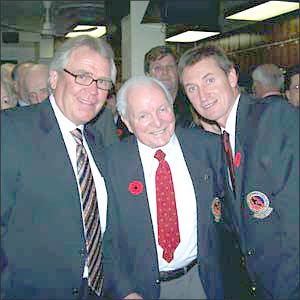 Clint Smith is seen here at the 2004 Hockey Hall of Fame Induction Ceremony alongside Honoured Members Glen Sather (left) and Wayne Gretzky (right)
(Scott Veber/HHOF)

During his four-season stint in Chicago, Clint enjoyed three seasons scoring twenty or more goals in a season. He shared an NHL record by scoring four goals in a period in a game against the Canadiens on March 4, 1945.

Following the 1946-47 season, Smith was named playing-coach of the Tulsa Oilers of the USHL, where he won the Herman Paterson Cup as the league's most valuable player. But after four seasons as a minor league playing-coach, he took on coaching the Cincinnati Mohawks full-time in 1950-51.

In 483 NHL games, Clint recorded 397 points (161 goals and 236 assists). But astonishingly, he served just twenty-four minutes in penalties through his entire NHL career. In fact, in three of his ten seasons, Smith didn't collect a single penalty.

In 1991, Clint Smith was inducted into the Hockey Hall of Fame, selected at the time in the Veterans' Category. "I can't get around too well these days," admits the 94-year-old, the oldest living Honoured Member in the Hall of Fame. "But I used to enjoy going every year to the ceremony and seeing all my old friends."

Today, Smith, every bit the gentleman he was on the ice, enjoys days at his home in Vancouver. It wasn't long ago that he had to give up skating, something he relished in spite of two artificial hips. "My old skates just rotted right off," he laughs. "And the leather on my new ones was so stiff, I just couldn't get them on. It wasn't worth fooling around."

Kevin Shea is the Editor of Publications and Online Features at the Hockey Hall of Fame.