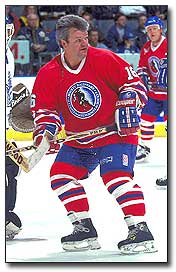 Marcel Dionne at the 2001 Hockey Hall of Fame
Legends Game.

(January 10, 2003) -- During his 18-season NHL career, Marcel Dionne accomplished scoring feats that continue to boggle the hockey mind. Although he never got an opportunity to win the Stanley Cup, Dionne enjoyed extraordinary success, including two selections to the NHL's First All-Star Team, two to the Second Team, twice winning the Lester B. Pearson Award as the NHL's most valuable player selected by his peers, twice was the recipient of the Lady Byng Trophy and in 1980, Marcel captured the NHL's scoring championship. When he retired in 1989, Marcel Dionne's 1,771 points trailed only Wayne Gretzky and Gordie Howe in NHL career totals. He was inducted into the Hockey Hall of Fame in 1992.

For Marcel Dionne, a fledgling hockey career began in Drummondville Quebec, where he was born August 3, 1951. "My uncle, Gilles Sawyer, took me to the arena in Drummondville. I was 8 years old and had never been exposed to organized hockey. He had a friend who was coaching peewee. I played the first game, but didn't know the rules or anything and I went home crying because the kids were making fun of me. I didn't do too well my first year, but the next year, the same kids who had laughed at me were now crying because I was smoking past them," Marcel chuckles.

Dionne joined the junior Drummondville Rangers in 1967-68. "We were the farm team of the New York Rangers," explains Marcel. "To this day, Emile Francis says, 'I can't believe we didn't get you.' I did belong to the New York Rangers at one time before I joined the NHL." In June 1969, the NHL held its first universal draft, which eliminated junior sponsorships entirely. This allowed all 12 NHL teams the opportunity to select the best junior players available.

In 1968, Marcel Dionne made a dramatic - and controversial - move to join the St.Catharines Black Hawks of the Ontario Hockey Association. "I went to see a game or two of the OHA and I liked what I saw," explains Marcel. "All through my hockey days (as a youngster), there were always championships and I was overwhelmed having so many people come to the house. I wanted to look for a change and I wanted to learn English. I always felt that if something positive, like playing in the NHL, were to happen down the road, I had to speak English. It would have been difficult if I stayed in the Quebec junior league where the dominant language was French." Marcel decided to leave Drummondville for the change of scenery in the Niagara Peninsula, joining the St.Catharines Black Hawks. "I had to sit out 6 games because I didn't have a branch-to-branch transfer, but St.Catharines made a commitment and I decided to go. My mother, two sisters and one of my brothers moved into St.Catharines for four or five months. It was a real battle and was not a happy ending for my hometown."

Dionne loved St.Catharines; but not more than the city loved him. In his first season there, 1968-69, Marcel earned 100 points in 48 games. The next season, he led the league in goals (55), assists (77) and points (132) and was the OHA's Second Team All-Star centre. In 1970-71, Marcel again led the OHA in scoring, this time with 143 points comprised of 62 goals and 81 assists. He was a First All-Star that season. That spring, the St.Catharines Black Hawks defeated Kitchener, Montreal and Toronto to win the OHA championship and the right to challenge Guy Lafleur and the Quebec Remparts for the Eastern Canadian championship and a shot at the Memorial Cup. But there were subplots to this scenario. Dionne and Lafleur were both touted as potential first overall draft picks that year. In addition, Remparts coach Maurice Filion had coached Marcel in Drummondville, and when the young star left the Quebec league for the OHA, Filion was infuriated and vowed revenge in the form of a Quebec victory.

The series was exciting ... and very aggressive. While playing in Quebec City, the St.Catharines Black Hawks were pelted with debris and escorted off the ice by the local police force at the end of the fourth game. Five police cars escorted the St.Catharines team to their hotel after the angry crowd rocked the bus and threw bottles at the vehicle. The fifth game was played at a neutral site (Toronto) but when the series shifted back to Quebec City for Game 6, the Black Hawks refused to jeopardize their players, offering instead to play games six and seven in Montreal. Maurice Filion refused to change arenas. St.Catharines refused to play in Quebec City. Because of the stalemate, the president of the CAHA declared the Quebec Remparts winners of the series and they were given a berth in the Memorial Cup championship. Marcel Dionne, amidst all the hoopla, led all junior players in playoff scoring, collecting 29 goals, 26 assists and 55 points in just 15 games.

Dionne reflects back on his junior days. "There was a reason to come and watch the St.Catharines Black Hawks. We were sold out every game. The OHA was very strong with a great calibre of players, many of whom went on to great careers in the NHL." But Marcel enjoyed his life in St.Catharines beyond the arena, stating, "My years in St.Catharines were the best years of my young adult life. They were fun days. I began to make St.Catharines my home. I stayed there during the summers and I met my wife there, although she was not originally from St.Catharines. I still have some very, very good friends in St.Catharines."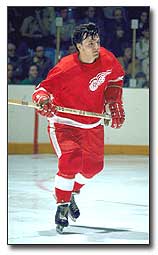 There was ongoing discussion over who was going to be chosen first overall in the 1971 Amateur Draft. Would it be Dionne? How about Lafleur? Or maybe Jocelyn Guevremont from the Montreal Jr. Canadiens? But while the hockey industry was buzzing, Marcel took a different approach. "I have always been a guy who wants to see how things are done before I get really excited. Detroit called my coach in St.Catharines and wanted me to go to Montreal for the draft that year. The whole thing is totally changed today with what I call the 'phony draft.' You have kids who get drafted 230th and they're still sitting there hoping to get drafted. I was not even interested in going. The Red Wings said, 'If Montreal doesn't take you, then you're our guy.' I said, 'I don't really want to go. I'll just sit here and take one day at a time.' The Red Wings forced the issue, so I went to Montreal and met my Mom and Dad there. But I have never been impressed with anything just because I'm supposed to be. I have always focused on the fact that if I'm good, things are going to go well. Now, if you ask me if I was excited, of course I was excited, but I didn't have to worry about a million dollar bonus in those days." As tension mounted, the entire venue tried to guess which player was going to go first. Marcel recalls, "Guy Lafleur went first, but when the Montreal Canadiens were asked to make the first selection, they took a time-out. Everybody started to laugh. I didn't understand what was going on, but it turns out the Canadiens were still trying to make a deal for me." It didn't happen and the Detroit Red Wings took Marcel Dionne with the second pick overall in the 1971 draft.

Detroit had finished last in the NHL's East Division in 1970-71. The team was struggling. Gordie Howe had just retired. "Things were in chaos," admits Dionne, candidly. "It had been the Ned Harkness years and the ownership was a little bit out of control. Detroit was a great place to play, but it was not a great place to go to work, if you understand what I mean. My first year was exciting because you don't know too much about anything but then the revolving door with coaches started. I saw so many players go through the ranks, it was ridiculous. After a while, you didn't know the guys you were playing with." Nevertheless, Marcel Dionne had four very productive seasons as a Red Wing, scoring 28 goals and setting a rookie record with 77 points in 1971-72, then following with seasons of 90, 78 and, in 1974-75, 121 points. That season, Marcel finished third in scoring behind Esposito and Orr, edging Guy Lafleur by two points.

Dionne wasn't happy with the Detroit Red Wings, and in June 1975, was signed as a free agent by the Los Angeles Kings. In doing so, Marcel became the first NHL player to leave his team in such a way. But the NHL insisted that an equitable trade take place, so the Kings sent Terry Harper, Dan Maloney and a second round draft choice to Detroit for Dionne and Bart Crashley. "Going to L.A. was a new beginning. It was a lot tougher than Detroit," admits Marcel. "I had heard all the stories about how difficult it was playing on the West Coast -- there were long trips, four games in five nights, you never charter, you're never home, how it's tough to get up for games. I took the attitude that I'd take a positive approach. My wife and I talked about it. I said, 'There's got to be some great things about playing on the West Coast too - the weather is great all year and the pressure of playing hockey is not the same as in other cities.' We found out quickly that there were a lot of great things about Los Angeles, and so did our friends and family. People don't come down to visit - they come down to stay! Our house became the Dionne Hilton. But you know what? It was a great place to play!"

Los Angeles turned out to be a haven for Marcel Dionne. For almost 12 seasons, Dionne's production was fantastic. In seven of those seasons, Marcel scored better than 100 points and finished amongst the NHL's top 10 scorers. In fact, Marcel finished second in scoring to Guy Lafleur in 1976-77, second to Bryan Trottier in 1978-79 and second to Wayne Gretzky in 1980-81. In 1979-80, Marcel and Gretzky tied for the scoring championship with 137 points apiece, but Dionne was awarded the Art Ross Trophy based on having scored 53 goals; two more than Edmonton's young star. Dionne crashed the 50-goal mark six times while playing with the Kings. "But the Kings would always get knocked," continues Marcel. "They'd ask, 'Who cares about Los Angeles?' That was the biggest difference after leaving Detroit. There, it's hockey every day. You talk to people. They watch you; they see you. In Los Angeles, once you leave the parking lot of the arena, you're invisible. A lot of guys liked that. I didn't. I like the heat to be on and have people be aware of the team. They were great years, though. It was a great place to play."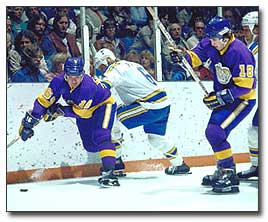 Marcel pulls away from the Blues'
Larry Patey with Triple Crown linemate
Dave Taylor close behind.

Yet, in spite of Dionne's production, and that of the Triple Crown Line with Marcel, Dave Taylor and Charlie Simmer, the Kings were only able to get to the division final once during the twelve seasons Marcel spent on the West Coast. "We started to build some character with Dave Taylor, Charlie Simmer and Mike Murphy. The guys understood the situation," states Dionne. "It was difficult. There were a lot of trades and a lack of strong management. When we went to training camp, the first question we would be asked was 'How are you guys going to do?' In the back of your head, you know you're not going anywhere. We just didn't have the strength. You do your best and try to survive. I knew that I couldn't get really close to anybody except for the guys who were there for a few years. I don't think some players understood that about me. It was a revolving door. You start to like some guys and you turn around and they trade them."

But it wasn't just a problem with direction that plagued the Los Angeles Kings during Dionne's tenure. "The traveling was really intense. It's hard to believe, but our biggest problem was practicing. Often, we had to stay over in a city, then fly out the next day, so we did not have time to practice. Sometimes, we could not get ice. How can you perform? Some nights, I don't know how we did it, but we managed," says Marcel with a bemused grin.

During 1986-87, Marcel Dionne had seen enough and decided he wanted a change of scenery. "Pat Quinn (the Kings' coach) was suspended that year. He signed a contract with the Vancouver Canucks. Sometimes they treat you like kids - well, we are kids because we're playing a game, but we have to be treated better than that. The ownership said, 'It's no big deal; don't worry about it,' but it killed our team. That's when Luc Robitaille and Jimmy Carson came in. What took place with Pat Quinn was unacceptable. It was okay for Pat but I thought the ownership did not stand up at the time to make a decision. We were in chaos and I just figured, 'Here we go again.' I was tired of getting up everyday to work for some people who just can't make decisions that players are waiting for. The reason I ended up in New York was over a salary dispute with Los Angeles. Everybody thought it was a lot of money then, but it's peanuts today. The guy that opens the door makes that money now."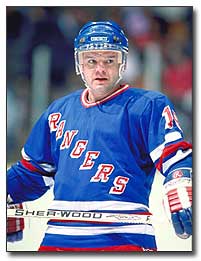 On March 10, 1987, Los Angeles traded Dionne, Jeff Crossman and a third round draft choice to the New York Rangers for Bobby Carpenter and Tom Laidlaw. "I made the decision to finish my career on the East Coast. If I had had my choice, it would have been Chicago or Quebec. They were ideal teams for me to go to. I could have been a second line centre to Denis Savard in Chicago or Peter Stastny in Quebec. I was just looking to play my role and take away some of the pressure of being the number one guy. I was at the end of my career, but I had enough years left to still be very successful. Phil Esposito asked me if I would take a pay cut and I said yes, but I walked into a timebomb from the very first day in New York. It was totally disorganized. The Rangers were in chaos and the following year, they went out and got Michel Bergeron and it never got on track. They (management) all got fired or left and I was still there," sighs Dionne.

Although the Rangers fizzled around him, in his final full NHL season, Marcel still scored 31 goals and collected 65 points. But by the 1988-89 season, Dionne played just 37 games in spot duty, and even spent some time in the minors before retiring. "If we had the teams that played in Los Angeles, but the schedule that the Rangers had, we would have been much more successful. With the Rangers, we played Boston, Hartford, in Long Island, New Jersey and Philly and could still be home the same night. Guys would be on the road for a week and say they were tired. Nobody understood what Los Angeles had to do. It was absolutely amazing!"

If there is a positive spin to never having gone to a Stanley Cup final, it's that it gave Marcel Dionne the opportunity to represent Canada in international competition. "During many seasons, we didn't make the playoffs, so international hockey was great. It was like two extra rounds of very high caliber hockey for me. For years, people would say, 'Ah, it's just leftovers being sent over.' But I would laugh and say, 'Send the best guys and see what happens,' It's a proven fact. It doesn't matter whether you send your best guys or not. These were high-tempo tournaments. They all sent their best guys so the competition is extremely good!"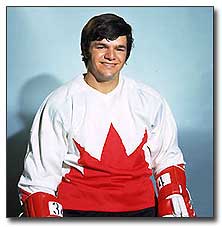 Dionne at the 1972 Summit Series training camp.

Marcel Dionne represented Canada internationally on seven occasions. At the World Championships in 1978, Marcel was selected the tournament's best forward. But surprisingly, Team Canada in 1972 may very well have had the most profound impact on Dionne's career, in spite of the fact he did not play in the Summit Series. "It was a great experience. When I went back to training camp with Detroit that year, it was like I was playing against guys who weren't skating -- they were walking! The Team Canada 72 training was at such a high level. You were playing with the best players at the time. Everything was done fast. You give that puck and you get it right back. I went back to Detroit expecting the same thing, but instead, I'd give the puck then start counting and ask myself, 'Is it coming back?'" Dionne laughs out loud, then continues. "I was playing with Stanley Cup winners. (Serge) Savard and (Guy) Lapointe could really move that puck. We practiced with Bobby Orr. We had the GAG Line out there (The Goal A Game Line was comprised of Jean Ratelle, Rod Gilbert and Vic Hadfield). These were all guys who were at the peak of their careers."

Marcel Dionne has applied the same spirit to his business career that helped him excel in hockey. Like his on-ice performances, Marcel's business acumen has benefited from vision, creativity and a strong work ethic. "There is no doubt about it, whatever I have done in hockey and whatever I have seen in my hockey career I have applied to the business world every day of my life. You've got to communicate. You have to take constructive criticism. You have to have an attitude. You have to have drive."

"I played the game when it was physical," Marcel continues. "You had to worry about the competition. When you played the Flyers and the Bruins, you knew that if you played the game hard, you were not going to leave that game unscratched. You were going to have a cut or a bruise, but you succeeded. Having played hockey was a tremendous, tremendous advantage, but you have to have smarts, too. You can't think you're going to walk in and know it all. It was the same when I was playing hockey. When I was a kid, I had talent but I'd learn from watching the guys ahead of me. In business, I started late but I sure caught up. But I was wise and watched the people who were successful. I followed their path, adjusted to my way of doing things and it's a winning formula."

Dionne concludes, "Success to me is not all about the financial side. I look at success as being able to accomplish things. It doesn't matter how much money a guy has made. To me, it's about putting something into practice and making it flourish. That's an accomplishment. That's my goal. And when you do that, the financial side will come."

Kevin Shea is co-author of several hockey biographies. His most recent book is "Over The Boards - The Ron Ellis Story" (H.B. Fenn), released November 2002.