7 DECEMBER 2004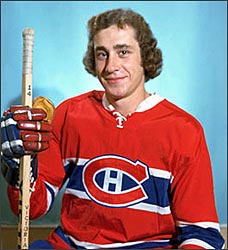 After being selected with the Canadiens' first draft pick in 1973, Bob Gainey joined the team that fall and was slowly infiltrated into a strong Montreal line-up.

The City of Peterborough has sent an extraordinary number of players to the National Hockey League. Several, like Steve Larmer and Red Sullivan, can claim Peterborough as their birthplace. Through the incomparable forty-eight year history of the Peterborough Petes, many others arrived to play junior there; guys like Jimmy Roberts, Mickey Redmond, Larry Murphy, Steve Yzerman, Tie Domi, Mike Ricci, Chris Pronger and Cory Stillman. Between 1971 and 73, one more illustrious alumnus of the Petes can also be added — Peterborough native, Bob Gainey.

Born December 13, 1953, Bob Gainey comes from a large family. "I come from a family of seven, two brothers and four sisters," he smiles. "Everybody skated and my brothers played a little hockey." But surprisingly, none of Gainey's siblings took a great deal of interest in sports the way Bob did.

Bob received his first pair of skates at the age of five, and quickly developed a passion for the game of hockey. "When I was at the minor hockey age, hockey was still relatively unorganized. It was normally mid-December before outdoor rinks were available." But that didn't deter Gainey, who began his career as a six-year-old defenseman, playing for Immaculate Conception in a local church league. "It started off to be a regular part of winter life where all the boys in my age category would play hockey for some kind of local team. We had a program that was run through different churches that used to sponsor teams. I continued on and started to push into some of the rep programs, but neither of my brothers had that same desire."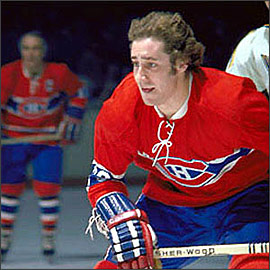 Gainey participated in four NHL All-Star Games -- 1977, 1978, 1980 and 1981. Legendary Habs captain Henri Richard is in the background.

Although preferring to play the sport rather than watch it, Bob grew to idolize the players he watched on 'Hockey Night in Canada.' "When I was nine or ten years old and just starting to understand the sport, and growing up close to Toronto, their championship teams in the early sixties were great role model teams and there were plenty of players on those teams that the boys in my generation could relate to — Tim Horton, Dave Keon, Norm Ullman," acknowledges Gainey.

Like most teenagers, Bob discovered new interests as he grew, including basketball, but hockey always retained its spot as Gainey's principal passion. "No matter how much I wanted to do other things, I wanted to do hockey more," Bob admits. At fifteen, the six-foot Gainey was moved to forward, and clearly identified the checking role with which he has become renowned. In the spring of 1971, Gainey led his Junior B team to the Ontario championship, followed by reaching the gold medal final of the Canada Winter Games. That autumn, Bob signed with the junior franchise in his hometown -- the Peterborough Petes. "It seems strange today for a boy to play junior in his hometown but in the 1960's and 70's, you had no choice but to play in your hometown," Gainey explains. "There were a number of kids who grew up in the community who would move on from midget hockey to play for the Junior B and then the Junior A team in their community. I really enjoyed that. I didn't have to move away from home at sixteen or seventeen. I don't think I had the same kind of wherewithal that the kids today have to leave home and still go to school and to be as disciplined as the kids who play junior hockey today are."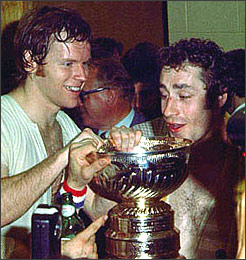 Bob (right) enjoyed five Stanley Cup celebrations with the Canadiens (1976, '77, '78, '79 and '86) as well as one as an executive with the Dallas Stars in 1999. Here, Gainey prepares to sip champagne from the Cup with fellow Peterborough native and Montreal teammate, Doug Jarvis.

In 1971-72, Bob Gainey and the Petes went to the Memorial Cup final, only to lose to the Cornwall Royals. The next season, Bob flourished with the Petes and collected 22 goals and 43 points. "It was a really good atmosphere," Gainey explains. "I had three years of junior in Peterborough, between the Junior B team and the Junior A team, and we had successful teams with good coaching, good team atmosphere, a good following in the community and a good quality of players and people. It was just a very positive experience at ages sixteen, seventeen and eighteen."

One of those instrumental in Gainey's development was Peterborough's coach, Roger Neilson. "Roger had such an impact on so many people. And really on the whole sports community in Peterborough. He coached the Junior A team for eight or nine years, he ran hockey camps, he coached baseball in the summer, he was a high school teacher — he was integrated into the community and he touched everybody who he came in contact with. That was the great thing about Roger," states Gainey, stopping for a moment to reflect on his mentor. "That was thirty years ago. Roger would have been in his late thirties and he still related so well to teenagers. He was a great role model, an upbeat, positive person who never lacked energy and never showed anything but a terrific example to the kids."

In the 1973 NHL Entry Draft, Bob Gainey was selected eighth overall, the first choice of the Montreal Canadiens. He explains the hierarchy that existed within the Montreal Canadiens at that time. "The players moved through different levels of seniority and responsibility. When you came in at the bottom, there were certain expectations. There was a young group of players who had a year or two of pro hockey under their belts, like Steve Shutt and Murray Wilson. And there were expectations for people who had been there longer than you to make you aware of what the rules of the game were and how you should act and how things worked. There was a group of middle players like Serge Savard, Jacques Lemaire and Larry Robinson and then there were older players like Jimmy Roberts and Henri Richard. There was a tiered teaching system using the veterans as role models, and it worked very well because you didn't need to be the 'go to' person when you arrived when you weren't capable of it. You had time to grow into it. You didn't have the same kind of responsibilities or pressures that the first round picks have today when they're expected to be top performers right off the mark."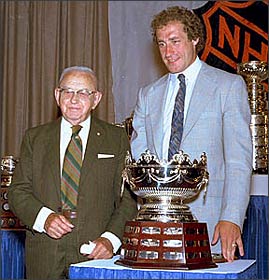 Widely acknowledged as one of the premier defensive forwards in NHL history, Gainey was recipient of the Frank J. Selke Trophy in each of the first four years following the award's inception in 1978. Gainey poses here with the trophy's namesake, Frank Selke, the former general manager of the Montreal Canadiens.

Gainey joined the Montreal Canadiens in 1973-74, and was slowly integrated into a team that became a dynasty during the 1970's. "I came into a team that had a lot of pieces already there," starts Bob. "They had won a championship in 1971. They changed a few players and won again in 1973. There were a few players who left but there were many players who remained. There was a crop of drafted players that came in at the same time as I did over a couple-year period like Bunny Larocque, Steve Shutt, Dave Gardner, John Van Boxmeer and Glenn Goldup and we found our places within that team. Guys who came later like (Doug) Riseborough, (Doug) Jarvis and Mario Tremblay gave us all the pieces to be a very, very good team. We had the direction from the ownership, management and coaches to get the group together and to get the potential out of that team. It resulted in a string of championships." In just his third NHL season, Gainey found himself part of a Stanley Cup championship team. "The first time that you actually get through that doorway and walk into the winner's circle is a time that all players will remember because it's a goal that all players have," says Gainey, explaining the elation over winning the Stanley Cup for the first time. "Until you've reached that goal, then it's always out in front of you. When you have that opportunity, the moment is one that leaves a mark on your trip through life and trip through your career." In fact, the Canadiens won four consecutive championships, with the right winger significantly contributing on both offense and defense. In 1979, Bob Gainey was selected as the most valuable player in that season's playoff and was awarded the Conn Smythe Trophy.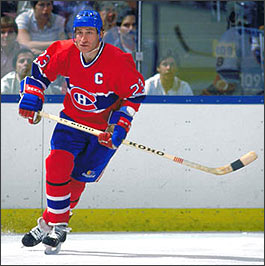 A leader both on and off the ice, Bob was named captain of his Montreal Canadiens in 1981, and remained wearing the 'C' until he retired following the 1988-89 season.

Gainey and the Canadiens won yet another championship in 1986, this time with Bob wearing the captain's 'C.' But by that junction, Gainey was into his thirteenth NHL season, all in the bleu, blanc et rouge of Les Canadiens. He knew that he had to think beyond the day that he would tie up his skates in the National Hockey League for the final time. "Most players at some point realize that they're going to have to make a career change, whether it be in six months, a year or three years. It occurs at a time when they're still young and they're still able to go and do something else," he explains. "I always had certain traits about recognizing the team composition and how things worked and keeping an eye open for what was going on. I knew in a number of different ways that my playing career was coming to an end. There was a point when Serge Savard, the GM, said that when I was finished playing, he'd be open to talking about some other kind of work in the Canadiens' organization. That was a window of opportunity that was opened for me before I actually got to the point."

Gainey played sixteen seasons, accumulating 239 goals and 262 assists during 1,160 regular season NHL contests. But his finest contribution was clearly his talent as a two-way winger. The Frank J. Selke Award for the NHL's finest defensive forward was donated in 1978, and Bob monopolized the honour, winning it the first four years after its inception. By the time he retired, Gainey was recognized not only as an outstanding player, but also as one of the game's finest students. "When I was finished playing, I wasn't sure that I wanted to continue on in the same lifestyle and the same rhythm and patterns," he admits with candour. "I had an opportunity to go to Europe and I ended up in France for a year where I continued to play but I coached at the same time in a Tier Two league. It wasn't too demanding but it did put me in a position of responsibility. Players sitting on the bench all think that they can coach the team. They all know what should happen and how it should happen. But until they actually change positions and stand behind the bench, or sit in the office where they're creating practices or working through problems with individuals, then they just don't know. That's what my year in France gave me." Gainey was playing coach with the Epinal Squirrels, and the experienced garnered him a great life experience but also set the foundation for the next stage of his hockey career.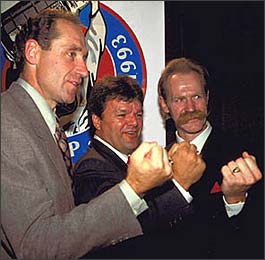 In 1992, the Hockey Hall of Fame welcomed Woody Dumart into its fold, as well as (left to right) Bob Gainey, Marcel Dionne and Lanny McDonald.

"I left my playing career right at the time when things were really starting to change in the NHL. There were a lot of ownership changes and changes in locations of teams, plus expansion and the union had changed. We were going into a completely new era but no one really knew that in 1990," Bob says. "I had a call in Europe from Bob Clarke who had just been fired in Philadelphia and he wanted to know if he went over to Minneapolis, would I be interested in joining him to coach the team." Clarke took the general manager's position with the Minnesota North Stars, and hired Gainey as his coach in 1990. "It was very valuable, starting off with three years of experience in some place other than Montreal. There were new people in a completely different environment." Gainey started as coach and by the time he left three years later, had added the general manager's portfolio. "We had limited success on the ice and limited success off the ice. Within three years of my arrival there, the team was leaving to relocate in Dallas."

Bob moved with the team to Dallas and was the man responsible for building the club into one of the NHL's elite teams. He led the North Stars to the Stanley Cup final in 1991 and orchestrated the team that won the ultimate prize in 1999. In June 2003, Gainey rejoined the Montreal Canadiens, hired as Executive Vice President and General Manager. "For many of the past ten years, I saw myself as a player who was coaching or a playing who was managing. I think the player part diminishes with time. It's hard to keep that sensitivity towards all those things a player has to go through every day. Some of them remain and you can draw on those to come to conclusions in certain situations. All of us use the experiences we had in different situations and with different people and try to apply them to make us more successful than our competitors."

Robert Michael Gainey was selected for entrance into the Hockey Hall of Fame in 1992, joined by Marcel Dionne, Woody Dumart and Lanny McDonald. "It was something that I didn't really appreciate enough until I got there," smiles Gainey. "I was away working outside of Canada at the time and came back for the Induction. There are parts of the ceremony that I can't quite remember. It was a day filled with so much excitement and festivity. There was a certain amount of anxiety, too. It's great to be considered in that group." He continues, "Hockey is what I've done for my life's work. I'd like to be able to leave a mark alongside people who have left their name and their results on the game. That's what people who are in the Hockey Hall of Fame have done."

Kevin Shea is the Manager of Special Projects and Publishing at the Hockey Hall of Fame.