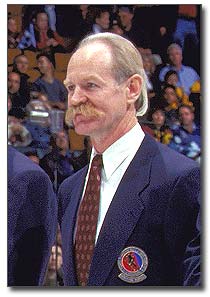 Lanny McDonald sporting his Hockey Hall of Fame blazer at Air Canada Centre

(April 4, 2003) -- Hanna, Alberta has recently come to be known as the home of the rock band Nickelback. But obscured in the current adulation of that band's heritage is the fact that the small Alberta town was also home to one of the finest hockey players in NHL history. "My Mom and Dad drove me into Hanna to play hockey," recalls Lanny McDonald. "Hanna was 22 miles away, and we had to make that drive every time we played, which was a couple times a week. It was so much fun playing the game that not only my father had played, but that my older brother played as well. It was a great way to grow up."

Always a proficient scorer, Lanny McDonald, born February 16, 1953, tore up the Western Canadian Junior Hockey League as a member of the Medicine Hat Tigers. In 1971-72, McDonald fired 50 goals and collected 114 points. The following season, he contributed 62 goals and earned 139 points. That year, 1973, Lanny McDonald was the first draft choice of the Toronto Maple Leafs; the fourth selection overall. "I had three favourite players when I was growing up - Ronnie Ellis and Dave Keon with the Toronto Maple Leafs and Gordie Howe with Detroit," recites McDonald. "I thought those guys were top of the class. My favourite goaltender was Johnny Bower. I was a Toronto Maple Leaf fan, so having a chance to be drafted by the Maple Leafs and to actually play there for six and a half years was certainly a dream come true."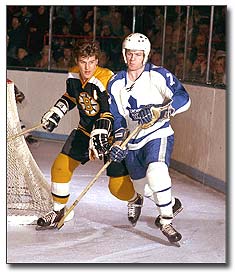 A young Lanny McDonald pursued by Boston's Bobby Orr.

"The draft that year was held in Montreal," remembers McDonald. "We played against the Toronto Marlies and the Quebec Remparts in the Memorial Cup. Unfortunately, we didn't end up winning the Memorial Cup, but I ended up staying in Montreal (for the draft). I was actually in the room when my name was called. I'll never forget King Clancy taking me over to the table and introducing me to George Armstrong and Johnny Bower and everyone else at the Leafs' table. It was pretty special. I thought, 'This is pretty cool!'" McDonald learned his love for hockey from his Dad, a lifelong fan of the Maple Leafs. "Playing for Toronto was a highlight, not only to me, but to my father who loved the Toronto Maple Leafs. He was the one who got me started in this great game," confides Lanny. In fact, McDonald's middle name is 'King,' his father's tribute to the Clancy who also graces the Hockey Hall of Fame.

Lanny broke into the NHL in 1973-74, and came under the tutelage of his idol, Ron Ellis. "I have the utmost respect for Ron. He really took me under his wing. I was a fellow rightwinger, and he knew that I might end up taking some of his ice time, but he did everything possible to help a young guy get his feet underneath himself in the National Hockey League. That was just the kind of guy he was!"

Lanny developed rapidly, earning 30 points as a rookie, 44 in his second season and then exploded for 37 goals, 56 assists and 93 points in season number three. "Red Kelly and Jim Gregory showed tremendous patience. They gave me a chance to really come into my own and develop the confidence I didn't have in the first couple years," explains McDonald reverently. "In the middle of all that, I became friends with Darryl and Wendy (Sittler). I played on the same line with Darryl for the last four and a half years that I played with the Toronto Maple Leafs. That friendship still exists today. I call Darryl my best friend and we probably talk every three or four days. When you spend as much time together as we did, both on and off the ice, that friendship just blossomed into something that has lasted a lifetime."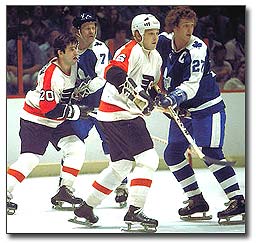 Lanny and linemate Darryl Sittler do battle versus the Philadelphia Flyers.

In 1976-77, both McDonald and Sittler collected 90 points, finishing in the NHL's top ten scoring leaders. The Leafs were a very fine team, but for the third consecutive spring, were knocked out of the playoffs by the Philadelphia Flyers. Lanny and Sittler both ended up in the top ten again in 1977-78, but that season, the scenario played itself out differently. Toronto knocked the Los Angeles Kings out of contention in the preliminary round, and faced the New York Islanders in the quarter-finals. The series was highly competitive, going into overtime in the seventh and deciding game. At 4:13, in one of the defining moments of that era for the Toronto Maple Leafs, Lanny McDonald scored the winning goal to send Toronto to the semi-finals. "No one gave us a chance in the '79 series against the Islanders," chuckles Lanny, showing great satisfaction. The Leafs lost to the eventual Stanley Cup champions, the Montreal Canadiens, but the organization knew it was close to being a prime contender for the Stanley Cup. And then, it all came undone.

"It was very disappointing, because we believed we were only one or two players away from going all the way to the Cup. We lost to the Canadiens two years in a row (1977-78 and again in 1978-79), but the Canadiens had gone on to win the Cup both those years. When you think you're that close and never get a chance to really prove it, especially when we all had blue and white in Toronto, it was so disappointing to see that team dismantled one by one," sighs Lanny. Punch Imlach, who had helped bring the franchise four championships through the 1960s, was brought back during the summer of 1979.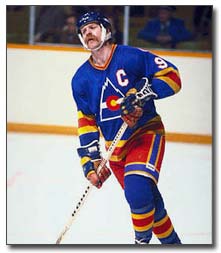 Lanny during his days with the Colorado Rockies.

An on-going feud with Leaf captain Darryl Sittler took a nasty turn when Imlach began to trade away those players friendly with Sittler, in effect, trying to persuade Darryl to waive the no-trade clause in his contract. First to go was Pat Boutette, Sittler's former junior teammate in London. But the blow that hurt Sittler and Toronto fans most was the deal executed on December 29, 1979. Lanny McDonald and Joel Quenneville were packaged off to the Colorado Rockies for Wilf Paiement and Pat Hickey.

Colorado was a young team struggling to make its mark in the NHL, but the veteran McDonald added both credibility and leadership. That season, Lanny finished with 40 goals and 35 assists, while in his first full season with the Rockies, McDonald scored 35 goals and had 81 points.

On November 25, 1981, Lanny McDonald and a draft pick were shipped to Calgary for Don Lever and Bob McMillan. For Lanny, he was going home. "My first thought was, 'Oh my gosh, Colorado didn't want me,' but you forget that there's another team out there that obviously wanted you and that's why they traded for you," remembers McDonald. "I felt a lot of pressure coming back so close to home and family and friends. It really turned out to be a blessing and it was the best thing that ever happened for my career."

Lanny McDonald thrived as a Flame during his eight seasons in Calgary. His team evolved into a serious Stanley Cup contender, and in conjunction with provincial rivals, the Edmonton Oilers, staged some of the great battles of recent memory. In 1982-83, McDonald enjoyed a career season, scoring 66 goals and 32 assists to lead the Flames to a second place Smythe Division finish, behind the Oilers. In 1987-88, Calgary finally got its chance to dethrone Edmonton, finishing first in the Smythe. Then, in 1988-89, the Calgary Flames not only won their division, they went on to win the Stanley Cup.
Celebrating a Stanley Cup championship.

If athletes claim they want to go out on a high, then it's difficult to imagine any player ever going out higher than Lanny McDonald - his final game in the NHL was the Stanley Cup-winning game of 1989 when Calgary claimed its first championship in franchise history. "I scored my first goal ever in the National Hockey League in the Montreal Forum. And I scored my last goal in my final game, again, in the Montreal Forum. I was part of the on-ice lineup for that winning game and we were the only team other than the Canadiens ever to win the Stanley Cup on Forum ice. All those things added up to me thinking, 'Boy, it's a sign! It's time I was outta here.' What a great way to go!"

No one who witnessed the game will ever forget the massive smile beneath that monstrous moustache as Lanny McDonald skated around the ice at the Montreal Forum, hoisting the Stanley Cup for all to see. "To come back and eventually win the Cup playing for a team close to your hometown - wow! It doesn't get much better than that," admits the modest boy from Hanna. "To be able to live here even today and enjoy life in our great province and still see the great 'Battle of Alberta' between Calgary and Edmonton is very satisfying, I must say." Residents of the small Alberta town may be proud to lay claim to Nickelback today, but they don't have to look very far to find a hometown hero who is rock solid.

Kevin Shea is co-author of several hockey biographies. His most recent book is "Over The Boards - The Ron Ellis Story" (H.B. Fenn), released November 2002.