26 APRIL 2005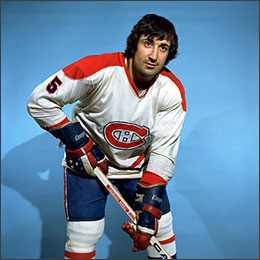 Although as a teenager, Guy's aspirations leaned closer to police work than playing in the National Hockey League, he got the opportunity to not only be an NHLer, but to do so with his hometown Montreal Canadiens. Lapointe played a single game in 1968-69, five in 1969-70, then became a full-fledged member of the Canadiens in 1970-71.

Remembered for his exceptional contributions to the Montreal Canadiens blueline in the 1970's, Guy Lapointe was part of 'The Big Three' along with Serge Savard and Larry Robinson as the Canadiens won four consecutive Stanley Cup championships beginning in 1976.

Born March 18, 1948 in Montreal, Quebec, Lapointe's own hockey beginnings started later than most Canadian boys. "I was about twelve years old when I started playing hockey at my school, St. Francois Xavier," Guy explains. "After that, I played midget hockey while at Immaculate Conception in Montreal. One of the persons who was running the hockey program was Denis Brodeur, Martin Brodeur's dad."

Like most shinny-playing boys, Lapointe had his heroes, and all were members of the hometown Montreal Canadiens. "When we were playing hockey, we all wore the number 4 of Jean Beliveau or the number 5 of Bernard Geoffrion. My favourite player was Jean Beliveau," Guy admits.

But unlike most boys who dreamed of playing in the National Hockey League, Guy was different. "I never thought about playing professional, to be honest," Lapointe reveals. "It was more about having fun and playing hockey." But Lapointe's talent guided him into the junior ranks. "(At that time) in the OHL (Ontario Hockey League), there was only one (local) team, the Junior Canadiens. Below that, there was another league, the Metropolitan Hockey League. That's where I played when I played junior. I was not good enough to play with the Junior Canadiens. Only nineteen year olds got to play with the Junior Canadiens."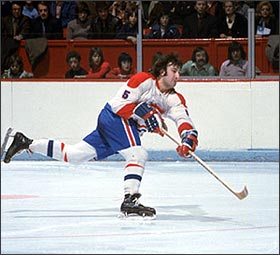 Once he became a full-time member of Montreal's blueline corps in 1970-71, Lapointe proved to be a significant contributor, firing 15 goals and 29 assists as a rookie. That spring, Guy enjoyed his first taste of Stanley Cup champagne -- the first of six he'd enjoy through his fourteen-season NHL career.

Finally, in 1967-68, Guy became a member of the Montreal Junior Canadiens, demonstrating strong defensive abilities with added offense and a bit of a mean streak thrown in for good measure. That season opened the door for Guy Lapointe's entrance to the National Hockey League. "After the OHL, there was no draft. I received a letter inviting me to the Montreal Canadiens camp. At that time, I was already planning to become a policeman," announces Lapointe. Guy's brother was a policeman at that time. "I had no interest in going to the Montreal Canadiens camp. At that time, they were inviting over a hundred kids just for a try-out. My Dad said, 'You gotta go. You can still put in your application to be a policeman and you can always go back to it but you will never have another chance to go to the Montreal Canadiens' camp.' After our discussion, I thought my chances were almost zero to make the team. For once, I listened to my Dad and I went to camp."

"I had a so-so camp, but if you recall, in those days, the Canadiens had two farm teams — they had the Houston Apollos in the Central Hockey League and they had the Cleveland Barons in the American Hockey League." Guy continues, "They offered me a contract and I ended up moving to Houston. It was the first time I'd left home. It was a tough adaptation for me. I could not speak one word in English. I was calling home and ready to pack it in and go back to Montreal but my Dad said, 'Just hang tough. You'll learn enough to be able to talk in a couple weeks.' I was lucky. My roommate in Houston was Phil Myre. He was perfectly bilingual." Born in Ste. Anne-de-Bellevue, Quebec, netminder Myre played his junior hockey in Niagara Falls. "Al McNeil was the coach. He was pretty good to me. He knew what I was going through It took me about two months to adjust. I had to put my act together and forget about being away from home and concentrate on playing good hockey."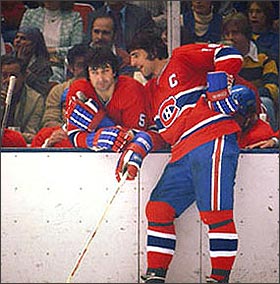 Guy Lapointe was named to compete against the Soviets with Team Canada in the Summit Series of 1972 and was paired on the blueline with Montreal teammate Serge Savard. In spite of a broken ankle, Savard still played in five contests while Guy played in seven of the eight tournament games. Along with Larry Robinson, Montreal's 'Big Three' gained renown as one of the most impressive blueline trios ever to play the game.

After a tough transitional season in 1968-69, a campaign in which Guy got called up to play his first NHL game with Montreal, Lapointe was promoted to the AHL for the next season. "In '69-70, Montreal decided not to have their farm team in Houston so they moved it to Montreal and called it the Voyageurs," mentions Lapointe. "I was still in the minors but played with the Voyageurs. We played in the Forum, same as the Canadiens." That season, Guy joined the Canadiens again. "I got called up for five games and hardly got on the ice at all. They were not playing six defensemen in those days. They were usually dressing five D." It was a tough line-up to crack, as the Canadiens were solid and won the Stanley Cup in 1968 and 1969. "When I started, the core on defense was Serge Savard, J.C. Tremblay, Jacques Laperriere, Terry Harper and Ted Harris. Obviously, it was unbelievable. The Montreal tradition was unbelievable. The players were so close, they were just like family. From Day One, you learn about winning. You cannot accept losing even one game. The dressing room would get pretty quiet and players could not wait to get to the next game so they could win and forget about the loss."

Finally, in 1970-71, Guy Lapointe became a full-time National Hockey League defenseman. Guy states how he got the opportunity. "Montreal decided to make some changes. You may recall that Montreal missed the playoffs (in the spring of 1970). On the last day of the season, the Canadiens had to score so many goals (in order to break a tie in the standings) so they pulled their goalie out in the second period. They lost 10-2 to Chicago." It was the first time Montreal had missed the playoffs since 1948; a bitter disappointment after having won the Stanley Cup four of the previous five seasons.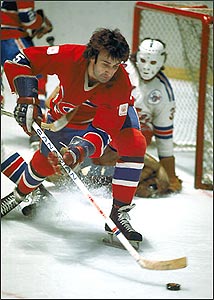 Lapointe contributed 662 points during his 884 NHL games. During his twelfth season with Montreal, Guy was sent to St. Louis. He finished his NHL career with the Boston Bruins in 1983-84.

The playoff omission precipitated changes, including the addition of Guy Lapointe and Pierre Bouchard to the Canadiens' blueline. Both fit in beautifully, but Guy stood out immediately, scoring 15 goals and 29 assists as well as contributing 107 penalty minutes. That spring, Lapointe and the Canadiens returned to form and captured the Stanley Cup. "The first year I played for Montreal, we won the Stanley Cup in seven games against Chicago. It's pretty hard to describe — it was just unbelievable!" After missing the playoffs the previous season, Montreal returned to form and competed with a vengeance. "The first time is a dream," smiles Guy. "For myself, I was a kid who grew up in Montreal about a half hour away from the Forum. You don't even think that one day you're going to play for the Montreal Canadiens. As a kid, you used to wait outside to get the players' autographs and then one day, you end up in the same room with the guy who was my idol -- Jean Beliveau — the same as guys who I used to watch on television. It was unbelievable!"

Lapointe's career, which was almost stillborn, accelerated rapidly. In 1972, Guy was astonished to be selected to play on Team Canada in the extraordinary Summit Series against the Soviets. In 1973, the Canadiens won the Stanley Cup again. Then, during the 1974-75 season, veteran Jacques Laperriere's career ended prematurely due to a leg injury. Guy stepped into a leadership role on the team. That season, he scored 28 goals, added 47 assists and was named to the NHL's Second All-Star Team. He was only the fifth NHL defenseman to tally twenty or more goals in a season, following Flash Hollett in 1945, Bobby Orr seven straight seasons starting in 1968-69, Brad Park in 1971-72 and Denis Potvin nine times, starting with the 1974-75 season. "It's hard to tell why they were going in that year," Guy chuckles. "There are years like that with everybody. Shots go in that would have been stopped other years."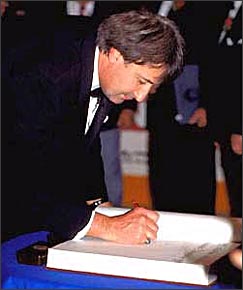 In 1993, Guy Lapointe was elected to the Hockey Hall of Fame. His record shows six Stanley Cup championships as well as a First Team All-Star selection in 1973 and being named to the NHL's Second All-Star Team in 1975, 1976 and 1977.

Lapointe was a dominant force, and with his blueline partners, was an intimidating force to be reckoned with. But Lapointe also knew he could roll the dice at times, pinching in from his defense post looking to contribute to the offense. "I always looked to see who was playing left wing opposite me and even who was at centre," reveals Lapointe. "If guys like Dennis Hull or Richard Martin with Gilbert Perreault were there, I wouldn't gamble. The secret is confidence. I got to know the other teams and the other guys and know what to do against them."

During his twelfth full season in Montreal, and after playing an integral role in six championships, Lapointe was traded to the St. Louis Blues in March, 1982. In return, the Canadiens received a second round draft pick that resulted in the selection of Sergio Momesso. "I was thirty-three years old," Guy starts. "I went through the same thing I went through as a young player when I didn't make the team in the early seventies. There were a lot of young players coming up and I was getting older and at the end of my career with Montreal, I had a lot of injuries. For two years, I only played about half a season. I had an eye injury and I had problems with my shoulder so I missed a lot of games. Like I did when I was young, some other young guys took advantage of the situation so the Montreal Canadiens decided to trade me to the St. Louis Blues."

It was a tough pill to swallow for the defenseman. He had been named to the NHL's First All-Star Team in 1973, and was a Second Team selection in 1975, 1976 and 1977, all with his hometown Habs. "My icetime wasn't what it used to be and I took that hard, but as you get older, you do slow down," Lapointe shrugs. "It was good for me to leave the Montreal Canadiens organization when I did, and when I did, it was on good terms. I wasn't the only one to go through that. If you go back in the team's history, there were a lot of good players with the Canadiens who didn't finish their career in Montreal. It was good for me at that time to have a change."

After finishing the 1981-82 season with the Blues, Guy played all of the next season in St. Louis, too. Then, he joined the Boston Bruins as a free agent in 1983-84 to complete his Hall of Fame career. A four-time All-Star, Guy Lapointe accumulated 622 points (171 goals and 451 assists) in 884 regular season NHL contests. In 123 playoff games, Lapointe added 26 goals and 44 assists for 70 points.

To acknowledge his outstanding contributions, Guy Lapointe was elected to the Hockey Hall of Fame in 1993. That year, Edgar Laprade, Billy Smith and former teammate Steve Shutt were inducted in the Players' category, while Frank Griffiths, Seymour Knox III and Fred Page were added as Builders. John D'Amico was selected in the Officials' section. Guy, humbled by the selection, was astonished. "Believe me, back when I couldn't make the Montreal Canadiens, if somebody came to me and said, 'What do you think? You're going to be in the Hall of Fame one day,' I would just start to laugh. It's one thing you don't even think about. Even though I am proud to be there (in the Hall) and I wouldn't trade for anything in the world, I wonder at times what I'm doing beside the great players like Gordie Howe and Jean Beliveau!"

Guy Lapointe, part of one of the great defensive corps of all time as one of The Big Three, contributed significantly to the dynasty enjoyed by the Montreal Canadiens during the 1970's.

Kevin Shea is the Manager, Publishing and Editorial Services at the Hockey Hall of Fame.