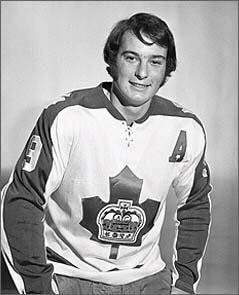 Steve played four seasons with the OMJHL's Toronto Marlboros. He led the league in goals with 63 his final year.

(February 10, 2004) -- "I grew up in Willowdale (a Toronto suburb)," states Steve Shutt, the Honoured Member of the Hockey Hall of Fame who was such an integral component of the Montreal Canadiens' dynasty in the 1970s. But his beginnings were much more modest. "The most fun was in our backyard. My Dad used to build a rink for us. Our neighbours let us use their backyard. We used to put floodlights on it and play night and day."

At that point in Shutt's development, hockey was played for the sheer love of the game. Pulling on all your equipment except your skates, then walking to the rink with your blades hanging from the stick slung over your shoulder was a weekly ritual for boys all across Canada, and Steve was no different. "I played my first year with Goulding Park on outdoor ice. The big thrill was to go to Downsview to play on the first indoor ice I ever played on. We played at the Downsview Arena every Saturday." Shutt was a goal scorer from his earliest hockey days, too. "I was never a really good skater. As a kid, I used to run on the ice, but once I got near the net, I could always score."

Born on the first of July, 1952, Steve Shutt was raised a fan of the Toronto Maple Leafs. "Growing up in Toronto at that time, the Leafs were winning a lot of Cups. They were my idols - Davey Keon, Frank Mahovlich, Johnny Bower - they had a pretty good team at that time. It was fun to watch them."

"I had gone from Goulding Park and I played with the Marlboros organization from peewee all the way up. It was my goal to play with the Junior A team," Shutt explains. "I was supposed to play Junior B and they moved the age back so I could only play midget. The Marlies said, 'You're going to play midget,' but I said, 'No, no. I'm going to play junior.' They said, 'You can't. We're moving you back.' So I said, 'Then I'm moving to Montreal and I'll play junior there.'" Shutt was fiercely determined to wear the blue and white of the Toronto Marlboros. "Buck Houle, the Marlboros' general manager, called and said, 'Come down to the office.' I took the bus and subway down to Maple Leaf Gardens and Buck said, 'If you want to play junior, you're going to play junior. I don't care whether you sit on the bench or not.' I said, 'That's all I wanted.' Curly Davies was the coach of the Junior B team -- he was a tough old guy -- and he just started to laugh."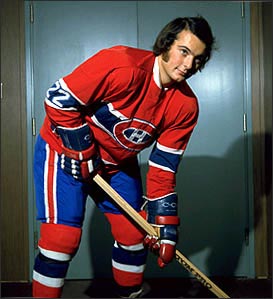 Shutt earned a Stanley Cup ring
his first year with the Habs.

Steve played seventeen games with the Junior B North York Rangers, scoring ten goals (five in one game) and adding seventeen assists for twenty-seven points. "They brought me up to the Junior A team for the playoffs. So I went from midget to Junior B to Junior A all in one year," chuckles Shutt. Steve contributed a goal and three assists to the Marlies playoff run.

The next three seasons were progressively more explosive for Shutt and the Marlboros. In 1969-70, Steve collected twenty-five points in forty-nine games, but then turned up the heat in the playoffs with nineteen points in eighteen games. In 1970-71, Shutt fired seventy goals and added fifty-three assists, then pumped an additional twenty-two points into the Marlies' playoff run. Shutt's sixty-three goals in 1971-72 led the league, and he finished the regular season with one hundred and twelve points. In ten playoff contests, Shutt also contributed fourteen points. In spite of the fact the team was immensely talented, these Marlboros never won the Memorial Cup, but that didn't dim the enthusiasm of a city mad about its Marlies. "It was a lot of fun," smiles Shutt. "The Leafs were not doing so well at that point. Our team really was doing well and was very recognized in the city. I still have people come up to me and say, 'I remember you with the Marlies from Sunday afternoons at two o'clock with the fifty cent ticket.' But there are a lot of people in Toronto who remember it, and remember it as the golden years of junior hockey. You could see that these players were the next ones to go to the NHL."

After an explosive junior career, Steve was the first selection of the Montreal Canadiens in the 1972 Entry Draft. Although drafted fourth overall, there was no guarantee that he'd be an NHL regular. "Being drafted by the Montreal Canadiens, I didn't know if I was going to play in the NHL. They had a stacked team and it was extremely difficult for a rookie to break in there. For the first two years, I really didn't play that much. But it was a real learning curve I never forgot. It was painful to go from being a star in junior hockey to being a guy who they'd say, 'Here son, go up in the press box and just watch for a couple of years.' It made me appreciate my job a lot more and it made me really respect how hard it is and how long it takes to be a regular on any NHL team. When I became a regular with the Canadiens, there was no way that anybody was going to take that job away from me."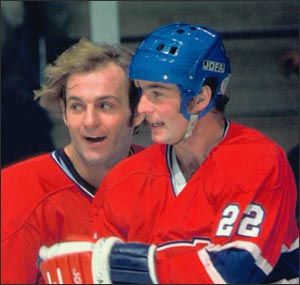 Fellow Hall of Famer Guy Lafleur (left) paired
up with Shutt to form one of the league's most
potent duos during the 1970s.

It was a curious way to treat great, young players but one that worked very effectively for the Canadiens. "At that time, there were a lot fewer changes in the team than there is now. They would change maybe two players a year whereas right now, an average team goes through seven, eight or nine players a year. There really was a family atmosphere. A lot of the guys would help you. Henri Richard certainly helped me. Pete Mahovlich was another great help. In my third year, they put me, Guy Lafleur, who hadn't done much either, and Pete Mahovlich on a line and Pete was the big star on the line and he really took us under his wing and gave us the confidence to play up to our capabilities."

In his first NHL season, Steve was part of a team that won the Stanley Cup; Montreal's sixth in nine years. Although he accomplished two dreams in the same year -- playing in the National Hockey League and winning the Stanley Cup - Shutt didn't feel the elation that goes with winning hockey's ultimate prize. "It was a great feeling winning the Stanley Cup the first year but it was a little empty in the sense I dressed for one game against Philadelphia and played one shift and that was my whole playoff experience. I spent a lot of time watching the guys and as happy as I was for all the guys who did play well, it was a little empty for me because I didn't feel like I was part of it."

It would take three more years before Shutt, now an NHL regular and an acknowledged star, would get to experience another championship. "The next Stanley Cup that we won, which started a string of four in a row, was more significant." And Shutt was a key contributor. In 1975-76, he connected for forty-five goals during the regular season and was better than a point a game in the successful Stanley Cup playoff run. In 1976-77, Steve led the NHL in goals scored with a dynamic sixty tallies, and cracked the one hundred point mark in the process. His one hundred five points earned him third place in the regular season scoring race and he followed that mark with eighteen playoff points as the Canadiens won their second straight Stanley Cup. 1977-78 shows Shutt with forty-nine goals and eighty-six points, and again, the Canadiens won the Stanley Cup aided by Steve's seventeen points. The fourth consecutive championship occurred in 1978-79. Shutt collected seventy-seven points during the regular season and eleven more in the playoffs.

"Henri Richard had won eleven Stanley Cups. Yvan Cournoyer had won ten," Shutt recalls in the process of explaining how a team like the Montreal Canadiens of the mid-seventies becomes a dynasty. "These guys were winners and there was no ego - they didn't consider themselves any better than anybody else. They just went out there and did their jobs and worked as hard as they could. That nucleus was based around the theory that your key guys and your star guys are the hardest working players on the team, then everybody else is going to follow and it's pretty hard for anybody to slack off."

"No doubt about it, you have to learn to be a winner," Shutt continues. "And Scotty Bowman really pushed players to be better than they ever thought they would be. It was the right combination at the right time. Not only did Scotty push us but our own teammates pushed us. Our practices were probably a lot harder than some of the games we played."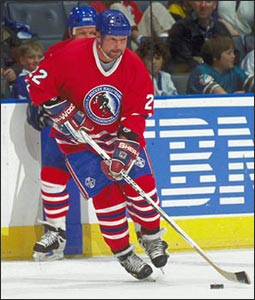 Honoured Member Steve Shutt participates at the annual Hockey Hall of Fame Legends Game during Induction Weekend 2001.

During twelve seasons in Montreal, Steve Shutt was elected to the NHL's First All-Star Team once (1977) and the Second Team twice (1978 and 1980). But during the 1984-85 season, after a campaign in which he failed to hit the twenty-goal mark for the first time since his sophomore season, Shutt was sent to the Los Angeles Kings. "I had a great time out there," Steve recalls. "I sat down with Serge (Savard). I was in and out of the lineup so I said, 'What do you think we should do?' And he said, 'You can stay here and be in and out of the lineup or go down to Sherbrooke and be a playing-coach down there with Pat Burns as the head coach or you can get traded.' Mike Murphy, who was the assistant coach in L.A., had talked to me and told me they wanted me. Serge said, 'Fine,' so I went out there." In his only season in purple and gold, Steve scored sixteen goals and twenty-five assists to help push the Kings into the playoffs. "We had a pretty good team but were unfortunate in the very first round to hit the Oilers. They had the big team and we lost three games straight. We had a good bunch of guys out there and it was fun for me because being in Montreal, you never realized how much pressure you were under twenty-four hours a day. In Los Angeles, you still had to do your work, but you went to the rink and the rink was the same temperature as the one in Montreal but when you left, you could walk away from the game and do other things. At that point in my career, it was a nice situation to be in."

At the end of the 1984-85 season, Montreal re-acquired Shutt's services. "When we talked to L.A., I phoned up John Ferguson and I said, 'Ferg, I still have a couple years on my contract and they don't want to pick up all three years.' He said, 'Fine. Play as long as you want then we'll pick you up on waivers and pay you the rest of your money.' At that time, if you played with the Canadiens longer than ten years, they would give you one year of your contract as a retirement bonus. When I retired, Montreal picked me up on waivers and paid me the last year of my contract." In effect, Shutt was traded for himself. "The Montreal organization has always been a classy organization and they continue to be," adds Steve.

"One highlight I have was playing with all the great players in Montreal. They were not only great players but they were great people," Shutt states. "If you look around, a lot of these guys are still in the game. Not only have they been successful with the Montreal Canadiens, but they've helped a lot of other organizations. And they've helped the NHL develop." Shutt lists names like Ken Dryden, Bob Gainey, Jacques Lemaire, Larry Robinson, Serge Savard, Rejean Houle and Mario Tremblay as examples of teammates who have moved into management following their playing careers.

"When you're playing, you don't worry about being in the Hall of Fame," Shutt insists. "When they come up and say, 'Hey, you've been inducted,' it was a thrill for everybody. You're being acknowledged by your peers and the people within the industry, and that's impressive because they're the hardest ones to convince. That, more than anything, gave me the greatest satisfaction." Having scored 424 goals and added 393 assists for 817 points in 930 NHL games and contributing fifty goals and forty-eight assists in 99 playoff games, Steve Shutt became an Honoured Member of the Hockey Hall of Fame in 1993.

Kevin Shea is Manager, Special Projects and Publishing for the Hockey Hall of Fame. His fourth book, 'BARILKO - WITHOUT A TRACE,' will be published October 2004 by H.B. Fenn and Company.