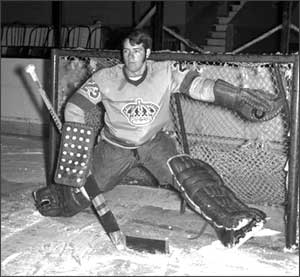 Prior to becoming an NHL regular, Smith played two seasons with the AHL's Springfield Kings and led the squad to the Calder Cup in 1971.

(January 27, 2004) -- The Smith household in Perth, Ontario was a busy place during the 1960s -- three boys, all hockey players, and each with a passion for hockey and a competitive streak as wide as the Ottawa Valley itself. "Me and my two brothers were fortunate that our Dad was the hockey coach. He coached us all through our minor career," recounts Billy. "But over anything else, we had a rink right in our backyard. If we didn't have a game, we organized our own games. We played every day for many hours. That's the only way you get better."

Billy, the youngest of the three, was born December 12, 1950. Although he went on to a Hall of Fame career as an NHL netminder, his earliest hockey experiences didn't start in goal. "I played as a defenseman in the younger ages. I have two older brothers and I had trouble keeping up so I ended up going back in the nets when I was about seven (years old). After about a year playing in the nets, it got so nobody started a game without you. I think that's a big point why I enjoyed it so much is because you got to go to every game and they needed a goalie in order to play."

The sixties provided fans with a quality of netminding that was extraordinary - Toronto had Johnny Bower, Detroit, Terry Sawchuk, Glenn Hall tended goal for Chicago, Gump Worsley for Montreal and Ed Giacomin with the Rangers. Yet Smith didn't have a favourite goalie at that time. "I was never one to sit and watch TV. I was more the type of kid who wanted to play," Smith shrugs. "Usually while the games were on (TV), we were all outside playing the game. We really didn't watch it as much as we should have."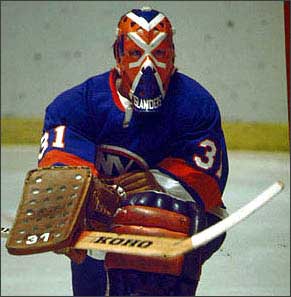 The combative stare of "Battlin'" Billy Smith.

Battlin' Billy Smith was not invented in the ranks of the National Hockey League, and Billy laughs when he thinks about the nickname. "I think we all inherited (our combative nature) from my Dad. We all played the same way. It was just a family trait."

In 1969-70, Billy stepped into the junior ranks, joining the Cornwall Royals of the Quebec Junior Hockey League. "The reason I ended up in Cornwall was because my two older brothers played there and that drew me into Cornwall." The Royals had a solid season with Smith between the pipes, and in the 1970 NHL Amateur Draft, Billy Smith was the sixth selection of the Los Angeles Kings, chosen fifty-ninth overall. "In our days, we never knew much about the draft. In fact, I don't think I found out I was drafted by L.A. until about a week after when I got a phonecall. It certainly wasn't like it is today."

Billy's dream of playing in the National Hockey League was within the grasp of his fingertips when he attended training camp with the Kings in September 1970. "It was great, playing with the guys you've seen on TV or at least know of was quite an experience." But Smith was sent to Los Angeles' American Hockey League team in Springfield. There, he led the Springfield Kings to the AHL playoff championship, winning the Calder Cup.

The parent club took notice of their netminder of the future and during the 1971-72 season, Billy was called up to play with Los Angeles. "My first game was in Montreal against the Canadiens. I really didn't have much time to get nervous because they didn't tell me until just before the game, which I really didn't care for. It was a close game; we lost it right at the end. One of our guys decided to give Lafleur a pass in front of the net. He made short work of it. It was something to be able to play. It was exciting."
Flamboyant Billy Smith always danced to the beat of his own drum throughout his hockey career.

But 1972 brought a third round of expansion for the NHL and that summer, the Atlanta Flames and New York Islanders joined the league. Unable to protect all their young talent, Los Angeles lost Billy Smith to the Islanders. The franchise took a few years to gel, but once it did, they rose to become one of the great teams in National Hockey League history. "You have to give (general manager) Bill Torrey a lot of credit," Smith admits. "He got young guys -- Denis (Potvin) and Boss (Mike Bossy) and (Clark) Gillies. He was willing to wait. The young guys coming up went through growing pains. Torrey and (coach Al) Arbour were patient with the guys. Al Arbour drilled a system into us. Just look at the good hockey teams today. They are the ones that have a really good system. One of the comments Al Arbour always made was, 'I don't care if the ceiling is falling down; we still play our system.' That was one of the biggest things. From the superstars on through, everybody played the same system in our own end and that's what makes a winner."

The Islanders certainly learned how to become winners, and in 1979-80, they won the first Stanley Cup in the franchise's history. "I think we lost a couple of Stanley Cups before we won the first one because we just didn't know what it took. We caught a couple of teams sleeping right at the beginning and then in the end against Philly, we scored in overtime in the sixth. I'll predict today that if we had lost that game on Long Island we would have our hands more than full in Philadelphia. We would have been pretty shaken. But we had a good team, we had a good system and we stuck with it even in overtime and we got a break at the right time."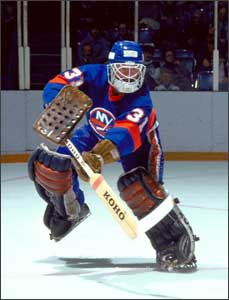 Smith is credited for scoring the first goal by a netminder in the NHL on November 28, 1979 versus the Colorado Rockies. He didn't actually shoot the puck but was rather the last Isle to touch the puck before a Rockie inadvertently scored into his own net.

The first championship led to three more, and the New York Islanders will long be remembered as a dynasty. "The second and third were not easy but we were so confident. The first series in both years we almost lost just because the teams were ready for us and they played really, really hard and for some reason, there was added pressure -- 'Geez, you've won the Stanley Cup; you can't lose out in the first round!' Those were the hard ones to win. As we got those (series) under our belt, we got a little bit of a roll going on, we were tough to beat."

It is not widely known that Billy is not the only Smith to play on that backyard rink in Perth to play in the NHL. In fact, older brother Gord also made the National Hockey League. When Billy joined the Kings' organization in 1970, Los Angeles signed Gord as a free agent. The brothers never got the chance to play together professionally and Gord was later selected by the expansion Washington Capitals, where he played for parts of five seasons before finishing his career as a Winnipeg Jet. "Playing against my brother was a fun thing more than anything else. He was a defenseman and he wasn't exactly a high-scoring defenseman. He did really well. He had five or six years in the NHL. You're so used to playing against him in the backyard. Fortunate for me and unfortunate for him, we (the Islanders) had stronger teams every year."

In one of the great amusing and amazing stories that emerges from sport, on November 28, 1979, Billy Smith became the first NHL netminder to be credited with scoring a goal. "That was just a little bit of a fluke," Billy chuckles. "We were in the process of getting a penalty. (Colorado defenseman Rob Ramage) got a really good opportunity to shoot the puck on me. He came in and took the shot and it bounced off of me and he picked it up in the corner. Without looking, he fired it back to the point and it went all the way down the ice into the net. Who was the last guy on the other team to touch the puck? It was me, so I got credit for the goal. It wasn't as nice as what Hexie (Flyers' netminder Ron Hextall) did to score his."

Smith retired after the 1988-89 season. Through seventeen NHL seasons, Billy played 680 regular season games, collecting 305 wins, 33 losses and 105 ties. In 132 playoff contests, 'Battlin' Billy' compiled a record of 88 wins and just 36 losses. He was able to look back at a bevy of remarkable shooters and named a few of the most challenging opponents he faced. "The toughest shooter I ever faced was actually on my own team in the American Hockey League -- a guy by the name of Dougie Vollmer. He played a few years with L.A. and with Detroit. He had one of the hardest wrist shots I've ever faced in my life. Then you've got Al MacInnis. Another guy who had a great shot was (teammate) Mike Bossy. He had a really heavy shot. His shot was hard to stop. Every team had two or three great shooters. You look at guys like Bobby Orr and Wayne Gretzky -- it's not so much that their shots were overly hard but it was so accurate. You give them an inch and bang, it was by you! It wasn't a rocket but it was still in the net."

Rewarded for a career of consistency and excellence, in 1993, Billy Smith was inducted into the Hockey Hall of Fame. That same evening, Edgar Laprade, Steve Shutt and Guy Lapointe were honoured. "That's the thing that everybody would love to see happen at the end of their career," explains Smith. "It just tells you how well you played. It shows what you accomplished, especially when you're in there with all the great guys you played against and respected and now you're actually up there on the wall with them in a building where hundreds of thousands of people go through every year. It's a great feeling. It makes you realize you really accomplished something. It's the best thing that ever happened to me after hockey."

Kevin Shea is the Manager, Special Projects and Publishing at the Hockey Hall of Fame. His next book, 'Barilko - Without A Trace,' will be published October 2004 by H.B. Fenn.