30 JANUARY 2006
As the Boer War raged in South Africa, a nation celebrated Queen Victoria's birthday on May 24, 1900. That date offered another reason to celebrate -- the birth of Lionel Pretoria Conacher, his middle name taken from the South African city where British troops were waging battle at the time of his birth.

Lionel was the third of ten children born to Benjamin and Elizabeth Conacher, a young immigrant couple living in Toronto and struggling to put food on the table. The Avenue Road and Davenport area, now referred to as 'Av & Dav,' is a tony neighbourhood bordering on Toronto's fashionable Yorkville area. But as the Conachers were growing up, Lionel's brother Charlie, himself an Honoured Member in the Hockey Hall of Fame, identified the neighbourhood as "one of Toronto's higher class slums."

Although Ben and Elizabeth themselves paid little attention to athletic pursuits, all ten of their children embraced sports. One of the reasons was because William Kirk, the principal of Jesse Ketchum School where they all attended classes, insisted that students participate in an organized sport. "He figured that if they participated in games, they'd learn to love them and they'd stay out of trouble," Lionel's brother Charlie told Maclean's magazine in 1936.

"In the winter, we'd come home from school, put on our skates and rush back to the rink until suppertime," Charlie continued. "We wouldn't even take our skates off while we ate. We'd tramp into the kitchen through the back door, sit down and eat, and tramp back to the rink until they turned the lights off at 9 o'clock. The Conacher clan played games from morning 'til night, summer and winter."

Lionel was emerging as an all-around athlete, a star at hockey, lacrosse and football, which was known at that time in Canada as rugby. "Even in his late teens, he had size, speed, fierce determination and perfect frame for team sports," brother Charlie stated. "He had big perfectly set legs with Clydesdale thighs."

Although Lionel quit school after Grade 8, he was smart enough to know how to make his way in the world. "Dad always drilled home to me that brawn is useless in sport unless brains are combined with it," he once told a reporter.

From his first forays into sports, Lionel played with passion and discovered, to his great amusement, that he had above-average skills in virtually every sport he attempted. It was a time when playing multiple sports was rather common, as the seasons were shorter and didn't tend to overlap.

Professionalism was just rearing its head in many Canadian sports, although hockey players had been paid for some time. Yet, any athlete who turned professional in one sport would be barred from participating in other amateur sports for the rest of his life. Lionel's best sport was undoubtedly football (rugby), which he began playing at the age of 11. Canadian football in the early 1900's was different than the game we know today. Teams fielded fourteens players per side and a touchdown was worth five points. Conacher's Toronto Capitals won the city championship each year from 1912 to 1915.

By 1916, Lionel began participating in other organized sports. That year, he was the Ontario amateur wrestling champion in the 125-pound category and, astonishingly, skated for the first time. "The average kid starts skating at the age of seven years or younger," Lionel once said. "I laced on skates for the first time at the age of sixteen, and you'll never know the humiliation and utter dreariness of the long hours which I spent on the rinks with younger and much more skilled players before I won a post in junior circles." Conacher lined up that same year with the Toronto Century Rovers, his first organized hockey team.

He played for several junior football teams in Toronto between 1916 and 1918, then joined the ORFU (Ontario Rugby Football Union) intermediate champion Capitals. During that time, Lionel was developing his hockey game with the Aura Lee juniors. One newspaper reported, "Connacher (sic), a new boy, showing for his first time, made a good impression. He is a big, raw-boned youth, willing to learn and, incidentally, learning rapidly. He is very effective because he invariably chases the puck-carrier into the corner, a feature that most defensemen overlook."

In 1919, Lionel joined the ORFU senior Toronto Rugby Club that lost to the Toronto Argonauts in a hotly-contested Eastern semi-final game. That fall, Lionel played his final season of junior hockey with the Toronto Canoe Club, an all-star team of sorts. "They are very unpopular here owing to the fact that they were picked from different parts of the country and molded into one strong aggregation, and have such a big advantage over all the Ontario teams," wrote a Toronto newspaper. Nevertheless, Conacher's Canoe Club squad faced the Selkirk Fishermen for the junior hockey championship of Canada, and defeated the Manitoba-based team by a 5-4 score on March 25, 1920 to win the Memorial Cup. Future NHL stars Roy Worters, Billy Burch and Duke McCurry were Conacher's teammates with the Canoe Club.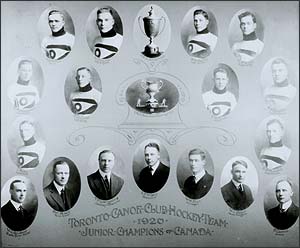 By 1920, Lionel was 6 feet tall, weighed a muscular 200 pounds and was recognized as the best all-round athlete in Toronto, which resulted in a feeding frenzy of teams from various sports eager to attract the burgeoning superstar to their roster. Hockey's Toronto St. Pats tried to sign him for their upcoming 1920-21 season, offering a lucrative $3,000 contract with a $500 signing bonus, both extremely generous at that time. But, by signing a professional contract, Lionel would no longer be able to play football, the sport he loved even more than hockey. Harris Ardiel, a Conacher friend, arranged a banking job for Lionel that would pay him well and still allow him to play for several amateur teams in various sports. Other opportunities presented themselves to the high-profile athlete, including a clothing business and a drycleaning business.

Conacher continued his sporting exploits, excelling at hockey, lacrosse, football and baseball. The Toronto Maple Leafs of the professional International League chased Lionel for years, and Major League Baseball's Detroit Tigers also offered him a contract. But while that was transpiring, in 1920, Lionel won the Canadian amateur light heavyweight title.

Although he played various positions in football, Lionel found his best success in the backfield during an era when forward passes were not permitted. "I was shifted from position to position along the whole line before I got the spot I wanted in the Argos backfield," Conacher admitted with a smile. Although he was a fast and elusive runner, Lionel was just as likely to run over an opponent rather as around him, pumping his knees waist-high as he ran. Lionel had made a sizeable impression on the Argonauts. His advisor, Harris Ardiel, convinced the Argonauts to sign Conacher in 1921. In his first game, Lionel collected 23 of the team's 27 points. That convincing contest allowed Lionel to have "as much fun as a pickerel in a minnow pond," he was quoted as saying after the game.

The league played just six regular seasons games in 1921 and Conacher led the Argonauts to a perfect record of six wins, scoring 14 touchdowns and 85 points to lead the league in scoring. "Without the forward pass, emphasis was on kicking, running the ends and plunging, and Conacher was good at all of them," reflected Toronto's Telegram on December 28, 1950. "Thousands of older fans have an unforgettable memory of Conacher, a peaked cap pulled down on his forehead and wearing old-fashioned short canvas football pants, galloping down a gridiron with his distinctive high-knee action."

The 1921 Grey Cup contest, the first east/west game in Canadian football history (the league was named the Dominion Rugby Football League at the time) saw the west represented by the Edmonton Eskimos with the Argonauts representing the east. Toronto defeated Edmonton 23-0, with Lionel scoring 15 of the points -- two touchdowns, a field goal drop-kick and two single points. Incredibly, he left the championship game after the third quarter in order to help his Aura Lee senior hockey team defeat the Toronto Granites for the Sportsman's Athletic Association Trophy that same night.

The Argonauts went undefeated again in 1922, winning five and tying one. Conacher, the newly-named captain and nicknamed 'The Big Train,' rushed for 950 yards in the six game season, including a game against Ottawa in which he carried the ball for 215 yards. Uncharacteristically, Lionel fumbled seven times in the Eastern Final against Queen's, and the Argos lost 12-11.

During 1922, Lionel also starred for the Toronto Maitlands, a club that took the Ontario Amateur Lacrosse Championship that year.

The Montreal Canadiens tried signing Conacher in 1922, but Lionel turned down their $5,000 that also included an opportunity to establish him in business. At this time, Conacher's amateur status was regularly questioned. The Amateur Athletic Union of Canada investigated allegations that he was receiving money to play amateur sports, but all were dismissed. A Toronto magazine operated by Eddie Livingstone, the former owner of the NHA's Toronto franchise, was sued for libel by Conacher after writing that the dominant young athlete had been taking money under the table. The case was settled out of court and an apology from Livingstone appeared in several newspapers on November 3, 1922.

Conacher was savvy enough to realize that sports offered a quick way out of poverty, and with his abilities proven, was ready to expand his horizons. In 1923, Conacher was lured to Pittsburgh, in essence to play football and hockey. He was granted a scholarship to attend Bellefonte Academy, a prep school, where he would also play football. Although at 23 he was older than all the other students, Lionel needed to better his academic standing before he could later enroll in university. The press had a field day. A Toronto paper stated that Conacher's arrival in Pittsburgh would be "one of the Yankees' greatest victories since the War of Independence."

On September 17, 1923, just prior to leaving for Pittsburgh, Lionel quietly married Dorothy Kennedy, a student at the Margaret Eaton School of Literature and Expression. "Smiling and happy, Connie (Lionel) rushed through a group of friends, straight to his little wife who, with his younger brother, Charlie Conacher, were waiting for a last word with husband and brother," wrote the Daily Telegram. "Connie soon took his wife in his arms, and with little Charlie hanging on to the couple, crying and heartbroken at the thought of his big brother leaving, they walked to the coach, where he had just enough time to wave goodbye, and Toronto had seen the last of her greatest athlete until around Christmas time."

During that winter, he organized an amateur hockey team, inviting a number of his friends from Canada down to Pittsburgh to join the team. The Yellowjackets included his friend Roy Worters and his brother-in-law Harold Cotton, as well as several others who had, at one time, been teammates. The Yellowjackets won the championship of the United States Amateur Hockey Association in 1923-24, with Lionel scoring 6 goals and 9 points to lead all playoff scorers. He was selected to the USAHA's First All-Star Team that year.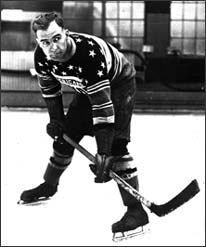 On June 9, 1924, Lionel's aptitude for sports overlapped. In the baseball championship at Hampden Park between Conacher's Hillcrests and the Monarchs, Conacher was at bat in the bottom of the ninth inning with the bases loaded and his team down by one run. Lionel hit a double to centre field to win the game and the championship. He then scrambled into a taxi that took him from Toronto's downtown to the city's east end. He arrived at Scarborough Beach at half-time to discover his Maitlands' lacrosse team was down 2-1 to the Brampton Excelsiors for the Ontario Amateur Lacrosse championship. Lionel then proceeded to score two goals in the fourth quarter to lead his team to a 3-2 win, and his second championship of the day! Later that summer, Lionel actually faced heavyweight boxing champion Jack Dempsey in a four-round exhibition.

During the fall of 1924, Lionel played football for Duquesne University in Pittsburgh. His coach, Carl Snavely, was effusive in his praise, stating, "Conacher was probably the greatest athlete I ever coached in football or any other form of athletics." He continued, "I don't believe I ever had a fullback who was a better runner in an open field or who so fully possessed all of the qualities of speed, skill, dexterity, aggressiveness and self-control." That fall, Lionel and the Yellowjackets hockey team repeated as champions of the United States Amateur Hockey Association.

After turning down several opportunities to turn professional, which he had repeatedly declined so he wouldn't lose his amateur status and jeopardize his football career, Conacher came to the realization that one sport, hockey, paid very well at the professional level while his first real love, football, did not. The Yellowjackets had been so dominant in their league that when the NHL decided to expand further into the United States and awarded a franchise to Pittsburgh, virtually the entire Yellowjackets team signed professional contracts and joined the new NHL franchise, which was called the Pittsburgh Pirates. Lionel signed a three-year contract with the Pirates for a record $7,500 per year on November 11, 1925. When the Pirates made their debut against the Bruins in Boston on November 26, Lionel scored the first goal in franchise history, helping the Pirates win their first game by a 2-1 score. The Pirates, under coach Odie Cleghorn, defied the skeptics and made the playoffs in their first NHL season.

Now that he was a pro, a number of doors opened Conacher's way. In January 1926, he signed a contract to play Triple-A baseball with the Toronto Maple Leafs of the International League, even though he had not played competitive baseball for three years. The Maple Leafs finished first, halting Baltimore's string of seven consecutive titles, then went on to defeat the Louisville Colonels to capture the Little World Series championship. Conacher played but three games at the end of the season, and manager Dan Howley chuckled when he thought about Conacher, saying, "When he's in right field, he ought to wear a mask, but I'll say this -- he can hit some!"

After starting the 1926-27 season with Pittsburgh, just before Christmas, Conacher was traded to another expansion team, the New York Americans. While anchoring the defense with partner 'Bullet' Joe Simpson, Lionel was also hired as an assistant football coach at Rutgers University in New Jersey. That hockey season, he led the Americans in penalty minutes and was second in scoring to Hall of Famer Billy Burch, although the team missed the playoffs.

The frantic pace of life in New York caught up with Lionel. His drinking led his brother Charlie to quip that Lionel seemed "bent on a literal interpretation of the soft drink slogan, 'Drink Canada Dry'." After the team participated in just two playoff games in five seasons, the Americans sold Lionel to the Montreal Maroons prior to the 1930 season.

While playing hockey in the winter, Lionel signed on for a third professional sport, deciding to play professional lacrosse during the summer in the newly-formed International Indoor Professional Lacrosse League. The hockey Maroons had been granted a lacrosse franchise and won the championship in 1931, with Conacher collecting 107 points to win the scoring title. The runner-up had just 56.

Lionel added an extraordinary fourth professional sport to his portfolio when he signed to wrestle professionally during the summer of 1932. "It looks as if Big Mike (promoter Ivan Mickailoff) has a new ace in Conacher," wrote the Toronto Daily Star on May 4, 1932. "To begin with, he is already the athletic symbol of Canada and he needs no ballyhoo. He knew something about wrestling before Mike put him to school and he has the speed, size and fighting heart to make him a great drawing card."

Deciding to wrestle in Toronto that summer instead of playing lacrosse in Montreal, Lionel went undefeated in 26 matches. "Conacher, the greatest all-round athlete ever turned out by Canada, in addition to being one of the finest hockey players in history, also rated high in baseball, rugby, lacrosse, rowing and boxing. In his debut as a matman in Toronto, he threw Carl Pospeshil in straight falls," reported The Ring in July 1932.

Although hockey was certainly not Lionel's best sport, that is not to say he wasn't exceptionally good at it. What he lacked in skating skills was compensated for in shotblocking, positioning and sheer desire. In 1932-33, Lionel enjoyed a career season, accumulating 28 points (7 goals and 21 assists) and was named to the NHL's Second All-Star Team.

During that summer, Lionel assisted in forming the first professional football league in Canada. He had not played serious football for nine years, yet Lionel was captain of Toronto's Crosse and Blackwell Chefs, playing games against teams from Buffalo and Rochester, New York. The press insisted that Conacher "must be considered the greatest grid performer of the decade."

Lionel was traded again just prior to the 1933-34, going to the Chicago Black Hawks, his fourth NHL team. Lionel continued his All-Star form, being named to the NHL's First Team and leading the Hawks to the Stanley Cup. Again that summer, he played professional football. His Toronto team was now named the Wrigley Aromints and although it was a strong season for both Lionel and the team, at the age of 35, Lionel found the pace of playing aggressive sports winter and summer too much.

The Maroons realized the mistake they had made in letting Lionel leave for Chicago and persuaded the Canadiens to trade for him, seeing as it was near impossible that Chicago would trade him back to the Maroons directly. On October 3, 1934, the Canadiens sent Howie Morenz, Lorne Chabot and Marty Burke to the Black Hawks for Conacher and Leroy Goldsworthy. That same day, the Canadiens traded Lionel to the Maroons. Conacher's presence was measured in the fact that the Montreal Maroons became the Stanley Cup champions of 1934-35, Lionel's second hockey championship in as many years.

During the summer of 1935, Lionel and his brother Charlie opened a gas station at the corner of Davenport and Yonge in Toronto. Cars lined up by the hundreds to get gas from the two NHL stars.

In his third season with the Maroons that time, Lionel again had a superb season, collecting 25 points and being selected to the NHL's Second All-Star Team for 1936-37. But Conacher surprised the hockey world, announcing his retirement. After 498 regular season games, scoring 80 goals and 105 assists, Lionel had found the years of grueling athleticism had taken their toll. He recounted the physical cost on his career in a Maclean's magazine article. "The cost to the professional athlete of his success is most invariably overlooked when he is exposed to the glamour created by roaring crowds, breezy headlines and over-enthusiastic ballyhoo. But is the climb worthwhile? Sometimes I wonder, especially after contemplating this inventory of injuries which I've picked up during my athletic career: nose broken eight times, leg and arm broken, several broken bones in hands, ten cracked ribs, a skate-gash across the throat near my jugular which almost dropped the curtain on me and required sixteen stitches to pull together, another skate-gash near my mastoid which again had me a matter of inches away from eternity, a four square inch slash of a razor-edged skate on my thigh, which resulted in gangrene and a red-hot bout with the Grim Reaper, two smashed knee cartilages which resulted in surgical operations, a total of more than 500 stitches in my face and heads and another 150 or so in the rest of my gnarled anatomy. Then, there were those innumerable routine injuries, classed as 'minor,' which include sundry sprains, pulled ligaments, twisted muscles, black eyes, bumps, aches, bruises, etc."

After playing his final NHL game on April 23, 1937, Lionel returned to Toronto and went into business, buying into a brokerage firm and investing in oil fields in Alberta's Turner Valley. Using his sporting exploits as a springboard into the political career, Lionel was encouraged to seek the Liberal nomination as the Member of Provincial Parliament for Toronto's Bracondale. He ran and won the traditionally Conservative riding by a margin of 37 votes. During his single term, Lionel said, "I am going to be strictly for Liberals. The man on the other side of the fence wears another sweater, so far as I am concerned." In 1938, he was appointed chairman of the Ontario Athletic Commission, and used his position to, among other things, stop promoters from exploiting young boxers.

At the start of World War II, Lionel was made an honourary squadron leader in the Royal Canadian Air Force. The federal government sent him across Canada to help establish sports programs for the armed services. But by being out of his riding so often, Conacher did not win the nomination for the next election. In 1945, he was encouraged to seek the federal nomination in another Conservative riding, that of Trinity, but failed to be elected. But running again in 1949, Lionel was successful in winning a federal seat, which he repeated in 1953.

In 1950, Canada's sports editors confirmed what fans had known for years — that Lionel Conacher was Canada's outstanding all-around male athlete of the first half century (1900-1950).

Then, on May 26, 1954, just two days after his 54th birthday, Lionel was scheduled to attend the graduation of his daughter Diane from the University of Toronto. Instead, he decided to stay in Ottawa to participate in the annual baseball game between the Members of Parliament and the press corps. "I promised the fellows I'd play in the game tomorrow," he told a couple of colleagues. "I don't feel so good and I really should go home." During the softball game taking place on the lawn of Parliament Hill, Lionel smacked a pitch into the outfield and then proceeded to stretch the double into a triple. He reached third base, then collapsed. Twenty minutes later, he was pronounced dead of a massive heart attack.

Conacher left his widow Dorothy as well as five children — Constance, Diane, Lionel Jr., David and Brian. Lionel Jr. followed his Dad onto the gridiron, playing with the Montreal Alouettes, while Brian followed his Dad onto the ice, playing in both the NHL and WHA.

"The news of his passing will be met with the deepest sorrow by his colleagues in Parliament, by those whom he represented in Ottawa, and by all sport-loving Canadians," wrote Prime Minister Louis St. Laurent. "Am shocked and saddened by tragic loss of Canada's greatest athlete and one of the finest friends I have ever known," wrote Tommy Gorman, Conacher's general manager with both the Stanley Cup champion Chicago Black Hawks in 1934 and the Montreal Maroons in 1935.

Lionel Conacher learned early on that the one of the few ways to escape a life of poverty was to pursue a career in sport. Before he died, Conacher spoke of some of the highlights of his sporting life. "Thrills? Oh yes, plenty of them! Those days at the Jesse Ketchum school in Toronto, the Bellefonte Academy in Pennsylvania and at the Duquesne University in Pittsburgh. Followed by the hectic professional years provided all the thrills that sport can give me, but they were also filled with grueling work, aching muscles and lungs strained to the breaking point. If I had it to do all over again, there would be no alteration to the course I've set. It cost me plenty to become a tough athlete, but I've reaped plenty of dividends in thrills, happiness and financial security."

His brother Charlie added, "He would tackle anything, from facing Jack Dempsey in the boxing ring to taking on Tim Buck in a political riding, to battling half the world champion New York Rangers hockey team in Madison Square Garden and he'd give it everything he had."

Among numerous accolades, Lionel Conacher earned an extraordinary number of sporting honours. He was elected to Canada's Sports Hall of Fame in 1955 and was named a charter member of the Canadian Football Hall of Fame in 1963. In 1966, he joined the Canadian Lacrosse Hall of Fame and in 1994, was voted into the Hockey Hall of Fame. In addition, Lionel golfed in the 80's and earned widespread acclaim in wrestling and boxing.

But his legacy lives on. The trophy honouring Canada's Outstanding Male Athlete of the year bears his name. Cottingham Square, where Lionel played so often and so competitively as a youngster, was renamed Lionel Conacher Park in 1967, and the Historic Sites and Monuments Board of Canada erected a plaque commemorating Conacher's achievements in the park. In 1985, Ontario's Heritage Foundation placed a historical plaque at the parkette located at Davenport and Yonge in Toronto, a site where his service station had once sat and just a block from the Conacher family home.

In an era when playing multiple sports was encouraged, no one excelled In playing more than one sport better than Lionel Conacher. Some fifty years after his sudden death, the legend of Lionel Conacher is still perpetuated, discussed with awe by historians of the various games. Milt Dunnell, former Sports Editor of the Toronto Star, and who has the exceptional longevity to cover Conacher's sporting career, said, "These days, with all the seasons overlapping, the amount of money involved and the need to specialize, nobody will ever get a chance to do what Conacher did." Brian Conacher, Lionel's son, stated, "I never saw my Dad play, he retired (from sports) four years before I was born. But objectively, the fact is that there never has been, nor probably never will be again, a more multi-talented athlete."

Kevin Shea is the Manager of Publishing and Editorial Services at the Hockey Hall of Fame.