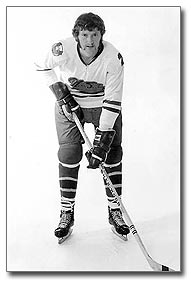 Larry Robinson during his
days with the Montreal
Canadiens' AHL affiliate, the
Nova Scotia Voyageurs.

(March 21, 2003) -- Few teams in NHL history can boast a defense corps like that of the Montreal Canadiens through the 1970s. Serge Savard was a big, physical defenseman who commanded the ice when he was on it. Guy Lapointe was as effective offensively as he was defensively. The third Hab defenseman elected to the Hockey Hall of Fame from that decade is a tall, gifted rearguard named Larry Robinson.

Larry Clark Robinson was born June 2, 1951 in Winchester, Ontario. "Winchester is where the main hospital is for the Ottawa Valley, outside of Ottawa itself," begins Larry. "I grew up in the Westchester area, but I never really played hockey in Winchester. I was mostly in the Russell Minor Hockey system and the Metcalfe Hockey system."

Growing up through the late fifties and into the sixties, the Ottawa Valley would be prime territory for the Montreal Canadiens, geographically the closest team to the Ottawa Valley at that time. "I was a Chicago Blackhawks fan. I really liked their uniforms and Bobby Hull was my idol. The reason I didn't like the Montreal Canadiens was because they won all the time," philosophizes Robinson.

Larry participated in every sport he could fit into his boyhood schedule. His size, which aided his NHL career so significantly, developed when he reached his teenaged years. "I wasn't that much taller than everybody else until my first year of highschool. I grew about three inches in one year. I used to wake up during the night with terrible pains in my legs because my bones were growing so fast. Luckily for me, I played a lot of sports so I wasn't an awkward kid. I kept myself active and the co-ordination helped me," explains the player they called 'Big Bird.'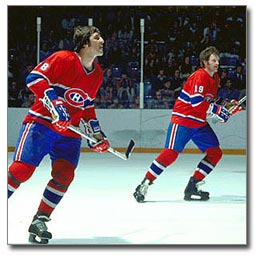 The legendary defensive pairing of Serge Savard and Larry Robinson.

Larry Robinson developed a reputation as a very talented local player, but developed his skills originally as a forward. "Being from the Ottawa area, I wanted to try out with the Ottawa 67s. I got invited to play with them in Cornwall. It was the middle of a snowstorm and we got there late. They told me not to bother dressing. Bill Long was the coach then and he had heard I was a big, tall gangly kid who wasn't going to amount to anything as a hockey player. Barry Fraser, who went to Edmonton, was coaching in Brockville at the time. I was actually a forward at the time. They only had two defensemen at the time, so the coach asked me if I would try defense. I went back to defense and stayed there for the next two years in Brockville. I ended up playing my last year of junior on defense in Kitchener with the Rangers."

Larry was drafted 20th overall by the Montreal Canadiens in 1971. "When I first got drafted, I was kind of disappointed," admits Robinson. "I had been talking to a few scouts from Los Angeles and a couple of other teams. When I got drafted by Montreal, I looked at the lineup and thought, 'Holy Mackerel, I'm never going to make it with them.'" At that time, Jacques Laperrierre, Serge Savard, Guy Lapointe and Pierre Bouchard were firmly holding onto the blueline positions for the Canadiens. "I went to camp as a young farm kid not knowing what was going on. I just went about doing the things I normally did. I played as hard as I could and ran everybody on the ice. I didn't know that the veterans look out for each other, so Claude Larose and I had a little tiff right off the bat because I had hit one of the guys on the team."

Although he had a strong camp, Robinson was sent to the Canadiens' American Hockey League affiliate, the Nova Scotia Voyageurs, for further development. "I ended up going down, luckily, to play in Halifax with Al MacNeil and Claude Ruel who were there at the time. I learned a tremendous amount from them. Had it not been for those two guys, I don't think I would have made it to the NHL," states Larry.

Al MacNeil had been a tough defensive defenseman in the NHL, spending most of his career with the Chicago Blackhawks through the mid-60s. He explained to the young Robinson that it was imperative for him to use his size if he was going to make it to the National Hockey League. "Al brought me into his office and told me that if I wanted to make it in the NHL, I had to get tougher and meaner. I went out after that and fought everything that moved and that's how my reputation helped me get to the NHL."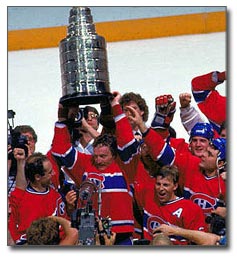 Larry Robinson hoists the Stanley Cup following Montreal's victory in 1986.

When the Canadiens ran into injury problems with their defense corps, their first call was to Halifax for the Robinson kid. "On January 8 (1973), I got called up," remembers Larry. "We were playing the Minnesota North Stars in Montreal. Before I went up, Al told me that in order to get myself going, on the first shift I should hammer somebody. Poor Bobby Nevin was the first guy I saw and I flattened him into the boards." Robinson had left an indelible mark on Montreal's management. "I stayed with the Canadiens. Laperriere was hurt and there were a few other injuries and I got to play regularly through to the end of the season. During the playoffs, I didn't dress for the series against Buffalo. There were six or seven of us who worked with Floyd Curry. We called ourselves the Black Aces. We worked our butts off and played the Philadelphia Flyers in the next series. I didn't dress in the first game but Laperriere got hurt again and I dressed for the second game. I scored an overtime goal in the game and I played regularly for the rest of the series. We went on to win the Stanley Cup." With just 36 NHL games under his belt, Larry Robinson had achieved the dream of every hockey-playing kid in North America. The team of his adult life defeated the team of his youth when the Canadiens bested the Blackhawks four games to two.

Through 17 years in Montreal, Larry Robinson experienced a plethora of highs. Under the watchful eye of defense partner Serge Savard, Robinson developed into an elite player. He was selected to the NHL's First All-Star Team in 1977, 1979 and 1980, and made the Second All-Star Team in 1978, 1981 and 1986. In 1977 and 1980, Larry Robinson was the league's best defenseman, winning the Norris Trophy, and coped the Conn Smythe Trophy in 1978 as playoff MVP. And, while individuals reaped rewards, so did the team, winning six Stanley Cup championships during Larry Robinson's tenure. "I was fortunate enough to play with Serge Savard my first seven years in the league," nods Robinson. "He helped me a tremendous amount. He was the guy who always covered up for my mistakes. He told me just to go and he'd stay back. That's how it went for all those years we won the Cup."

Montreal had been a special home to Robinson between 1973 and 1989. "If you're ever going to play in a place that's going to help your career, it's Montreal. They didn't settle for second best. It's either going to make you or break you. It broke quite a few but it also made a lot of great hockey players over the years, and I was fortunate enough to be one of them. The people there treated me just unbelievably. There's no other place I would rather have played."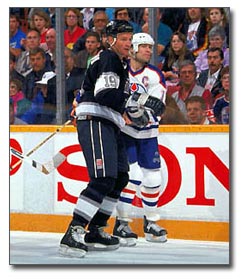 Honoured Member Larry Robinson and Mark Messier.

During the summer of 1989, Larry signed with the Los Angeles Kings as a free agent. "After 17 years, I wasn't able to finish my career with Montreal. I ended up extending my career another three years in Los Angeles and eventually, I got to go back there to coach so it opened some doors for me," acknowledges Robinson. But after being firmly entrenched in the bleu, blanc et rouge of les Canadiens, the transition to the Kings' black and silver was not as smooth as had been hoped. "At first, playing with Wayne Gretzky was a detriment," Robinson declares. "I watched Wayne for a number of years and played against him. When I first went to Los Angeles, I changed my style a little bit trying to play more offensively. That was never my style. I sat down with Rogie Vachon (the Kings' general manager and a former Canadien himself), and talked to him. I was struggling and figured I had lost it. He told me, 'We didn't get you here to play like Wayne or to play the style that anybody else is playing. We got you here to play the style you played all your life. We want a steady defenseman who can move the puck.' That really helped me and got me turned back in the right direction."

At the conclusion of the 1991-92 season, having completed his 20th NHL campaign, the warrior retired. Larry Robinson had accomplished more than he ever dreamed, and enjoyed a career that led him to the Hockey Hall of Fame. There, enshrined beside Montreal defense mates Serge Savard and Guy Lapointe, fans forevermore are reminded that there was no finer blueline during the 1970s and early eighties, and arguably in the history of the NHL.

Kevin Shea is co-author of several hockey biographies. His most recent book is "Over The Boards - The Ron Ellis Story" (H.B. Fenn), released November 2002.