5 DECEMBER 2005
During a phenomenal career that spanned seventeen NHL seasons, Borje Salming earned the respect of teammates and foes alike, and garnered a reputation as one of the finest defensemen of his era. But even moreso, Salming will be regarded historically as one of the first European-born players to make an impact on the North American game and having helped open the door to the NHL to an influx of players born and trained in Europe.

Borje Salming was born on April 17, 1951 in Kiruna, the most northerly city in Sweden. His father, Erland, worked in the city's iron mines. "There wasn't much money," admits Borje. "We didn't have a car or anything and at Christmas, I'd get my brother's old (hockey) equipment. But we had a lot of fun."

Stig Salming was four years older and idolized by his younger brother. "He taught me not with words but by example," smiles Borje. "We were known as the notorious wild Salmings from Kiruna, but we were about the same as everyone else."

The siblings, both extremely athletic, were always together and easily recognized by locals. "Our mother (Karin) had knitted us identical red sweaters that we often wore," laughs Salming. "They kept us warm but made us stand out whenever mischief was on our minds."

The Salming family was confronted with a massive setback when Erland was killed in a mining accident. Borje was just five and sent, alone, to live with his grandparents in Murjek, a whistle-stop on the railway line from Stockholm to Kiruna. The youngster moved back home with his mother and brother not too long afterwards. Karin Salming later married her brother-in-law, Isak, and Borje's sister Carina was born from that union.

The family lived near an arena in Kiruna. Borje and Stig often scraped the rink's ice before climbing over the boards to play. "After school, we'd rush straight for the Matojarvis hockey rink," Borje recalls. "We'd take a short break when Mother called us for dinner and then head back out again to play until dark. Throughout my teen years, school and homework were unimportant to me. All that mattered was hockey."

His passion thus fuelled, Borje played the game with remarkable enthusiasm, and advanced rapidly through Kiruna's hockey ranks. "It was great to be in the midst of the action, throwing myself back and forth to stop the puck," he explains. That style afforded Borje well through his spectacular career.

Following his brother south to play in the Swedish Elite League with Brynas, a team located just outside Stockholm in Gavle, Borje signed with the team in April 1970 and lived briefly with Stig and his wife before finding a residence of his own. Brynas won the league championship in 1971 and in '72.

The Swedish national team summoned Borje to man their defense during this time. In the midst of the Summit Series in September 1972, Team Canada followed its four Canadian games with two exhibition matches in Sweden against Tre Kronor before heading off to Moscow to conclude the series. "I had never dreamed of playing against them (NHL players)," he admits. "The only facet of the game in which we were clearly overmatched was the bodychecking, whacking and tackling." It was a novel approach to the game for the Swedes, who withstood the rough Canadian play. The Swedish fans heaped scorn on the Canadians for their stickwork. What solidified Team Canada prior to the resumption of the benchmark series allowed Salming to realize that he could play with the best players the NHL had to put forward.

Three months later, during a Christmas tournament in Sweden, Toronto Maple Leafs' scout Gerry McNamara arrived to evaluate a goaltender. But instead, what he uncovered was a pair of Swede skaters he thought would fit nicely into his team's plans. McNamara, who would eventually become the Leafs GM, convinced management that he had sure-fire prospects in forward Inge Hammarstrom and defenseman Borje Salming.

Salming and Hammarstrom were flown to Toronto, with the Maple Leafs hoping they'd impress the young men with the city, team and money enough that the Swedes would soon wear the Leafs' blue and white. "I told myself not to be impressed, that I was dealing with flesh and blood people just like me," Salming remembers thinking. "The skyscrapers whizzed by and the gentlemen were very friendly. The Maple Leafs worked hard to win us over. During three days in Toronto, we visited Niagara Falls, saw a Roy Orbison and Chubby Checker concert, ate in fine restaurants, went shopping and toured the city." Both Salming and Hammarstrom became members of the Toronto Maple Leafs on May 12, 1973. "We signed both players so they'd keep each other company," admitted Jim Gregory, the GM of the Leafs at that time. "We didn't realize until he got here how special Salming was."

The two Swedes debuted in Leaf blue and white on October 10, 1973 — opening night of the 1973-74 season. The jitters turned out to be the easy part — both players faced a barrage of abuse at the hands of opponents. Borje shakes his head. "There were a lot of taunts of 'Chicken Swede.' There were threats to kill me. I heard every bad word there is. In Philadelphia, you would even have to stay away from the boards because they would try to grab you and yell at you."

Salming stood up to the challenges. "In this league (NHL), they try to discourage you early. I got the treatment and so does every rookie. If you fight back, they'll eventually leave you alone and let you play hockey." Borje collected a respectable 39 points and at the end of the season, was chosen as Toronto's winner of the inaugural Molson Cup based on accumulating the most Three Star selections through the course of the season.

"My first year, I played very defensively, but after that first season, I was able to be more offensive-minded," Salming states. The statistics bore through. As a sophomore in 1974-75, Borje scored 12 goals, up from his 5 rookie markers, and was elected to the NHL's Second All-Star Team. In 1975-76, he scored 16 times and his point production leapt to 57. Again, he was named to the Second All-Star Team. Borje enjoyed a career campaign in 1976-77, finishing with 78 points and earning First All-Star Team status. Very quickly, Salming had established himself as one of the NHL's premier blueliners. "Borje was a once-in-a-lifetime find," said McNamara in a late-seventies' interview . "Here is a player you can mention in the same sentence with Bobby Orr, Brad Park and Larry Robinson when you're talking about the great defensemen of the modern era."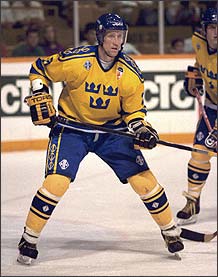 Darryl Sittler and Borje Salming emerged as the team's leaders and the two pingponged back and forth as the team's Molson Cup recipient. Salming took the award in 1974, 1977, 1978 and 1980 while Sittler won in 1975, 1976, 1979 and 1981.

Borje's superb puckhandling ignited the Leafs' offense and his commitment to defense was superb. But the team continued to flounder. Poor decisions and internal problems plagued the team. As the team looked like it could contend for the Stanley Cup in the late 1970's, the team was dismembered when Punch Imlach was hired to join the Leafs as general manager prior to the 1979-80 season. The team went through three coaches that season alone and long-time captain Darryl Sittler resigned as captain just before New Year's when friends and teammates Pat Boutette and Lanny McDonald were traded away. After a season collecting 92 points in 1977-78, the Maple Leafs slipped to 81 the next season, 75 in 1979-80, a last-place divisional finish with just 71 points in '80-81 and a woeful 56 points in 1981-82.

As the team twisted and turned in the wind, Salming continued to deliver outstanding work from his blueline spot. Teams, hoping to pluck the little remaining meat from a well-weathered carcass, hoped to pick up Salming in a trade, but Maple Leafs owner Harold Ballard claimed he " ... wouldn't trade Borje for God." After Sittler resigned his captaincy, Salming was approached about wearing the 'C'. "I turned them down. Now I realize it was a mistake," Borje admits.

In 1982, Salming was recipient of the now-defunct Charlie Conacher Memorial Trophy for humanitarian contributions and public service. But the tides turned through the eighties. In 1983-84, Borje cracked his kneecap. In May of 1986, as Sports Illustrated was about to print a story about Salming's alleged cocaine use, the defenseman stepped forward and admitted that, in the past, he had indeed briefly experimented socially with the drug. Although Borje was lauded for his candor, he was suspended for eight games to start the 1986-87 season. "I was the only one to come forward about it, so I was the one example," Salming shrugs. "I have no regrets and I have nothing against (then-NHL president ) John Ziegler."

Upon his return, Borje was involved in a goalmouth scramble that saw the skate of the Red Wings' Gerard Gallant accidentally catch him in the face and carve his features for a gruesome 250 stitches. "The cold steel sliced the skin above my right eye, then cut deeply into my nose and along the side of my face." Yet, Borje came back, committed and effective, and continued his effective play after receiving the brutal injury.

Trade rumours continued to swirl naming Salming at the base of deals involving several different teams. "It's not just his hockey skills but the class of guy he is," stated Harold Ballard, who even through the team's droughts, always considered Salming one of his untouchables. "He's been a great inspiration to the younger players." But Ballard hoped to be able to allow Salming the opportunity to win the Stanley Cup before his career had concluded. "He's given enough to Canada and the Maple Leafs over the years," Ballard continued. "I would like to trade him to a team that has a shot at winning the Stanley Cup. To be able to do that would please me no end." A rumour circulated that Ballard had attempted to loan Borje to the Edmonton Oilers for a mid-eighties playoff run, but the NHL quickly squashed those thoughts. Borje, all the while, was resolute in his intentions. "If I do get to play on a (Stanley Cup) winner, I want it to be in Toronto."

Finally, during the summer of 1989 and after 16 superb seasons, Borje's career with the Maple Leafs came to an end. He left holding several team marks — most assists by a member of the Maple Leafs, most goals by a Leaf defenseman, most points by a defenseman with the Leafs, third most games played as a Leaf (behind George Armstrong and Tim Horton) and third most points as a Leaf (behind Darryl Sittler and Dave Keon). "I enjoyed every minute of it," beams Borje. "We had a lot of fun and crazy times."

For 1989-90, Borje Salming signed as a free agent with the Detroit Red Wings. "He was their (the Leafs) best defenseman. He's a 38-year-old with a 28-year-old's legs," said Detroit's coach Jacques Demers at the time. Borje shrugged at the announcement that he'd be joining the Red Wings. "Instead of blue and white it'll be red and white, but that's life and life has to go on. I'll go to them and give them everything I've got, just like I did in Toronto. That's my way of playing." Salming added a measure of leadership and stability to Detroit's young blueline.

At the end of that season, Borje retired from the National Hockey League but continued his professional hockey career back home in Sweden. Shortly after competing for Sweden at the Olympics in 1992, Borje Salming concluded his hockey career.

The statistics lead to an inevitable conclusion: a spot in the Hockey Hall of Fame. Borje played 1,148 regular season NHL games, scoring 150 goals and adding 637 assists for 787 points. He also collected 1,344 penalty minutes. Borje was a First Team All-Star once and a Second Team selection five times. Twice he was runner-up for the Norris Trophy as the league's best defenseman. Salming also served his homeland with distinction, representing Sweden three times at the World Cup championships and was named an all-star at the 1989 tournament. He played for Sweden in three Canada Cup series as well and was selected as an all-star in 1976. In 1996, Borje Salming was elected to the Hockey Hall of Fame, joining Bobby Bauer in the Veterans Category and Builder Al Arbour. Salming was the first Swede to be so honoured and was just the second European-trained player in the Hall of Fame, following Soviet-born Vladislav Tretiak.

To this day, Borje Salming is one of the most popular Toronto players; a Maple Leaf forever, if you will. "I'm always warmly welcomed in the Leafs dressing room. For me, Toronto is my second hometown and the Mecca of hockey."

Following his hockey career, Borje stretched into other business ventures, including underwear. "It wasn't my idea," he laughs. "Some advertising guy came up to me back in 1992 with the concept. I had just moved back here (Sweden) from Toronto and was playing in the Swedish league for AIK at the time. I looked at the guy and said, 'Why underwear?' The more I looked at it, the more I discovered it was not such a bad idea."

Borje is also part-owner of Salming Sports (www.salmingsports.com), a company that is making aggressive and outstanding inroads in the competitive North American sporting goods market.

"I'm still in the public eye, whether it's because of my hockey history or because of the underwear company or Salming Sports or maybe all of them," Borje smiles. "I still hear them whisper. It's nice."

Kevin Shea is the Manager of Publishing and Editorial Services for the Hockey Hall of Fame.