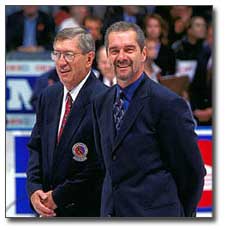 (November 1, 2002) -- Peribonka is a beautiful town about three hours north of Quebec City. The town is prime hockey country, and the birthplace on April 21, 1960 of Michel Goulet, the outstanding NHL left winger. During the seventies and eighties, Peribonka was split 50/50 between fans of the Montreal Canadiens and fans of the Quebec Nordiques. Goulet was a decided fan of the Nordiques - even moreso once he went to Quebec City to play junior with the Remparts. "I always liked the Quebec Nordiques because I had the chance to go see their games when I was a junior player," admits Goulet. "That's where I really learned to appreciate the Quebec Nordiques."

Michel spent two seasons as a member of the Remparts, and during that second season in 1977-78, he accumulated 77 goals and 78 assists for 135 points and drew the attention of the hockey world. Although the NHL was unable to draft 18 year olds, it didn't stop the World Hockey Association from reacting. The Birmingham Bulls signed Michel Goulet as an underaged free agent in 1978.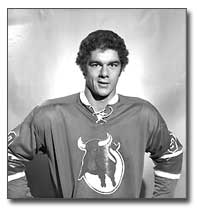 18-year old Michel Goulet

"I had just turned 18 at the time and decided to go pro," explains Goulet, describing the culture shock of moving from Quebec City to Birmingham, Alabama. "It took me a couple of months to adjust, but after that, it went really well. Rob Ramage, Ricky Vaive, Craig Hartsburg, Gaston Gingras, Louis Slegher and Pat Riggin - the Bulls were going after the best junior players to force the NHL to merge with the WHA, and that's exactly what happened a year later. What a great time we had in Birmingham!"

That summer, four WHA teams were incorporated into the NHL - the Edmonton Oilers, Hartford Whalers, Quebec Nordiques and the Winnipeg Jets. Michel Goulet was the first round selection of the Quebec Nordiques in 1979. He'd be going home. "It was a dream come true. I really enjoyed the city and the fans in Quebec City. For me, to start my NHL career there in Quebec City was the best. I knew there was something good there, and during my ten years we did pretty well."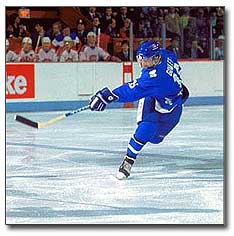 Pretty well is an understatement! In 1979-80, his first season as a Nordique, Goulet scored 22 goals, 32 assists and 54 points. But that was just the beginning. The next season he scored 32 goals and in 1981-82, he fired 42. Then, for the next four consecutive seasons beginning with the 1982-83 campaign, Goulet scored 50 or more goals. "There was so much pressure, but you really want to do well year after year," Michel remembers. "To average 50 goals over seven years was tremendous and had a lot to do with the people I was playing with - Dale Hunter and Peter Stastny and the rest of the team." During 11 seasons as a member of the Quebec Nordiques, Michel Goulet finished top ten in scoring three times, was a First Team All-Star three times and a Second Team All-Star twice. "To have success in hockey, you need to be talented and have the desire to excel, but you really need help from the people you play with to have a successful career," testifies the modest Goulet.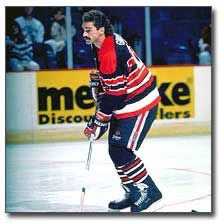 And then, on March 5, 1990, the Chicago Black Hawks sent Mario Doyon, Everett Sanipass and Dan Vincelette to the Nordiques for Michel, Greg Millen and a sixth round draft pick. "As a pro athlete, I had dreamed of playing with one team through my entire career, but that didn't happen," states a resigned Goulet. "Quebec was rebuilding and I was slowing down a little bit so I thought it could be good to start fresh somewhere and the Chicago Black Hawks gave me the chance to play another four years."
Goulet was still delivering offensively, as he recorded three more 20+ goal seasons in Chicago. But then, he suffered an injury that put an end to his career. "We were in Montreal. It was the first period and I was skating down the left wing and all of a sudden, I lost an edge and slammed my head into the bottom of the boards. I was in a coma for a half hour, but for a week in the hospital, I had no idea who I was." The head injury ended a brilliant 15-season NHL career. "It was really hard to comprehend what went on, but I feel blessed to be where I am today and to still be involved in hockey."
Today, Michel Goulet is the vice-president of player personnel for the Colorado Avalanche. But in 1998, Michel Goulet was inducted into the Hockey Hall of Fame, joined that night by teammate and friend, Peter Stastny. "When you look at your career, the best thing that can ever happen is to be selected for the Hockey Hall of Fame. That means that you did something very well in your sport or your job. But just to see Jean Beliveau and Johnny Bucyk and people like that who you've met or played against - just to be part of that was beautiful," beams Michel Goulet. "The three days (of Induction Weekend) were the most wonderful days I ever had in hockey."
Kevin Shea is co-author of several hockey biographies. His most recent book is "Over The Boards - The Ron Ellis Story" (H.B. Fenn), released November 2002.