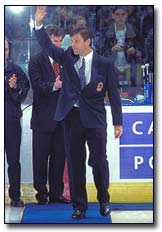 (January 7, 2002) -- Like any Canadian boy, Peter Stastny grew up playing hockey hours on end, wherever and whenever he got a chance. He had two idols, his older brother (Marian), and Vaclav Nedomansky, star with Bratislava and hero on the international stage. "I used to look up to all the good players," Stastny explains, "but they [Marian and Vaclav] were special. And, of course, Stan Mikita, too. For us, having a Slovak play overseas and being the best gave us tremendous pride. He was winning trophies, and then he came here in 1972 after the series with the Soviets and he was treated like a king."
Stastny's career, ironically, is closely connected to Nedomansky's because when Big Ned defected, it left a spot open on the Bratislava team-one filled by none other than Peter Stastny! "I had a chance to play just a few shifts with him at the end of one season," Stastny recalls. "It was only for a few shifts, but after that, I thought I can retire. My dream has come true. He had a certain mystique about him, and I will always remember that time."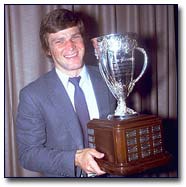 Although most Europeans grew up with the bigger ice surface and hated the smaller ice of the NHL, Stastny had just the opposite reaction to playing in North America. "The small ice made for a more physical game because you don't have much room to move. But I never minded. I could take a hit and keep the puck. But I liked the small ice. In fact, my favourite rink was the Boston Garden, where all of my teammates hated. But the way I saw it, you make one good move and you've got a great scoring chance. And if your teammates are skilled and well-positioned, you'll always get more chances than on the big ice."
Although coming to play in the NHL was a new experience, it was not one that intimidated Stastny. He had played most of his hockey against the Soviets and knew how that nation stacked against Canada from the '72 Summit Series. When he first came overseas for the '76 Canada Cup, he was awestruck but not scared. "We knew we would be competitive," he says of his national Czech team. "We'd watched the '72 series and we saw the Czechs and Canada tie 3-3 right after. We were the only country that could compete with the Russians at the World Championships, but we also learned how strong [Canadian] desire can beat pure skill."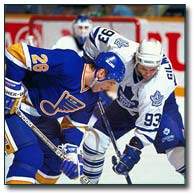 Stastny began the Canada Cup on a fourth line with Jaroslav Pouzar and brother, Marian. Sure enough, the Czechs shut out Canada 1-0 in the round robin and lost the finals to Canada on Darryl Sittler's memorable goal, but that wasn't what Stastny remembers best from that tournament. "It was the most exciting thing. Every game was a sellout. I was young, I was a world champion [the Czechs had won the '76 Worlds that spring]. It was the physicality of the series that was so overwhelming. And the best players in the world from all countries were there for the first time. It was so incredible."
Growing up in Czechoslovakia, Stastny worked in a factory for a while and was educated as a machinist, but once he became a member of the country's best team, there was no time for work or anything else outside hockey. "Once you made the elite team," he points out, "you trained twice a day all year long. You had three weeks off in July for vacation, and the rest of the year we were on the ice."
After almost 10 years with the Nordiques, Stastny finished his career in New Jersey and then St. Louis, but Quebec City will always hold a special place in his heart. "It was extremely special for my whole family. Every time I go there I enjoy myself."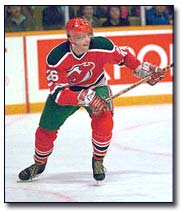 Stastny has been blessed with great skill and, politically, great timing. When Slovakia became an independent nation, he was speechless. "We never, ever thought this would happen," he says in disbelief to this day. "After being under someone else's control for a thousand years...we live in the luckiest generation in Slovakia's history."
Stastny immediately donned his national hockey sweater to help Slovakia qualify for the 1994 Olympic Winter Games in Lillehammer, competing in an obscure but important tournament in Sheffield, England in November '93, then being accorded the great honour of being flag-bearer for his new nation in 1994.
Now, as general manager of that same team, heading toward Salt Lake City in February 2002, he is doing his best to get NHL teams to release Slovaks for important qualifying games. "It's not a win-win situation," he enthuses, "it's a win win win win win win situation. It's every young man's dream to play in the Olympics. The Olympics are so much bigger around the world than just the NHL. Hockey fans everywhere deserve to see the very best play for every country."
- Andrew Podnieks is the author of numerous books on hockey including the current The Essential Blue & White Book. He is also a regular contributor to Leafs.com and managing editor of A Day In The Life of the Leafs to be published in the fall of 2002.