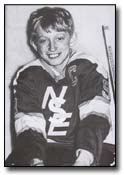 (January 21, 2002) -- After every hockey game he ever played, Wayne Gretzky showered and put on a jacket and tie or other appropriate clothing to face reporters, head to the plane, and continue on with his day or night in a professional manner. The only difference about his last game was that, sadly, he wouldn't be putting on his equipment on a daily basis ever again. But he wears the suits every day, and he is now as active in hockey off ice every bit as much as he was the centre of attention on it during his playing days.
Although he has made the transition to executive smoothly, it was one he made only grudgingly that final afternoon at Madison Square Garden when he packed his equipment and gave his bag to the Hockey Hall of Fame. "The game was over at about four o'clock," he recalls, "and it was a long time before I even took my skates off! I didn't leave the rink until at least six-thirty."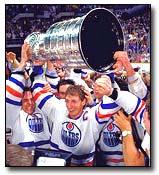 It was, as he said at the press conference, a day of celebration, not sadness. "The entire day was so special," he says with emotion even these three years later. "I spent time with my family and my dad during the day and went to the rink early as always. It was such an emotional day, full of great memories."
But the day didn't end when he left MSG, and the evening's memories have been tinged with sadness by events since. "The Rangers had a party at Windows on the World, the restaurant that was at the top of the World Trade Centre," he reveals. "It gives me chills to think about it in light of what happened on September 11."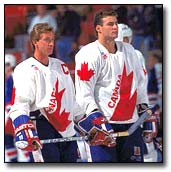 Leave the game he did, but not for long. Just a few months later, among the parade of honours he received, he was inducted into the Hockey Hall of Fame. For the last time, the Hall's Induction Committee waived the mandatory three-year waiting period to honour a player so special that his inclusion was more or less automatic. "The whole experience was such an honour," he says of that night in which, for the first time, the Hall opened the Galleria of BCE Place to accommodate the spectacularly high number of attendees. "It meant so much that my children could be there with me and were old enough to realize how special this was for their dad."
After the honours and celebration, Gretzky had to figure out what he wanted to do with the next few years of his life. Two tremendous opportunities appeared before him, and within a year he had his solution. On the one hand, he became part-owner of the Phoenix Coyotes, and on the other he was named general manager of Team Canada for the 2002 Olympic Winter Games in Salt Lake City, Utah. Both were challenges; both were right up his alley.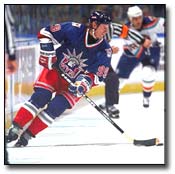 But, of course, he also has more free time now that he isn't playing a hundred hockey games a year. "I really enjoy golf, so it's been nice to be able to play more," he says of his other interest. "I also get to spend a lot more time with my family, which is great."
And so, as we head toward Salt Lake, as Team Canada falls into place and Gretzky tries to create a gold medal team, the new millennium 99 is hard at work in hockey, trying to be a winner again, trying to develop new friendships and competitive elements in a life so rich with success already. But no matter how much he succeeds, there will always be a bit of a difference from playing. "I really miss being with the players," he admits. "The camaraderie in the dressing room, on the plane or bus...I really miss that the most."
- Andrew Podnieks is the author of numerous books on hockey including the current The Essential Blue & White Book. He is also a regular contributor to Leafs.com and managing editor of A Day In The Life of the Leafs to be published in the fall of 2002.