27 FEBRUARY 2006
It is hard to comprehend that as great an NHL career as was enjoyed by Viacheslav Fetisov, the defenseman had a long, superlative career before he ever set foot on NHL ice.

Born April 20, 1958 in Moscow, Fetisov excelled in hockey from an early age. He was only 16 when he made his debut with the Soviet Red Army's junior squad, and by the next season (1975-76), was named top defenseman at the European Junior tournament, where his Soviet team took the gold medal for the first of two consecutive years. At the World Junior Championships, including the unofficial precursor in 1976, Fetisov and the Soviets won three straight gold medals while Viacheslav took the best defenseman award in 1977 and 1978.

Playing with Moscow CSKA, Fetisov was part of seven straight Soviet championships (1977 to 1983), was named to the First All-Star Team nine times and was the USSR's Player of the Year in 1981-82 and 1985-86.

Internationally, Viacheslav was equally dominant. He guided the Soviets to gold medals at the World Championship in 1978, 1981, 1982, 1983, 1986, 1989 and 1990 and was named the tournament's best defenseman in five of those seasons. Slava and the Soviets won the Olympic silver medal in 1980, later earning gold in both 1984 and 1988. "To be a hockey player, you try to win every possible tournament you play," he said. "Every possible game at every level -- junior until you name it. Every possible tournament I played I got championships, a gold medal, whatever."

Yet, as heralded as his hockey career was during that era, Slava faced personal setbacks. In June 1985, Fetisov was involved in a car accident that killed his 18-year-old brother Anatoly, a bright prospect and teammate with the Central Red Army team. "In every respect, it was so trying, physically, psychologically," he reflected. "My parents helped me. They said that I should start playing again right away and live for two people — for myself and for my brother who died."

Fetisov got his first taste of NHL hockey while playing on Soviet national teams that toured North America during the 1985-86 and 1988-89 seasons. After years not being able to compete against the best players in the world, Viacheslav asked for permission to join the NHL. The request caused a rebellion in Soviet hockey. "The Soviet minister of defense tried to scare me, demanding that I apologize for asking to leave," Fetisov explained. "He gave me an ultimatum — 'Either apologize or be sent to Siberia where we will make life very difficult for you.' I faced a lot of intimidation. Most of my friends were afraid to talk to me. It was the toughest time of my life, but I finally won the war. I was the first Soviet to sign a direct contract with the NHL, and I'm proud to say that not only hockey players followed me. The door opened for people in every profession."

At 31 years of age, and having nothing to prove in hockey other than to conquer a new frontier, Fetisov led a group of eight Soviet players who were allowed to leave the Soviet Union in order to play in the National Hockey League. Helmut Balderis, Vladimir Krutov, Igor Larionov, Sergei Malakhov, Sergei Mylnikov, Sergei Priakin and Sergei Starikov all found their way and settled with NHL teams. At last, as part of the Soviet Union's glasnost, it had been decided that it was in their country's best interests to allow a few older players to join the NHL in exchange for cash and the promise that the NHL would allow the players to participate for the USSR in future World Championships. "It was a victory against a whole system," Fetisov smiled. "It was not easy. You always have to fight for everything and I fought for everything I have in hockey," he said, adding, "I also won the biggest fight away from hockey. That was the fight against communism, the fight for freedom of choices."

Although he had originally been drafted by the Montreal Canadiens late in the 1978 Entry Draft, Slava had been unable to play in North America at that time. His name was re-entered into 1983's draft and the New Jersey Devils selected Fetisov 150th overall. Finally, having been able to unshackle himself from the Soviet system previously, Slava Fetisov joined the New Jersey Devils for the 1989-90 season.

"The NHL is very difficult and it made it harder when I spent last summer trying to get things cleared to move to New Jersey," he said at the time. "There were so many distractions that I was unable to prepare for the season the way I wanted to."

The veteran enjoyed a solid season in the NHL, collecting 42 points from his blueline post. "For the first 25 games or so, my partners didn't understand my style and I didn't understand the style of the NHL, but we all learned a lot and I thought I had a very good second half," recalled Fetisov.

"It was tough to get out of the country, to fight against a Communist system. And it was tough when I got here (the NHL) for a couple years," Slava admitted. "Many times I would think, 'Why am I here; why did I do it?' I was a big player in Europe and people knew me. Here, all of a sudden, I had to struggle. But I keep telling myself I have to fight through this stuff."

Fetisov went on to play nine years in the NHL. After five strong seasons with the Devils, Fetisov was traded to the Detroit Red Wings in April 1995. The move seemed to bring a new energy to Viacheslav. "I'm so happy. I'm hoping to get a chance to play for a good team and get a good chance at the Cup."

In 1995-96, he enjoyed his best season in the NHL, recording 42 points. Then, in 1996-97, a season in which he was selected to play in the All-Star Game, the Detroit Red Wings won the Stanley Cup championship. "The best players from around the world started arriving here (in North America) and it gave the game a whole new perspective," explained Fetisov. "Time was running away. I just told myself, 'You just have to stay long enough to win it.' I grew up in a different atmosphere. For me, it was a dream to play in the Olympics and World Championships. I did that. I achieved that. I came here for a new level of competition."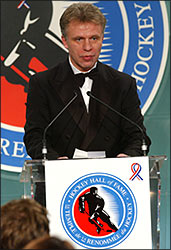 That summer, Fetisov and teammates Slava Kozlov and Igor Larionov took the Stanley Cup home to Moscow, the first time hockey's legendary trophy had ventured into Russia.

Winning the Stanley Cup had been one more dream achieved for Fetisov, but that dream turned into a nightmare. After a party on June 13, 1997, while celebrating the Stanley Cup win, members of the Red Wings were involved in a tragic car accident. Although Fetisov suffered only minor injuries, teammate Vladimir Konstantinov and team masseur Sergei Mnatsakanov suffered severe head injuries that ended their careers and almost ended their lives.

Slava had considered retiring after winning the Stanley Cup in 1997, but decided he would return for one more season. The hope was to win a second consecutive championship and dedicate it to his friends Konstantinov and Mnatsakanov. "For the last two or three years, I've played every game like it might be my last," stated Slava. "I feel good, but I know I have to stop sometime from playing hockey. It's a different situation, especially since last summer. I'm very fortunate to be here right now. I know what hockey has been like for me all my life and I don't know what it's going to be like without hockey. But I want to give everything I have to the game because it's been good to me for such a long time."

That season, 1997-98, Fetisov played in the All-Star Game for a second straight season. Inspired, he played solid, dependable defense for Detroit, even at the advanced hockey age of 40. And that spring, Slava and the Red Wings were able to win the Stanley Cup for a second consecutive spring. Few who watched the game will ever forget Konstantinov being wheeled onto the ice, wearing his Red Wings sweater, and accepting the Stanley Cup from captain Steve Yzerman, with his friend and teammate Slava Fetisov kneeling beside him. Slava retired after winning the second straight Stanley Cup championship. He was named an assistant coach with the New Jersey Devils, where in 1999-2000, he was part of another Stanley Cup championship. In 2002, Fetisov was coach and general manager of the Russian Olympic men's hockey team. Today, Viacheslav Fetisov takes a lifetime of sports experiences to his role as the Chairman of the State Committee for Physical Culture and Sport in Russia, a position he has held since April 2002.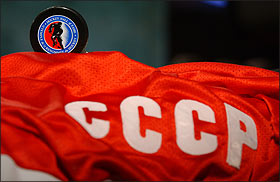 Recognized as one of the greatest defensemen ever to play the game, Slava Fetisov's successes, both internationally and in the NHL, earned him election to the Hockey Hall of Fame in 2001. "I just couldn't believe it when they called me," said Viacheslav. "It's a great honour. You play all your life to get the recognition and it feels great, especially being a Russian-born hockey player and spending most of the best years back in Europe. It's a great honour to be in same category as other legends." On November 12, 2001, Fetisov was inducted into the Hockey Hall of Fame with Mike Gartner, Dale Hawerchuk and Jari Kurri.

"I have achieved everything I dreamed of in my childhood," smiled Fetisov.

Kevin Shea is the Editor of Publications and On-Line Features at the Hockey Hall of Fame.