10 APRIL 2006
An outstanding performer on the ice and as trusted as anyone in hockey off the ice, Mike Gartner employed blazing speed, outstanding skill and great intelligence into a remarkably consistent and productive Hall of Fame career.

Michael Alfred Gartner was born October 29, 1959 in Canada's capital, Ottawa, Ontario. "My family lived in Ottawa for just a few months after I was born," Mike explains. "Shortly thereafter, we moved into the Toronto area until I was thirteen and then we moved up to Barrie."

Although watching Gartner play gave the impression he was born with skates on his feet, his first experience stepping onto the ice was anything but legendary. "I was playing house league in Mississauga at the old Dixie Arena," chuckles Mike. "I was so excited. I went down the hallway and stepped on the ice and the first thing I did was fall down. Then I fell down again. I got up a third time and fell down again. I looked up into the stands and my Dad was pointing down telling me that I still had my skateguards on! I took the skateguards off and I realized that skating was a lot easier without them."

Mike's career accelerated at a rapid pace. He went on to play for the AAA Mississauga Reps until his PeeWee year, which included a memorable trip to Quebec City for their annual PeeWee Tournament. Then, when Gartner was 13 years old, his family moved to a farm just west of Barrie and the young hockey star began playing Barrie Minor Hockey. "It was an interesting transition. I was playing AAA in Toronto in the old MTHL and when we moved, Barrie was a AA centre. I had a great experience playing AA in Barrie, then eventually, it became a AAA centre," Mike explains. "In my midget year, we applied for AAA status in the new tournament they had at the time called the Canadian National Wrigley Midget Championship. We ended up going into the AAA loop as a AA team and lo and behold, we ended up winning the whole thing!"

Mike was involved in another tournament that left an indelible mark on the young hockey player. "We represented Canada in a 5-game exhibition series in the Soviet Union in 1974-75," smiles Mike. "We traveled over to the USSR on the heels of the 1972 Summit Series. Playing in front of packed crowds of Soviet fans with fur hats and fur coats and in military uniforms was an unbelievable experience!"

Rod Brandt, an HHOF Insider from Ajax, Ontario, wondered to what Mike attributed his skating prowess. "I was always was a good skater. It came naturally to me," answers Gartner. "My Dad used to send me to power skating school in the summer. All the other kids were going to hockey schools and I was going to power skating school. I didn't really like it too much because we didn't handle the pucks very often, but I developed really good technique in skating. I think there certainly was a natural, God-given ability and I also worked very hard at it and when you put both of those things together, you end up with a pretty good asset as a hockey player."

Gartner began getting inquiries about playing junior while playing midget. "The next thing I know, I'm rated second on the (junior) draft list," states Gartner. "I started to think that maybe there was a chance that I could play in the NHL, and it certainly was a dream and a goal of mine. At that time, I thought, 'Maybe I do have a chance and maybe I really should take this just a little more seriously and start training in the summer.'"

While playing Tier Two junior for the Toronto Young Nationals, who had an affiliation with the major junior St. Catharines Black Hawks, Mike's father got a call from the Black Hawks' manager/owner. "When our Tier Two season was over, Hap Emms asked my Dad if it was okay if I came up and played in the playoffs with St. Catharines, which I did." Mike played three games with the junior Black Hawks at the end of the season, scoring a goal and 3 assists. Then, he scored a goal in one of the four playoff contests in which he played.

"The following year, the St. Catharines franchise was moving to Niagara Falls and they had the second pick," the speedy winger explains. "Peterborough had the third pick and Roger Neilson was the coach there. Roger came up to our house and met with my Mom and Dad and me at the kitchen table and said, 'We have the third pick and really like Mike and want to draft him.' My parents had lived in Peterborough at one time and could set up someone for me to live with so everything was great. About a week later, Hap Emms came up and visited us at the same kitchen table with my Mom and Dad and said, 'We really like Mike and we have the second pick in the draft. We want to take Mike.' My Dad said, 'Well Mr. Emms, we talked with Roger Neilson and he'd really like Mike to play there and we know people in Peterborough Mike could live with so we'd like Mike to go to Peterborough.' And I remember Hap looking at my Dad and me, pushed himself away from the table and standing up, said, 'Well Mr. Gartner, we're going to draft your son with the second pick and if he doesn't want to play hockey for three years, that's okay with me.'"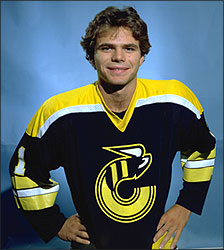 Mike was indeed drafted by Niagara Falls and spent two very productive seasons playing there. In fact, the 1977-78 season saw Gartner score 41 goals and 49 assists and win a spot on the OMJHL's First All-Star Team. He was also chosen to represent Canada at the 1978 World Junior championships, contributing six points in a bronze medal finish.

In 1978-79, Mike Gartner turned pro, joining several other under-aged players who were signed by the World Hockey Association. "The WHA was an interesting experience," explains Mike. "At that time, it was a 20-year-old draft. There was a bunch of us at 18 years old who had agents who thought we could play pro hockey. Ken Linseman had gone down to the WHA and played as an underage player and they were willing to take a chance on some under-aged players. Rob Ramage, Craig Hartsburg, Pat Riggin and Rick Vaive went to Birmingham and Wayne Gretzky went to Indianapolis as a 17-year-old and Mark Messier and I went to Cincinnati. Mark was 17 and I was 18 years old."

Mike signed a four-year contract with the Stingers and finished the season as runner-up to Wayne Gretzky for the rookie of the year honour. "The WHA was a very good league; probably not as good as the NHL but just a small step down," Mike states. "It was a great experience for an 18-year-old kid to get a chance to play hockey and be away from home and start the dream. The next year, the WHA merged with the NHL and at that time, I was drafted by Washington."

Gartner was drafted by the Capitals fourth overall in 1979's Entry Draft. In his first NHL season, Mike led the team in both goals (36) and points (68). "Even in junior, I was scoring goals but I wasn't scoring 70 or 80 like some guys did," admits Mike. "But because I was given the opportunity in Washington, I was able to develop into a goal scorer."

Over the next eight seasons, Gartner never scored fewer than 35 goals. He led the Capitals in scoring four times, and prior to his trade to Minnesota in 1989, he had set or tied twelve team records, including career goals (397) and points (789), all of which he accomplished on a team that missed the playoffs three times and bowed out in the first round three other times. "It was a franchise that hadn't won a lot in the early years, but they had started to build a pretty good nucleus of players," Mike says. "When I went there, hockey was in no way the number one sport. In fact, it wasn't number two, three or four either! Yet, it was a great experience for me. I was given all sorts of opportunities to play, and because I was, I turned into a guy who could put the puck in the net."

Many teammates helped the 19-year-old Gartner make the transition into the NHL, and assisted Mike and the Capitals in turning the franchise around. "We started to build and get good players. Ryan Walter was there when I was drafted there. Gary Inness was our goaltender and he took me under his wing. So did Guy Charron, and I was invited over to their houses a lot. I became very close to Jean Pronovost and his family. There were some really good mentors on the team in my early years. Then, Ryan Walter and Rick Green were traded to Montreal and Rod Langway, Doug Jarvis, Craig Laughlin and Brian Engblom came in. Larry Murphy arrived from L.A. We drafted Scott Stevens and Bobby Carpenter and all of a sudden, we became a 100-point team," chuckles Mike. "It was fun growing up with this team."

Yet, in spite of the team's growth and improvement, the Washington Capitals were unable to reach the Stanley Cup finals. "The tough time with Washington back then was that we were playing the Islanders or the Flyers in either the first or second round," sighs Gartner. "We'd finish fourth or fifth overall and they'd finish first or second so we never got through. Because of that, changes were made and after nine years in Washington, I was traded to Minnesota."

Mike and Larry Murphy were sent to Minnesota, with the Capitals receiving Dino Ciccarelli and Bob Rouse in return. After parts of two seasons with the North Stars, Gartner was traded to the New York Rangers for Ulf Dahlen and a draft pick. It looked as though Mike might finally get a chance to play for a Stanley Cup champion in 1993-94, but as the Rangers were surging, Gartner was traded to the Toronto Maple Leafs for Glenn Anderson and draft picks. Sure enough, the Rangers collected the Stanley Cup that spring. The Leafs and Mike, stymied again, lost in the Conference final. But, during his stint in New York, Mike Gartner became just the sixteenth player to reach the 500-goal plateau, the sixth to reach 600 goals and the thirty-third to reach the 1,000-point milestone.

During the summer of 1996, Mike was again traded, this time for a draft pick to the Phoenix Coyotes. In 1997-98, Gartner became just the fifth player to reach the 700-goal mark. During 19 NHL seasons, Mike collected 708 goals and 627 assists for 1,335 points in 1,432 regular season contests.

"There aren't many NHL records that Wayne (Gretzky) doesn't have but I have a couple: the consecutive 30-goal seasons and total 30-goal seasons which is something I'll always remember," adds Gartner. Mike scored 30 or more goals in fifteen consecutive seasons. A strike-shortened season in 1994-95 was the only impediment that could stop Gartner, who proceeded to add two more campaigns of 30 or better goals before he was through. "It was just one of those things," Mike shrugs. "I tried to show up to play every night and tried to contribute to the team. I stayed relatively healthy throughout my career and before you know it, I was in my ninth, tenth, eleventh season and somebody said, 'That's your tenth year in a row in which you've scored 30 goals. Do you know the record is thirteen?' I said, 'No, I really didn't know that.' I was given a certain amount of talent and I wanted to do the best that I could every time I stepped onto the ice. I really strived for that consistency and as a result, I was able to have that consistency."

Mike Gartner retired on August 26, 1998. Respected both on the ice and off, he prepared himself for life after hockey, serving as a key member of the National Hockey League Players' Association Negotiating Committee during both labour disputes in the 1990's and as NHLPA President during the latter part of the decade. "Today, I am Director of Hockey Affairs for the NHLPA," states Mike. "I'm the newly-appointed Players' Association Board Member at the Hockey Hall of Fame, and I'm very excited about that. I act as the PA rep on the NHL Competition Committee and serve on the Board of Trustees for the NHL Pension Plan, I'm a trustee for the newly-formed Health and Welfare Trust, which is the medical plan for the NHLPA and am also serving as a trustee for the Emergency Assistance Fund for the NHL and I'm very glad to be Chairman of our NHLPA Goals and Dreams fund, which is our grassroots hockey initiative. We've given about $15 million to grassroots hockey programs over the past six years."

After contributing so much as a player, Gartner is now able to contribute to the game he loves in a different manner. "It's a new era in the NHL and I'm excited to be part of that."

In 2001, Mike Gartner was made an Honoured Member in the Hockey Hall of Fame. "Being inducted into the Hall of Fame was something," smiles Gartner. "Both of my parents had passed away and were not able to be there. That's the only thing that would have made it better, but it truly was a great moment I was able to share with my family."

Kevin Shea is the Hockey Hall of Fame's Editor, Publications and On-Line Features.