21 NOVEMBER 2005
Dale Hawerchuk, the superstar centre of 1,188 regular season NHL games, did everything right during his sixteen-season pro career. But the circumstances of spending his most productive seasons in Winnipeg pushed him into the NHL shadows while the spotlight shone on two other superstar centres — Mario Lemieux and Wayne Gretzky.

Born April 4, 1963 in Rexdale, Ontario, a suburb of Toronto, Dale and his family moved east to Oshawa when he was a toddler. He began skating at the age of two on a pond in the family's backyard. "I ate, drank and slept hockey," remembers Dale.

From his earliest forays in organized hockey, it was clear to observers that there was something very special in the play of Dale Hawerchuk. When his Oshawa team participated in the celebrated Quebec Peewee Tournament, Dale scored all 8 of his team's goals in an 8-1 win in the final, breaking Guy Lafleur's record.

Prior to being eligible to play junior, Hawerchuk was invited to try out with the hometown junior Oshawa Generals of the Ontario Hockey League but he failed to make the team. "They cut me, but I was only 15 at the time and most of the guys were a lot older than me," Dale acknowledges.

Although Dale and his family had hoped he would be able to play junior close to home in Toronto or Oshawa, Hawerchuk was chosen sixth overall by the Cornwall Royals of the Quebec Major Junior Hockey League in the 1979 OHL draft. Although the Royals were playing in the Quebec League, they participated in the Ontario draft at that time. "I didn't know much about the Quebec League but I just made up my mind I had to live with it," Dale shrugs.

Hawerchuk was a sensation. In his first season of junior, the rookie collected 103 points, winning the league's rookie of the year award. The Royals, who included future NHLers Scott Arniel, Dan Daoust and Marc Crawford, rolled through the playoffs and ended up winning the Memorial Cup as the junior champions of Canada. Hawerchuk scored a phenomenal 45 points in 18 playoff games and was named the Memorial Cup All-Star leftwinger and the recipient of the George Parsons Trophy as the most gentlemanly player in the Memorial Cup tournament.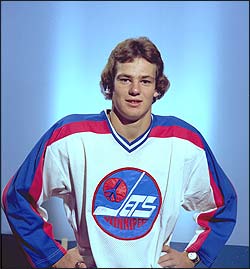 The Cornwall Royals were asked to represent Canada at the 1981 World Junior Tournament and although Canada didn't place for a medal, Hawerchuk earned a tournament-leading 9 points.

In the 1980-81 season, Dale eclipsed his previous season's point total, scoring 81 goals and collecting 183 points for Cornwall. He was named a QMJHL First Team All-Star and later, was named the Canadian Hockey League's Player of the Year. The defending junior champion Royals captured the Memorial Cup for a second straight year, with Dale scoring 8 goals in the final to set a Memorial Cup record. He was named winner of the Stafford Smythe Memorial Trophy as the Memorial Cup MVP and was also the tournament's All-Star centre.

Based on their woeful last place finish in 1980-81, (9 wins, 57 losses and 14 ties), the Winnipeg Jets earned the right to select first in the 1981 NHL Entry Draft. General Manager John Ferguson made no bones about his choice, so it was no surprise to anyone when Dale Hawerchuk was drafted first overall by Winnipeg in 1981. On August 13, 1981, Dale signed his first pro contract, driven to the ceremony at the corner of Portage and Main in an armoured truck. "It must have been the hottest day of the year," he remembers. "I was wearing a three-piece suit and sweating like crazy."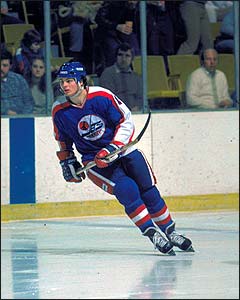 Dale debuted with the Jets that fall and had a sensational season in 1981-82, scoring 45 goals and assisting on 58 more for 103 points. He led Winnipeg to the largest turn-around by a team in NHL history, increasing the team's point total by 48 to finish with 80 and guiding the franchise to a second-place finish in the Norris Division. With Dale piloting the Jets, Winnipeg played their first playoff contest in franchise history. Following the season, Hawerchuk was awarded the Calder Trophy; the youngest player ever to win the rookie award. He had also been the youngest player in NHL history to record 100 points in a season. That spring, Hawerchuk competed for Canada at the World Championship.

As a sophomore, Dale continued to impress, collecting 91 points in 1982-83. He had 102 points the next year. The Jets named Hawerchuk their team captain prior to the 1984-85 season. At 21 years, 6 months, it made Dale one of the youngest captains in NHL history. "It was a little intimidating," Dale admits. "But there were guys around to help. Randy Carlyle was captain in Pittsburgh. They (the Jets) probably thought the captaincy would help me, which it did. I accepted it and it made me a better player and better person." That season, Dale enjoyed a career year, scoring 53 goals and 130 points to finish third in NHL scoring. He was selected for the NHL's Second All-Star Team and was runner-up to Wayne Gretzky for the Hart Trophy as the league's most valuable player. With six Jets scoring 30 or more goals in 1984-85, the Jets earned a franchise-best 43 wins and 96 points. In the first round of the playoffs, Winnipeg defeated the Calgary Flames, but Hawerchuk suffered a serious rib injury that hampered his play. Edmonton defeated Winnipeg in the division final and went on to collect the Stanley Cup.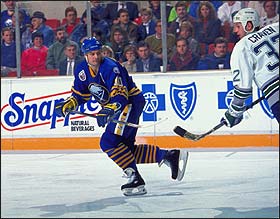 That summer, the franchise negotiated a new contract for Dale. "We worked on it smartly and there wasn't a lot of dickering going on," he says. The contract was signed at City Hall in front of the franchise's fans. "We just got right to the point, found out where each other stood and it didn't take long."

In 1986-87, the Jets got past the Flames in the first round once again but the Oilers again thwarted their Stanley Cup dreams. Hawerchuk was chosen to play in Rendez-Vous '87 and in that year's victorious Canada Cup tournament as well. "We won it because we jelled into a very good team," Dale mentions. "Each man did whatever the coaches asked him to do and every player on the roster was very important in the whole picture of the team." Dale would participate in the Canada Cup tournament again in 1991.

Winnipeg lost to the Oilers in the opening round of the 1989-90 playoffs. The game seven defeat proved to be the final game Dale would play with the Winnipeg Jets. It had been a brilliant time for both Hawerchuk and the Jets. In nine seasons with Winnipeg, he collected 40 or more goals seven times and reached the 100-point plateau in six of those campaigns. His scoring exploits placed Dale in the NHL's top ten scoring finalists on four occasions.

On June 16, 1990, Dale was traded to the Buffalo Sabres with a first round draft pick in exchange for Phil Housley, Scott Arniel, Jeff Parker and Buffalo's first round draft pick. There, he was one of three outstanding centres, joining Pat LaFontaine and Alexander Mogilny. During five seasons with Buffalo, Hawerchuk passed the 80-point total four times but injuries reduced his final season with the Sabres to just 23 games. While with the Buffalo Sabres, Dale scored his 1,000th NHL point, a goal against the Black Hawks on March 8, 1991.

Dale was signed as a free agent by the St. Louis Blues on September 8, 1995. In his first game as a member of the Blues, Hawerchuk scored his 500th NHL goal during a January 31, 1996 game in Toronto, playing in front of family and friends. "My grandmother, Georgina Mitchell, came over from Fort Erie and was sitting in the wheelchair section at the end of the ice where I scored the goal," Dale laughs. "That meant she had a good look at it."

On March 15, 1996, Philadelphia sent Craig MacTavish to St. Louis to secure Hawerchuk. Although Dale was contributing substantially, his production had slipped to 61 points in 1995-96 and 34 points in 1996-97. "I'd developed an arthritic hip and I knew I was in trouble," Dale explains. "It became difficult to make a full stride. There was severe swelling any time I tried to skate. The medical advice was that I was not going to get better; only worse. So my decision, after 16 years, was to walk away rather than crawl away later."

Hawerchuk retired, but not before accumulating 518 goals and 891 assists for 1,409 points in 1,188 regular season games. Through sixteen NHL season, Dale led his respective teams in points on twelve occasions. In 1997, Dale Hawerchuk was elected as an Honoured Member of the Hockey Hall of Fame.

Dale and his wife Crystal today operate a horse farm in Hockley Valley, north of Toronto. "We breed and train show jumpers," he explains. "My wife is a Manitoba farm girl and I had a little ranch (in Winnipeg) when I was captain (of the Jets)." The five-acre ranch turned out to be an ideal situation for Dale and the team. "All of the team functions went through our ranch with the wives and the kids and it was a lot of fun." At the time, Dale mentioned, "I feel that out in the country, I can be myself. It kind of brings me back to reality and shakes everything else off my mind."

Dale today enjoys the pace of working with horses. "I'm enjoying my life," he smiles. "It's going by pretty quick. Just like my career did."

Dale Hawerchuk - a thoroughbred in the world of hockey.

Kevin Shea is Manager of Publishing and Editorial Services at the Hockey Hall of Fame.