23 NOVEMBER 2006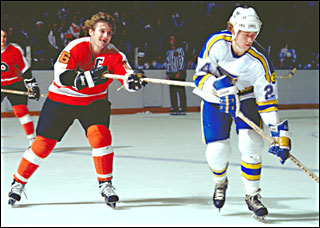 Foam Lake, Saskatchewan native Bernie Federko (right) escapes a hook from the Philadelphia Flyers Captain Bobby Clarke (left). (London Life-Portnoy/HHOF)

Foam Lake is a community of 1,200 residents situated between Yorkton and Saskatoon in East-Central Saskatchewan. Besides its well-earned reputation as a terrific place in which to live, Foam Lake is also a hockey hotbed, and the hometown of Honoured Member Bernie Federko.

Born May 12, 1956, Federko was on skates at an early age. "The skating rink was right across from our house in Foam Lake. But when I was about six years old, the rink burned down. We were really challenged without a rink for three or four years while they were building a new one on the other side of town, so Dad used to flood the back yard and we used to skate there during the winter months."

Like so many hockey players, the game was instilled into them almost from birth. "My older brothers are twins, so there was competition from the start. If I wanted to hang with them, I had to compete with them and their friends. For whatever reason, all the kids in the neighbourhood around my age were girls, so I pushed myself so I could play with my older brothers."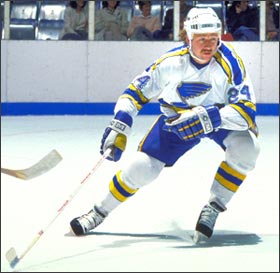 On the St. Louis Blues, Federko joined a cast of 1976 first round draft picks that included Blair Chapman and Fred Williams chosen by the Pittsburgh Penguins and the Detroit Red Wings respectively.
(London Life-Portnoy/HHOF)

Bernie excelled early and franchises around the province salivated at the thought of having him join their team. "My folks were schoolteachers, so education was the most important thing in our family," Bernie states. "When I was 15 or 16, I had opportunities to go and play in the Saskatchewan Junior Hockey League. Humboldt, Yorkton and Weyburn all wanted me to come and play but my folks didn't want me to leave town. They wanted me to stay and finish school. When I did get the opportunity to try out in the Western Hockey League, they said, 'Go ahead and give it a shot.'"

Bernie did, and in 1973-74, at the age of seventeen, he made the Saskatoon Blades of the Western Canada Hockey League (WCHL). "It was a big transition," he admits. "But my brothers were already going to the University of Saskatchewan so my parents didn't feel like I was going on my own. Even though I was living with another family, my brothers were in town there and my Mom and Dad used to come in every weekend. The three years I played in Saskatoon, they did not miss one game. They drove in the 150 miles for every game and whether they drove back that same night or the next day, they came to every game! My folks were so supportive. My younger brother Kenny played for the Blades the three years after me, so for six straight years they didn't miss one single game. It was pretty amazing!"

Spending three seasons in the WCHL, Federko really had the opportunity to hone his game. In 1974-75, he led the team in scoring with 107 points, while the Blades finished first in their division. But it was the final year of junior that really showed Bernie's talent. The Blades' captain scored 72 goals and 115 assists for a league-best 187 points, leading Saskatoon to another first place finish in the WCHL's Eastern Division. Bernie was named to the WCHL All-Star Team, and capped off the season by being selected as the league's most valuable player. "Everything seemed to come together that last year," he smiles. "When you have a good team and were playing for a good coach, good things seem to happen. Jackie McLeod was a great coach. I had a lot of confidence coming from my second year and was on a good line, playing with Blair Chapman on my right wing and Neil Hawryliw or Bruce Hamilton on my left wing, so things just seemed to click. No matter what I seemed to do, everything seemed to fall into place. I was scoring, I was setting things up and we were winning games. The only disappointing thing was that we lost in the seventh game of the final against New West(minster) and we did that two years in a row."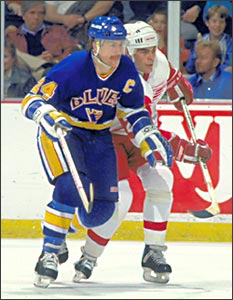 Adam Oates of the Detroit Red Wings closely checks the St. Louis Blues Captain Bernie Federko. The two would swap sweaters at the end of the 1988-89 season as Federko's legendary career as a member of the Blues came to an end. (Paul Bereswill/HHOF)

The Blades had an awesome team. Blair Chapman, Fred Williams and Bernie Federko were all first round draft picks in 1976, chosen by the Pittsburgh Penguins, Detroit Red Wings and St. Louis Blues respectively. Rookie Brent Ashton went on to a long, productive career. Neil Hawryliw had a cup of coffee with the Islanders. Randy Ireland hit the NHL playing goal for Buffalo and Dave Parro did likewise with Washington.

Chosen seventh overall by the St. Louis Blues, Bernie Federko went to training camp that fall with aspirations of jumping straight to the National Hockey League. But things don't always go as planned. "The toughest transition is going from playing with guys your age to playing against men, not only much older but more skilled," shrugs Federko. "But I was fortunate to be drafted by Emile Francis, who really tried to nurture us. I was teaching at a hockey school in August (1976) and I broke my foot playing basketball. I was in a cast for six weeks before I put a skate on for the first day of training camp, so I was nursing a sore foot and didn't make a great impression. I went through training camp and played a couple of exhibition games but with the injury I had, there really wasn't a spot in St. Louis for me, so the best thing that could ever have happened to me was I ended up going down to Kansas City and playing for Barclay Plager, who was the playing-coach down there. Brian Sutter and I went down there and we really got the hang of playing against men. We played about 40 games down there and Barclay gave us the opportunity to play a regular shift, play the powerplay and kill penalties and it really got our feet wet before we went to the NHL. We got called up together in February of that season, and Emile Francis, who was coaching St. Louis, knew that we were ready to play, so when we got our chance, we could show what we had when we got to play in the NHL."

Even though he only played 42 games with the Kansas City Blues that year, Federko scored 30 goals and added 39 assists, allowing him to finish in the CHL's top ten in both goals and points, and earned him the CHL's rookie of the year honour. The Kansas City Blues finished first in the league in 1976-77. But in 31 NHL games that same season, Bernie also fired 14 goals and had 9 assists with the St. Louis Blues.

It was a relatively smooth transition from the minors to the NHL for Federko, abetted by the assistance of several NHL veterans. "Both Bobby and Barclay Plager were so great. Derek Sanderson was there and spent some time with us working on faceoffs. Garry Unger was there. Claude Larose. Eddie Johnston was our goalie. These guys were such solid guys. They took us young guys under their wings so quickly. They made us go with them — there was no choice." The teams was comprised of an astonishing number of former Rangers, although considering Emile Francis' background with that New York franchise, maybe it's not so surprising after all. Besides Bob Plager and Red Berenson, who had earlier played with the Rangers under Emile Francis, the St. Louis Blues were comprised of Jerry Butler, Bill Fairbairn, Ted Irvine, Bob MacMillan, Gilles Marotte, Derek Sanderson and Rod Seiling, all who had played with the New York Rangers the previous season. "They were all such great guys. These were the guys that helped us so much."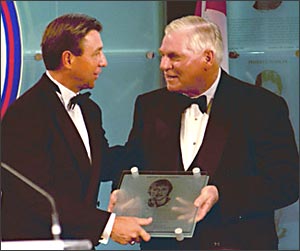 Bernie Federko (left) proudly accepts his Honoured Member Plaque from Chairman and CEO of the Hockey Hall of Fame Bill Hay (right) upon his Induction into the Hockey Hall of Fame in 2002. (Dave Sandford/HHOF)





Through thirteen seasons, Bernie led the Blues' offense. He led the team in scoring nine times, including eight straight seasons from 1978-79 until 1985-86. During that period of time, Federko finished among the top ten NHL scorers five times (1978-79, 1979-80, 1980-81, 1983-84 and 1984-85). In ten straight seasons, Bernie collected at least 50 assists. Through seven seasons in St. Louis, he scored 30 or more goals. On three occasions, he bettered the 100-point plateau. "St. Louis was such a great experience for me," admits Bernie. "I was given the opportunity by Emile Francis to be the nucleus of the Blues. I just always felt it was my job to be consistent and that they were relying on me to make sure we were going to compete all of the time. Emile Francis so wanted to win and we came so close in 1980-81. We had a great season and had we been able to keep that team together, we would have challenged for the Cup in the next year or two, but unfortunately, with injuries and everything else we couldn't get to that next level." That season, St. Louis won the Smythe Division and finished second overall in the league, just behind the eventual Stanley Cup winners, the New York Islanders, but were eliminated in the quarter-final. In 1985-86, the Blues went to the conference final, before being edged by the Calgary Flames in Game 7.

But not all of the lessons were learned by the Blues on the ice. "One thing that Barclay and Bobby Plager taught us was that that blue note we wore was sacred," says Bernie. "That sweater never hit the floor. If anybody threw their sweater on the floor, there was a price to pay. We carried that on. You took pride in what you did to wear the blue note."

Then, after thirteen seasons as a leader in St. Louis, coming so close to contending for a Stanley Cup championship on a handful of occasions, Federko was traded with Tony McKegney to Detroit in June 1989, with St. Louis receiving Adam Oates and Paul MacLean in return. "Going to Detroit was a little different for me," admits Bernie, with a healthy dollop of understatement. "After all those years in St. Louis being the go-to guy, it was a whole new experience for me. I was shocked to go to another team. It was a life-changing event. I went from being in an offensive role in St. Louis to playing on the third or fourth line in Detroit. It was a difficult transition, even though Jacques Demers, who was coaching Detroit, had coached me for three years in St. Louis. Unfortunately, things changed when I got there. I wasn't playing too much and it was difficult not to be able to play the way I wanted to play. But as you get older, you have to take on a different role. It's just the way the game goes. It was a difficult year and the fact we didn't make the playoffs was a real downer."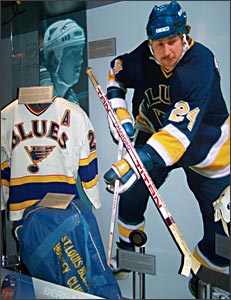 A Bernie Federko display is featured in the NHL Legends Exhibit at the Hockey Hall of Fame in Toronto, Ontario. (HHOF Archives)

Bernie Federko retired after the 1989-90 season with the Red Wings. Through his fourteen-season NHL career, he scored 369 goals and added 761 assists for 1,130 points in 1,000 regular season contests. His better than a point a game pace extended to the playoffs, too, where he earned 101 points (35 goals and 66 assists) in 91 post-season tilts. The outstanding career earned Bernie election to the Hockey Hall of Fame in 2002. "As a kid growing up, the one thing that you do is dream about playing in the National Hockey League. The second dream you have is to win a Stanley Cup. But you don't even dare to dream about being in the Hall of Fame. It just happens or it doesn't happen. You do your job and help all those around you be the best that they can be. When I got that call telling me I'd be in the Hall of Fame, it was the most humbling, exhilarating moment of my life. For my family as well. There are so many who have played the game and yet so few that got to that pinnacle. You look around and see the company that you're in; it's pretty mindboggling. I've been on a high ever since that happened. The Hockey Hall of Fame is a very special place to be."

Today, Bernie still works in hockey, although now in the role of member of the media. He does colour commentary on St. Louis Blues' television broadcasts. "Everything I have in my life, I owe to hockey," Bernie proudly states. "To be able to stay in the game, even though it's on a different side, is great. I travel with the team and feel like I'm still part of the team. I see all the guys that I played with or played against in other buildings around the league and it's a great way to be involved in the game. But it also allows me to try to make new fans out of the game. In the media, I think it's our job to convert those who haven't been touched by the game of hockey. Even in St. Louis, people know who the Blues are and they not what hockey is, but they've never been to a game. It's our job to teach the game to new people in order to create new hockey fans."

A classic member of the St. Louis Blues (who honoured him by retiring his number 24 in 1991), Bernie Federko has left a mark of class and excellence on the game of hockey.

Kevin Shea is the Editor of Publications and Online Features at the Hockey Hall of Fame.