19 JANUARY 2007
Renowned as one of the NHL's premier power forwards during the 1970's and 1980's, Clark Gillies was at the foundation of the great New York Islanders' dynasty that won four consecutive Stanley Cup championships. But the Moose Jaw, Saskatchewan native started his career quite inauspiciously. "I started skating around the rink at four or five years old," he recalls. "My first skates were probably my brother's. I got the hand-me-downs."

Clark learned to skate without the use of a hockey stick to help his balance on the ice. "My Dad told me, 'When you come back and you tell me that you didn't fall down, I'll give you a stick.' That took a couple of years before I could honestly come back and say I didn't fall down once while I was up there."

By the age of six, Gillies began playing hockey on the outdoor rinks in his hometown. "We never skated indoors at all when we were kids," Clark concedes. "There was a corner rink about two blocks away and we spent all day playing up there with a tennis ball. I didn't play organized hockey until I was about seven years old when I started playing peewee."

It didn't take long for Clark to begin to excel at his newfound passion. "I was always one of the bigger kids, and like most teams, they put the bigger guys on defense, so I played defense right through midget hockey," he explains. "When I was eleven, I went and played with my brother, who was fifteen. I played forward on their Junior B team. I was playing with a bunch of fifteen-year-olds at that age. They had lots of big guys on defense so they put me on forward and basically, that's where I stayed after I played there."

The game brought great enjoyment to Gillies, and his prodigious talent gave him plenty of opportunities to play the game he loved so much. "I was just having a ball playing. When I was thirteen or fourteen years old, I was playing on four or five teams all at the same time. I was playing on my midget team, I was playing on the local Junior B team, I was playing on the local junior team and I was playing on the local rec league team. I was on the ice every day, sometimes a practice and a game every day. This was seven days a week during the winter time." Gillies was certainly one of the better players on each of the teams on which he played. "I was just having fun and I really didn't have any aspirations to go anywhere. I had this small town attitude — 'I'm perfectly happy here in Moose Jaw playing and having fun with my guys.'"

But circumstances intervened, and when Clark was sixteen, Moose Jaw's junior team folded. "Earl Ingarfield (a former NHL star) was the junior coach in Regina," recalls Clark. "He came down and said, 'I'd like you to come play for the Pats.' Growing up, kids in Moose Jaw didn't associate with kids from Regina. There was such a rivalry. I said, 'How can I leave Moose Jaw to go play for the Pats?' He said, 'Why don't you come down and take a look and if you like what you see, give it a try and play an exhibition game or two and let us know what you want to do.'" Clark and his father traveled to Regina to get the lay of the land, but Clark was concerned that he wouldn't be able to compete at that level. "I went down and watched a game and I told my Dad, 'There's no way. I can't play with these guys!' I played the next game, ended up getting in three fights in my first shift on the ice. I got in a fight with one guy and these two other guys decided they wanted to fight me so I fought both of them. I got thrown out of the game. My jersey was torn off. I was sitting in the locker room and my Dad came in and said, 'Whaddya think?' I said, 'I think I'm going to have fun playing here!'".

In 1971-72, Clark joined a very young Regina Pats squad. "We had thirteen rookies on that team," he recalls. "We went to the Western final against Edmonton and lost to them. They had Tommy Bladon and Phil Russell on defense, We almost went to the Memorial Cup that first year! I was playing with the likes of guys like Dennis Sobchuk (56) goals) and Mike Wanchuk (44 goals) who was a great scorer. Greg Joly was our best defenseman at that time and he was just a rookie." Gillies had quite a rookie season, too. He scored 31 goals and added 48 assists for 79 points, to go along with a team-high 199 penalty minutes.

"We got a little spoiled after we went to the finals in that first year," continues Clark. "We played Flin Flon in the first round of the second year (1972-73) and we got beat. I think we were looking a little too far ahead but it was a great learning experience for us." That sophomore season, Gillies collected 40 goals and 52 assists. Once again, he led the Pats in penalty minutes with 192.

In his third and final season of junior, Gillies scored 46 goals and 66 assists for 112 points and was named to the Western Junior Hockey League's First All-Star Team. With essentially the same team for a third season, the Pats were a strong team. "We steamrolled through the West and won the Memorial Cup fairly easily," states Gillies. "In that last year, our team was head and shoulders above everyone else. It wasn't even funny."

Although his goal scoring was outstanding, Clark remembers his junior play for another reason. "I had quite a few fights in the NHL but in junior, I used to fight all of the time," he chuckles. "It was almost the same situation as when I was in the NHL and played with Mike Bossy and Bryan Trottier. On the Pats, I had to protect my linemates all of the time so every game, I was sticking up for them in one way, shape or form and ended up fighting with somebody." But it was during his three years in Regina that Clark realized there was life after junior hockey. "Earl Ingarfield was the guy that made me realize that I had enough talent to make a living at this game. He took me aside one day and he said, 'I don't know if you realize it or not but you have what it takes with your size and ability to play in the National Hockey League.' I said, 'Really, you think so?' He said, 'I know so! What you have to do is apply yourself and start believing in yourself.' That was the kick in the behind I needed to start taking the game a little more seriously."

With great talent and new dedication, Clark Gillies was chosen by the New York Islanders with the fourth overall pick in the 1974 Entry Draft. "I wore number 9 in junior," Clark says. "When I went to the Islanders, Brian Spencer wore 9 and he was no longer with the team so they asked me what number I wanted. I asked, 'Is 9 available?' And it was."

The team, in only its third season, was laden with veterans like Ed Westfall, Bert Marshall and Jean-Paul Parise. But even though Gillies had spent his entire life in Saskatchewan, the transition to Long Island wasn't particularly unsettling. "I was really comfortable on the Islanders for a lot of reasons. The biggest reason was because I knew so many guys on the team like Bobby Nystrom, Garry Howatt, Dave Lewis, Bobby Bourne and Lorne Henning. They were all guys I played junior against out west and I knew how they played in junior so I thought, 'This is a pretty good group of guys!' You talk about fiery spirits — Nystrom and Howatt. Lorne Henning was one of the top centremen in the Western Hockey League and Dave Lewis was one of the top defensemen. Bobby Bourne was a perennial all-star in junior hockey out west. Never mind that we had Denis Potvin and Billy Harris and guys like that. The first year, we went right to the semi-finals and almost pulled it off against Philadelphia to go to the finals." Gillies had a terrific rookie season, scoring 25 goals and assisting on 22 others. "I've got to give all the credit in the world to Al Arbour," Gillies emphatically states. "He was a hard-nosed son of a (gun) but he really knew how to keep us in line. He knew when to push what buttons to really get you going. He was pretty patient with me as a rookie. I made a lot of mistakes but I kept learning and learning and did my share from a rough and tough standpoint and ended up with 47 points. It was a real learning experience that first year. I wasn't as confident in my ability as I probably should have been. The playoffs certainly helped and gave everybody on our team a lot of confidence."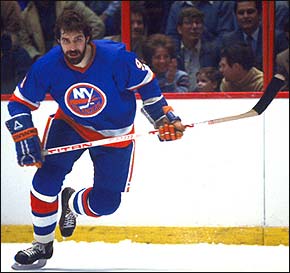 The following season, the Islanders got even better and Gillies increased his point production to include 34 goals and 27 assists for 61 points. "Bryan Trottier came in and then in 1977-78, Mike Bossy came in. The three of us hooked up and the rest is history. We enjoyed tremendous success together." Bossy enjoyed nine straight seasons with 50 or more goals, while Trottier had six seasons with better than 100 points. In twelve seasons with the Islanders, Clark Gillies had eight seasons with 20+ goals, including a career-best 38 in 1981-82. In 1978 and 1979, Gillies was selected for the NHL's First All-Star Team. "In twelve years, we never missed the playoffs and we always went deep into the playoffs," Clark proudly says. "I had some disappointments in '78 and '79 when we lost to Toronto and the Rangers, but we finally got all our ducks in a row and won four straight Cups."

The process took time, but the Islanders learned their lessons well before forming one of the great dynasties in NHL history. "We got a lot of criticism about the loss to Toronto (in 1978). Everybody said we didn't play physical enough and that they ran us out of the building. I don't know about that, but there is some truth to the fact that we didn't do the physical things that we needed to do as well or as often as we should have. We lost when Lanny McDonald scored late in the game. When you finish first and you're supposed to beat that team and you lose at home, all those 'coulda, woulda, shouldas' wear on you."

Unfortunately for the Islanders, the next season added further disappointment. "The next year, thinking you learned your lesson, we finished first overall in the league and then we lost to the Rangers in the semi-finals," recalls Gillies. "I don't criticize that team for not playing hard in that series. I give all the credit in the world to (Rangers' netminder) John Davidson. He just stood on his head and stopped everything we threw at him. But it was another bitter disappointment. We thought, 'How many bitter disappointments do we have to endure before we learn how to win this game?'"

The lessons sunk in, and in 1979-80, the boys from Long Island finally reached hockey nirvana. After being so close for so long, that season, the Islanders captured the Stanley Cup. And then, they collected another in 1980-81, another in 1981-82 and scored again in 1982-83. "We had a tremendous amount of talent," explains Clark. "We could do anything that we needed to do. If we had to play tough, we could play tough. If we had to play good solid hockey, we certainly had the ability to do that. Our team was built from the goaltender out. Billy Smith was fantastic for that four-year stretch. Our defense was second to none and we had some of the best forwards that anyone could ever dream of putting together."

The Islanders almost achieved their 'Drive for Five.' They won the first three rounds of their playoff series in 1983-84, but faced a hungry and healthy young Edmonton Oilers squad that was waiting their turn for the Stanley Cup. The battered Islanders gave it a valiant try, but the Oilers took the final in five games. The dynasty ended and Islanders' general manager Bill Torrey went back to the drawing board to re-create his team.

Clark's production slipped drastically in 1984-85. His 12 goals were the lowest output since he entered the league, and his 28 points were the lowest in his career to that point. "When we got beat by Edmonton for that fifth Cup, it really took a lot of the heart and soul out of me," admits Gillies. "It took me a while to even want to play the game again. The next year, I played okay but nothing special. Then, they wanted to re-build and change things on the Island. They put myself, Bobby Bourne and a couple of other guys on waivers. I had actually had a conversation with Bill Torrey and Scotty Bowman about me going to Buffalo because I didn't want to go far from Long Island. My family wasn't going to be going with me." On October 6, 1986, the Sabres picked up the big winger on waivers. "I enjoyed it there, I really did. Buffalo's a great little town to play hockey in. Good fans. Our team was in a rebuilding stage and we had a lot of young guys — Dave Andreychuk, John Tucker, Mike Ramsey, Lindy Ruff. We worked pretty hard but didn't get much accomplished."

1987-88 turned out to be Clark's final NHL season. "It didn't end quite the way I would have liked it to," he shrugs. "The first year in Buffalo was a little tough, being away from my family plus being with a new team. I got to be very good friends with Mike Ramsey and Lindy Ruff, but I had to re-acclimatize myself".

"Scotty (Bowman) got fired and we were going through coach after coach. I came in that season, my fourteenth, in probably the best shape I had ever been in. After a good start, I was feeling like a kid again. We were playing in Edmonton (on November 7, 1987) and I got a big high pass sent to me out of our end and I wasn't looking and Craig Muni came and hit me. I hyper-extended my knee, tore my ligaments and missed about three months. When I came back, I didn't play very well with that stupid brace I had to wear." Although Clark returned to the team late in the season, coach Ted Sator had different ideas on how to deploy Gillies. In the final game of the season, and what would have been Gillies' last game in the NHL, Sator benched the former star. "We lost 6-2 and were eliminated. The next day, we came down to the rink to clean out our lockers. I avoided seeing Sator because I swear I would have hit him if I saw him. I've never seen him or talked to him since."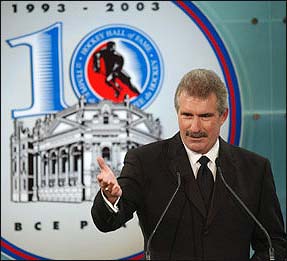 It was a bitter end to a glorious career. Through 958 regular season NHL games, Clark Gillies scored 319 goals and 378 assists for 697 points. For several seasons, there was no better winger (or more feared). In 1979, Clark was selected to participate in the Challenge Cup. "Playing the Russians with the best of the best — Guy Lafleur, Gilbert Perreault, Larry Robinson, Kenny Dryden — just to be picked to play with the elite in the league was a real honour. And then to win the MVP of the Challenge Cup was pretty interesting." In 1981, Clark was chosen to play in the Canada Cup tournament and collected 7 points in 7 games.

Following an outstanding career, Clark Gillies was elected to the Hockey Hall of Fame in 2002. "When people would say, 'You've got a shot at getting in the Hall of Fame,' I would go, 'Uh, I don't know.' I never paid much attention to it. And then, I got in. The day that I found out that I got inducted into the Hall, I was on my way back to Saskatchewan for my Mom's 80th birthday. I was in Toronto, flying back with my wife and three daughters. It was my anniversary. I was in the Toronto airport and my wife and kids went to the bathroom. We were waiting to catch the plane to Regina. I called my secretary to see if there were any messages. She said, 'You have to call Toronto right away.' I said, 'Why?' She said, 'I can't tell you. Just call them, then call me back.' I called the number. (Selection Committee chairman) Jim Gregory got on the phone. He said, 'Clark, you've been inducted into the Class of 2002!' I said, 'You got to be kidding me!' Well, I started crying. I'm bawling my eyes out. All the people looked at me thinking that I got some really bad news. My wife came back and saw me and said, 'Oh my God, Clark! Is it your Mom?' 'Nope, a little happier than that,' I said. 'These are happy tears. I just got inducted in the Hall of Fame.' She was crying, everybody was crying. We let everybody know. I wasn't going to tell my Mom. I was going to surprise her but by the time I got to Regina, it was all over the news. That was such a great moment. And then the weekend was just incredible. I had about fifty or sixty friends from Moose Jaw come in plus friends from New York. We partied all weekend long. It was just a great celebration. My friends still today say, 'I don't think we've ever had as much fun or have been as proud of you as we were that day!'"

Kevin Shea is the Hockey Hall of Fame's Editor of Publications and On-Line Features.