11 MAY 2007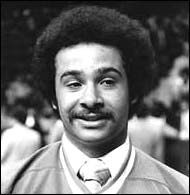 The Edmonton Oiler's first round draft pick in the 1981 NHL Entry Draft: Grant Fuhr.

Legendary netminder Grant Fuhr was born September 28, 1962 in Spruce Grove, Alberta, a city just minutes west of Edmonton. "I loved growing up in Spruce Grove," smiles Fuhr. "Nice, small town."

Considering its population of 18,000, Spruce Grove has been the home to a surprising number of NHL players, including Wayne Babych, Stu Barnes, Tony Currie, Nathan Dempsey, Mark Messier, Jordin Tootoo and, of course, Grant Fuhr. "I think it's the program," admits Grant. "We had good hockey programs, so as a kid, we were fortunate enough to get icetime three or four days a week. It's a community where a lot of the volunteers who do coach are good coaches. I think we're pretty lucky in that sense. It's a great spot to get started."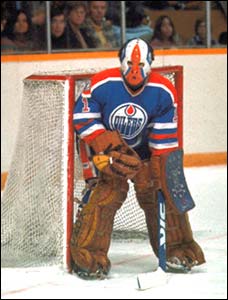 A young Grant Fuhr tending goal for the Edmonton Oilers.

From the time he was five, Grant was playing hockey. "I started playing Mite, which was five-six," he recalls. "I started Day One as a goalie. There was something about the equipment I liked and something about the challenge. It's just something I took naturally to."

Like most youngsters, Fuhr had his hockey heroes, too. "I liked all goalies. Glen Hall was a big favourite of mine, Tony Esposito, Johnny Bower. I loved watching the goalies. The equipment was cool, the masks were cool." But as much as he had big dreams about one day emulating his idols, that wasn't why he played the game. "I just played because I loved playing the game," he shrugs. "Every kid in Canada dreams of playing in the National Hockey League, but at that time, you're just playing for the fun of playing."

In 1979, Grant began his junior career with the Victoria Cougars of the Western Hockey League. "I got pretty lucky going to Victoria," Fuhr recalls. "I think the big thing about Victoria is that it had a big league atmosphere because at that time, it was the only game in town, so you got to see what the pro game would be like. I got the chance to live with a couple of families there who were great and my parents were very supportive. I never really got homesick because they'd find a way to come out and visit. It was close enough that people could come visit."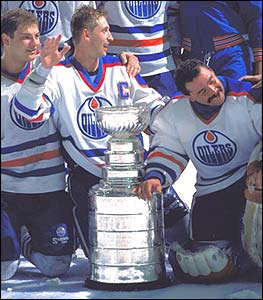 Grant Fuhr and Captain Wayne Gretzky prepare for their traditional on-ice team photo immediately following their Stanley Cup win.

In his first season, Fuhr won 30 games and lost just 12 in 45 games played on a team that boasted other future NHLers Greg Adams, Bob McGill, Barry Pederson and Torrie Robertson. Grant was selected for the WHL's First All-Star Team. In his second season, Grant took the Cougars to the Memorial Cup, earning a second First All-Star Team honour while leading the league in goals against average and shutouts.

That spring, Grant Fuhr was selected in the first round, eighth overall by the Edmonton Oilers in the NHL Entry Draft. "It was a great honour as a kid to get drafted to the National Hockey League but for me, it was kind of a bonus. I got drafted to my hometown. Just the fact you grew up watching the Oilers in the WHA and then to get the chance to actually try to make that team in the National Hockey League is such a huge thrill."

In 1981-82 when he made his NHL debut, little did Grant, or anyone else for that matter, realize that the Oilers were on the verge of emerging as an NHL dynasty. "We were pretty lucky," laughs Grant. "Glen Sather and Peter Pocklington did a great job of bringing a bunch of young guys together. I don't think we realized how good we were going to be at that time. We were all around the same age. They brought in veterans like Lee Fogolin that really helped the young guys mature into good pros."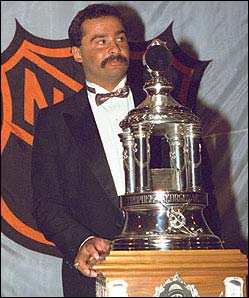 Fuhr earned his sole Vezina Trophy following an outstanding 1987-88 campaign. That season, Fuhr accumulated a league-leading 4,304 minutes played and 40 wins.

In his first NHL season, Fuhr was selected to the Second All-Star Team and was runner-up to Billy Smith for the Vezina Trophy after compiling a 28-5-14 win/loss/tie record. Two years later, in 1983-84, the Oilers captured the first Stanley Cup in franchise history. "There is no greater feeling for a hockey player than winning a Cup," says Grant, shaking his head. "It was a great thrill, but I think it was a bigger thrill to repeat the next year. It's hard to win the first time but it's probably harder to win the second time." The Oilers rolled over their NHL competition. Not only did they win back-to-back Stanley Cup championships in 1984 and '85, but they won the Cup again in 1987 and 1988. Then, to prove that they were not simply Wayne Gretzky's team, Grant and the Oilers won the Stanley Cup again in 1990, with their colleague Wayne now playing in Los Angeles. During that string, Grant was the NHL's First All-Star Team netminder in 1988, winning the Vezina Trophy that same season and finishing second to teammate Wayne Gretzky in the Hart Trophy voting for the league's most valuable player. That same season, he led the NHL in games played (75), minutes played (4,304), wins (40) and shutouts (4). In extracurricular activities, Fuhr played in the Canada Cup tournaments of 1984 and 1987, and was part of Team Canada at Rendezvous 87.

But, all good things must eventually come to an end. Skyrocketing payroll forced the Oilers to begin to slowly dismantle their dynasty. Wayne Gretzky was gone; Jari Kurri had moved on; Paul Coffey was no longer in Edmonton. On September 19, 1991, it was Grant's turn. He was part of a blockbuster deal that saw Glenn Anderson and Craig Berube join Fuhr in Toronto, with Vincent Damphousse, Peter Ing, Luke Richardson and Scott Thornton moving to the Alberta capital. "I was lucky to start and play in Edmonton, but if I had to be moved, to go to Toronto was a really big thrill," Grant states. "As a kid, watching 'Hockey Night in Canada,' you either got Toronto games or Montreal games, so to actually become a Leaf made the transition of having to leave Edmonton a little bit easier. Obviously it's a thrill for any kid to be a Leaf. Good teams, bad teams, whatever — just being a Leaf was a great thrill."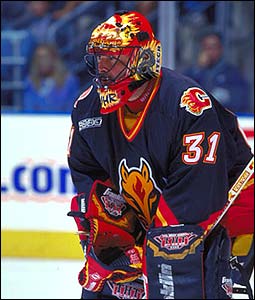 After stops in Edmonton, Toronto, Buffalo, Los Angeles and St. Louis, Fuhr's career ended with Edmonton's rival, the Calgary Flames.

On February 2, 1993 during Grant's second season in Toronto, he was traded to the Buffalo Sabres along with a draft pick for Dave Andreychuk, Darren Puppa and a draft choice that became Kenny Jonsson. In 1994, Grant shared the Jennings Trophy for best goals against average with a young Dominik Hasek. Two years later, he was shuffled off from Buffalo to Los Angeles, joined by Philippe Boucher and Denis Tsygurov, for old pal Charlie Huddy as well as Robb Stauber, Alexei Zhitnik and a draft choice. But after completing the season as a King, Fuhr was signed as a free agent by the St. Louis Blues just prior to the 1995-96 season. Given a new lease on life, the veteran astounded the hockey world with his durability. In 1995-96, Grant broke Ed Johnston's 32-year-old single-season record by playing in 76 consecutive games, finishing with 79 appearances. He led the Blues into the playoffs, but tore knee ligaments in a crease collision that prematurely ended the Blues' Stanley Cup dreams that spring.

After four very solid although injury-plagued seasons in St. Louis, Grant was again moved, this time in a September 4, 1999 trade with Calgary. Fuhr completed his NHL career in 1999-2000 as a member of the Flames, where he was reunited with an old friend who served as Calgary's goalie coach. "I was pretty lucky. Glen Hall is from Stony Plain, which is about three miles from Spruce Grove, and I got the opportunity to meet him when I was a kid. Meeting him rubbed off on me a little bit. It confirmed that that was what I wanted to do. I obviously wanted to be a goalie in the National Hockey League and having the chance to meet him had a big influence on me. Getting to know him a little bit, being able to talk to him, helped." During that final season, Grant collected his 400th career victory, placing him in a stratified club inhabited by just five other goalies — Tony Esposito, Glenn Hall, Jacques Plante, Patrick Roy and Terry Sawchuk.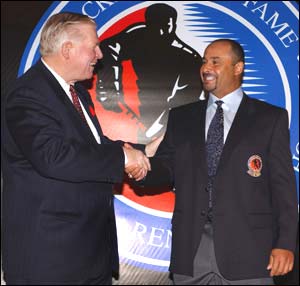 Grant Fuhr (right) was Inducted into the Hockey Hall of Fame in 2003. Fuhr is welcomed to the Hall and presented with his Honoured Member blazer from Chairman and CEO of the Hockey Hall of Fame, Bill Hay (left).

Grant retired on September 6, 2000. Through his nineteen-season NHL career, he played 868 games, winning 403, losing 295 and tying 114. He earned 25 shutouts and concluded his career with a 3.38 goals against average. In post-season play, Fuhr participated in 150 games, winning 92 (including 6 by shutout) and losing 50. His playoff goals against average sparkles at 2.92. "To continue to have a career for as long as I did, I was lucky to play in great cities. It really made it easy," smiles Grant. "Some guys get stuck in cities they don't like but I liked every city I was in, so it was good that way."

In 1997, The Hockey News rated Fuhr the 70th greatest player in NHL history. On October 9, 2003, the Edmonton Oilers retired Grant's number 31. And, in his first year of eligibility, Grant Fuhr was elected to the Hockey Hall of Fame in 2003. "(The Induction Weekend) was so much fun but it goes by so fast. So many things are going on and it goes by in a blur."

Acknowledged by many, including Wayne Gretzky, as the finest goaltender they ever witnessed, former junior teammate Barry Pederson encapsulated the exceptional talents of Grant Fuhr in Sports Illustrated. "Bar none, Grant Fuhr is the best goalie in the league. He has the fastest reflexes. Sometimes his concentration might drift during inconsequential games, but in the big money games, Fuhr is the best. He's the Cup goalie. It's sure not by luck."

Kevin Shea is the Hockey Hall of Fame's Editor of Publications and On-Line Features.