7 DECEMBER 2006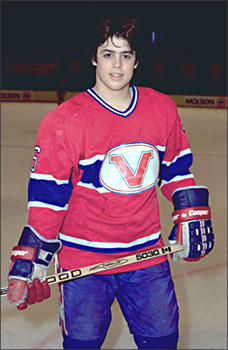 As a seventeen year old, Pat LaFontaine left home for the first time to compete with the Verdun Junior Canadiens in 1982-83. That season Pat ran away with the scoring championship recoding 104 goals, 20 better than second place Mario Lemieux.

The path to the Hockey Hall of Fame began humbly on an outdoor rink in Kirkwood, Missouri for Pat LaFontaine. "My Dad and Mom put me on runner skates with those double blades when I was three or four years old," laughs the classy Honoured Member. "They put me out on the ice and everybody made it look so easy, but I kept falling down. Finally, really frustrated because it looked so easy, I had tears in my eyes and I ended up taking off the skates. It wasn't until about a year later that we went back to the same rink and my Dad took me in his hand and helped me glide. We used to do the windmill — he would fling me in a direction where there was a lot of room on the ice and I glided and thought, 'This is really cool and I really want to learn to skate.' It was from that moment on that I found a passion for wanting to learn how to skate."

Skating, which became the benchmark of LaFontaine's career, was just the beginning. "My Dad was really such a huge influence," recalls Pat. "He came from Tecumseh, Ontario, near Windsor, and he and his six other brothers were raised there. He loved the game of hockey and was transferred to St. Louis by Chrysler. He put the love of hockey in us and we took it from there. My mother was also heavily involved in all our minor hockey days. My brother played hockey and my sister was a figure skater."

The St. Louis area is home to baseball's Cardinals and the Rams of the National Football League. But hockey, although not the dominant sport in the area, has long been played professionally in the market. The St. Louis Eagles, relocated from Ottawa, played in the NHL in 1934-35, but folded after finishing last that season. St. Louis would not house a National Hockey League franchise until the Blues made their debut in 1967-68. "I remember the St. Louis Blues having Garry Unger and the Plager brothers," LaFontaine says, thinking back to his childhood. "Ironically, the first game I ever attended was when I was six years of age and Al Arbour was the head coach. I reminded him of that when I just turned nineteen and he was my head coach with the New York Islanders!"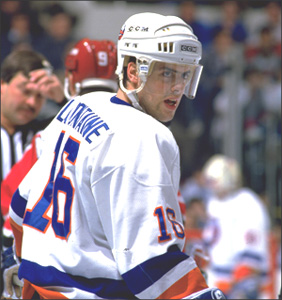 Pat LaFontaine was selected the third overall by the New York Islanders at the 1983 NHL Entry Draft. In only his second game as an Islander, LaFontaine would tally three goals and two assists in an 11-6 win over the Toronto Maple Leafs.

The LaFontaine family moved to a hockey hotbed, and there, Pat was able to commence his burgeoning hockey career. "My Dad was transferred to Michigan. About a mile away from our home in Williams Lake, a new rink was being built called the Lakeland Ice Arena in Waterford, Michigan. We lived on the lake and I was very fortunate that we skated on the lake for hours on end on weekends and after school and then I started playing minor league hockey at the age of seven at Lakeland Arena. Two weeks into house league hockey, I joined my brother's team. He was a year older and my Dad was coaching, so for the rest of my minor league hockey, I always played with kids who were a year or two older. That really pushed me and I loved that challenge and the competition."

Although Pat was excelling at hockey, his early dreams didn't include thought of skating in the NHL. "Growing up in Michigan, there weren't a whole lot of players who went on to play pro hockey. A lot of players got college scholarships. For a young American player, that was something to aspire to. It wasn't until the 1980 Olympic gold medal-winning team that it really opened the eyes of a lot of young girls and boys in the United States that they could possibly play on the Olympic team, and for that matter, some of those players went on and played professionally in the NHL. And then Bobby Carpenter went on and opened the doors of possibility even further. So I thought, 'Maybe there's an opportunity to play on the Olympic team and just maybe a chance to go pro.' It wasn't until I was fifteen or sixteen that I even thought about that."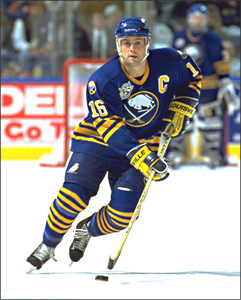 As a member of the 1992-93 Buffalo Sabres, LaFontaine would earn a career-best 148 points, second only to Mario Lemieux of the
Pittsburgh Penguins.

At sixteen, LaFontaine tore up the league, scoring 175 goals and collecting 324 points while playing with a Detroit Compuware team. The family discussed what was best to advance Pat's career at that time, and decided playing junior hockey in Canada would be the best possible route for a player with Pat's skill set. Leaving home for the first time at seventeen, LaFontaine spent the 1982-83 season with the Verdun Juniors. "I remember looking in the rear view mirror with a tear in my eye," he says. "I was driving to Montreal with Adam Glickman, who was from Chicago. I thought, 'What am I getting into?' My Mom and Dad were waving goodbye and I'm hoping that everything will go well. I remember telling my parents that I was going to give three good years to what I thought was the best hockey at the time, which was junior in Canada, and if I didn't make it, I promised them I would continue my college education."

The culture shock of leaving home and arriving in a different country, with a community that was largely French-speaking, could have been overwhelming. Instead, the situation was eased substantially in a number of ways. "I have a lot of French-Canadian ancestry, so this was special to me. My Mom's Mom, Marie Laporte, was born and raised in Rosemont, part of Montreal," relates Pat, who named two Quebecois players as his childhood idols. "Growing up on the border of Canada and the United States in Waterford, we were able to pick up 'Hockey Night in Canada,' so my heroes when I was a kid were Guy Lafleur and Gilbert Perreault, and I was always looking in the newspaper to see if they had scored." But there was much more to it for the homesick teenager. "I remember the great family I boarded with, the Boyer family, Giselle and Yvonne, who I kept in touch with for many, many years. The community of Verdun and the province of Quebec really embraced me. I feel very fortunate."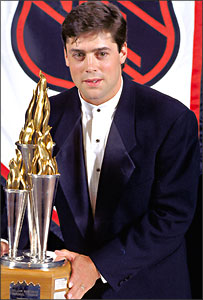 After returning from reconstructive knee surgery, LaFontiane completed the remainder of the season and half of the abbreviated lockout schedule in 1995. His determination to play again earned him the Bill Masterton Trophy at the end of the 1995 season.

LaFontaine played but one year of junior, but what a year it was! "Our coach, Pierre Cramer, put me together with Jean-Maurice Cool and we traded for Gerard Gallant. We gelled together." Did they ever! Gallant earned 75 points in 29 games with Verdun, Cool added 149 points in 70 games and Pat ran away with the scoring championship. His 104 goals were 20 better than second place Mario Lemieux. His 130 assists were 15 better than the next best playmaker. And Pat's 234 points were 46 better than the next highest scorer. LaFontaine was named to the Quebec Major Junior Hockey League's First All-Star Team, and was the Canadian Hockey League's Player of the Year. Pat led the Verdun Juniors to the Memorial Cup that year in Portland, Oregon, but the host team took the junior hockey championship in spite of LaFontaine's efforts.

That summer, the New York Islanders used their first pick, the third overall, to select Pat LaFontaine in the NHL Entry Draft. It was dramatic irony for the young star. "I was sixteen years of age and my father said, 'Come on into Michigan. It's time for spring cleaning.' When I was there, the New York lslanders were in overtime against Philadelphia in 1980. I'm watching the game and Bobby Nystrom gets a pass from John Tonelli and scores the game-winning goal to win their first Stanley Cup. I remember jumping up and down and thinking what a thrill it must have been for the Islanders. Never in my wildest dreams did I think that I would play in the Olympics in Sarajevo and then join the New York Islanders. And who would have thought that in my very first game, my rightwinger was Bobby Nystrom and my leftwingwer was John Tonelli! It was some thrill of mine!"

The astonishment carried into the nineteen-year-old's second NHL game, too. "I'll never forget it," says Pat, shaking his head with a smile. "It was in Toronto at Maple Leaf Gardens and my Dad drove up for the game. I happened to score my first NHL goal and that night, we won 11-6. I got a hattrick and two assists and Bobby Nystrom, John Tonelli and myself were the three stars of the game. Little did I know that I'd go from raking leaves on spring cleaning day and watching the Islanders win the Stanley Cup four years earlier, to playing with the two guys who made that play happen. I had to pinch myself! What a thrill."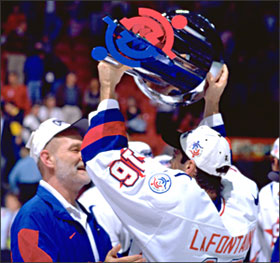 Pat LaFontaine represented his homeland a number of times including at the 1996 World Cup of Hockey where as a member of Team USA he won the tournament championship.

The rookie collected 13 goals and 19 points in 15 games as a rookie in 1983-84. In his first full season, Pat scored 19 goals and earned 54 points. But in 1985-86, he blossomed into the offensive threat that team knew he could be. His 30-goal season was the first of eight in a row in which Pat would score 30 or more times. In 1987-88, he led the Islanders in scoring with 92 points, the first of four times he'd lead his team. In 1989-90, LaFontaine broke the 100-point plateau and finished eight overall in NHL scoring. "I got to look at some champion players early in my career — Bryan Trottier, Mike Bossy, Clark Gillies, Denis Potvin, Billy Smith — all of those guys are Hall of Famers. And guys like Kenny Morrow, a great, true champion. I learned a lot and was able to spend some wonderful years on Long Island. I had some tremendous years there. I met my wife when I was there and our first daughter was born there."

Just prior to the 1991-92 season, Pat was traded to Buffalo along with Randy Hiller, Randy Wood and a draft pick for Benoit Hogue, Uwe Krupp, Dave McLlwain and Pierre Turgeon. "I stayed in New York State," laughs LaFontaine. "I had some of my best career years there. I got close with the Knox family and played on a tremendous line with Alexander Mogilny and Dave Andreychuk. Dale Hawerchuk was on the powerplay with Doug Bodger and Donald Audette. We had an amazing powerplay." Following a season in which he suffered a broken jaw, in 1992-93, Pat earned a career-best 148 points, second only to Mario Lemieux of the Penguins, and was named to the National Hockey League's Second All-Star Team. "I had six wonderful years there, and my two other children were born in Buffalo."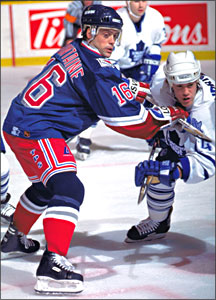 Following six seasons in Buffalo, LaFontaine was traded to the New York Rangers for a draft pick. LaFontaine would suffer a second serious head injury during only season as a Ranger before retiring from professional hockey on October 12, 1999.

Injuries had curtailed Pat's productivity. Coming off a 53-goal season in 1992-93, LaFontaine underwent knee surgery and played just sixteen games the next season and only twenty-two in 1994-95, winning the Masterton Trophy for perseverance and dedication that season. But he rebounded to form in 1995-96, scoring 40 goals and finishing with 91 points. Then, a concussion stole much of 1996-97 away from the high-scoring centre.

"In my last year, I was traded to the New York Rangers and got to play on Broadway and to see what it was like to be part of the New York Rangers' organization, which was first class." Joining the Rangers for a draft pick, Pat scored 23 goals and 39 assists for 62 points in 1997-98, and during the early part of 1998, was part of the United States' entry in the Olympic Winter Games. But on March 16, 1998, Pat suffered a second serious head injury in a contest with the Ottawa Senators. The effects of the concussion lingered, and on October 12, 1999, LaFontaine regretfully announced his retirement. He was just thirty-four years of age. "I was very fortunate in my career to play with three great organizations," states Pat. "I was traded twice and never changed my license plate and had the opportunity to raise our family locally and play in the great state of New York, which I still live in."

Through 865 regular season NHL contests, Pat LaFontaine scored 468 goals, added 545 assists and totaled 1,013 points. In 69 playoff games, he earned 62 points on 26 goals and 36 assists. In 2003, he was elected to the Hockey Hall of Fame. "I am truly thrilled to receive this tremendous honour," LaFontaine said upon receiving the news. "Growing up in St. Louis, I always played for the love of the game and never dreamed this could ever lead to my being a member of the Hockey Hall of Fame." He adds, "I was blessed to have the family I have and to be able to have the career I did, both professionally and internationally, playing in the National Hockey League and representing my country, I am thankful every day that I was able to live out a dream. But I also believe that everything you do is supposed to prepare you for what you do next."

Not surprisingly, what was next for LaFontaine was a post-hockey career that gave back to the community. "During my playing days, I met some very special kids who were going through some tough times at children's hospitals, and they really taught me the meaning of courage," he says. "I look at my playing career as somewhat of a stepping stone to what I'm doing now. The Companions in Courage Foundation builds high-tech, interactive game rooms within children's hospitals that give children a chance to escape what is happening with them and to give them an opportunity to just be a kid again. The rooms have video games and computers and video conferencing pods and allows them to be creative, creating music and art. It stems from meeting some courageous kids during my playing days. I wrote a book that started it off called 'Companions in Courage' that offered inspirational, athletic stories of your everyday heroes. We have a great team of 'Companions in Courage' guys who have jumped on board to help us with these rooms we put in various children's hospitals."

Pat LaFontaine quietly goes about his life with the same courage and class he exhibited on the ice. And although he was a leader through fifteen NHL seasons, LaFontaine is even more of a hero today away from the rink.

Kevin Shea is the Editor of Publications and Online Features at the Hockey Hall of Fame.