8 MAY 2006
"I was maybe eight or nine years old. It was a dream. I used to watch the guys on television and dream about it."

Raymond Jean Bourque, born December 28, 1960, seemed destined to be a star in the National Hockey League from his days playing minor hockey in his hometown of Montreal, Quebec.

Although he began his hockey days playing centre, when Ray was placed on defense, his skating prowess, puckhandling talent and shooting skills helped Bourque blossom. By the age of sixteen, he was playing Major Junior for the Sorel Eperviers. In 1977-78, with the Eperviers now in Verdun, Ray scored 22 goals and added 57 assists for 79 points, earning a spot on the Quebec Major Junior Hockey League's First All-Star Team. The next season, Bourque increased his production with 22 goals and 71 assists and for a second straight year, earned First Team All-Star status. That year, he was also the first selection of the Boston Bruins, eighth overall, in the 1979 NHL Entry Draft. "Our scouts had watched him since midget hockey," admitted Tom Johnson, at the time, the assistant general manager of the Boston Bruins, in a 1988 interview with the Toronto Star. "There was no question he was the guy we wanted, but we honestly didn't think we'd get him with the eighth pick."

Ray Bourque signed a lucrative contract with the Bruins, and was expected to make the gigantic leap from junior to the NHL. The first thing Ray did with his signing bonus was buy his father a Chevy Impala and pay off the family's bills. "Since my mother died and my sisters and brothers got married and left, there was only me and my brother," related Ray. "He (Dad) was just great. Practice was at six o'clock in the morning and he'd be the first one waking us up and bringing us over to the rink. I knew he was sacrificing. That's why I got him a gift because I knew all those things and I really wanted to show him I appreciated all he's done." The second thing Bourque did was buy himself a Camaro.

After a strong training camp with the Bruins in 1979, Ray moved into the Sonesta Hotel with another rookie teammate, fellow defenseman Brad McCrimmon. Bourque ran up monstrous phone bills trying to avoid the loneliness by calling back to his family in Montreal.

"I will always remember my first game in the Boston Garden in 1979," recalled Bourque. "That first game against the Winnipeg Jets, October 11, was something I will always remember."

Ray made it very difficult for anyone to forget him. Just 18 years of age, Bourque was both steady and strong on the Bruins' blueline and by season end, had contributed 17 goals and 48 assists for 65 points. His poise and productivity earned him the Calder Trophy as the NHL's top rookie, besting Mike Foligno of the Detroit Red Wings. But astonishingly, although well-deserved, Bourque was also selected to the NHL's First All-Star Team. "I was one of two rookies that year that broke in with a very veteran team, so I wasn't asked to go out and carry the load right off the bat. I was just expected to go out there and do my job and play my game — nothing more. That was a good situation to be in. "

Many of the veterans helped the young man infiltrate NHL life seamlessly, including his roommate on the road, Mike Milbury. "I watch a couple of soap operas, except on the road when I room with Mike Milbury," Bourque laughed in a 1979 interview. "He won't let me watch them."

Bourque was poised to deliver another solid season as a sophomore when he suffered his first major NHL setback — he broke his jaw in a November 1980 fight with tough Dennis Polonich of the Red Wings. Although he missed 13 games that season, Ray scored 27 goals and delivered 56 points, and was selected to the Second All-Star Team. "He was good at 18, but now he's developed into a complete defenseman. He can play a physical game or a finesse game," stated Tom Johnson.

Bourque continued to impress. He represented Canada in the 1981 Canada Cup tournament, then went on to tally 66 points in 1981-82, although a broken wrist late in the season posed another challenge. Nevertheless, he was again selected to the NHL's First All-Star Team.

1983-84 was a pivotal year for Bourque, as he cracked the 30-goal mark for the first and only time in his career, finishing with 31. His 96 points were also a career-high. For the fifth season in a row, he was an All-Star selection, making the First Team that year. Would the bright lights of big-league hockey, combined with the accolades, affect Ray's play? "I don't get excited about making a lot of money or anything," he replied in an interview. "It's a great living. I'm a pretty simple guy."

Ray's play earned him a spot on the roster of the 1984 Canada Cup squad for Canada, and Bourque contributed to the championship won by the team. That NHL season, Ray hit the 20-goal mark again and earned 86 points.

On December 4, 1987, the Boston Bruins were facing the New York Rangers, with former star Phil Esposito now an executive with the Rangers. In a pre-game ceremony, the Bruins were retiring Esposito's number 7. But Ray Bourque was wearing that number at the time. In a selfless act that illustrated Bourque's character, during the ceremony, Bourque ripped off his jersey to reveal his new number — 77. It took a moment for the action to sink in with all those in attendance, including Phil Esposito. "I knew I was going to surprise him and surprise a lot of people," Ray stated. "His reaction was very emotional. He said he'd never forget what I did. I sure he was shocked and surprised. It was probably the first time Phil was lost for words." Bourque scored that night; his first goal in 24 games, in a 4-3 Bruin win. "I wore number 7 for eight years," Ray said. "I like that number. I've had a lot of success with it. Now I've doubled it. Maybe I'll be able to have even more success with the double 7."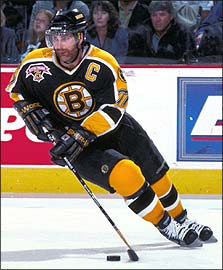 Ray's success continued throughout his entire career. Through twenty-one seasons with Boston, Ray was an All-Star a record-breaking eighteen times. He was selected as the Norris Trophy recipient as the NHL's best defenseman in 1987, 1988, 1990, 1991 and 1994. In the 1987 Canada Cup series, Team Canada won the gold medal, with Ray chosen to the tournament's all-star team. "There are a lot of memories. The Canada Cups, that three-game series that we played in 1987, was probably the best hockey I have ever played and playing with that group of guys was great." In 1992, he was winner of the King Clancy Trophy for his contributions outside of hockey. "I loved what I did and I enjoyed the game. I had a passion for it. I think that is what kept me going," he said.

Bourque recalls one particular All-Star appearance with special fondness. "The All-Star Game here in the Boston Garden was a great night. I scored with under a minute left and for it to be in Boston was really a great experience. I had so many family and fans and friends there, it was special."

In spite of all the personal glory, one achievement eluded Ray Bourque through his extraordinary career in Boston -- the Stanley Cup. Although the Bruins had reached the Stanley Cup final in 1988 and 1990, they had fallen short both times.

When the opportunity arose to join the Colorado Avalanche at the trading deadline, on March 6, 2000, Bourque decided to join the Stanley Cup contenders. Colorado wasn't successful in that 1999-2000 season, losing to Dallas in the Conference final.

The Avalanche were contenders through the entire 2000-01 campaign. On February 21, 2001, Bourque faced the team with which he played for 21 years. "I'll always have the 'B' on my chest, that's for sure," he admitted. "It's a great place to play. It's unfortunate we couldn't win a Cup there, but God knows, the fans certainly deserve one! They were always great to me and it's always a special place."

Bourque's childhood dream finally became a reality. Labelled 'Mission 16 W' by Ray (sixteen playoff wins means you've won the Stanley Cup), the Colorado Avalanche earned the Stanley Cup championship. It had taken twenty-two seasons, but Ray Bourque had finally achieved what he had hoped to do -- he carried Lord Stanley's Cup around the perimeter of the Pepsi Center in Denver. "I don't think I ever played with a more talented team than the Colorado Avalanche during my fifteen months there," Ray recalled with a smile. "It was the ultimate — to win the Stanley Cup!" Mission fulfilled, Bourque announced his retirement that summer.

During his NHL career, Ray Bourque collected 410 goals and 1,169 assists for 1,579 points in 1,612 regular season games. In 214 playoff contests, Bourque added 180 points on 41 goals and 139 assists. In 2004, Ray Bourque received a phonecall informing him he'd been elected to the Hockey Hall of Fame. "I was on the golf course and when I got the call, I got shivers," smiled Ray. "I had a hard time continuing." Ray was quite emotional as a result of the honour. "This caps off an outstanding career. I'm really thrilled!"

Bourque has the distinction of having his number 77 retired by both the Avalanche and the Bruins. "When I arrived in Boston, I was told you've got to go out there and play with pride in that jersey," stated Ray. "Just watching that number go up and knowing it's going to be up there as long as the building stands, that's quite an honour."

Ray Bourque: a blueliner par excellence; an Honoured Member of the Hockey Hall of Fame — bien sur; one of the greatest to play the game — certainement!

Kevin Shea is the Editor of Publications and On-Line Features at the Hockey Hall of Fame.