10 NOVEMBER 2006
Paul Douglas Coffey, one of the greatest defensemen in NHL history, was born June 1, 1961 in Weston, Ontario. "I grew up in Malton, which is part of Mississauga, right by the airport," he added.

Like most Canadian boys, Paul's hockey dreams began at an early age. "I started skating when I was four or five years old," he began, recalling his hockey roots. "When I started playing hockey, I was always a centreman. Davey Keon was my favourite player. He was captain of the Toronto Maple Leafs. When I was 9 or 10, I went to play 'A' hockey for the Mississauga Reps, and they moved me back to defense, something which I wasn't very happy about, being that Dave Keon was my favourite and all. My Dad quickly made me understand that there were nine forwards on a team and only four defensemen, and that I'd get a whole lot more ice playing defense so why didn't I give it a shot? Then I really enjoyed it."

The smooth-skating Coffey seemed to have the skating acumen that identified his NHL career virtually from the time he first stepped onto the ice. "I always had the skating ability. I'd like to say that I worked so much harder than any other kid and that's why I became as great skater but a lot of it is God-given talent and I worked hard at that gift. I did the hockey school and the power skating stuff and I was always trying to become a better skater."

Although coaches were telling him that he had the tools to make it to the professional level, and the scouts gathered like flies to watch the talented youngster, Paul seemed oblivious to all the attention. "It's funny, but as a player, and I think that's why I had the longevity and success that I had, I never felt that I made it. I always knew that I was there, but I always knew that I had to work hard to stay there. It's such a tough profession that you can never take it for granted that you've got it made."

Paul's evident talents saw him fast-tracked into Major Junior hockey. "I played Tier II Junior A for North York Rangers when I was 15," he recalled. "They were an affiliate of the Kingston Canadians, and I got called up to Kingston. Jim Morrison was general manager/coach at the time with Mike Gillis, Tony McKegney and Jay Wells." Playing in 8 games during that 1977-78 season, Paul scored 2 goals and collected 2 assists. It was clear that he could compete at that level. "The following year, I was drafted to Major Junior 'A'." Paul was selected by the Sault Ste. Marie Greyhounds. Under coach Paul Theriault, in his first year in the Soo, Paul scored 17 goals, added 72 assists and finished with 89 points for the last-place Greyhounds. In 1979-80, playing for new coach Terry Crisp, Paul started the year in the Soo but was traded mid-way through the season to the Kitchener Rangers. "I got the chance to play in Kitchener for a general manager named Mike Penney, who is now with the Leafs. He allowed me to play the way I wanted to play." That season, Paul led the Rangers in scoring and with totals from both teams, scored 29 goals and collected 73 assists for a sensational 102 points. No push-over, Coffey was the tenth most penalized player in the league, earning 193 penalty minutes.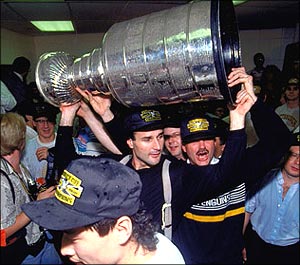 Paul had made quite an impression, and there seemed little doubt in the hockey world that Paul would be drafted early during the 1980 NHL Entry Draft, held in Montreal that year. "That's one of those days you'll never forget," Coffey smiled. "I was told I might go in the first round; I might go early. You're never really sure. Then I heard, 'The Edmonton Oilers select number six from the Kitchener Rangers.' When I heard Kitchener Rangers, my heart just stopped. And then, of course, when they say your name, you're going, 'Is it me, is it me?' It was a great moment."

Paul Coffey made his NHL debut on opening night of the 1980-81 season, and used his abundant talents to make an immediate mark on the league. That year, the rookie collected 30 points -- 9 goals and 23 assists - and found the transition not quite as daunting as might be expected. "Every veteran player was good to me," Paul admitted. "I had the pleasure of sitting beside Lee Fogolin for the seven years I was in Edmonton. Halfway through my first year, I had the chance to be paired with a veteran defenseman by the name of Garry Lariviere. Garry was instrumental in giving me the confidence to play my game. He'd never met me before, but he said, 'I hear you've got the wheels. Any time you want to go, go. I'll be back here for you.' We had some other veterans - 15-year guys. Garry Unger came in a little late in my first year. He was a good veteran guy, had a lot of great stories and a lot of great memories. They taught us to work hard."

But there was one other ingredient integral to the whole youthful team that prompted the boys to gel not only into men but into a highly potent team. "We were very lucky to have a general manager at that time, and he ended up being our coach, who allowed us to be ourselves; who allowed us to express ourselves whether it was on or off the ice," nodded Coffey, recalling the importance of Glen Sather to that team. "We had a simple set of rules: be on time, don't embarrass the coach and work hard, and we tried to do that. Wayne, Mess, myself, Grant, Kurri, Kevin Lowe, Glenn Anderson — just a great young nucleus of players. But I think that not only the timing was right but Glen Sather allowed us to express ourselves on and off the ice, encouraged us as much as possible, worked us hard and really molded us to become men and good hockey players."

The Oilers were not only a collection of stars but a highly functional ensemble. Paul contributed significantly. In his sophomore season, his production leapt from 32 points as a rookie to 89 points, including 29 goals, in 1981-82. The result was selection to the NHL's Second All-Star Team. In 1982-83, Paul finished with 96 points and again was chosen to the NHL's Second All-Star Team. 1983-84 saw Paul explode for 40 goals and 126 points, earning a spot once again on the Second All-Star squad. But personal recognition was great for Coffey and his mates. Except, there was something they wanted more.

"The first Stanley Cup was right up there with being drafted. It took us a while to get there," admitted Coffey. The young team had to lose in order to learn how to win. Edmonton lost to the New York Islanders in 1980-81. The next year, the Los Angeles Kings defeated the Oilers in the divisional semi-finals. In 1982-83, Edmonton reached the finals, but the Islanders defeated them to win the Stanley Cup. Finally, in 1983-84, Coffey and the Oilers beat the Islanders to collect the first Stanley Cup championship in franchise history. "It was quite a memorable and eventful road to get there, but to win that first Stanley Cup was great and is permanently etched in my mind," smiled Coffey. "We were going into the third period up 4-0. We were convinced we were going to get the Stanley Cup. The first ten minutes in the dressing room, everybody — players, trainers — 'Got to do this, gotta do that. Get it in. Get it out. Block shots. Short changes.' We were just frantic about everything we needed to do. And then one of the veterans, I can't remember who, said, 'Hold it, guys! Sit down. Relax.' It was good advice. But then, at the start of the third period, Pat LaFontaine scored two quick goals. All of a sudden, it was 4-2 and our proverbial sphincters tightened up. We managed to hold them off and Dave Lumley got an empty net goal and we ended up winning our first Stanley Cup!" That night, May 19, 1984, Edmonton celebrated like it had never celebrated before. Paul scored 2 goals and 2 assist in the Stanley Cup final to help push the Oilers past the Islanders.

The Oilers, now not only talented but confident, too, were a juggernaut not to be stopped. During the regular season, Paul was chosen to the First All-Star Team and was recipient of the Norris Trophy as the league's best defenseman. That spring, the Oilers won the Stanley Cup again in 1984-85, with Paul setting records for most goals by a defenseman in the playoffs (12), most assists by a defenseman in the playoffs (25), most points by a blueliner in the playoffs (37), most assists by a defenseman in a game (5) and most points by a defenseman in a game (6). Coffey also scored the Stanley Cup winning goal against the Philadelphia Flyers that year, collecting the historic marker late in the first period of the May 30, 1985 contest on the way to an 8-3 shellacking.

The next year, based on an extraordinarily offensive season that saw Paul score 48 goals and 138 points, he was again named to the First All-Star Team and won the Norris for a second straight year. But the Oilers were stopped in their tracks and the dynasty would need to wait a year before continuing. Although injuries had curtailed Coffey's regular season, Edmonton won the Cup again in 1986-87. Paul had 6 points against the Flyers in the Stanley Cup final.

"It was a team of destiny," explained Coffey. "Any time you not only have the best player in the game but he's the hardest worker on your team, then add Messier, Anderson, Kurri, myself, Kevin Lowe as well as every other player on those hockey teams, you've got a very, very talented group, and if you're a hard working team, and we were, good things can happen. It was a lot of fun. It was a great hockey club, we enjoyed playing, we enjoyed each other's company and when you have those things, a lot of good things can happen, and for us, it was championships."

As difficult as it was to comprehend, Paul Coffey was the first of the dynasty's core to leave the nest. On November 24, 1987, Paul was traded to Pittsburgh with Dave Hunter and Wayne Van Dorp for Craig Simpson, Dave Hannan, Chris Joseph and Moe Mantha. "I loved every single experience with every single team I played for," Paul stated. "I spent a little less than five years in Pittsburgh and I got a chance to play with arguably the most talented player who ever played the game, Mario Lemieux. Six foot four, great long reach, great passer, great skater. That was a lot of fun. The year he got 199 points was one of my most memorable seasons, just to be there to watch." In his first season as a Penguin, Paul recorded 67 points but in 1988-89, collected 113 points and earned a spot on the NHL's First All-Star Team. His 103 points in 1989-90 helped earn a berth on the Second All-Star Team. Then, in 1990-91, Paul helped the Penguins win the first Stanley Cup in their history, while collecting his fourth.

Pittsburgh would win again in 1992, but by that time, Coffey had been dealt by the Penguins to Los Angeles in exchange for Brian Benning, Jeff Chychrun, and a first round draft pick. "I had a short stint in L.A.," he recalled. "Then, I was traded to Detroit, one of the best hockey cities in the National Hockey League." On January 29, 1993, Paul, Sylvain Couturier and Jim Hiller moved to Detroit while Jimmy Carson, Marc Potvin and Gary Shuchuk went to the Kings. "I enjoyed every second playing there." In 1994-95, the veteran was selected as recipient of the Norris Trophy for a third time and for a final time, was selected to the NHL's First All-Star Team.

"I got tossed around a little bit after that. It was just one of those things and you gotta go where somebody wants you. But every city, I enjoyed." Detroit sent Coffey, Keith Primeau and a first round draft pick to Hartford on October 9, 1996, receiving Brendan Shanahan and Brian Glynn in return. Two months later, on December 15, Paul and a draft pick were packaged to Philadelphia for Kevin Haller and a first round draft selection. The Flyers sent Coffey to Chicago in June 1998 for a draft choice. Just after Christmas that year, the Hawks traded Paul to Carolina for Nelson Emerson. After a season and a half with the Hurricanes, the Boston Bruins signed Paul as a free agent. Coffey played 18 games with the Bruins during the 2000-01 season before retiring. He concluded his NHL career having played 1,409 regular season games, scoring 396 times and assisting on 1,135 others for an astronomical total of 1,531 points, more than any other NHL defenseman to that time. In playoff competition, Paul played 194 games, collecting 196 points on 59 goals and 137 assists.

Today, Paul owns a Toyota dealership in Bolton, just north of Toronto. "It's going great! There's a steep learning curve. In sports, when you hit stress, you just work that much harder. When you get stress in a number-crunching business like this, you tend to hold stress in your shoulders and your neck and it's hard to release, but it's a challenge mentally and I enjoy it!" If he's even partially as successful in his post-hockey career as he was during his 21 seasons in the National Hockey League, Paul Coffey will have done very, very well, thank you very much!

Kevin Shea is the Editor of Publications and Online Features at the Hockey Hall of Fame.