28 MARCH 2008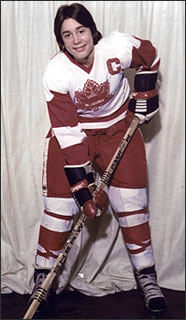 A sixteen year old Cam Neely recorded a remarkable 73 goals, 68 assists for 141 points in 64 games during the 1981-82 season with the Ridge Meadows Lightning.

The town of Comox, British Columbia is stunning. Located on the eastern side of Vancouver Island, the picturesque town is about 220 kms. (135 miles) north of Victoria and faces Powell River on the mainland across the Georgia Strait. Although it was the birthplace of Cam Neely on June 6, 1965, the Neely family moved to landlocked Moose Jaw, Saskatchewan when Cam was a boy. "I pretty much spent my first ten years in Moose Jaw, and there wasn't much to do," he laughs.

The Cam Neely we know through his stellar NHL career is, for all intents and purposes, the Cam Neely that, at 16, tore up the BC Amateur Hockey Association as a member of the Midget-aged Ridge Meadows Lightning, scoring 73 goals, 141 points and 134 penalty minutes in 64 games during 1981-82. By this time, the Neely family had moved back to Canada's left coast and had settled in Port Moody, neighbouring the metropolis of Vancouver.

That season was fuelled by the disappointment of being cut after attending the camp of the Victoria Cougars of the Junior Western Hockey League. "I thought about quitting altogether," admits Cam. It would be the last time he'd be cut a team. He was picked up by the Portland WinterHawks in 1982-83 and proceeded to deliver 54 goals and 130 points, leading the team to a second-place finish in the WHL. That spring, Portland won the Memorial Cup as the top Junior team.

Drafted ninth overall by his hometown Vancouver Canucks in the NHL's 1983 Entry Draft, Cam was disappointed when the Canucks sent him back to Junior, but it wasn't long before he was summoned to the NHL, and in 56 games during 1983-84, proved he was going to be the answer to Vancouver's prayers -- a power forward, willing to bang, crash and score.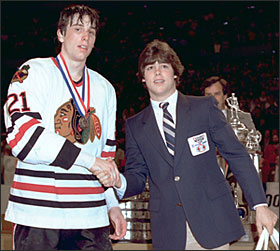 Future NHL stars (left) Cam Neely, and (right) Pat LaFontaine at the 1983 Memorial Cup. Neely captured junior hockey's ultimate prize with the Portland WinterHawks in 1983.

After three solid if unspectacular seasons (104 points in 201 games), Vancouver looked at making change. Coach Tom Watt had criticized the defensive shortcomings of the 20-year-old. "I was playing behind Stan Smyl and Tony Tanti, so I didn't see a lot of ice time, and, certainly not on the power plays," Cam says.

In the meantime, knowing that productive forward Barry Pederson would likely be lost to Boston through free agency, on June 6, 1986, Bruins' GM Harry Sinden traded him to Vancouver for Neely and a first round draft pick, which ultimately became Glen Wesley. It was a great 21st birthday gift for Cam, who needed some good news — his parents both had been diagnosed with cancer earlier that week.

"The whole year was a disaster," recalls Neely.

Neely had not foreseen moving to a new team. "I was surprised at the trade," he states. "I really didn't know what to expect once I got to Boston and had no idea that my career would turn out the way it did for those ten years."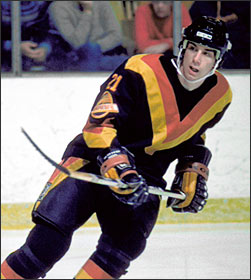 Drafted ninth overall by his hometown Vancouver Canucks in the NHL's 1983 Entry Draft, Neely went on to play three seasons with the Cancuks before he was dealt to Boston.

"From Day One in training camp, I just wanted to get the opportunity to play," Cam says. "The coaches said, 'Let's see what he can do.' As time went by, I got more and more confidence. I never really thought I'd be a 50-goal scorer, but I was given a chance to contribute offensively, not just physically."

The trade paid immediate dividends for the Bruins (and Neely), who doubled his point total from 34 with Vancouver in 1985-86 to 72 with the Bruins in 1986-87. He also spent 143 minutes in the penalty box. "Mike [Milbury] said, 'I want you to think about what you're doing by putting yourself into the penalty box. If you're going to fight, make sure it's on your terms and not just because someone is challenging you.' He was trying to make me understand who I was going in the box with. He'd say, 'I don't want to take away from you dropping your gloves, but, I don't want you to think about not doing it. I just want you to think about how your reaction affects both their team and our team.' So it got me to thinking a little more about my role. Then, I began going with my instincts more and what felt right at that moment."

In 1987-88, Cam scored 42 goals and was at the forefront as the Bruins charged towards the Stanley Cup. They reached the final, but met their match when they ran into the powerful dynasty that was the Edmonton Oilers.

Coach Mike Milbury looked like an alchemist when he paired Neely with centre Craig Janney in 1989-90. "Craig had such great hands," Cam says, shaking his head. "We rarely talked on the ice. We just knew where the other guy was going to be. He'd always put the puck in a place where I could get rid of it quickly."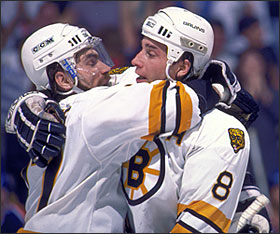 Cam Neely and Ray Bourque combined to lead the Bruins to the Cup finals in 1988 and 1990. However, in both occasions their attempts were thwarted by the powerful Edmonton Oilers.



Boston was in the hunt for the Stanley Cup again in 1990, largely due to Cam's phenomenal 55-goal season. "Playing the way I did, I never expected to be a 50-goal scorer," he shrugs. "Numbers to me were never really an important factor of how I helped my team win." The Bruins again steamrolled to the Stanley Cup final, where the Edmonton Oilers again were waiting. Without Gretzky, who had since been traded to Los Angeles, Boston fans believed they stood a better chance, but the Oilers proved spoilers and took the Stanley Cup championship in five games.

Neely enjoyed a second consecutive 50-goal season in 1990-91, but during the 1991-92 season, he sustained a thigh injury that developed into a condition in which part of the muscle turned to bone, forcing him to miss the first 38 games of the season. He returned, albeit briefly, in January 1992, but developed knee problems related to the original thigh injury. Still, in the only 9 games he played that season, he scored 9 goals.

The injuries carried into the 1992-93 campaign. After coming off a 50-goal season, it was hard to accept that over two seasons, Cam was only able to play 22 games, although he scored at a steady clip, netting 20 through his injuries.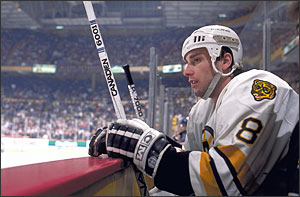 After a remarkable ten years in Boston, Neely's career was cut short as the Bruin legend left the game having tallied 395 goals and 299 assists for 694 points in 726 games.

In 1993-94, Cam was partnered with Adam Oates. "Adam had so much success with Brett Hull. He was, by far, one of the best backhand passers I have ever seen, just the way he can lay it flat off the backhand was pretty amazing." With Oates dishing perfect passes, the now-healthy Neely returned to form and scored a scorching 50 goals in 49 games during that magical season. In fact, Neely achieved his extraordinary feat in 44 games, tying him with Mario Lemieux for the third quickest 50-goal season. In 1982-83, Wayne Gretzky set the record by requiring just 39 games to hit the magic 50-goal mark.

Oddly, Neely lost the tip of his baby finger after being slashed on March 12 that season. Although the doctor termed it an amputation, Cam shrugged, "It was the tip of the finger. I got some stitches."

Injuries were curtailing Neely's production. The Boston Bruins held their collective breath as Neely underwent an MRI to determine the extent of damage he did to his right knee on March 19, 1994. The news wasn't good. Sadly, he was out of the game two years later. That spring, he was awarded the Masterton Trophy as the player who best exemplifies the qualities of dedication, perseverance and sportsmanship.

In a tearful press conference just prior to the commencement of the 1996-97 season, Cam Neely announced his retirement, mentioning a degenerative hip condition. "Although I've been preparing myself for a long time for this afternoon to arrive, it certainly doesn't make it any easier to be here," he said. "Unfortunately, today I must face the worst-case scenario."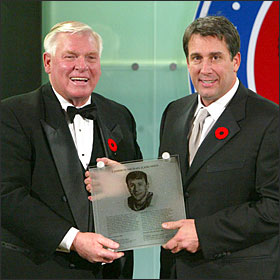 In 2005 Cam Neely was proudly welcomed to the Hockey Hall of Fame.

The retirement had been predicted since Cam was forced to miss the final 25 games of the 1995-96 season with a hip injury. "I never wanted to play the game for the money or simply to go through the motions. I love playing in the big game. I love the competitiveness of this sport. I'll miss the travel. I'll miss the locker room and just being around my teammates."

Neely left the game he loved having collected 395 goals and 299 assists for 694 points in 726 games during his thirteen NHL seasons.

In November, 1998, after being out of the game for two seasons, Neely attempted a comeback. "I wish that my lungs felt as good as my hip," he laughed after leaving the ice at that time. "If I last four days (of practice) in a row and my hip's barking at me, then that's all she wrote." Four practices later, the comeback attempt was abandoned. "I know how I felt when I had to retire and I know how I'm feeling now. It's not really how I want to feel," he told reporters. "It was fun while I was out there but each day I skated, the pain just kind of lingered a lot longer than I would have liked."

Cam adds, "I was feeling really good and had started getting some different treatment. I practiced a few times with the Bruins but after some really hard practices, realized there was just no way I could continue."

On January 12, 2004, seven years after being forced to retire due to injuries, Cam Neely became the tenth Bruin to have his number retired. The four-time All-Star (NHL Second Team in 1988, 1990, 1991 and 1994) was inducted into the Hockey Hall of Fame in 2005. "To be honest, I never concerned myself too much with the Hall of Fame, just like I never concerned myself with numbers when I played," he said. "I just tried to do my best and work hard. Whether I played well or not was another story."

Kevin Shea is the Editor of Publications and Online Features at the Hockey Hall of Fame.