27 MARCH 2009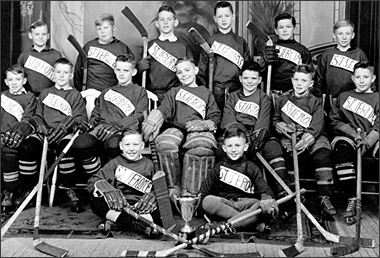 Dick Duff played some of his youth hockey with the St. Jerome School flyweight hockey team. (First Seated Row - Second From Far Right)

Dick Duff was a ferocious competitor, known as a prime playoff competitor who contributed to six Stanley Cup championships during his 17-season NHL career.

Born Richard Terrance Duff in Kirkland Lake, Ontario on February 18, 1936, Dick had plenty of opportunities to play hockey as a boy. "The town was booming, the mines were there and the kids were always outside playing, the outdoor rinks were plentiful," he recalls. "We played on the 'slimes' — they crushed up all the rock and pushed it out of the mines and the overflow was taken by pipelines way the heck back in the bush, but they made little ponds and they'd freeze over and we'd be out there playing hockey."

Like every other young boy in Canada ('and in the United States and Newfoundland'), Dick never missed Foster Hewitt's Saturday evening 'Hockey Night in Canada broadcasts. "I always say it's 'Canada's opera' — the Saturday night hockey — I got so much out of it. It was a big deal. My brothers listened and watched and I did too." Like many large northern Ontario families, in the Duff household there were two things that took precedence over all others: the church and hockey, and not always in that order. "I was one of 13 children," he says, and then recounts just how hockey-mad the Duff clan was. "On Sunday night, my Dad would (tune into) the radio station from New York and we'd listen to Charlie Rayner and Edgar Laprade play. My father was never on a hockey rink in his life, never had a pair of skates on, but he liked the hockey!"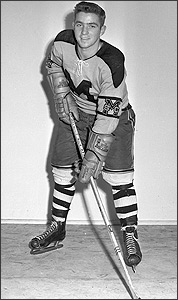 Dick Duff attended St. Michael's College from 1952 to 1955

Duff didn't play organized hockey until his teen years, but never missed an opportunity to grab a stick and his skates and join in any number of games that were going on at any one time. "We played through the school system. We didn't play a lot of games, but we played a lot of hockey. We could skate forever. I had all kinds of brothers and we'd be playing back and forth with the neighbours until it got dark!"

In 1940, the Blue Devils brought nationwide attention to Kirkland Lake when they won the Allan Cup as senior hockey champions of Canada. "A lot of guys played with the Blue Devils when I was a kid. Bill Durnan went on to play for the Canadiens, Johnny Crawford went to Boston, Johnny McCreedy played for the Leafs, one-eyed JoJo Graboski, Mike Walton's Dad (Bobby), Floyd Curry who went to Montreal, Ted Lindsay who went to Detroit, Gus Mortson who went to Toronto." Just as prospectors combed the mineral-rich lands of northern Ontario for gold, nickel, copper and uranium, NHL scouts went north in the 1940s and 1950s in search of hockey talent. "The birddogs (scouts) from Toronto came up and (head scout) Bob Davidson would say, 'Is there anybody up there we should have?' And the scout would say, 'There are these two brothers, Dick and Les Duff. You should have a look at these guys.' So at Easter time, Toronto would have a hockey school and we got brought down (to Toronto). There were about sixty kids there. And by the end, there were three players they picked. My brother Les, me and a kid from Jonquiere, Quebec named Andre Villemure. And they said, 'You're only fourteen; why don't you come back next year?' They wanted my brother Les to play Junior 'B' in Brampton. We had another brother, Eric, playing there."

Les, just over a year older than Dick, was highly touted and stayed in the Toronto area while Dick went home to Kirkland Lake ... briefly. "I got a telegram in November 1951," he recalls. "They wanted me to go to St. Mike's. I knew my Mom and Dad were going to be okay with it. I was going to be educated by Catholic priests and that would be my parents' prayers answered, so that's where I went. My Dad gave me two dollars; I don't know where he got it. I took the train from Swastika, just outside of town."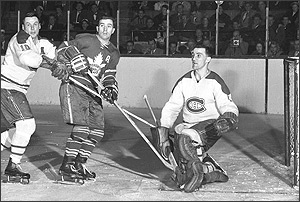 Tom Johnson of the Montreal Canadiens keeps a close watch on Dick Duff of the Toronto Maple Leafs while Jacques Plante looks for the puck.
(Imperial Oil-Turofsky/HHOF)

Leaving home at fifteen was difficult for Dick. "I got off the train in Toronto at Union Station. I was already homesick," he remembers. "The taxi driver took me past Casa Loma to the big yellow building (St. Michael's College). Cost $1.75. I gave him the quarter tip. That was it for my money. I was in Grade 10."

Dick split the season between the Junior 'B' Buzzers and the Junior 'A' Majors, both based out of St. Michael's College. "The guys on the Majors were good to me. (Future NHLer) Murray Costello (a Timmins native playing with the Majors) told me everything was going to be okay. I wasn't sure. I wanted to go home. But when I started playing hockey, I was okay. After my first year, I went back to Kirkland Lake. I phoned Father Flanagan (who was coaching the Buzzers' squad) and told him I wasn't coming back (to St. Mike's). He said, 'What's the problem Dick? Why aren't you coming back?' I said, 'Well, they told me they'd give a dollar a day for the boys that the Leafs brought to Toronto, but I didn't get one penny last year! If we played in Brampton, my brother would give me a dollar or two or I wouldn't have had anything.' Father Flanagan said, 'I'll see to it that you get $10 a week if you come back and you can work on the bingo on Thursday night and you can make a few dollars there.' One time, I made $7 working on the bingo — I counted it a hundred times!"

By 1953-54, Dick was firmly established with the Majors, and went on to lead the team in both goals (35) and points (75). He led the team in scoring again in 1954-55, edging his brother with 53 points to Les's 51. On March 10, 1955, Duff played his first National Hockey League game — a scoreless tie between Toronto and Montreal. "The Leafs would say, 'Put this guy with the pros. He's ready; he's strong enough, he's mentally strong enough and our team can absorb him now.'"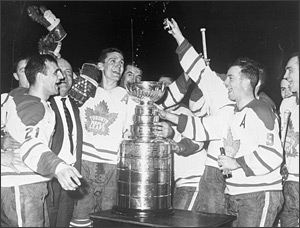 Bob Baun, Allan Stanley and Dick Duff (#9) celebrate
the Maple Leafs 1962 Stanley Cup win.
(Imperial Oil-Turorfsky/HHOF)

Having earned the opportunity to play with the Maple Leafs, Dick surrendered his final season of junior eligibility and signed with Toronto at the age of 19. "I was playing on the first line that year. (Linemate) Tod Sloan got 37 goals and I got 18." The Leafs made the playoffs that season but missed out on post-season play in 1956-57 and 1957-58. But as the decade turned, so did the fortunes of the Toronto Maple Leafs. "By the time 1958-59 showed up, we had a confident team. We had been guys looking for a little direction; a little confidence. (Coach Punch) Imlach gave that to us when he first came to Toronto. He might have rubbed the other teams and the other coaches the wrong way, but he made us a confident team. We knew what it meant to wear the Maple Leaf sweater. We put the pieces together and we won the Cup. We got (Bert) Olmstead from Montreal, we got Johnny Bower in net, we got Red Kelly to come from Detroit, we got Allan Stanley from Boston. Bobby Baun smashed guys around and came from the Marlies system. So did (George) Armstrong, Billy Harris and Ron Stewart. (Carl) Brewer came through our system. Keon comes up from St. Mike's, and then we've got (Frank) Mahovlich and Dick Duff, also from St. Mike's. They married us all together. Timmy Horton was the anchor on that team."

Duff played eight full seasons for the Leafs, and established himself as an exciting player who could put up points, but who wouldn't back down from opponents. Duff was the Leafs' goal-scoring leader in three consecutive seasons (1956-57, 1957-58 and 1958-59), and also led Toronto in points in the latter two seasons. During his time in a Leafs' sweater, Toronto won the Stanley Cup in 1962, when he scored the Cup-winning goal against Chicago, and 1963. That spring, in Game One versus Detroit, Dick set an NHL record by scoring two goals in the first 1:08 of the contest. "Old man Smythe (owner Conn Smythe) — I kind of liked the guy. He was demanding but that Maple Leaf meant something to him. The team meant something to the City of Toronto and the team meant something to the people of Canada. Every time they came to Toronto, they wanted to see that building where we played."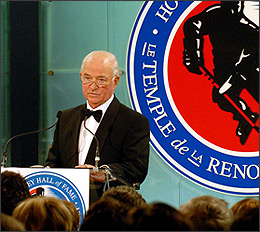 Dick Duff was inducted into the Hockey Hall of Fame in 2006. (Matthew Manor/HHOF)

But on February 22, 1964, with the Leafs in a slump going into the playoffs, the popular forward was packaged with Arnie Brown, Bill Collins, Bob Nevin and Rod Seiling and sent to the New York Rangers for Andy Bathgate and Don McKenney. Dick never fully forgave the Toronto Maple Leafs organization, but exacted a modicum of revenge when, after being traded to the Montreal Canadiens with Dave McComb for Billy Hicke and the loan of goaltender Jean-Guy Morissette just before Christmas in 1964, he won four more Stanley Cup championships. Dick and the Canadiens won the Cup in 1965, 1966, 1968 and 1969. "We had a system — we'd drop the puck and fill the other guys' net before they filled ours!"

In January 1970, Duff was moved to the Los Angeles Kings for Dennis Hextall, then, in November, he was swapped to the expansion Buffalo Sabres with another former Leaf, Eddie Shack, where they were reunited with former Toronto coach, Punch Imlach. Dick retired after eight games in the 1971-72 season, finishing with 283 goals and 289 assists for 572 points through 1,030 NHL regular season contests. He also contributed 30 goals and 49 assists in 114 playoff games. After teaching for a handful of years, Duff returned to hockey, and served as a scout, an assistant coach and, in 1980-81, was head coach of the Maple Leafs for two games.

Dick Duff was elected to the Hockey Hall of Fame in 2006. "It's a nice honour," he admits. "The thing that I always kept to myself was that when the best players were playing for the best prize (the Stanley Cup), I could compete with them all. When the end of the year was coming around, they wanted me there for the playoffs. Playing with the Toronto Maple Leafs and the Montreal Canadiens was like playing for the Hall of Fame when you think of all the guys who went on to be in the Hall of Fame. I just wanted to be good at the end when it counted." In his Induction speech, Duff said, "Father Bauer's message was to challenge life with enthusiasm and to rely on the spirit within each of us. From a small town called Kirkland Lake to a great school called St. Michael's, and to my family and friends, thank you for caring and sharing this journey with me."

Kevin Shea is the Editor of Publications and Online Features at the Hockey Hall of Fame.