10 APRIL 2009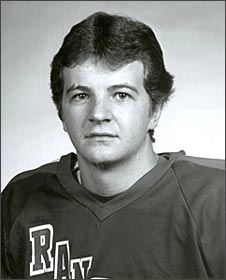 Al MacInnis as a member of the Ontario Hockey League's Kitchener Rangers. (HHOF)

The shot.

It doesn't really matter that Al MacInnis was an outstanding defenceman, known for both his offence and defensive responsibilities. One tag will follow him for the rest of his life — the shot. This is the same shot that earned MacInnis the designation of possessing the NHL's 'hardest shot' seven times through his career.

Allan MacInnis was born on July 11, 1963 in Port Hood, a fishing village on the west coast of Cape Breton in Nova Scotia. Al's father was looking after the local arena, which gave a nine-year-old aspiring hockey star a great excuse to hang out at the rink. "My Dad was managing the arena and I'd walk around picking up pucks that went over the boards," Al recalled. "And if it wasn't a beach day, there wasn't a whole lot else to do, so I'd just practise my shot. I can remember spending hours just shooting pucks off a sheet of plywood against my Dad's barn. I was just doing it to pass the time, never thinking it would end up the way it did and be known for the slapshot."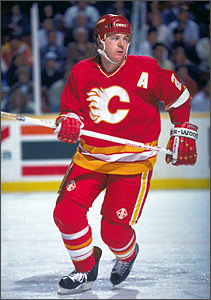 Al MacInnis was drafted in the first round, fifteenth overall by the Calgary Flames in 1981.





By the time he was a teenager, Al's prodigious talent saw him playing junior hockey in Kitchener, Ontario. "My junior coach (Joe Crozier of the OHL's Kitchener Rangers) was watching me shoot pucks after practice one day and he came over, shaking his head, and he said, 'Kid, that shot is going to get you into the NHL some day!'" Crozier was right. After winning the Memorial Cup with the Rangers, Al was drafted by the Calgary Flames 15th overall in the 1981 NHL Entry Draft. The 18-year-old MacInnis made his NHL debut with the Flames during the 1981-82 season. Although he played a handful of games for the Flames in both 1981-82 and 1982-83, Al continued his junior career, which included a Memorial Cup championship in 1982 and, in 1982-83, saw him named as winner of the Max Kaminsky Trophy as the Ontario Hockey League's best defenseman. In both seasons, he was named to the OHL's First All-Star Team.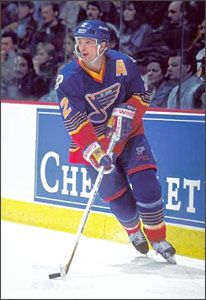 Al MacInnis would have his jersey retired by the St. Louis Blues on April 9, 2006. (Chris Relke/HHOF)

After spending the early part of the 1983-84 season with the Central Hockey League's Colorado Flames, MacInnis became a full-time member of the Calgary Flames' blueline later that season, playing 51 games and scoring 11 goals and 34 assists for 45 points. But it was during that rookie season that his slapshot earned its reputation. On January 17, 1984, while playing with Calgary in a game against St. Louis, MacInnis wound up and fired a shot from outside the blueline that caught Blues' netminder Mike Liut flush on the mask, splitting it. Liut fell to the ice as the puck dribbled over the goal line. No one took MacInnis' shot for granted after that.

MacInnis spent thirteen seasons in Calgary, where he evolved into one of the most effective defencemen in the National Hockey League. While with the Flames, he played in eight All-Star Games (1985, 1987, 1988, 1989, 1990, 1991, 1992 and 1994), but more importantly, was an integral part of the Flames' Stanley Cup championship in 1989, the first in franchise history. For his contributions in the playoffs that spring, Al was awarded the Conn Smythe Trophy. He collected 7 goals and 24 assists in 22 games, making him the first defenceman to lead the playoffs in scoring.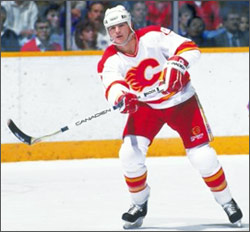 As a member of the Calgary Flames, MacInnis helped his team win the Stanley Cup in 1989 while capturing the Conn Smythe Trophy as Playoff MVP. (Paul Bereswill/HHOF)

On July 4, 1994, Calgary traded MacInnis and a fourth round draft pick to the St. Louis Blues, receiving Phil Housley, a second round draft pick in 1996 and another second round selection in 1997. With the Blues, Al continued to dominate, appearing in seven more All-Star contests (1996, 1997, 1998, 1999, 2000, 2001 and 2003) and winning the Norris Trophy in 1999 as the league's top defenseman.

After coming off his best season offensively in over eight years in 2002-03, a year in which he tallied 68 points (16 goals and 52 assists), Al was limited to but three games in 2003-04 due to an eye injury. What turned out to be his final game was in October 2003, just three games into the season. Facing the Nashville Predators, MacInnis was experiencing vision problems, which turned out to be a detached retina. That same eye had been injured by a high stick in January 2001, leaving him with a permanent blind spot and the need to wear a special corrective lens. Following the locked-out 2004-05 season, MacInnis announced his retirement from the game on September 9, 2005.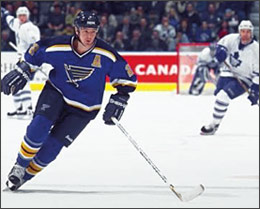 Al MacInnis played played nine seasons with the St. Louis Blues before retiring after only three games played in 2003-04. (Dave Sandford/HHOF)

At the time of his retirement, MacInnis had climbed to 17th place on the all-time list of games played with 1,416, had accumulated 1,274 points and was twelfth on the all-time assists list with 934. Among defencemen, MacInnis ranks among the greatest ever, concluding his career third in goals with 340, third in assists and third in points. The St. Louis Blues retired Al's number 2 in a pre-game ceremony on April 9, 2006. In November of that year, Al MacInnis was appointed Vice President of Hockey Operations by club president, John Davidson.

But Al's contributions in the NHL, though substantial, create only part of the overall picture. MacInnis' international career saw him represent Canada on numerous occasions, including the 1998 and 2002 Winter Olympics (the latter in which he contributed to a gold medal), the 1991 Canada Cup and the 1990 World Championships.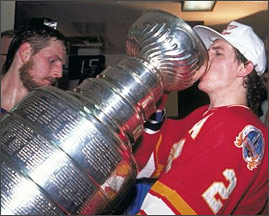 Al MacInnis of the Calgary Flames drinks out of the Stanley Cup in 1989. (Paul Bereswill/HHOF)

On November 12, 2007, Al MacInnis was inducted into the Hockey Hall of Fame; part of an elite group of inductees that also included Ron Francis, Mark Messier and Scott Stevens, in the class of 2007. "It's a privilege for me to be entering the Hall of Fame with this group of inductees," he stated.

Astonishingly, Al was the first Nova Scotian to become an Honoured Member of the Hockey Hall of Fame, but laughed when he acknowledged the fact. "I'm certainly proud of where I come from. With the players coming out of there today, the likes of Sidney Crosby, it's not going to last long. I actually told Sidney at the (NHL) Awards in Vancouver last year that I was kind of upset because someone mentioned to me that I was maybe the top player that ever came out of Nova Scotia. I worked 23 years to get that and it ended after four months of Sidney Crosby being in the NHL. We got a good chuckle out of it!"

Kevin Shea is the Editor of Publications and Online Features at the Hockey Hall of Fame.