13 FEB 2009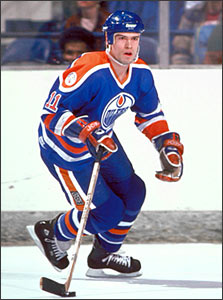 Mark Messier began his career with the Oilers in 1979 and in his third season with the club he tallied 50 goals and was aptly selected to the NHL's First All-Star Team.

An exceptional leader and a champion, Mark Messier combined natural talent and drive into an extraordinary career that saw him play 25 seasons in the National Hockey League as well as one in the World Hockey Association. Widely recognized as one of the greatest players ever to play the game, at the time of his retirement, Messier was second on the NHL's list in career games played, second in regular season points and second in playoff points. Mark is the only professional athlete to have captained two different teams to championships, having led the Edmonton Oilers to the Stanley Cup in 1990 and the New York Rangers to the Cup in 1994.

Born January 18, 1961, Mark Messier legitimately comes by his hockey talent. His father, Doug Messier, was a hardnosed defenceman in the Western Hockey League during the 1960's. His brother, Paul, played a handful of games with the Colorado Rockies during 1978-79. On his mother's side, his uncle Billy Dea played 397 NHL games through the 1950's and 1960's, his great-uncle Howard Dea was a member of the Edmonton Eskimos who played for the Stanley Cup in 1923 while another great-uncle, Murray Murdoch, played on the 1933 Stanley Cup champion New York Rangers. "Hockey was big in our family when we grew up just like it was in everybody's family," explained Mark.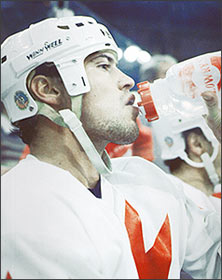 Messier represented his homeland at the 1984 Canada Cup Tournament alongside a bevy of Oilers including Glenn Anderson, Paul Coffey, Grant Fuhr, Randy Gregg, Wayne Gretzky, Charlie Huddy and Kevin Lowe.

But while Mark was born in Edmonton, Alberta, his career actually began in Portland, Oregon. "My Dad was playing in the Western Hockey League for the Portland Buckaroos and that's where I got started skating and attending practices. I played my first year of organized hockey there," Mark stated. "My Dad was responsible for setting up all the minor hockey in Portland. A lot of people didn't even know hockey was there until he got the whole minor hockey going." The senior Messier played with the Buckaroos from 1963-64 until 1968-69. "Having your Dad having played hockey gave me a headstart. He coached us when we were kids. Having that kind of knowledge passed down to you helped a lot."

Like every other hockey-playing youngster, Mark's dreams were no different. "Everybody playing hockey at an early age watches the National Hockey League and dreams of being a Stanley Cup winner," he said. "When I played as a youngster, it was all for fun. It isn't until 14 or 15 years old that realistically, you know whether you'll have a chance of making it (to the NHL). You start to mature a little bit by that age. Some players that played well earlier on fall by the wayside (at this age) while others mature and develop their skills later on. It's a little different now where everybody is being funnelled into professional hockey at an early age, unfortunately, because they forget that hockey is supposed to be fun."

But Mark was a late bloomer, his prodigious talents not showing professional potential until he was in his mid-teens. "I didn't really excel at the junior level until my last year," he recalled, referring to a 74-point season (along with 194 minutes in penalties) for the St. Albert Saints in 1977-78. That spring, Messier was summoned to join the Portland Winter Hawks of the Western Hockey League, and fired 4 playoff goals in 7 games.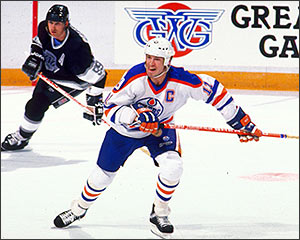 Following the trade which sent Wayne Gretzky to Los Angeles in 1988, Messier was subsequently named captain of the Edmonton Oilers.

By the next season, having exploded for 33 points in 17 games with the Saints, Mark got the opportunity to turn professional. "I was 17 years old and playing Tier 2 hockey, getting ready to go on to a college scholarship. That was when underaged players were going and playing in the WHA (World Hockey Association), and I had the opportunity to see what I could do." Messier signed a contract for a 5-game tryout with the WHA's Indianapolis Racers. Following the tryout, Mark was released, just as the franchise folded. He was quickly signed by the Cincinnati Stingers. "Our captain in Cincinnati was Robbie Ftorek and he was a very classy guy," Mark recalled. "He really took the time to help me and Mike Gartner. He was an excellent captain in that regard. He was cognizant that it was not only our first year but that we were pretty young to be playing pro hockey. He really helped us out a lot." The 17-year-old Messier scored one goal and had 10 assists in 47 games with the Stingers. "Although I wasn't as successful as I would have liked, it certainly gave me a good indoctrination into what I could expect when I got drafted into Edmonton."

The WHA folded after that 1978-79 season and Mark was drafted in the third round, 48th overall, by the NHL's Edmonton Oilers in the 1979 NHL Entry Draft. As a sidenote, when Messier retired, he was the final remnant of the WHA still active as a player.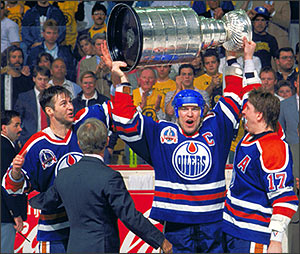 Despite the absence of "The Great One", Messier captured the Stanley Cup and Hart Memorial Trophy in 1990 as captain of the Oilers.

The 1979-80 edition of the Edmonton Oilers, one of four franchises resurrected from the ashes of the WHA, featured a number of veterans, including Colin Campbell, Bill Flett, Don Murdoch and Poul Popiel, as well as several youngsters who would go on to form the foundation of a dynasty -- Mark Messier, Kevin Lowe, Dave Semenko and Wayne Gretzky. "We were all in the same boat, coming from all different parts of the world to an expansion team when the WHA folded," Mark explained. "We all had heard about Wayne (Gretzky) and what he was able to do in the WHA, but I don't think anyone expected him to continue on to do what he did in the National Hockey League." That year, Gretzky tied Marcel Dionne for the scoring championship, both tallying 137 points, but Dionne collected the Art Ross on the basis of having scored two more goals. "Here we are, a bunch of misfits in a way, and slowly, the team was able to draft some amazing players and we made the playoffs that first year and got our feet wet into what NHL playoff hockey was all about." The Oilers finished fourth in the Smythe Division, but were eliminated in the first round of post-season play.

"Slowly but surely, things kept progressing," Messier remembered. "Our confidence grew and Wayne became a legitimate superstar in the league and we figured that if we could support him, our chances of winning a Stanley Cup were going to be pretty good, and that's exactly what happened." In 1981-82, Edmonton finished first in their division, the first of six consecutive seasons in which they accomplished that feat. By 1982-83, the Oilers reached the Stanley Cup final for the first time, but lost to the New York Islanders, who were completing their fourth consecutive Stanley Cup championship.

Messier's confidence grew, as illustrated by his point production. His rookie total of 12 goals and 33 points grew to 23 goals and 63 assists in 1980-81, then catapulted to 50 goals and 88 points in 1981-82. "Glen Sather showed patience and confidence in all of us. He let us make mistakes and grow from the mistakes we made on and off the ice. The support and the confidence we showed in each other as players and as friends showed in our results. In team sports, there has to be a certain amount of respect and acknowledgement that we're all there for the same reason and in Edmonton, we were best friends on and off the ice and it showed the way our team played over the years. Glen was the guy most responsible for that because it was his vision and his team and moulded it in a way he thought would be successful."

There was no doubt that the goal of the franchise was to capture a Stanley Cup championship. The team had collected a group of players that had developed into stars. Besides Messier and Gretzky, the Oilers boasted Glenn Anderson, Paul Coffey, Jari Kurri and the goaltending tandem of Grant Fuhr and Andy Moog. "It was five years of a very focused, disciplined acknowledgement of where we wanted to go," cited Messier. "It was our focus to win the Stanley Cup. I remember the first Christmas party as a team, we all received sheepskin sheared jackets and there was a crest sewn into it that said, 'The Cup 198_'. It was just another reminder that our mission was to win the Stanley Cup. It wasn't a matter of if; it was a matter of when. That's how we approached it."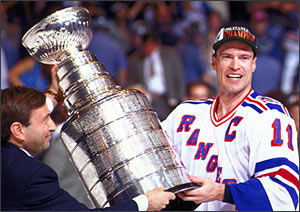 In only his third season with the New York Rangers, Mark Messier promptly led the club to its first Stanley Cup in fifty-four years.

Having learned what it took to capture the Stanley Cup by losing to the Islanders in the spring of 1983, there was no denying Edmonton in 1984. During the regular season, Mark collected 101 points, and was joined in the rarefied air of a 100-point season by Paul Coffey with 126 and Jari Kurri, who had 113 points. Glenn Anderson notched 54 goals and had 99 points. And then, there was Wayne Gretzky. "We had Wayne, who was so far superior to all of us at the same page and he was a good role model for all of us." Gretzky led the league with 87 goals, 118 assists and 205 points.

It was poetic justice that the Oilers met the reigning Stanley Cup champion New York Islanders in the Stanley Cup final of 1984. Edmonton took the Islanders in five games to capture the franchise's first Stanley Cup. Mark scored the go-ahead goal in Game 3 that seemed to launch the team. And on May 19, 1984, following the 5-2 victory, the Oilers were handed the Stanley Cup, while Messier was awarded the Conn Smythe Trophy as the playoff MVP.

Edmonton repeated the Stanley Cup win in 1985, defeating Philadelphia's Flyers 4 games to 1 to win their second straight championship. Foiled in earning a three-peat, Edmonton roared back in 1986-87, meeting the Flyers once again in the Stanley Cup final. For the first time since 1971, the final went to a seventh game. Seesawing back and forth, the Oilers captured their third franchise championship with a 3-1 win in the deciding game. Then, in 1987-88, after slipping below the 100-point mark for the first time in seven regular seasons, Edmonton went undefeated at home during the entire playoff schedule, concluding with a 6-3 victory over the Boston Bruins to claim the fourth Stanley Cup championship in five years.

But the chemistry on the team was changing. Paul Coffey was traded away prior to the 1987-88 season, and to the astonishment of the hockey world, superstar Wayne Gretzky was traded to Los Angeles on August 9, 1988. Although Messier was named captain, he and the team missed their friend and star. The Oilers were, ironically, eliminated by Gretzky and the Kings in the first round of the 1988-89 playoffs. Yet, the Oilers still wouldn't quit. In 1989-90, they earned their least expected Stanley Cup championship, following a season when Messier earned the Hart Trophy as the league's most valuable player after collecting 129 points. Facing the Bruins in the final, Edmonton rolled over Boston in five games, earning the Cup with a 4-1 win on May 24, 1990. Captain Mark Messier accepted the Stanley Cup from NHL president John Ziegler, hoisted it over his head and declared, "This one's for you, Gretz!"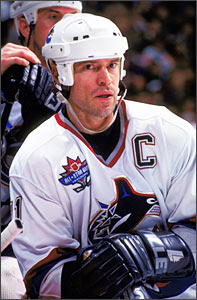 On July 28, 1997 Mark Messier returned to Canada after he signed a three-year deal with the Vancouver Cancuks.

The successful team of the mid-1980's was slowly eroding. Grant Fuhr sat out a suspension in 1990-91 and Jari Kurri returned to Finland. Messier had been hampered by injuries throughout the season, his last in an Edmonton Oilers uniform.

Mark was traded to the New York Rangers on the precipice of the 1991-92 season. On October 4, 1991, Messier joined the Rangers with future considerations (Jeff Beukeboom and David Shaw) in exchange for Louie DeBrusk, Bernie Nicholls, Steven Rice and a quantity of money. "When I left for New York, I felt it was something good for me from a personal standpoint," explained Mark. "I was born and raised in Edmonton and had been successful in winning five (Stanley) Cups and it just came to the point where the team was changing and I felt it was time for me to move on and grow as a person, moreso even than as a player. I felt very confident going to New York that I would be able to go there and try to fulfill some of the things I learned along the way." That season, Messier collected 107 points, earning the Hart Trophy and leading New York to a first-place finish, their first in fifty years. "That first year, we won the President's Trophy and the second year, we missed the playoffs," he chuckled. "But the third year, we bounced back to be the best team overall again and then went on to win the Stanley Cup. It was an amazing three years!"

That victory came close to eluding their grasp. In the third round of the post-season, the Rangers faced a tough New Jersey squad that led the best-of-seven three games to two. But prior to Game Six, captain Mark Messier predicted the win. "We know we have to win it. We can win it and we're going to win it!" Messier proceeded to lead his squad with a hat-trick to take Game Six, and in dramatic fashion, New York edged the Devils in Game Seven to win the series. In the final, the Rangers were challenged by the upstart Vancouver Canucks. The series went the full seven games, but New York edged the Canucks in Game Seven, winning 3-2 on the Stanley Cup-winning marker from Messier. "Fortunately for me, I had the people and support from the president all the way down to the manager and coaches that shared in my belief, and together, we were part of something that hadn't been done in fifty-four years. It was an amazing time for us all."

Mark spent six seasons starring in New York, then signed as a free agent with Vancouver on July 30, 1997. Given the 'C' once again to wear on his chest, Mark captained his third NHL team. But although there was every desire to also lead a third team to a Stanley Cup championship, the results weren't as positive as hoped with the Canucks. "When I went to Vancouver, I understood the situation I was getting into," began Messier, reflecting on his three playoff-less seasons with the Canucks. "They were going to rebuild. It was a very difficult situation but one that I learned from as well. That was my first time going through something like that. Through it, we were able to stabilize the franchise and by my third year there, it was obvious that the team was heading in the right direction. But going through something like that is not for a person with thin skin and you have to be very confident and very focused on what your goals are and continue to do what you believe is right and that's what I tried to do. In the end, Vancouver was a great experience for me and unfortunately, we didn't achieve our ultimate goal, which was to win a Stanley Cup, but overall we did some great work there that enabled the franchise to get back on its feet and to this day, they're still playing well."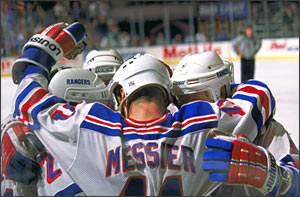 Messier returned to "The Big Apple" in 2000 and during the 2003-04 season surpassed Gordie Howe as the second highest point getter in NHL history behind.

Messier returned to the Rangers on July 13, 2000, signing as a free agent. He wound down his phenomenal career with four seasons in New York. On September 12, 2005, Mark Messier announced his retirement from the National Hockey League. Through twenty-five NHL seasons, Mark played 1,756 regular seasons games in which he scored 694 goals and 1,193 assists for 1,887 points. In playoff action, he counted 295 points (109 goals and 186 assists) in 236 contests. A six-time Stanley Cup champion, Messier also accumulated a number of individual honours. The five-time All-Star was both the Hart Trophy winner as well as the Lester B. Pearson recipient as league MVP in 1989-90 and again in 1991-92. Mark also collected the Conn Smythe Trophy in 1984.

On January 12, 2006, the New York Rangers retired Messier's number 11. The Edmonton Oilers followed suit on February 27, 2007. That fall, Mark Messier was inducted into the Hockey Hall of Fame. "I can honestly say that I didn't play my career to make it to the Hockey Hall of Fame," shrugged Mark. "I played my career to play well enough to make the NHL, and obviously, when you make the NHL, the goal is to try to win the Stanley Cup and to be a contributing member of a team. That's what I tried to do. Individual statistics — goals and assists — weren't of interest to me. Figuring out a way to win in every individual game was what mattered. As time went along and as I was getting ready to retire, and as it was my turn to be considered for the Hockey Hall of Fame, it was obviously a tremendous honour, not only for the tradition and history of the game and the people who paved the way for all of us to play this great game, but also for what it meant to all the people who helped me along the way. It's never about the individual making it to the Hall of Fame; it's about your minor hockey league coaches, your family, your friends and teammates along the way. That is the epitome of any individual going into the Hockey Hall of Fame. You don't play team sports as an individual; you play with other people as a team, so making it into the Hall of Fame is the greatest compliment of all to the people who helped you along the way."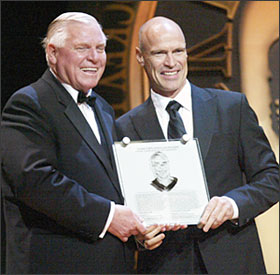 Three years after Messier's twenty-five year career came to an end, he was proudly welcomed to the Hockey Hall of Fame. (Dave Sandford/HHOF)

But the statistics and awards reflect but one angle of Mark's brilliant career. He will forever be known as the consummate leader; a captain among captains and one of the fiercest competitors to ever play the game. "The leadership probably started when I was a stickboy for my father when he coached senior teams. I watched how he interacted with players. He had a very good knowledge of hockey and all of its elements. And (the leadership also came with) playing with great players and watching what they did. Then there's Glen Sather (Edmonton's president, general manager and coach during the dynasty years) and Ted Green (an assistant coach with the Oilers during that same era) -- I learned a tremendous amount from them. They were guys I really respected. The odyssey that (Sather) shared with all of us was something I learned a lot about. John Muckler (another coach in Edmonton) was an unbelievable technician. You learn from all the people you come in contact with and, of course, through winning, you gain experience and, unfortunately, through losing you gain experience as well. You start putting all these things together as your career evolves and pretty soon you figure out what works and what doesn't and that's what experience does. Pretty soon, you realize that relationships are important and learn to cultivate those and extract the best you can out of everybody and I think that is what leadership is."

Messier's leadership spawned a new NHL award in 2006-07. The Mark Messier Leadership Award recognizes a player who exemplifies superior leadership qualities, both on and off the ice. "One of the things I really felt good about was trying to bring to life some of the great things a lot of the players in our game were doing," explained Messier. "Too often, you hear about the mistake a player has made and not often enough do you hear about the things he's doing to reach out to the community, and I felt that a great way to acknowledge this was by creating the Leadership Award. The NHL, thankfully, felt it was a great idea to do, and that's how the Mark Messier Leadership Award came about."

One of the most complete players of his era, Mark Messier dominated the ice with a fierce competitiveness that made him a legend whose triumphs will forever rank him among the best to ever play the game.

Kevin Shea is the Editor of Publications and Online Features for the Hockey Hall of Fame.