17 DECEMBER 2010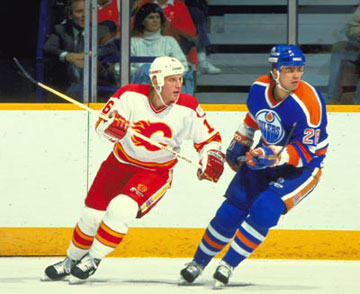 Brett Hull began his NHL career as a member of the Calgary Flames in 1985-86. (Paul Bereswill/Hockey Hall of Fame)

Wearing the mantle of a famous father can be daunting. Many have faltered under the heavy expectations placed on them by the legacy of a famous Dad, but Brett Hull equalled, and some might argue, eclipsed the expectations of being the son of Hall of Fame Honoured Member Bobby Hull.

Brett Andrew Hull was born August 9, 1964 in his father's hometown of Belleville, Ontario. This put Brett at odds with his siblings, who were all born in Chicago while Bobby was playing with the Black Hawks -- Bobby Jr. in 1961, Blake in 1962, Bart in 1969 and Michelle in 1970.

But while Brett inherited his wicked shot from his father, his mother has to get credit for supplying athletic DNA to Brett, too. Joanne was a professional figure skater for Hilton Hotel shows. "I keep reading that you inherited all your ability from your father," Joanne said to Brett in his autobiography, 'Brett: Shootin' and Smilin'.' "Have you forgotten that I was a professional skater? I'm the one who taught you to skate."

Brett, in his inimitable way, could only laugh. "I'm actually doing you a favour by not crediting you for my skating. It's the worst part of my game!"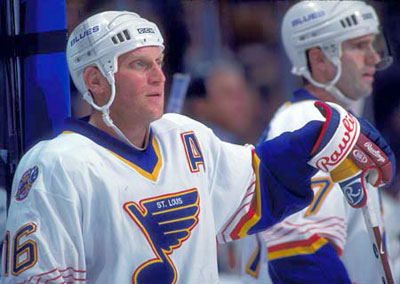 Brett Hull played eleven seasons in St. Louis before signing as a free agent with the Dallas Stars in the summer of 1999. (David E. Klutho/Hockey Hall of Fame)

Hull first played hockey at the age of four, playing on a team in a Chicago suburb. "My skating was so wobbly that the referee carried me to the faceoff circle to prevent the game from turning into a marathon. He grew weary of that plan and finally just let me stand in the opposition zone. Of course, I headed straight for the net, low left wing circle. I put it in park and waited for the puck. Mom says I scored the game-winning goal from there during my first league game. That's too excellent to be true!"

With a father who was a star in Chicago, the boys got plenty of time skating and shooting with the NHL Hawks. But in June 1971, the family was greeted in Winnipeg by a parade after Bobby Hull signed a million dollar contract with the Jets of the World Hockey Association. "The Hull boys, with our light hair and wild ways, were nicknamed the White Tornadoes in Chicago," Brett wrote. "We lived up to our reputation in Winnipeg."

The hockey tutorials consisted of show and tell. "Dad wasn't one to coach his boys," Brett claimed. "His idea of teaching was to tell us to watch him. And we did."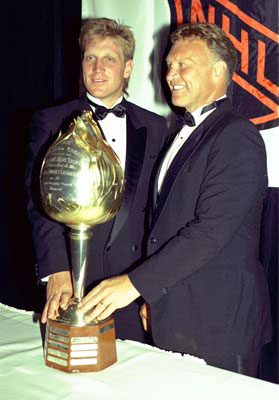 Brett Hull pictured here with father Bobby was the recipient of the Hart Memorial Trophy in 1991 as the NHL's Most Valuable Player.
(Doug MacLellan/Hockey Hall of Fame)

Bobby and Joanne Hull divorced in 1979, and Joanne took the family to Vancouver. There, Brett played midget. "People saw me as a pudgy, fun-loving, music-crazed bum," admitted Brett in the autobiography. "It wasn't surprising when no Junior team showed the slightest interest in Vancouver's only right wing who came with love handles. At that point in my life, any thoughts about the NHL were merely fantasy."

Invited to the training camp of the Penticton Knights of the BC Junior Hockey League in 1982, Hull realized why he made the team "It was obvious they were keeping me around because my name was Hull." But Brett far exceeded expectations, scoring 48 goals in his rookie season. But that was just a warm-up. In 1983-84, Brett scored 105 goals in 56 games. His 188 points broke a league record. "I started to believe I had a future in the game," he stated.

The scoring exploits attracted mild attention, and Brett was drafted in the sixth round of the 1984 NHL Entry Draft. But instead, he decided to play U.S. college hockey for the University of Minnesota Duluth. There, coaches stressed the need for Brett to work hard on his skating. "Every Monday and Wednesday, we practised without pucks," he recalled. "I hated it but I needed it."

After two seasons with the Bulldogs, Brett turned pro, joining the Calgary Flames during the 1986 Stanley Cup Final against the Montreal Canadiens. "I'm in awe," he wrote in 'Brett: Shootin' and Smilin'.' "I'm so nervous, I can barely lace my skates." The Flames lost to Montreal in that series.

Hull spent most of the 1986-87 season in the American Hockey League, and although disappointed, scored 50 goals and 92 points for Moncton, third best in the league, and earned rookie of the year honours and a spot on the AHL's First All-Star Team.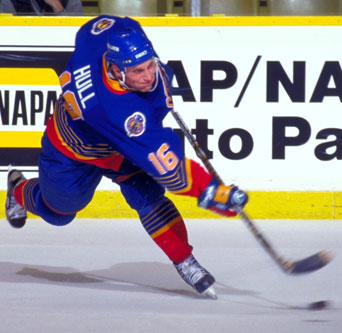 Brett Hull was known for his booming slapshot. (Dave Sandford/Hockey Hall of Fame)

While the Flames loved Hull's productivity, he was continually hounded about his conditioning. Yet, in 1987-88, his first full NHL season, Brett had 26 goals when, on March 7, 1988, he was dealt to the St. Louis Blues with Steve Bozek for Rob Ramage and Rick Wamsley. "l had sat out 16 of the team's 68 games when I was traded," he recalled. Hull added 6 more goals with St. Louis.

It was in St. Louis that Brett Hull realized his full potential. In 1988-89, he scored 41 goals, but the next season, Brett exploded for 72 goals. "Bob Goodenow, my agent, told reporters he had never seen a career take such a dramatic jump to a higher level." Part of the reason was the work of centre Peter Zezel. A First Team All-Star, in addition to his extraordinary scoring, Brett was recognized for his gentlemanly play, receiving that year's Lady Byng Trophy.

The addition of Adam Oates to the Blues added exponential productivity to Hull's game. "I'm a goal scorer. He's a passer," explained Hull. "It's a perfect relationship." The duo, dubbed 'Hull and Oates' (a play on musical hit-making Hall and Oates), were even better in 1990-91. Brett collected an astonishing 86 goals, and finished with 131 points. He was again selected for the NHL's First All-Star Team, but was also awarded the league's two most valuable player honours - the Hart Trophy (voted on by sportswriters) and the Lester B. Pearson Award (voted on by the players). Brett's 86-goal total was the third highest ever attained in the NHL. Brett also played for the United States (he has dual citizenship because his Mom is American) in the 1991 Canada Cup, leading the silver medal team in scoring.

Although Oates was traded midway through the 1991-92 campaign, Hull led the NHL in goal scoring for a third straight season, reeling off a third season with 70 or more goals, connecting for 70 that season. Again, Brett was selected for the NHL's First All-Star Team.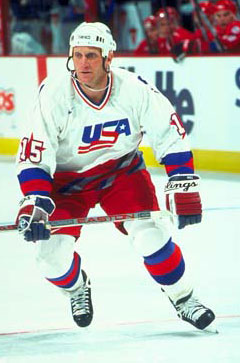 On the international stage Brett Hull has represented to the United States at the Winter Olympics (1998 and 2002), the World Cup (1996), the Canada Cup (1991) and the World Championships (1986). (Ottawa Senators/Hockey Hall of Fame)

While his production dipped in comparison to the three previous seasons, Hull still was a prodigious scorer, collecting 54 goals in 1992-93 and 57 in 1993-94.

The strike-shortened 1994-95 season saw Brett score 29 goals. He rebounded with seasons of 43 and 42, but scored just 27 times in 1997-98. That summer, after eleven seasons in St. Louis, Brett signed with the Dallas Stars.

In his first season with Dallas (1998-99), Hull reached two milestones. On New Year's Eve, he scored his 600th NHL goal, an achievement that his father had also attained, and in doing so, Bobby and Brett became the first father and son in NHL history to reach that monumental plateau. Later that season, after scoring 32 goals, Hull led Dallas to the Stanley Cup Final against the Buffalo Sabres.

The NHL rulebook that season called for disallowing any goal scored when any portion of an opponent's skate was in the crease. But on June 19, 1999, Brett Hull scored a goal late in the third overtime period of Game Six. The Sabres argued that Hull's skate was in the crease, but the goal was allowed. The Dallas Stars had clinched the Stanley Cup!

Although injuries hampered Hull through the 1999-2000 season, he was at his productive best in the post-season, and Dallas again went to the Stanley Cup Final, this time, facing the New Jersey Devils. This time, the Stars were unable to duplicate the success of the previous spring, losing to the Devils in six games.

In 2001, after three seasons in Texas, Brett signed as a free agent with the Detroit Red Wings. That season, the Wings upset the Carolinas Hurricanes to capture the Stanley Cup. Brett, who played on a line with Pavel Datsyuk and Henrik Zetterberg, fuelled the drive with ten post-season goals.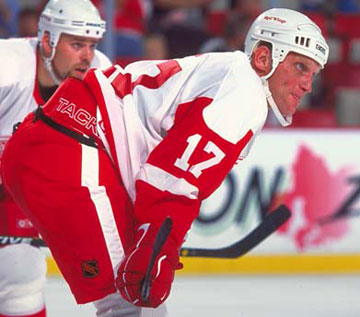 Brett Hull surpassed the 700-goal mark and 1,300-point mark in 2002-03 as a member of the Detroit Red Wings. (David E. Klutho/Hockey Hall of Fame)

Earlier that year, Hull had played for Team USA at the Winter Olympic Games staged in Salt Lake City. The U.S. took home gold during that tournament.

In August 2004, his career winding down, Brett decided to join his good friend Wayne Gretzky in Phoenix. The Coyotes took Bobby Hull's number 9 out of retirement (the franchise had honoured the senior Hull in 1989 when still located in Winnipeg) and gave it to Brett. But the 2004-05 season was wiped out by an NHL lock-out and when hockey resumed in 2005-06, Brett played but 5 games before announcing his retirement.

A brilliant career concluded on October 15, 2005, but not before establishing Brett Hull as one of the pre-eminent goal scorers in NHL history. In 1,269 regular season NHL games, he scored 741 goals and added 650 assists for 1,391 points. In 202 playoff contests, he added 103 goals and 87 assists for 190 points.

Those 741 regular season goals placed Brett third all-time in NHL scoring. Twice during his career he reached 50 goals in 50 games. Only Hull and Wayne Gretzky have achieved the feat more than once.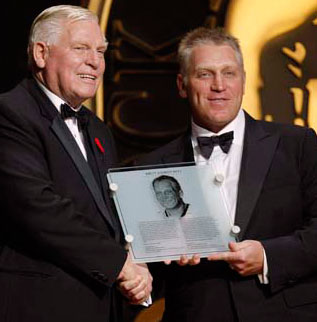 Brett Hull accepts his Honoured Member plaque after being inducted into the Hockey Hall of Fame on November 9, 2009. (Dave Sandford/Hockey Hall of Fame)

The St. Louis Blues retired Hull's number 16 on December 5, 2006. In 2008, he was inducted into the U.S. Hockey Hall of Fame, and followed that a year later with election to the Hockey Hall of Fame, where he joined his father. The parallels are stunning. Both finished with better than 600 NHL goals and 1,000 NHL points. They became the first father and son inducted into hockey's Hall of Fame.

Playing in the shadow of his legendary father was not the impediment predicted, and both Brett and Bobby will forever be known as two of the most exciting and productive players in the storied history of hockey.

Kevin Shea is the Editor of Publications and Online Features for the Hockey Hall of Fame.