21 JANUARY 2011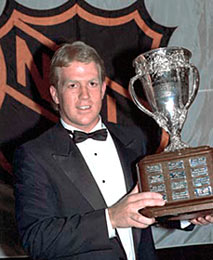 Brian Leetch captured the Calder
Memorial Trophy in 1989.
(Doug MacLellan/Hockey Hall of Fame)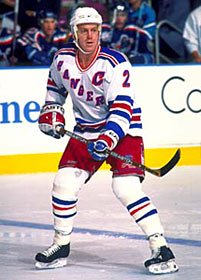 In 1997 the New Yorkd Rangers named Brian Leetch their captain. (David E. Klutho/Hockey Hall of Fame)




Although Brian Joseph Leetch was born in Corpus Christi, Texas on March 3, 1968, the family moved to Connecticut a few months later, and it was there that the youngster began his hockey career. "My first memory of being on the ice was when I was five years old in Cheshire, Connecticut, learning to skate and play hockey on our town rink," he recalled. But while his blades carved into the ice at the rink his father managed, his visions of hockey stardom had yet to materialize. "The dream of an NHL player wasn't even there," he chuckled. "It was too far-fetched to even be imagined. I played hockey because it was fun. The enjoyment was what drew me to the game."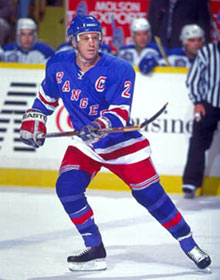 In 1991-92, Brian Leetch had his best single season, scoring 102 points and netting 22 goals helping him capture the Norris trophy as the NHL's top defenseman. (Dave Sandford/Hockey Hall of Fame)
Brian Leetch played in four NHL All-Star Games (1990, 1998, 2001 and 2002). (Doug MacLellan/Hockey Hall of Fame)




By the time Brian was a teenager, he was excelling at not only hockey, but baseball. While attending Cheshire High School, he scored 52 goals and earned All-State honours in hockey, while his 90-mile-per-hour pitching led the school to a state championship. "In high school, the rink in my town closed down. I left home to try and find better competition," he said.

After grade 10, Leetch found a home at Avon Old Farms School, an all-boys prep school in Avon, Connecticut. There, his athletics progressed further. In baseball, Brian established a school record by striking out 19 batters in a single game, while during his two seasons of hockey at Avon, he scored 70 goals and added 90 assists in 54 games while playing defence. After his senior year at Avon, Leetch was selected by the New York Rangers in the first round of the 1986 NHL Entry Draft, ninth overall.

That fall, Brian enrolled at Boston College, his father's alma mater, and went on to be an All-American defenceman for the Eagles. "I went to Avon Old Farms School for two years before I went to Boston College. Both of those places allowed me to improve. The on-ice coaching, competing against elite players and my exposure to international hockey with USA Hockey gave me the skill level and the confidence to say, 'Maybe this dream is not impossible!' And it allowed me to realize that the NHL is something that might be in my future."

The NHL was definitely in Leetch's future! The New York Rangers waited while Brian spent a year at Boston College and then played for Team USA at the 1988 Olympic Games. He made his NHL debut following the Winter Games, earning an assist in his first game, a February 29, 1988 contest against the St. Louis Blues. In that first season, Brian collected 14 points in 17 games. The 1988-89 season was Leetch's first full year in the NHL, and he earned the Calder Trophy as the league's best rookie by scoring 23 goals (a record for rookie defencemen) and 71 points. The Rangers developed into a championship-calibre team, with Leetch evolving into one of the most gifted blueliners in the league. In 1991-92, he recorded 102 points - just the fifth defenceman (and first American blueliner) to collect 100 or more points in a season. In doing so, Brian was named recipient of the Norris Trophy as the NHL's top defenceman.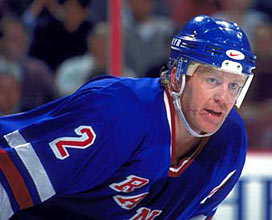 Brian Leetch spent 17 seasons as a member of the New York Rangers before being dealt to the Toronto Maple Leafs in the latter stages of the 2003-04 NHL season. (Paul Bereswill/Hockey Hall of Fame)

In 1993-94, Brian reached the twenty-goal plateau for the third time in the NHL, scoring a career-best 23. Along with Mark Messier and Adam Graves, Leetch led the Rangers to the President's Trophy as first-place finishers. That spring, the New York Rangers accomplished something they hadn't achieved in 54 years — they won the Stanley Cup. Brian led all Rangers in scoring during the Final, firing five goals and assisting on six others. He was named recipient of the Conn Smythe Trophy as the playoff MVP, the first non-Canadian to earn the trophy.

In 1996-97, Mark Messier left the Rangers for Vancouver, and Leetch was named captain of the team. That season, he again hit the 20-goal plateau, and was named winner of the Norris Trophy for a second time. The Rangers surprised pundits by reaching the Eastern Conference Final, but were eliminated from playoff contention by the Philadelphia Flyers.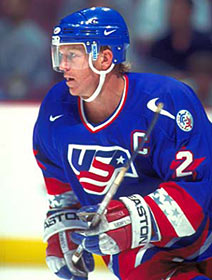 Brian Leetch represented the U.S. on several occasions including the World Junior Championship (198, 1986 and 1987), World Championship (1989), Canada Cup (1991), World Cup of Hockey (1996 and 2004) and Winter Olympics (1988, 1998 and 2002). (Chris Relke/Hockey Hall of Fame)

The Rangers struggled during subsequent years, and when Messier returned from an unsuccessful foray with the Canucks, Leetch handed him back the captaincy prior to the 2000-01 season. That season, Brian reached the 20-goal milestone for a fifth and final time.

During yet another unsuccessful campaign, the Rangers blew the team up in 2003-04 and prepared to start again. On his 36th birthday, Leetch received an unusual gift — he was traded by the Rangers to Toronto. On March 3, 2004, was traded to the Maple Leafs for a first round draft pick in the 2004 NHL Entry Draft, a second round selection in the 2005 Entry Draft as well as prospects Jarkko Immonen and Maxim Kondratiev. Brian played the remaining 15 regular season games in Toronto blue and white, with hopes that Brian would help them go deep into the playoffs, but the Leafs were eliminated after the second round.

After the 2004-05 lock-out, Brian was signed as a free agent by the Boston Bruins. During the 2005-06 season, Leetch collected 32 points, including his 1,000th regular season NHL point.

"I was lucky to play for three of the 'Original Six' Teams," he stated in his Hall of Fame induction speech. "My time in both Toronto and Boston was short, but wearing the Maple Leaf and the Spoked B on my jersey like so many great players had before me, I felt a lot of pride in that and just being a small part of their long history was very special to me."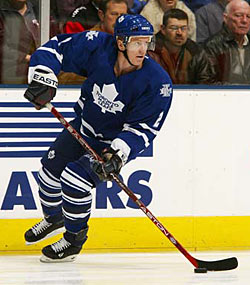 Following a 17-year career on Broadway, Brian Leetch went on to play 15 regular season and 13 playoff games with the Toronto Maple Leafs before signing as a free agent with the Boston Bruins in the summer of 2005. (Dave Sandford/Hockey Hall of Fame)

At the conclusion of the 2005-06 season, Brian was once again a free agent. He received numerous offers, but curiously, neither signed nor retired. Finally, on May 24, 2007, Brian Leetch announced his retirement, bringing an eighteen-season NHL career to a conclusion.

During 1,205 regular season NHL games, Leetch scored 247 goals, earned 781 assists and totalled 1,028 points. In 95 playoff contests, he added 28 goals and 69 assists for 97 points.

Leetch attained numerous achievements during his playing career. He was the Calder Trophy winner in 1989, was a two-time Norris Trophy winner, was selected as the Conn Smythe Trophy recipient in 1994, was named to the First All-Star Time twice (1992 and 1997) and to the Second All-Star Team on three occasions (1991, 1994 and 1996). To cap it all of, Brian won the Stanley Cup with the Rangers in 1994.

Internationally, Leetch won a silver medal at the 2002 Olympic Winter Games in Salt Lake City and was named to the Olympic Tournament A;ll-Star Team that year. As captain of Team USA, Leetch and his teammates were victorious at the 1996 World Cup of Hockey.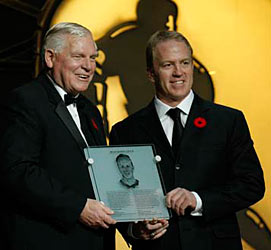 Brian Leetch receives his Honoured Members plaque from Hockey Hall of Fame Chairman and CEO Bill Hay after being inducted into the Hockey Hall of Fame in 2009. (Dave Sandford/Hockey Hall of Fame)

Following his retirement, the awards continued. In 2007, Brian was recipient of the Lester Patrick Award for his contributions to hockey in the United States. In 2008, he was inducted into the United States Ice Hockey Hall of Fame.

On January 24, 2008, the New York Rangers retired Leetch's number 2. During the ceremony, former teammate Mark Messier called Brian "the greatest Ranger of all-time."

On November 9, 2009, Brian Leetch was inducted into the Hockey Hall of Fame, joined by Brett Hull, Luc Robitaille, Steve Yzerman and builder Lou Lamoriello. Becoming an Honoured Member of the Hockey Hall of Fame is the epitome of personal achievement in hockey, and that fact wasn't lost on Leetch. "You look at the Hockey Hall of Fame as one big team, and everybody in one big locker room," he stated. "Even if I never get on the ice for one shift, it's still the best team in the world, and I'm truly honoured."

Kevin Shea is the Editor of Publications and Online Features for the Hockey Hall of Fame.