27 MAY 2011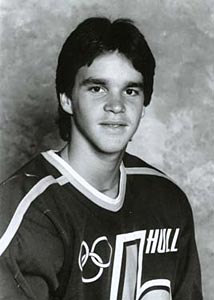 Luc Robitaille played three seasons with the Hull Olympiques of the QMJHL.
(Hockey Hall of Fame)

His skating mocked, a future in hockey for Luc Robitaille seemed unlikely, but he proved the sceptics wrong by becoming one of the most dominant left wingers in history.

Luc Robitaille was born February 17, 1966 in Montreal, Quebec. By the time he was playing Midget, Luc was already posting astronomical numbers, recording 93 points with Bourassa Angevins. By the next season (1983-84), the 17-year-old rookie was playing junior hockey with the Hull Olympiques of the Quebec Major Junior Hockey League, and had 85 points in 70 games. That summer, during the NHL Entry Draft, Robitaille was the ninth selection of the Los Angeles Kings, chosen 171st overall. "I was on one list," he laughed. "There was one person that believed in me. Alex Smart — that was the scout that believed in me." Curiously, Tom Glavine, later to star in Major League Baseball, was drafted by the Kings in the fourth round.

Realizing the challenges ahead of him, Luc worked with fierce determination to improve his game, specifically his skating. "I was the kind of player where I was never good enough," he told The Hockey News. "Every game, whether things were great or not, I always wanted to be better and get better. I over-analyzed what I did. I was really hard on myself. I was always pushing to be better."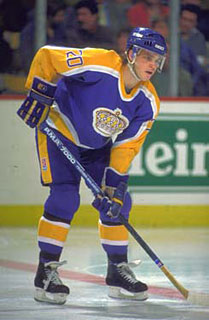 Luc Robitaille captured the Calder Trophy as NHL Rookie of the Year in 1986-87 as a member of the Los Angeles Kings. (O-Pee-Chee/Hockey Hall of Fame)

By his second season in Hull, Luc had improved exponentially. His 55 goals and 93 assists gave him 148 points and a spot on the QMJHL's Second All-Star Team in 1984-85. For his playoff performance that spring, Luc was co-winner of the Guy Lafleur Trophy as the most valuable playoff performer.

One further season and he was named the Canadian Major Junior Player of the Year after scoring 68 goals, a QMJHL-best 123 assists and the league scoring championship with 191 points. Luc was named to the First All-Star Team for his accomplishments. Luc credits teammate Guy Rouleau, who led the league with 91 goals and tied Luc's 191 points, for teaching him how to fire one-timers, later to become a staple of Robitaille's game. The Olympiques worked their way through the competition to become QMJHL champions, and while Hull did not win the Memorial Cup, Robitaille led the playoffs with 44 points and was the leading goal-getter in the Memorial Cup tournament with 8. Earlier that year, Luc had been a stand-out at the World Junior Championship, scoring three times and finishing with 8 points in 7 games.

In three seasons with the Olympiques, Robitaille scored 155 goals and 269 assists for 424 points in only 197 games. In honour of his efforts, the QMJHL later created the Luc Robitaille Trophy, awarded each season to the team which scores the most goals.

Luc made his triumphant debut with the Los Angeles Kings in 1986-87, and while the team had a losing record (31 wins, 41 losses and 8 ties), they made the playoffs for just the second time in five seasons. Luc scored 45 goals and had 39 assists for 84 points, earning selection to the NHL's Second All-Star Team and was awarded the Calder Trophy as the league's top rookie.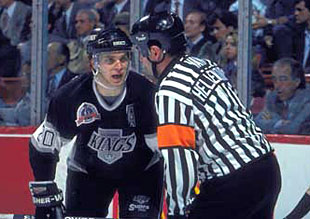 Luc Robitaille of the Los Angeles Kings has words with referee Andy Van Hellemond during the 1993 Stanley Cup final against the Montreal Canadiens.
(Paul Bereswill/Hockey Hall of Fame)

Luc's sophomore season was even more incredible. He scored 63 goals and collected 111 points, fifth best in the league, and secured a berth on the NHL's First All-Star Team, where he would stay for four years. The Kings again slipped into the playoffs with a losing regular season record, but again lost in the divisional semi-final.

During the summer of 1988, Wayne Gretzky arrived in Los Angeles. "Bruce McNall called me the day before the trade was about to happen and I still wasn't sure it was really going to happen," recalled Robitaille. "The next day, I was in Montreal when it happened and I had to do a couple hundred interviews. There was no way to get hold of Wayne because of the press conference, so people starting asking me questions. I idolized Wayne, so to get the best player in the game was great. That was the most excited I ever was in my career about getting a new player on my team. To be able to watch him day in and day out was just amazing."

That season, the team's fortunes changed. The losing record evolved into a 42-31-7 season, good for second place in the Smythe Division. Luc continued to shine, scoring 46 goals and 98 points, good for tenth-place in the NHL scoring race. Again, he was selected to the NHL's First All-Star Team.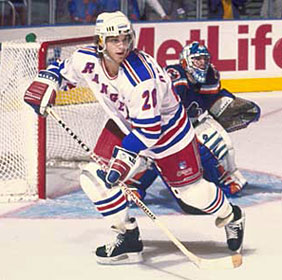 Luc Robitaille played two seasons as a
member of the New York Rangers.
(Paul Bereswill/Hockey Hall of Fame)

Robitaille scored more than 40 goals in each of his first eight seasons with the Kings, including three seasons with 50 or more goals and a career-best 63 goals in 1992-93. That season, Luc set NHL records for most goals and most points (125) in a season by a left winger. His 125 points (ninth best in the league that season) still stands as the league record. With captain Wayne Gretzky sidelined with an injury that forced him to miss the first half of the 1992-93 season, Robitaille stepped into the vacuum, assumed the captaincy and led the Kings in scoring. "(Coach) Barry Melrose gave me a lot of respect (in assigning him the captaincy)," stated Luc. "It was my first time in L.A. playing on the top line. All the years prior, I was always on the second line, so that changed a lot of my responsibilities. I remember Barry asking me to work hard every day and it certainly paid off. I enjoyed the responsibility."

The Kings ended up losing to the Montreal Canadiens in the Stanley Cup Final, the only time in franchise history that Los Angeles has progressed to the Final. Although the Kings lost, Luc had a fine post-season, scoring 9 goals and adding 13 assists for 22 points in 24 playoff games. At the NHL Awards, he was rewarded with a fifth selection to the NHL's First All-Star Team.

Luc's production fell off substantially in the 1993-94 season. Although still better than a point a game (Luc scored 44 goals and 42 assists for 86 points in 83 regular season games), his total was 39 points behind the prior season. In addition, Los Angeles failed to make the playoffs, having gone to the Final the previous spring. When the Kings missed the playoffs, Robitaille joined Canada at the World Championship in Italy. He scored the tournament-winning goal in a shootout to give Canada its first gold medal in 33 years.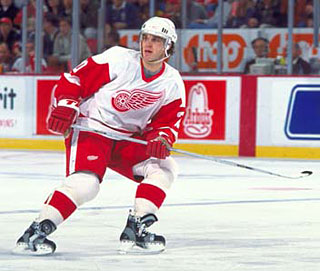 Luc Robitaille captured the Stanley Cup
as a member of the Detroit Red Wings in 2002.
(David E. Klutho/Hockey Hall of Fame)

To shake up the team, Luc Robitaille was traded from Los Angeles to the Pittsburgh Penguins for Rick Tocchet and a draft pick on July 29, 1994. Luc struggled in Pittsburgh, scoring 23 goals and 19 assists for 42 points in a strike-reduced season in 1994-95, his worst output since joining the NHL. "I knew (Pittsburgh owner) Howard Baldwin. When I went there he treated me real well," recalled Robitaille. "I had a fairly decent year, about a point a game. We had a good run in the playoffs. I enjoyed my time in Pittsburgh. The only reason I left was because Howard (Baldwin) went to my agent. He wasn't going to be able to pay me. We didn't know at the time, but he was in trouble financially. He did me a favour and sent me to New York."

After but one season with the Penguins, Luc was sent to the New York Rangers with Ulf Samuelsson in a trade that sent Petr Nedved and Sergei Zubov to Pittsburgh. Luc's production did not rebound significantly in his two seasons with the Rangers.

Then, in August 1997, the L.A. Kings re-acquired Luc from New York, sending Kevin Stevens to the Rangers. It was the first move made by newly-appointed general manager Dave Taylor, Luc's longtime teammate in Los Angeles, and one that rejuvenated Robitaille's career. "I was excited. Dave talked to me right away and I knew what was expected of me in L.A. Larry Robinson was the coach. We were starting to build a team. It was a good fit."

Although an undetected hernia shortened Luc's season in 1997-98, he returned to form in 1998-99, scoring 39 goals and adding 35 assists for 74 points. "I had the hernia surgery and I was not feeling good about my game. It was hard to play with a bad groin all year." Robitaille said. "Once I fixed my hernia, I got into a new training program. I got a lot stronger and bigger. That's when the players were getting faster and bigger. Literally, I changed my career that summer." With the help of a trainer, Luc added ten pounds of muscle to his slim frame. "I probably added ten years to my career that summer."

During the 2000-01 season, Luc scored 37 goals and collected 88 points, helping lead the Kings to their first playoff appearance since 1998. The seventh-seed Kings upset the Detroit Red Wings in the opening round but lost to Colorado, the eventual Stanley Cup winners, in a seven-game conference semi-final. Luc was named to the Second All-Star Team, his first All-Star selection since 1993.
Luc Robitaille scored 668 career NHL goals over the span of a 19-year NHL career. (Dave Sandford/Hockey Hall of Fame)

Asked to take a pay cut in Los Angeles, Luc decided instead to pursue free agency. He targeted a team that gave him an opportunity to win the Stanley Cup and signed a substantial two-year deal with the Detroit Red Wings that began with the 2001-02 season. "When I went to Detroit, I knew I was there to win but the adjustment for me was going from playing 20 minutes a game to 13 or 14," he said. "It took me a good four or five months to understand and accept it."

He ended up scoring 30 goals and 20 assists for 50 points, helping the Wings take the Presidents' Trophy with a first-place regular season finish. Detroit defeated Vancouver, St. Louis and defending champions, the Colorado Avalanche to meet the surprising Carolina Hurricanes in the Final, defeating them in five games. After fifteen seasons, Luc Robitaille finally earned the right to hoist the Stanley Cup!

The Stanley Cup champion Red Wings were unable to repeat in 2002-03, a season in which Robitaille had but 20 goals, due substantially to limited ice time.

Luc returned for a third stint with Los Angeles when he signed as a free agent with the Kings for the 2003-04 season. During this time, Robitaille realized several milestones. On March 9, 2004, he scored his 650th goal in a win over the Phoenix Coyotes. Four days later, he played his 1,000th game as a member of the Los Angeles King. On January 19, 2006, Luc scored a hat-trick against the Atlanta Thrashers, tying and then passing Marcel Dionne's franchise record of 550 goals.

Luc Robitaille's brilliant NHL career concluded on April 17, 2006 in a contest against the San Jose Sharks. After the game, the Kings surrounded Luc, even before their own goaltender. The Sharks then proceeded to shake hands with Robitaille before they headed off to their locker room. "It really surprised me and at the same time it was one of the proudest moments of my career," admitted Luc. "Teammates and your opponents are the people that know the price you pay to play every day. And I know I played my career in an honest way; the right way. So when they did that, it was special. It certainly was one the greatest memories of my career. I remember Joe Thornton approaching me and he spoke very highly of my career and that meant a lot to me."

An extraordinary (and improbable) NHL career concluded with 668 goals, 726 assists and 1,394 points recorded in 1,431 regular season games. His goal and point totals set NHL records for left wingers, while his assist total was second only to Johnny Bucyk. Luc also totalled 58 goals and 69 assists for 127 points in 159 playoff contests. Ironically, Robitaille and teammate Dave Taylor have the unlikely record of being the lowest NHL draft picks to reach the 1,000-point plateau.

The Los Angeles Kings honoured Robitaille by retiring his number 20 during a pre-game ceremony on, appropriately, January 20, 2007. The number 20 now hangs from the rafters of the Staples Center beside banners honouring Marcel Dionne, Wayne Gretzky, Dave Taylor and Rogatien Vachon. In May of 2007, Robitaille was named the Kings' President of Business Operations.

Luc Robitaille, Stanley Cup champion, eight-time NHL All-Star and one of the greatest wingers in NHL history, was inducted into the Hockey Hall of Fame in 2009.

Kevin Shea is the Editor of Publications and Online Features for the Hockey Hall of Fame.