5 NOVEMBER 2010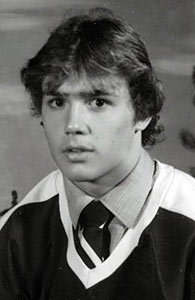 Steve Yzerman played two season with the Peterborough Petes of the OHL. (Hockey Hall of Fame).

While the word 'consistent' gets over-used in hockey circles, it is imperative that we trot the term out to describe Steve Yzerman — a consistent producer, a consistent leader, a consistent champion and, maybe most importantly, a consistent gentleman.

Born May 9, 1965, Stephen Gregory Yzerman learned to skate in his hometown of Cranbrook, British Columbia. "My parents would take us on weekends up to a lake and we'd shovel off a little part of it, wheel the station wagon up, open the back, put on our skates, and we'd skate around all the time," Steve told IGN Sports in 2004. "The ice used to get snowy pretty quick and there isn't a Zamboni out there to clean it off. We used to play a lot outdoors, not in leagues, but just in our spare time. The snow builds up after a while and you'd lose the puck in the snow bank. Eventually the puck starts to roll, it doesn't really slide anymore."

Steve's love of hockey developed early. "As a boy, my idols were hockey players," he stated. "I worshipped them. My room was covered with posters of hockey players of all generations."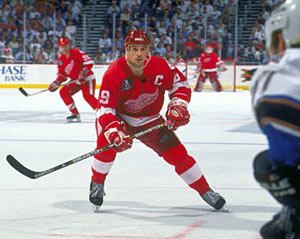 Steve Yzerman in action against the Washington
Capitals during the 1998 Stanley Cup Final.
(David E. Klutho/Hockey Hall of Fame)

The Yzerman family moved east, locating in Nepean, Ontario, an Ottawa suburb. There, Steve's hockey ability blossomed, and his father was his first coach. "When I was a boy, I'd look up into the stands at a hockey game to see my father. A simple nod of approval from him was a calming influence on me; relaxed me."

While attending Bell High School, in 1980-81, Yzerman joined the Tier 2 Junior 'A' Nepean Raiders, collecting 38 goals and 54 assists for 92 points (today, the Raiders play in the Yzerman Division of the CJHL). Following that season, Steve was drafted by the Peterborough Petes of the Ontario Hockey League, and in his two OHL seasons, he enjoyed seasons of 64 points (1981-82) and 91 points, including 42 goals, in 1982-83. A strong performance at the World Junior Championship in 1983 further labelled him a first-round NHL prospect.

During the summer of 1982, the Ilitch family purchased the woeful Detroit Red Wings, and showed every intention of quickly turning the franchise's fortunes around. Drafting Yzerman with the fourth overall pick was an outstanding start. Many had hoped the franchise might be able to select Pat LaFontaine, who had grown up in the Detroit area, but when he was chosen by the New York Islanders with the third selection, few could question the choice of the 18-year-old Yzerman.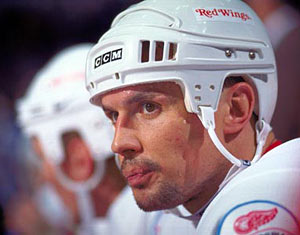 Steve Yzerman scored 692 regular season goals as a member of the Detroit Red Wings.
(Dave Sandford/Hockey Hall of Fame)

While the intent was for Yzerman to be returned for one final season of junior, after a fine training camp, the slight centre earned a spot on the Red Wings. In his rookie season (1983-84), Steve set franchise records for rookies by scoring 39 goals and 87 points, and in doing so, finished second in balloting (Tom Barrasso finished first) for the Calder Trophy, the NHL's award for its rookie of the year. That season, Steve became the youngest player selected to play in an All-Star Game. He was selected for Team Canada's entry in the Canada Cup, although tonsillitis curtailed his participation.

Having immediately established himself as an impact player, Yzerman continued the momentum. In his sophomore season, he scored 30 goals and 89 points. In spite of missing almost a third of the season, Steve still picked up 42 points, including 14 goals.

After the 1985-86 season, Wings' captain Danny Gare was signed as a free agent by the Edmonton Oilers. Coach Jacques Demers named Steve Yzerman captain of the Detroit squad on October 7, 1986, making the 21-year-old the youngest player ever to earn that honour. At the time, Demers stated that he wanted a captain "with the Red Wings crest tattooed on his chest."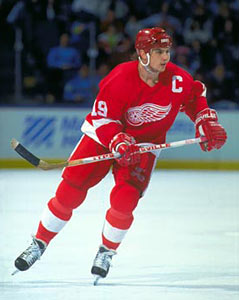 Between 1987 and 1993, Yzerman never failed to top 100 points, and five times he scored 50 goals or more while winning the Lester B. Pearson Trophy in 1988-89.
(Paul Bereswill/Hockey Hall of Fame)

In 1986-87, Yzerman again put up big numbers, totalling 31 goals and 90 points, and then reached the 50-goal plateau and 100-point (102) milestone in 1987-88. But it was 1988-89 that Steve had his career season, tallying 65 times and finishing with 155 points, good for third place in the NHL's scoring race, behind Wayne Gretzky and Mario Lemieux. Those marks set Detroit Red Wings' production records and earned him the Lester B. Pearson Award as the league's most valuable player as voted on by the players. He was also a finalist for the NHL's Hart Trophy.

Yzerman continued exhibiting his prodigious scoring prowess. He finished third in NHL scoring in 1989-90 (127 points, including 62 goals), seventh in 1990-91 (108 points, including 51 goals), seventh again in 1991-92 (103 points, of which 43 were goals) and fourth in 1992-93 (137 points, including 58 goals).

Scotty Bowman was hired as the Red Wings' coach in 1993-94, and insisted that Steve change his game, adding a more defensive element to the offensive statistics. Yzerman originally balked at Bowman's insistence, but in reinventing himself, Steve not only became one of the NHL's finest two-way forwards, but he led his team to the championships Detroit had missed for so many years.

Yzerman's production fell during an injury-filled 1993-94, but in the lock-out-reduced season of 1994-95, he led Detroit to a first-place finish, winning the Presidents' Trophy. The Wings reached the Stanley Cup Final for the first time since 1966, but they were steamrolled by the New Jersey Devils.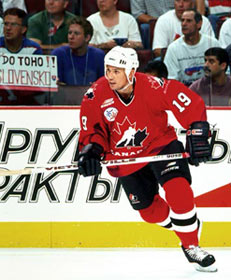 Steve Yzerman as a member of Team Canada at the 1996 World Cup of Hockey. (Ottawa Senators/Hockey Hall of Fame)

The Red Wings, who had rebounded from futility, were now being recognized as a powerhouse, led by their quiet and humble captain. In 1995-96, Detroit finished the regular season with an NHL-record 62 wins, and were being favoured to win the Stanley Cup. But again, it wasn't to be, as the Colorado Avalanche edged the Wings in that spring's Western Conference Final.

As we have heard on so many occasions, sometimes it takes losing to learn how to win, and that was the reality for the Detroit Red Wings. Finally, in 1996-97, Detroit captured the Stanley Cup, sweeping the Philadelphia Flyers to win the franchise's first championship since 1955. Accepting the Stanley Cup, the first Wing to do so in 42 years, the hometown crowd chanted, "Stevie! Stevie!" as their captain hoisted the Stanley Cup over his head.

The next season, Detroit turned the trick again, this time, sweeping the Washington Capitals to earn their victory. Handed the Stanley Cup, Yzerman leaned over and presented the trophy first to Vladimir Konstantinov, wheelchair-bound after a tragic car accident that occurred just six days after the previous spring's victory. Steve was also presented with the Conn Smythe Trophy as the most valuable player of the playoffs.

In 1999-2000, Steve's fine season (35 goals and 79 points) earned him a spot on the NHL's First All-Star Team as well as the Selke Trophy as the league's best defensive forward. Early in that season, he also crossed the 600-goal threshold, just the 11th NHL player to do so.

A knee injury forced Yzerman to miss much of the 2001-02 season, yet playing through the pain, he led the team through the playoffs to the Stanley Cup Final, where Detroit faced the Carolina Hurricanes. Playing on one leg, Steve and the Red Wings won the Stanley Cup, Yzerman's third and the franchise's tenth. In yet another act of class, Steve passed the Stanley Cup to coach Scotty Bowman, who publicly announced his retirement from coaching after that victory.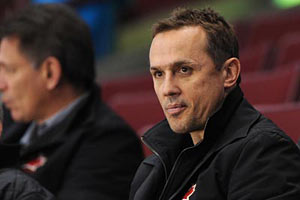 Team Canada's Executive Director Steve Yzerman
at the 2010 Winter Olympic Games.
(Matthew Manor/HHOF-IIHF Images)

Having grimaced with each game, the Red Wings' captain endured off-season knee surgery which limited him to but 16 games in 2002-03. For his perseverance, he was named recipient of the Bill Masterton Trophy for dedication to the game.

Injuries finally caught up to 'Stevie Y,' and on July 3, 2006, he announced his retirement from the game he loved. He had scored his final NHL goal on April 3, 2006 in a game against the Calgary Flames. Yzerman's final regular season statistics revealed a star of unimaginable depth — 692 goals and 1,063 assists for 1,755 points in 1,514 games. The goal total placed him eighth all-time, his assists put him seventh in NHL history while his point total placed him sixth all-time. In post-season play, Yzerman counted 70 goals, 115 assists and 185 points in 196 contests, eighth in all-time playoff scoring.

Steve served as the Red Wings' captain for two decades, and is the longest-serving captain in NHL history. During that time, he led his team to five first-place finishes and the three Stanley Cup championships.

In addition, Yzerman represented his country in several international tournaments. Competing for Canada, he was a member of the bronze medal-winning World Junior Team in 1983, earned silver at the World Championships in 1985 and 1989, competed in the 1990 World Championship, was part of Canada's entry at the 1996 World Cup of Hockey, played with Team Canada at the 1998 Winter Olympic Games in Nagano, Japan and collected a gold medal with the Canadian hockey team at the 2002 Winter Olympics in Salt Lake City.

A plethora of awards and honours followed Yzerman's retirement. In 2006, he was awarded the Lester Patrick Trophy for his contributions to hockey in the United States. On January 2, 2007, Steve was presented with the key to the City of Detroit by Mayor Kwame Kilpatrick. On January 13, 2007, Michigan Governor Jennifer Granholm proclaimed the day as 'Steve Yzerman Day' in the State of Michigan. On January 11, 2008, when the Red Wings visited Ottawa to play the Senators, Steve was inducted into the Ottawa Sports Hall of Fame. He was inducted into the Michigan Sports Hall of Fame on February 11, 2008. On November 4, 2008, he was inducted into Canada's Sports Hall of Fame. To top it all off, on November 9, 2009, Steve Yzerman was inducted into the Hockey Hall of Fame.

Humbled and honoured by the accolades, at his Induction into the Hockey Hall of Fame, Steve Yzerman thanked those who had contributed so significantly to his magnificent career, and then stated, "The hockey world is a very special place!"

Kevin Shea is the Editor of Publications and Online Features for the Hockey Hall of Fame.