22 NOVEMBER 2011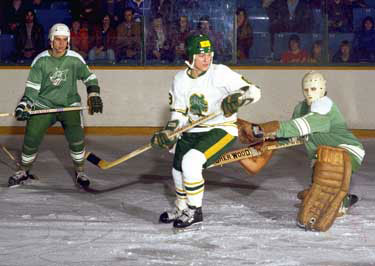 In his second season with the London Knights of the OMJHL, Dino Ciccarelli scored a league-best 72 goals and finished third in scoring with 142 points. (Graphic Artists/Hockey Hall of Fame)

Born February 8, 1960, Dino Ciccarelli beat seemingly insurmountable odds to make the National Hockey League, to say nothing of the passion and desire that led him to the Hockey Hall of Fame.

"I grew up in Sarnia, Ontario and I had a dream as a kid to play in the NHL," began Ciccarelli. "My Dad was the driving force behind my hockey career. He pushed me to be the best."

Playing minor hockey in his hometown, Dino was noticed by the local Junior 'B' club, and in 1975, was asked to join the Sarnia Legionnaires. "I had a coach who had to convince my Dad that it was okay for a 15-year-old kid to play with a bunch of 20-year-olds." He led the team in scoring with 45 goals and 43 assists for 88 points in 40 games.

By the next season (1976-77), Ciccarelli joined the London Knights of the Ontario Major Junior Hockey League. "Bill Long was my coach for four years," stated Dino. "Coming in as a 16-year-old, he put me in a position to succeed, putting me on the first line." That season, Ciccarelli had 82 points in 66 regular season games, and 24 points in 20 playoff contests.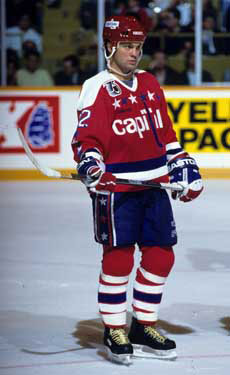 In March 1989, Dino Ciccarelli was dealt to the Washington Capitals.
(Doug MacLellan/Hockey Hall of Fame)

In his second season in London, Dino scored a league-best 72 goals and finished third in scoring with 142 points. He was named the recipient of the Jim Mahon Memorial Trophy as the league's highest-scoring right winger.

During the 1978-79 season, Dino broke his leg. In spite of the injury, and having been unselected through two NHL Entry Drafts, the Minnesota North Stars took a chance on Ciccarelli, signing him as a free agent in September 1979. Playing his final season of junior, he scored 50 goals and collected 103 points in 1979-80.

Dino turned pro with the Oklahoma City Stars of the Central Hockey League, joining the team towards the end of the 1979-80 season. By the next season, he was summoned for 32 games with the parent North Stars, and delivered — he had 18 goals and 30 points in that abbreviated season, and then, stunned the hockey world by setting an NHL rookie record by contributing 14 goals and 21 points in 19 playoff games as the North Stars went to the Stanley Cup final, ultimately losing to the New York Islanders.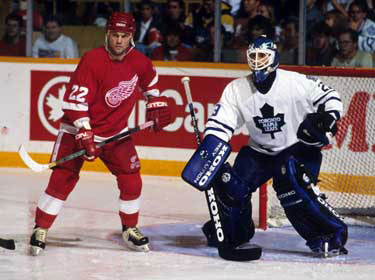 Dino Ciccarelli retired from the NHL with 1,200 regular season points and another 118 points in the post season.
(Doug MacLellan/Hockey Hall of Fame)

During nine seasons in Minnesota, Ciccarelli was a sizeable contributor, scoring 30+ goals in seven of the seasons, including two in which he bettered the 50-goal mark. He finished ninth in scoring in 1981-82 and was sixth in 1986-87. Dino played in three All-Star games during his time with the North Stars. In 1982, he played in the International Ice Hockey Federation's World Championship tournament, helping Canada to a bronze medal finish. In 1987, he also played in the World Hockey Championship, scoring 4 goals and 2 assists as Canada finished in fourth place.

In March 1989, Ciccarelli and Bob Rouse were dealt to the Washington Capitals, with Hall of Famers Mike Gartner and Larry Murphy headed for Minnesota. In his first full season with the Capitals, Ciccarelli collected his fifth consecutive 40-goal season, finishing with 41. He spent three full seasons with Washington before a summer trade to the Detroit Red Wings for Kevin Miller in 1992.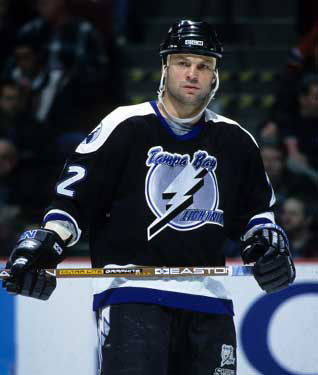 Dino Ciccarelli spent parts of two seasons with the Tampa Bay Lightning before moving on to the Florida Panthers in the latter half of the 1997-98 season.
(David E. Klutho/Hockey Hall of Fame)

In his debut season with the Red Wings, Ciccarelli finished with 41 goals and 97 points. He continued to add offence to the potent Red Wings' attack during each of his four seasons with Detroit, and was integral to the team climbing to the Stanley Cup final in 1995, ultimately falling to the New Jersey Devils.

In August 1996, Detroit traded Dino to the Tampa Bay Lightning for a draft pick. That season (1996-97), he was chosen to play in the NHL All-Star Game. He completed the season once again scoring 30+ goals, finishing with 35 to lead the Lightning.

He began the 1997-98 campaign with Tampa, but in January 1998, was traded across the state. Dino and Jeff Norton moved to the Florida Panthers with Mark Fitzpatrick and Jody Hull headed to the Lightning.

On November 4, early in the 1998-99 season, Dino injured his back in a game against the Blackhawks. His season was limited to just 14 games. The injury hastened the end to a brilliant career, and after 19 NHL seasons, Dino Ciccarelli announced his retirement on August 31, 1999.

Through 1,232 regular season games during his 19 NHL seasons, Ciccarelli scored 608 goals and added 592 assists for an even 1,200 points. The feisty winger also earned 1,425 minutes in penalties. During post-season play, Dino had 73 goals, 45 assists and 118 points in 141 playoff games.

In spite of an extraordinary career, Dino was disappointed to never have been part of a Stanley Cup championship. Although he went to the final twice (1981 and 1995), that one goal eluded him. "Hockey is the only sport where you don't really celebrate anything unless you win the Cup. So, if you don't win a Cup you kind of feel that you didn't get a chance to win anything."

The reward for a great career can materialize in various ways, and in Dino's case, it included being inducted into the Hockey Hall of Fame in 2010.

"It's just a satisfying feeling," he said.

Kevin Shea is the Editor of Publications and Online Features for the Hockey Hall of Fame.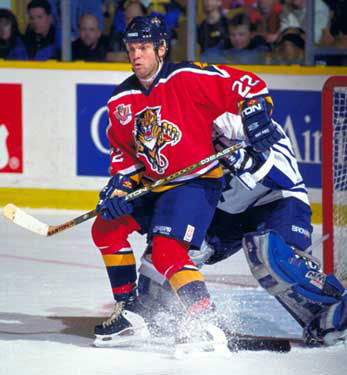 As a member of the Florida Panthers Dino Ciccarelli scored his 600th career NHL goal. (Dave Sandford/Hockey Hall of Fame)