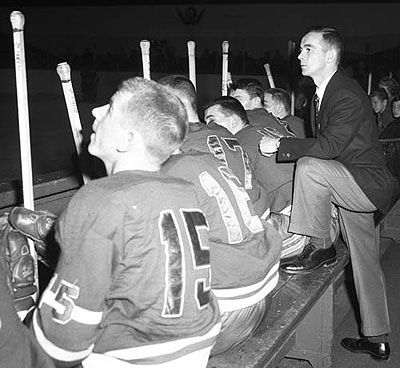 New York Ranger head coach Emile Francis follows the play. (Imperial Oil-Turofsky/HHOF)

In 1982, Emile Francis was awarded the Lester Patrick Trophy for his contributions to hockey in the United States. And amidst an NHL career, re-building three troubled franchises – the New York Rangers, the St. Louis Blues and the Hartford Whalers – it should come as no surprise to those who know Emile Francis that the pinnacle of his hockey career was helping youngsters develop a passion for hockey while building the game in his community.

"I knew when I took over the Rangers in 1962 that not only did I have to build up a hockey club, but I had to sell hockey," began the man nicknamed 'The Cat.' "We were the only team in the area there at the time. There were no New Jersey Devils or New York Islanders at that time."

Francis reflected back on a Sunday afternoon in New York, just prior to a contest against the powerful Montreal Canadiens. "About 4:00, I'm sitting in my office at the old Madison Square Garden and decided I needed to get some fresh air. It was getting close to game time. I was walking down 8th Street, thinking about the game and what I was going to do. I see these guys zipping back and forth wearing Rangers uniforms and I thought to myself, 'I didn't know they had artificial ice here in the middle of New York City.' I walked over and noticed that these guys were playing in what looked like a basement. They were on rollerskates, going back and forth at 100 miles an hour. I stood there watching this."

The image remained in the back of Emile's mind for some time. "I thought about it for a week. I had a meeting with the president of the Rangers. I said, 'Bill, we've got a big job to do. A week ago, I saw all these kids playing hockey on rollerskates. I've got to start a junior league, just like they have in Canada, with guys from 15 to 20.'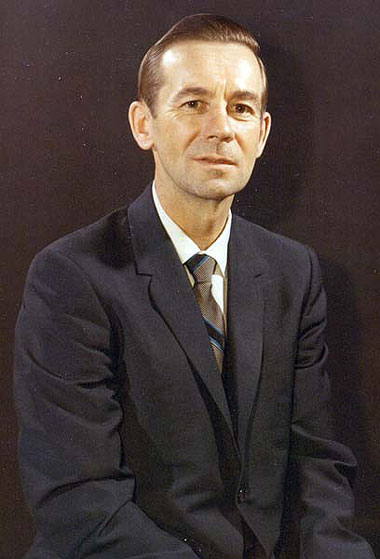 Emile Francis. (Robert Shaver/HHOF)

"The president of the Rangers asked, 'What do you hope to accomplish with that?' I said, 'We're going to get them off of rollerskates and put them on ice skates. In order to do that, I've got to have Madison Square Garden on Wednesday and Sunday afternoons from 1:00 to 5:00. I want the ice for free because the kids likely don't have a lot of money. Once the kids are hockey fans, they'll be fans forever. And there's a chance they might get a scholarship for college and maybe there'll even be a chance for a couple of them to play in the National Hockey League!'"

After some deliberation, the request was approved. "I hired John Muckler to be the first president of the Metropolitan Junior League. We started with a six-team league and we'd have 5,000 people watching them play in the afternoon!"

The enterprise was successful, and Emile takes great pride in the fact that his prediction was more wildly successful than he dreamed. "By my last count, we ended up with 62 guys that graduated from that league to the National Hockey League and over 200 went to college on scholarships," smiled a beaming Francis. "The two Mullen boys, Brian and Joey, came right out of that league. Their Dad was a labourer at Madison Square Garden for forty years. Brian attended the University of Wisconsin and Joey was an All-American at Boston College. Both went on to the National Hockey League." Brian played 832 games with the Winnipeg Jets, New York Rangers, San Jose Sharks and New York Islanders, and was recipient of the Lester Patrick Trophy in 1995. Joey played 1,062 games with the St. Louis Blues, Calgary Flames, Pittsburgh Penguins and Boston Bruins. He won the Stanley Cup in 1989 with the Flames and in 1992 with the Penguins, earned the Lady Byng twice as the league's most gentlemanly player and, like his brother, was awarded the Lester Patrick Trophy in 1995. He was inducted into the Hockey Hall of Fame in 2000.

"At the last All-Star Game in Edmonton back in 1989, Brian was playing on the Eastern Conference All-Stars and Joey Mullen was playing on the Western Conference All-Stars. I was sitting there and all the players were lined up on opposite bluelines and honest to God, I shed a tear!"

Kevin Shea is the Editor of Publications and On-Line Features for the Hockey Hall of Fame.