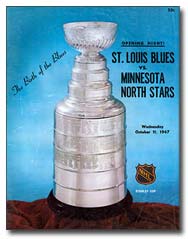 An opening game program of the St. Louis Blues, dated October 11, 1967.

(April 18, 2003) -- For a man involved in the NHL since 1967, Scotty Bowman retired with an incomparable career resume. He has won more games (1,244) than any other coach, and his nine Stanley Cup victories are one more than the previous best that Toe Blake won coaching the Montreal Canadiens. With victories and championships, isolating one career highlight is near impossible. "It's so hard to pick one," admits Scotty Bowman. "The one I remember the most was the first year in St. Louis. We had a real struggle to make the playoffs. In fact, we made the playoffs on the last weekend of the season. Then, we had two seven-game series prior to going into the Stanley Cup finals. One of them went into overtime in the seventh game. It just seemed that it was a storybook ending for my first year of coaching."

With the success and longevity of his career, we allowed Bowman the opportunity to add further career pinnacles. "But then, there are the Cup wins. They're all different. Certainly the first one you win as a coach is a tremendous achievement. There's a sense of relief when you win that first Cup. In Montreal, winning the four Cups in a row and last year in Detroit, winning the Cup in my last season knowing it was going to be my last season - those are special things. Nineteen seventy-six was a tremendous year for me. We won the Stanley Cup, we won the Canada Cup and my wife had the good fortune of having twins born a month after the Canada Cup win so there have been a lot of highlights."

We can't argue. Yes Scotty, there have been a lot of highlights in your outstanding career!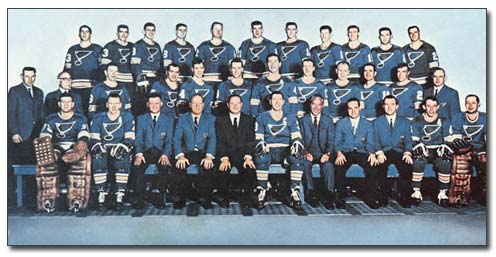 The 1968 Stanley Cup finalist St. Louis Blues (Bowman is seated third from the right).
Kevin Shea is co-author of several hockey biographies. His most recent book is "Over The Boards - The Ron Ellis Story" (H.B. Fenn), released November 2002.