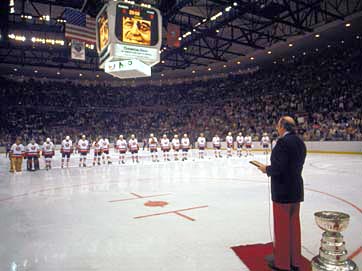 Led by Torrey, the Islanders won four consecutive Stanley Cup titles between 1980 and 1983. (Mecca/Hockey Hall of Fame)

Through his Hockey Hall of Fame career, Bill Torrey built three National Hockey League franchises to respectability, and in the case of the New York Islanders, created a dynasty that won four consecutive Stanley Cup championships.

Being honoured by the Hockey Hall of Fame was certainly a career highlight, but being recognized for his role in nurturing two franchises to excellence emerges as Torrey`s pinnacle.

While the New York Islanders raised individual banners to honour six players who were elected to the Hockey Hall of Fame (Mike Bossy, Clark Gillies, Pat LaFontaine, Denis Potvin, Billy Smith and Bryan Trottier, all secured by Torrey), as well as one coach — Al Arbour (also hired by Torrey), there is an eighth banner in the rafters; one to honour the contributions of Bill Torrey.

Each of the players has his retired jersey number on his banner. Al Arbour has `1,500` (the number of games he coached the Islanders). But on Bill Torrey`s banner, it includes a bowtie and the words, `The Architect.`

On October 23, 2010, the Florida Panthers honoured Bill Torrey by raising a banner with his name and the number 93. The 93 represents the year (1993) that the Panthers joined the National Hockey League.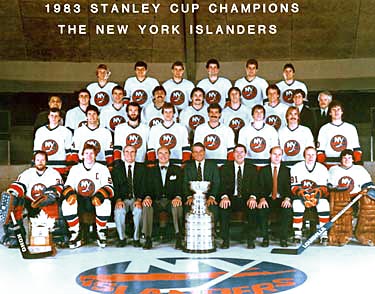 Bill Torrey and the New York Islanders captured their last
Stanley Cup title in 1983. (Hockey Hall of Fame)
Kevin Shea is the Editor of Publications and Online Features for the Hockey Hall of Fame.