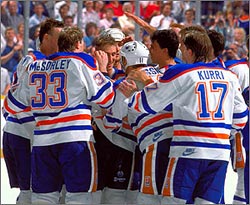 Captain Wayne Gretzky is encircled
by supportive teammates.

(January 13, 2004) -- It says a lot about a man when he eschews immense professional successes for personal, heart-felt relationships when asked to name the most significant highlight of his Hall of Fame career.

As a junior, Glen Sather went to the Memorial Cup finals with the Edmonton Oil Kings on three occasions, winning the championship once. He was a reliable NHL winger for nine seasons and one in the World Hockey Association. Sather is also one of the winningest coaches in NHL history. As architect of the Edmonton Oilers' dynasty, Sather has enjoyed celebrating five Stanley Cup championships. He was the NHL's coach of the year in 1986.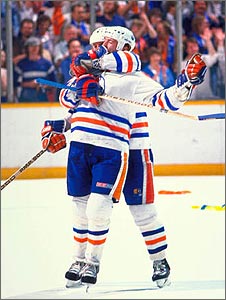 A jubilant Lee Fogolin grabs hold
of a celebrating Mark Messier.

Internationally, Glen guided Team Canada to a Canada Cup championship in 1991 and was at the helm of 1994's gold medal-winning Canadian team at the World Hockey Championships. But when it came time to name the pinnacle of his professional career, Sather had no need to deliberate for even a second. He chose the role of nurturing young players and watching them grow. "It's always fun to watch all the players that you've had because you spend so much time with them that they become part of your family. Every one of those players I watched develop, change and mature to become great men in their own rights."

Through deft draft selections, Glen Sather was able to shepherd the talents of Glenn Anderson, Paul Coffey, Grant Fuhr, Jari Kurri, Kevin Lowe and Mark Messier. And with a young Wayne Gretzky carried over from the WHA, Sather and the Oilers grew together. Author Peter Gzowski chronicled the remarkable Edmonton Oilers' family in his 1981 book, 'The Game of Our Lives.'

"I've always felt that coaches coach and players play and they need to stay out of each others' way," Glen continues. "I've developed great friendships with all of these guys over the years as I did when they were playing for me.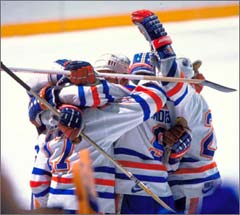 All for one; one for all!

You have to give them their space to grow and to live their own lives. You can't be interfering with everything that they do. They need to grow and mature on their own but you have to guide them just like you do on the ice." His philosophy is sound, and the collection of awards and accolades answers to how well Sather's charges responded to his doctrine. To this day, the players Sather worked with and for still regard him as a treasured mentor and special friend.
But Sather adds one more comment to punctuate the importance he places on relationships. "The important part of your life personally is when your children are born and they grow up to be healthy and strong with a good sense of values and become good citizens." Glen and his wife Ann have two sons, Justin and Shanon. Justin appeared as a hockey player in the Russell Crowe film, 'Mystery, Alaska.' Shanon is an amateur scout for the New York Rangers.
Kevin Shea is the Manager, Special Projects and Publishing at the Hockey Hall of Fame. The author's fourth hockey book, 'Barilko - Without A Trace,' will be released in October, 2004.